Matcha Market Value And Growth(2022-2027)
The Matcha Market was worth US$ 3.15 billion in 2022 and is anticipated to reach the valuation of US$ 5.72 billion by 2027 and is predicted to register a CAGR of 8.9% during 2022-2027.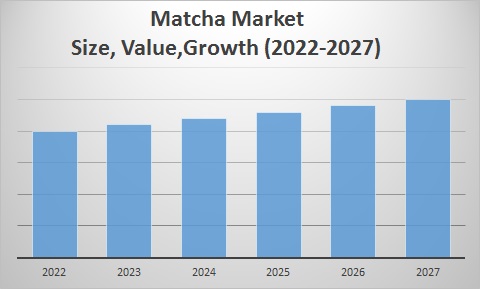 Matcha Market Scenario:
Matcha tea is a green tea that is created by grinding young tea leaves into a beautiful green powder. It's a powdered and liquid version of a Japanese green tea. The flavour of this tea is moderate and smooth. Due to the climatic and soil conditions in China and Japan, matcha tea is derived from the Camellia sinensis plant.Matcha's unusual preparation styles and olfactory appeal have aided its acceptance in the food and beverage industries of a number of non-native areas and countries. Matcha is manufactured from tencha, which are shade-ground tea leaves that are ground into a powder using granite stone mills. Matcha tea was once a localised beverage that few people outside of Japan were familiar with. Matcha has become a known form of tea in numerous Asian nations as a result of the rapid expansion of food tourism.
Matcha Market Growth:
The Matcha Market is being driven due to the rise in popularity of matcha tea is due to its numerous health benefits, including weight loss, improved cognitive function, cancer prevention, improved heart health, and liver protection. These factors are anticipated to contribute to the Matcha Market growth.
REPORT COVERAGE:
| | |
| --- | --- |
| REPORT METRIC | DETAILS |
| Market Size Available | 2021 - 2026 |
| Base Year | 2021 |
| Forecast Period | 2022 - 2027 |
| CAGR | 8.9% |
| Segments Covered | By Product, Type, Consumption, Distribution Channel and Region |
| Various Analyses Covered | Global, Regional & Country Level Analysis, Segment-Level Analysis, DROC, PESTLE Analysis, Porter's Five Forces Analysis, Competitive Landscape, Analyst Overview on Investment Opportunities |
| Regions Covered | North America, Europe, APAC, Latin America, Middle East & Africa |
| Market Leaders Profiled | ITO EN Ltd., Tata Global Beverages Ltd., Starbucks Corporation, The Hain Celestial Group Inc., Unilever PLC, Aiya-Co. Ltd., The AOI Tea Company, McCormick & Company, Inc., Matchaah Holdings Inc., The Republic of Tea |
Matcha Market Drivers:
Market expansion will be aided by an increase in demand for matcha tea as a result of its numerous health benefits, including weight loss, improved brain function, cancer prevention, improved heart health, and liver protection. Matcha can be found in smoothies, sweets, porridge, granola, bars, latte popsicles, and salad dressings, among other things. It's also used in drinks like latte and iced tea to promote relaxation and well-being. A rise in the number of health-related disorders, such as heart disease, cancer, and diabetes, is expected to fuel corporate expansion. As a result of all of these reasons, the worldwide Matcha Market is predicted to grow in value and volume during the forecast period. These factors are anticipated to propel the Matcha Market growth.
Matcha Market Restraints:
The product is substantially more expensive than its competitors due to its unique production technique. Camellia sinensis tencha leaves cultivated in the shade are used to make this product. Due to the country's unique soil and environmental circumstances, matcha tea plants can only be cultivated in Japan. Tencha is mostly grown in Uji, Kyoto, and Nishio, Aichi, Japan. Due to stringent growing conditions, a premium extraction technique, and thorough grinding and processing, the product has a high price. These are some of the factors which are holding back the Matcha Market growth.
Recent Developments in the Matcha Market:
The Matcha Infused Tea Line was launched on January 19, 2022 by Aiya America, Inc. (Aiya Matcha), the world's premier premium Matcha green tea manufacturer for over 130 years. Three high-quality Japanese green teas are included in the set.

Voilà and Mizuba Tea Co. established a partnership on July 25, 2019, that will allow tea lovers to experience Mizuba's Matcha anytime and wherever they choose. On July 19, 2019, Mizuba Tea Co. will introduce its first single-serve Matcha in collaboration with Voilà.

KISSA Tea will release a new Matcha Cranberry Latte Mix on April 17, 2018, crafted with 100 percent genuine Japanese Matcha. It's quick and simple to make.
Matcha Market Segmentation:
By Grade:
Classic

Ceremonial

Culinary
The Matcha Market has been divided by grade into, classic, ceremonial and culinary. The grade segment of the Matcha market is dominated by the classic grade with the highest market share of about 60%. From 2022 to 2027, the segment is predicted to increase at a stable 7.9% annual rate. Over the forecast period, the segment is expected to remain the dominant segment. The classic grade is high in nutrients and can be used to make normal tea and other matcha tea-based beverages. Regular drinkers and newcomers alike consume the grade. The grade's popularity has been boosted by the grade's mild fresh flavour. The culinary grade is less expensive than the ceremonial grade, yet it is more expensive than the ceremonial grade. Culinary grade is expected to increase at the quickest rate over the projection period, owing to its increasing application in a variety of cooking goods. The smooth texture and high nutrient content of this product grade have led to its use in a variety of desserts, smoothies, lattes, and other foods. In recent years, the desire for a culinary grade in food and beverages has been driven by several main criteria, including low cost, good taste, and unique flavour. Over the projection years, product penetration in developing nations is expected to have a beneficial impact on overall product demand.
By Application:
Regular Tea

Matcha Beverages

Food

Personal Care
The Matcha Market has been divided by application into, regular tea, matcha beverages, food and personal care. The application segment of the Matcha market is dominated by the regular tea category with the highest market share of about 45%. From 2022 to 2027, Matcha can be found in a variety of teas, beverages, foods, and personal care products. The largest application segment of the matcha market was regular tea, which accounted for approximately 45 percent of global market revenue. Consumption of the product as ordinary tea ensures an optimal intake of nutrient-dense components. The product utilisation in normal tea has increased due to increased purchasing power and the impact of Japanese custom.
The use of the substance in a variety of beverages, such as lattes, smoothies, juices, and mocktails, has increased in response to rising demand for low-calorie beverages that are purifying and energy-enhancing. In response to increased customer demand for healthy drinks, a number of cafés and beverage chains have begun to offer matcha beverages. Starbucks Corporation, Smoothie King Franchises, Inc., Jugofresh, and The Coffee Bean & Tea Leaf are just a few of the beverage retailers. Cakes, cookies, pastries, yoghurt, ice creams, energy bars, chocolates, and candies are among the items that use the product. Food is predicted to be the fastest-growing industry over the forecast period, owing to rising demand for nutritious food products. Its bitter taste and malty flavour have made it popular in a variety of cuisine dishes.
Matcha Market Regional Analysis:
The Matcha Market Report includes the segmentation of Regions:
The U.S.

Canada
By the end of 2027, the North American matcha industry is expected to exceed $1 billion. The usage of matcha in more foods, such as waffles, pancakes, popcorn, and puddings, is expected to increase demand. Because matcha is a naturally vegan and gluten-free powder, it is used in a wide range of cuisines for its health advantages. Matcha demand is expected to rise as people become more aware of the negative consequences of gluten-containing foods on their health, as well as a growing preference for gluten-free foods.
The growing knowledge of the health advantages of matcha as a food ingredient offers plenty of room for expansion. Consumers in the region have a strong preference for nutritional health drinks in order to preserve their health and fitness. Matcha is high in antioxidants, vitamins, and minerals, all of which are beneficial to your health. Product demand will be boosted by a rise in demand for drinks with a variety of health advantages and flavours.
The U.K.

France

Germany

Netherlands

Russia

Italy
Among the European region, In the United Kingdom, black tea consumption has traditionally been high. Consumer interest in the lighter flavour notes afforded by matcha tea, on the other hand, is growing, resulting in greater sales of matcha-flavoured items.
Furthermore, home matcha consumption in the United Kingdom is generating large revenues. The health benefits of matcha, such as anti-stress and anti-inflammatory qualities, are attracting homebound persons.
India

China

Japan
The Asia Pacific area has the largest regional market accounting for the biggest market size due to the popularity of green tea in Japan and China. The Asia Pacific region accounted for nearly 64% of global revenue in the business. The Asia Pacific product industry concentration was aided by ancient tea traditions in Japan and China. Furthermore, nations such as Australia, Singapore, and India are projected to emerge as attractive markets as health awareness rises.
Matcha Market Key Players:
Starbucks Corporation

The Hain Celestial Group Inc.

Unilever PLC

Aiya-Co. Ltd.

The AOI Tea Company

McCormick & Company, Inc.

Matchaah Holdings Inc.

The Republic of Tea