Fast Food Market Size, Growth, Forecast (2023-2028)
The global Fast Food Market size was calculated to be USD 647.7 billion in 2022, and it is envisioned to reach USD 931.7 billion by the end of 2028 at a CAGR of 4.6% over the prediction period. The variety of foods available in each sector is primarily driving this market growth.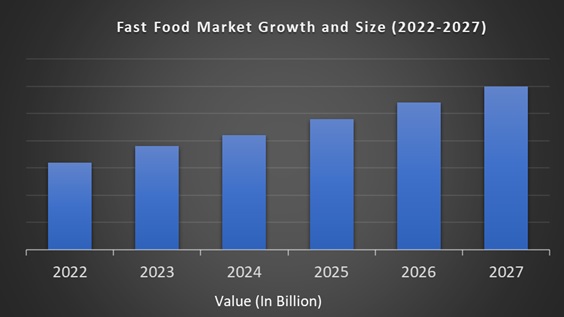 Market Overview:
Fast food is defined as the food that is prepared and served at quick-service restaurants or street vendors. It acts as an alternative to homemade food. Fast food is extensively used in end-user industries like restaurants, hotels, and fast food centers. They are predominantly prepared in large quantities and are quickly served to customers based on their needs. There are a variety of fast foods, including burgers/sandwiches, pizza/pasta, chicken and seafood, and Asian/Latin American food.
Recent Developments in Fast Food Industry:
In December 2017, an Australian-based software company, Yum! Brands Inc is revitalizing the fast food market to take advantage of a wide range of customer access.

In August 2019, Burger King launched a factory-based Impossible Whopper across the country.
Fast Food Market Growth:
The global fast food market has resisted growth due to the rise in the consumer foodservice sector, even during the recession.
Drivers:
The increasing number of restaurants and hotels is expected to accelerate the growth of the fast food market due to rapid prohibition and globalization. Additionally, an increase in health awareness among consumers and an increase in demand for healthy and delicious foods are driving the market growth. There are many concerns about fast food. Studies have shown that eating fast food causes overweight, obesity, and other medical problems. As these concerns grew, people switched from fast food to fast food. The fast food market is losing market share as fast and informal food. The fast food market is greatly increased by the increase in the speed of life of the urban population and the need for faster and cheaper options for their food. The fast food market is also fueled by a languid population that expects meals to be delivered at home. Also, the need for tasty with the latest flavors can positively influence the growth of the global fast food market in the near future. However, app-based companies offering offers and the growing trend of online orders may open more opportunities during the forecast period. In addition, readily available healthy fast food can provide healthy food audiences with options that promote the development of the fast food market. Along with the rapid growth of the middle-class population in emerging economies, changes in eating habits have helped the growth of the global fast food market.
The rise in disposable income and the call for convenient and affordable food led to the development of this market. Most of the fast foods available today are healthy and help you lose weight with the right mix and proportions of other foods. The urge for fast food has risen in the last few years due to new product launches in the food industry. The overall increment in the number of quick-service restaurants, hotels, and so on, is also touted to fuel demand in this market. Faster food product sales declined as consumer awareness of healthy food options increased. As customers prefer different products, the global fast food industry will develop with lucrative opportunities. The market also allows small players to take advantage of the global market share of fast food by satisfying the tastes of local consumers and maintaining competitive prices. The world employment rate for women has increased significantly. As the number of women hired increases, it becomes quite difficult to cook, leading to fast food. As a result, market participants have included healthier fast food options that contain hormone-free meat, natural vegetables, hormone-free meat, and organic ingredients throughout the store. This will open up new opportunities for market growth during the forecast period.
Restraints:
Increased health awareness among users may hinder the development of the fast food market for now. The growth of the global fast food market has been limited due to the presence of unsaturated fats in fast food products and the resulting health problems with food safety regulations. As food safety and animal welfare regulations increase, it is supposed to act as a major limiting factor in this market. Furthermore, knowledge of consumer health, especially obesity, is estimated to be another constraint to market growth.
REPORT COVERAGE:
| | |
| --- | --- |
| REPORT METRIC | DETAILS |
| Market Size Available | 2022 – 2028 |
| Base Year | 2022 |
| Forecast Period | 2023 - 2028 |
| CAGR | 4.6% |
| Segments Covered | By Type, Distribution Platform and Region |
| Various Analyses Covered | Global, Regional & Country Level Analysis, Segment-Level Analysis, DROC, PESTLE Analysis, Porter's Five Forces Analysis, Competitive Landscape, Analyst Overview on Investment Opportunities |
| Regions Covered | North America, Europe, APAC, Latin America, Middle East & Africa |
| Market Leaders Profiled | McDonald's Corporation (U.S.), Burger King Worldwide, Inc. (U.S.), Domino's Pizza Inc. (U.S.), Yum! Brands Inc. (U.S.), Jack in the Box Inc. (U.S.), KFC, Wendy's International Inc. (U.S.), Doctor's Association Inc. (U.S.) and Others. |
Geographical Segmentation Analysis:
North America - the United States and Canada

Europe - United Kingdom, Spain, Germany, Italy, and France

The Asia Pacific - India, Japan, China, Australia, Singapore, Malaysia, South Korea, New Zealand, and Southeast Asia

Latin America - Brazil, Argentina, Mexico, and Rest of LATAM

The Middle East and Africa - Africa and Middle East (Saudi Arabia, UAE, Lebanon, Jordan, Cyprus)
Fast Food Market Segmentation Analysis:
By Type:
Burgers & Sandwiches

Pizzas & Pasta

Asian/Latin American Food

Chicken/Seafood
By Distribution Platform:
Quick Service Restaurant (QSR)

Street Vendors

Food Delivery Services

Online Food Delivery
Regional Analysis:
The global fast food market is divided into North America, Europe, Asia Pacific, and other countries (RoW) by region. Europe, followed by North America, had the largest share of the entire market and is expected to maintain its market position due to the majority of its workforce during the forecast period. The rapid expansion of the fast food chain in North America will help the growth of the future fast food market. North America and Europe had a notable market share in the past because of their high dependence on convenience due to their busy lifestyles and high demand for food in restaurants. In addition, healthy changes to the fast food menu and the introduction of raw cheese, organic vegetables, hormone-free meat, and natural ingredients contributed to the maturity of this market. These major changes have proven to be important for growth, fueled by changes in consumer preferences for fast food and the transparency of fast food chain operations.
The Asia-Pacific region is foreseen to experience high growth in the fast food market during the outlook period. This is mainly due to an increase in urbanization, rise in disposable income and demand for the western lifestyle. India and China are considered attractive markets for fast food because they prefer fast food over traditional restaurant food. Favorable demographics, increased disposable income and purchasing power, increased urbanization, and rapid adoption of Western lifestyles have vastly improved the future of the developing world market. With a preference for the proposal, proximity and easy price, developing countries have proposed changes in the global market. Significant growth in fast food chains in Brazil and the rest of Latin America is presumed to strengthen the growth of the fast food market during the outlook period. Furthermore, Latin American food opened the market with bold favors. The Middle East and Africa are estimated to show sustainable growth with better living standards and discretionary incomes.
Key Players in the Market:
Major Key Players in the Global Fast Food Market are
McDonald's Corporation (U.S.)

Burger King Worldwide, Inc. (U.S.)

Domino's Pizza Inc. (U.S.)

Yum! Brands Inc. (U.S.)

Jack in the Box Inc. (U.S.)

KFC

Wendy's International Inc. (U.S.)

Doctor's Association Inc. (U.S.)