Food Service Market Size Research Analysis 2021-2026:
Food Service Market Size was at USD 2334 billion in 2020 and is anticipated to arrive at USD xx.xx million by the end of the assessment period, developing with a CAGR of 4.5% throughout the outlook period 2021-2026.
Foodservice refers to catering services or the provision of food prepared outside the home for the public. There are several companies in the restaurant sector that provide such services. Catering services, also known as Food Service industry or business, provide packaged catering service as well as real-time catering service. The foodservice industry includes various types of restaurants, such as fast-food/quick-service restaurants, full-service restaurants, limited-service restaurants, and special food service restaurants.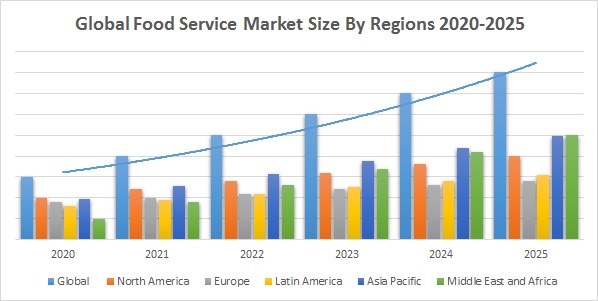 For More Information Related to Regions: Download Sample Report
Recent Development in Global Food Service Market:
In March 2020, Performance Food Group Company announced that it has completed the acquisition of Reinhart Foodservice, L.L.C. (Reinhart). With this recent purchase, PFG has now become one of the largest distribution companies in the USA with almost 25000 talented associates.
Market Drivers and Restraints:
The growth of commercial spaces such as cafes, restaurants as a place to socialize and spend time with a different and innovative food consumption has altered food consumption patterns due to the rising working class composed of millennial populations. The adoption of a fast-paced lifestyle and the exclusion of home cooking as part of household activities has increased the demand for non-traditional ready-to-eat foods and the mixing of different ingredients with different tastes has increased the global food service market demand. The increase in the number of food dishes and the surge in adoption of new and different food menus, combined with the development of the home delivery function, has greatly increased the growth of the worldwide food service market. However, health and unhealthy food concerns, especially in the segment of ready-to-eat foods with processed and synthetic ingredients, have hampered market growth.
Factors such as the increased frequency of restaurant meals, experimentation with new cuisines and growing brand awareness are driving the Food Service Market in different parts of the world. Since there has been significant growth in the workforce across the nations, more and more people are engaged in outdoor activities such as shopping, hanging out with friends, family and colleagues, leisure and others. Hence, the preference for food has contributed significantly to the global Food Service Market. In particular, shopping and casual dining were the main reasons why people went out to eat in the review period.
REPORT COVERAGE:
| | |
| --- | --- |
| REPORT METRIC | DETAILS |
| Market Size Available | 2020 – 2026 |
| Base Year | 2020 |
| Forecast Period | 2021 - 2026 |
| CAGR | XX% |
| Segments Covered | By Product, By End user, and By Region |
| Various Analyses Covered | Global, Regional & Country Level Analysis, Segment-Level Analysis, DROC, PESTLE Analysis, Porter's Five Forces Analysis, Competitive Landscape, Analyst Overview on Investment Opportunities |
| Regions Covered | North America, Europe, Asia Pacific, Latin America, Middle East and Africa |
| Market Leaders Profiled | Cambro Manufacturing Co. Inc., Duke Manufacturing Co. Inc., Comstock-Castle Stove Co., Inc., Alto-Shaam, Inc., Middleby Corporation, Welbilt, Inc., Ali Group S.r.l. a Socio Unico, Illinois Tool Works (ITW), Inc., Dover Corporation, and Electrolux |
Detailed Segmentation of the Global Food Service Market:
Global Food Service Market is classified by product type, end use and region. By product type, it is classified into kitchen equipment, storage and handling equipment, dishwashing equipment, and serving equipment. By end use, it is divided into full-service restaurants and hotels, fast food restaurants and pubs and catering.
By product type, the kitchen equipment segment accounted for the largest share of the Food Service Market in 2019, with a CAGR of 5.3%. The growing popularity of creative cooking and baking has resulted in a variety of dining options for consumers. Therefore, to provide the best services to customers, restaurants are investing in various types of kitchen equipment, which are driving the growth of the catering equipment market.
By end use, the full-service hotel and restaurant segment accounted for the largest share of the Global Food Service Market in 2019. Consumers' penchant for new, reasonably priced kitchens has complemented the adoption of new technologies in food service equipment for food preparation, storage, and service in full-service restaurants.
Impact of COVID-19 on Food Service Market:
COVID-19 has clearly hit the restaurant industry hard, and there will likely be more victims before it returns to some kind of normalcy. However, since the lockdown will soon be relaxed, operators must think about how to resurface and adapt to the "new normal". There is a pent-up demand for cafes, restaurants and pubs to reopen, but the number of visitors will be lower than before COVID, meaning companies must act now to survive. As the government signals the release of the lockdown, operators are now wondering if it makes economic sense to reopen and, if so, when. To remain viable and operate at an acceptable margin, operators must manage costs, simplify operations, and possibly take unprecedented steps to increase revenue. The new standard may allow this, but will it be enough and can all companies achieve it? With security measures, 50 to 60% of the tables will have to be eliminated, limiting income. With an occupancy rate above this level, opening a business is unlikely to be viable unless costs can be reduced. This required a greater focus on costs to provide an acceptable margin, including costs of sales, distribution, overhead, and waste. EBITDA was previously tight, but at what margin can operators operate sustainably and for how long? The relationship between buyers and suppliers will become increasingly important. To survive, they will have to work together and concessions will be made. Supply chains will need to be more resilient, and as globalization slows, we will need much closer links between them. Localization, transparency and collaboration will be the new norm and will require different skills in addition to current approaches to supplier management, pushing the discussion on price away.
Regional Analysis:
global Food Service market has been categorized by geography into the regions of North America, Asia Pacific, Europe, Latin America, and Middle East and Africa. Most of the market was dominated by the Asia-Pacific area. The higher proportion of the young and millennial population in the region combined with the increase in the number of restaurants, the fusion of different cultures and cuisines, a greater preference of the population for eating out and the increase in the value of the services provided by restaurants and other food places to customers increased catering services, and therefore resulting in the higher contribution of the Asia-Pacific among other regions.
Leading Company in the Industry:
Cargill Inc. had the largest share of the Food Service Market in terms of sales and revenue in 2019.
Key Players Covered in the market report are:
Key players in the Global Food Service Market include Cambro Manufacturing Co. Inc., Duke Manufacturing Co. Inc., Comstock-Castle Stove Co., Inc., Alto-Shaam, Inc., Middleby Corporation, Welbilt, Inc., Ali Group S.r.l. a Socio Unico, Illinois Tool Works (ITW), Inc., Dover Corporation, and Electrolux.
1. Introduction
1.1 Market Definition
1.2 Scope of the report
1.3 Study Assumptions
1.4 Base Currency, Base Year and Forecast Periods
2. Research Methodology
2.1 Analysis Design
2.2 Research Phases
2.2.1 Secondary Research
2.2.2 Primary Research
2.2.3 Data Modelling
2.2.4 Expert Validation
2.3 Study Timeline
3. Report Overview
3.1 Executive Summary
3.2 Key Inferencees
4. Market Dynamics
4.1 Impact Analysis
4.1.1 Drivers
4.1.2 Restaints
4.1.3 Opportunities
4.2 Regulatory Environment
4.3 Technology Timeline & Recent Trends
5. Competitor Benchmarking Analysis
5.1 Key Player Benchmarking
5.1.1 Market share analysis
5.1.2 Products/Service
5.1.3 Regional Presence
5.2 Mergers & Acquistion Landscape
5.3 Joint Ventures & Collaborations
6. Market Segmentation
6.1 Food Service Market, By Product Type
6.1.1 Serving Equipment
6.1.2 Ware Washing Equipment
6.1.3 Storage & Handling Equipment
6.1.4 Cooking Equipment
6.1.5 Market Size Estimations & Forecasts (2021-2026)
6.1.6 Y-o-Y Growth Rate Analysis
6.1.7 Market Attractiveness Index
6.2 Food Service Market, By End-Use
6.2.1 Catering
6.2.2 Quick Service Restaurants & Pubs
6.2.3 Full-Service Restaurants & Hotels
6.2.4 Market Size Estimations & Forecasts (2021-2026)
6.2.5 Y-o-Y Growth Rate Analysis
6.2.6 Market Attractiveness Index
7. Geographical Landscape
7.1 Global Identity Governance and Administration Market, by Region
7.2 North America - Market Analysis (2018 - 2024)
7.2.1 By Country
7.2.1.1 USA
7.2.1.2 Canada
7.2.2 By Product Type
7.2.3 By End-Use
7.3 Europe
7.3.1 By Country
7.3.1.1 UK
7.3.1.2 France
7.3.1.3 Germany
7.3.1.4 Spain
7.3.1.5 Italy
7.3.1.6 Rest of Europe
7.3.2 By Product Type
7.3.3 By End-Use
7.4 Asia Pacific
7.4.1 By Country
7.4.1.1 China
7.4.1.2 India
7.4.1.3 Japan
7.4.1.4 South Korea
7.4.1.5 South East Asia
7.4.1.6 Australia & NZ
7.4.1.7 Rest of Asia-Pacific
7.4.2 By Product Type
7.4.3 By End-Use
7.5 Latin America
7.5.1 By Country
7.5.1.1 Brazil
7.5.1.2 Argentina
7.5.1.3 Mexico
7.5.1.4 Rest of Latin America
7.5.2 By Product Type
7.5.3 By End-Use
7.6 Middle East and Africa
7.6.1 By Country
7.6.1.1 Middle East
7.6.1.2 Africa
7.6.2 By Product Type
7.6.3 By End-Use
8. Key Player Analysis
8.1 Cargill Inc
8.1.1 Business Description
8.1.2 Products/Service
8.1.3 Financials
8.1.4 SWOT Analysis
8.1.5 Recent Developments
8.1.6 Analyst Overview
8.2 Cambro Manufacturing Co. Inc
8.3 Duke Manufacturing Co. Inc
8.4 Comstock-Castle Stove Co., Inc
8.5 Alto-Shaam, Inc
8.6 Middleby Corporation
8.7 Welbilt, Inc
8.8 Ali Group S.r.l. a Socio Unico
8.9 Illinois Tool Works (ITW), Inc
8.10 Dover Corporation
9. Market Outlook & Investment Opportunities
Appendix
List of Tables
List of Figures
Global, regional and country-level analysis and forecasts of the study market; providing Insights on the major countries/regions in which this industry is blooming and also identify the regions that are still untapped
The segment-level analysis in terms of by product type, by end user along with market size forecasts and estimations to detect key areas of industry growth in detail
Identification of key drivers, restraints, opportunities, and challenges (DROC) in the market and their impact on shifting market dynamics
Study of the effect of exogenous and endogenous factors that affect the global market; which includes broadly demographic, economics, and political, among other macro-environmental factors presented in an extensive PESTLE Analysis
Study the microenvironment factors that determine the overall profitability of an Industry, using Porter's five forces analysis for analyzing the level of competition and business strategy development
A comprehensive list of key market players along with their product portfolio, current strategic interests, key financial information, legal issues, SWOT analysis, and analyst overview to study and sustain the market environment
Competitive landscape analysis listing out the mergers, acquisitions, collaborations in the field along with new product launches, comparative financial studies, and recent developments in the market by the major companies
An executive summary, abridging the entire report in such a way that decision-making personnel can rapidly become acquainted with background information, concise analysis and main conclusions
Expertly devised analyst overview along with Investment opportunities to provide both individuals and organizations a strong financial foothold in the market
Global Food Service Market By Region, From 2021-2026 ( USD Billion )

Global Food Service Market By Product Type, From 2021-2026 ( USD Billion )

Global Serving Equipment Market By Region, From 2021-2026 ( USD Billion )

Global Ware Washing Equipment Market By Region, From 2021-2026 ( USD Billion )

Global Storage & Handling Equipment Market By Region, From 2021-2026 ( USD Billion )

Global Cooking Equipment Market By Region, From 2021-2026 ( USD Billion )

Global Food Service Market By End-Use, From 2021-2026 ( USD Billion )

Global Catering Market By Region, From 2021-2026 ( USD Billion )

Global Quick Service Restaurants & Pubs Market By Region, From 2021-2026 ( USD Billion )

Global Full-Service Restaurants & Hotels Market By Region, From 2021-2026 ( USD Billion )

North America Food Service Market By Product Type, From 2021-2026 ( USD Billion )

North America Serving Equipment Market By Region, From 2021-2026 ( USD Billion )

North America Ware Washing Equipment Market By Region, From 2021-2026 ( USD Billion )

North America Storage & Handling Equipment Market By Region, From 2021-2026 ( USD Billion )

North America Cooking Equipment Market By Region, From 2021-2026 ( USD Billion )

North America Food Service Market By End-Use, From 2021-2026 ( USD Billion )

North America Catering Market By Region, From 2021-2026 ( USD Billion )

North America Quick Service Restaurants & Pubs Market By Region, From 2021-2026 ( USD Billion )

North America Full-Service Restaurants & Hotels Market By Region, From 2021-2026 ( USD Billion )

United States Food Service Market By Product Type, From 2021-2026 ( USD Billion )

United States Food Service Market By End-Use, From 2021-2026 ( USD Billion )

Canada Food Service Market By Product Type, From 2021-2026 ( USD Billion )

Canada Food Service Market By End-Use, From 2021-2026 ( USD Billion )

Europe Food Service Market By Product Type, From 2021-2026 ( USD Billion )

Europe Serving Equipment Market By Region, From 2021-2026 ( USD Billion )

Europe Ware Washing Equipment Market By Region, From 2021-2026 ( USD Billion )

Europe Storage & Handling Equipment Market By Region, From 2021-2026 ( USD Billion )

Europe Cooking Equipment Market By Region, From 2021-2026 ( USD Billion )

Europe Food Service Market By End-Use, From 2021-2026 ( USD Billion )

Europe Catering Market By Region, From 2021-2026 ( USD Billion )

Europe Quick Service Restaurants & Pubs Market By Region, From 2021-2026 ( USD Billion )

Europe Full-Service Restaurants & Hotels Market By Region, From 2021-2026 ( USD Billion )

U.K. Food Service Market By Product Type, From 2021-2026 ( USD Billion )

U.K. Food Service Market By End-Use, From 2021-2026 ( USD Billion )

Germany Food Service Market By Product Type, From 2021-2026 ( USD Billion )

Germany Food Service Market By End-Use, From 2021-2026 ( USD Billion )

France Food Service Market By Product Type, From 2021-2026 ( USD Billion )

France Food Service Market By End-Use, From 2021-2026 ( USD Billion )

Italy Food Service Market By Product Type, From 2021-2026 ( USD Billion )

Italy Food Service Market By End-Use, From 2021-2026 ( USD Billion )

Spain Food Service Market By Product Type, From 2021-2026 ( USD Billion )

Spain Food Service Market By End-Use, From 2021-2026 ( USD Billion )

Asia Pacific Food Service Market By Product Type, From 2021-2026 ( USD Billion )

Asia Pacific Serving Equipment Market By Region, From 2021-2026 ( USD Billion )

Asia Pacific Ware Washing Equipment Market By Region, From 2021-2026 ( USD Billion )

Asia Pacific Storage & Handling Equipment Market By Region, From 2021-2026 ( USD Billion )

Asia Pacific Cooking Equipment Market By Region, From 2021-2026 ( USD Billion )

Asia Pacific Food Service Market By End-Use, From 2021-2026 ( USD Billion )

Asia Pacific Catering Market By Region, From 2021-2026 ( USD Billion )

Asia Pacific Quick Service Restaurants & Pubs Market By Region, From 2021-2026 ( USD Billion )

Asia Pacific Full-Service Restaurants & Hotels Market By Region, From 2021-2026 ( USD Billion )

Japan Food Service Market By Product Type, From 2021-2026 ( USD Billion )

Japan Food Service Market By End-Use, From 2021-2026 ( USD Billion )

China Food Service Market By Product Type, From 2021-2026 ( USD Billion )

China Food Service Market By End-Use, From 2021-2026 ( USD Billion )

India Food Service Market By Product Type, From 2021-2026 ( USD Billion )

India Food Service Market By End-Use, From 2021-2026 ( USD Billion )

Australia Food Service Market By Product Type, From 2021-2026 ( USD Billion )

Australia Food Service Market By End-Use, From 2021-2026 ( USD Billion )

South Korea Food Service Market By Product Type, From 2021-2026 ( USD Billion )

South Korea Food Service Market By End-Use, From 2021-2026 ( USD Billion )

Latin America Food Service Market By Product Type, From 2021-2026 ( USD Billion )

Latin America Serving Equipment Market By Region, From 2021-2026 ( USD Billion )

Latin America Ware Washing Equipment Market By Region, From 2021-2026 ( USD Billion )

Latin America Storage & Handling Equipment Market By Region, From 2021-2026 ( USD Billion )

Latin America Cooking Equipment Market By Region, From 2021-2026 ( USD Billion )

Latin America Food Service Market By End-Use, From 2021-2026 ( USD Billion )

Latin America Catering Market By Region, From 2021-2026 ( USD Billion )

Latin America Quick Service Restaurants & Pubs Market By Region, From 2021-2026 ( USD Billion )

Latin America Full-Service Restaurants & Hotels Market By Region, From 2021-2026 ( USD Billion )

Brazil Food Service Market By Product Type, From 2021-2026 ( USD Billion )

Brazil Food Service Market By End-Use, From 2021-2026 ( USD Billion )

Argentina Food Service Market By Product Type, From 2021-2026 ( USD Billion )

Argentina Food Service Market By End-Use, From 2021-2026 ( USD Billion )

Mexico Food Service Market By Product Type, From 2021-2026 ( USD Billion )

Mexico Food Service Market By End-Use, From 2021-2026 ( USD Billion )

Rest of Latin America Food Service Market By Product Type, From 2021-2026 ( USD Billion )

Rest of Latin America Food Service Market By End-Use, From 2021-2026 ( USD Billion )

Middle East and Africa Food Service Market By Product Type, From 2021-2026 ( USD Billion )

Middle East and Africa Serving Equipment Market By Region, From 2021-2026 ( USD Billion )

Middle East and Africa Ware Washing Equipment Market By Region, From 2021-2026 ( USD Billion )

Middle East and Africa Storage & Handling Equipment Market By Region, From 2021-2026 ( USD Billion )

Middle East and Africa Cooking Equipment Market By Region, From 2021-2026 ( USD Billion )

Middle East and Africa Food Service Market By End-Use, From 2021-2026 ( USD Billion )

Middle East and Africa Catering Market By Region, From 2021-2026 ( USD Billion )

Middle East and Africa Quick Service Restaurants & Pubs Market By Region, From 2021-2026 ( USD Billion )

Middle East and Africa Full-Service Restaurants & Hotels Market By Region, From 2021-2026 ( USD Billion )

Middle East Food Service Market By Product Type, From 2021-2026 ( USD Billion )

Middle East Food Service Market By End-Use, From 2021-2026 ( USD Billion )

Africa Food Service Market By Product Type, From 2021-2026 ( USD Billion )

Africa Food Service Market By End-Use, From 2021-2026 ( USD Billion )