Europe Food Service Market Size Analysis 2022 - 2027:
Europe Food Service Market size was estimated at USD xx billion in 2019 and is likely to reach over USD xx billion with moderate growth throughout the forecast period 2022 - 2027.
The restaurant or foodservice industry includes all companies that offer meals prepared outside the home, such as restaurants, school and hospital cafes, and food outlets. Mobile food services, such as the food truck industry, are also expanding in developing countries due to the increasing penetration of fast-food restaurants. While restaurant owners are optimistic about the future growth and sustainability of their businesses, challenges related to government regulations and rising labor costs are creating enormous pressure on industry players. In the United States, hiring and retaining employees is becoming a major problem for gamers in the restaurant industry. However, the implementation of the technology helps the actors of the foodservice industry to develop considerably, but the process is not without obstacles. The major challenge is high-cost investment advanced infrastructure for food chain operators
With the increasing number of fast-food chains, organized food unions, and food outlets, the pressure on the hotel industry has increased due to quality and service.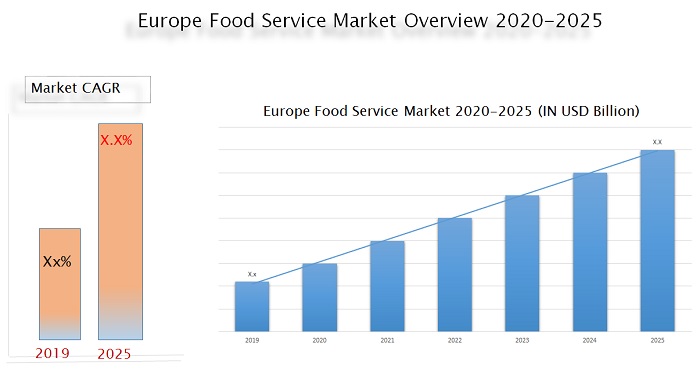 For More Information: Download Sample Report
Recent Developments in Europe Food Service Market:
In December 2019, Performance Food Group Co. (P.F.G.) has declared the completion of acquiring Reinhart Foodservice, L.L.C at approximately 30 billion in net revenue.

In January 2020, Imperial Dade, a renowned provider of various disposable supplies, declared the purchase of Wagner Supply Company. The acquisition reinforces Imperial Dade's presence in Texas while improving the company's differentiated value proposition for customers in the area.

In March 2020, US Foods, Illinois declared an agreement to purchase Smart Foodservice Warehouse Stores in many states.

In March 2020, NEOGEN Corporation confirmed that it has purchased the assets of Chilean company Magiar Chilena, a distributor of diagnostic products for food, animals and plants.
Europe Food Service Market Drivers and Restraints:
Difficult working hours spur demand for practical options in terms of cuisine and service. One of the main reasons behind this is that after a stressful and busy workday, the will and time to cook fresh meals is particularly weak. This is contributing to the development of the Food Service business, which offers a low-cost replacement for home-made foods. As per the USDA, the food system that contains food services and food retail has supplied about $ 1.24 billion of food to the United States in 2010, of which approximately $ 594 billion was supplied by catering establishments. While foodservice providers are adjusting too many of the same factors that motivate consumers to buy food to prepare at home, the limits are blurring. Improvements and expansion in delivery options also mean that the restaurant can now come to you. Food manufacturers supplying the retail sector must be aware of competition from the restaurant sector. However, many food manufacturers cater to both sides of the market and, with catering in several countries in Europe, growing faster than retail, catering to customers such as restaurants, schools and workplaces can offer a variety of opportunities. The restaurant market is aimed at schools, restaurants, colleges, cafes, and others.
The increase in the consumption of snacks and meals in foodservice establishments shows an increasing demand among consumers of different types of food, which have an entertainment value for eating out and the convenience offered by these services. Also, in line with the health trend, the restaurant market now also offers healthier options for conscious consumers. The need for functional food is increasing in the industry as people demand healthy food with great flavor. This, again, is an important engine of growth in the European foodservice industry. It also spurs demand for food menus, pushing players towards more innovation and improvement.
Market Segmentation
The Europe Food Service Market segmentation has been categorized by Place Type, and End user.
Based on Place Type: It is divided into Full-Service Restaurants, Quick Service Restaurants, Food Junctions Cafeterias/buffets, Bars and Managed Food Service.
Based on End-users: It covers Industrial Premises, Commercial and Office Premises, Hospital & Nursing Homes, Educational Premises (Colleges, Universities, Schools), In-transit Food Service (Airlines, Trains), and Sports Centers/Malls.
The Food Service Market is finding increased applications in colleges, restaurants, schools, and universities. People who study in colleges, schools, or offices tend to eat their daily meals in places like a cafeteria, which follows the conventional catering system. Public health services in the food sector ensure that the quality of food meets recommended standards. A high cost is incurred to maintain consistency and hygiene in food quality, as well as requirements such as a large workforce and food safety. These factors will challenge the European market to some extent.
Regional Insights:
Europe Food Service Market has been classified on the basis of geography into the United Kingdom, Germany, France, Italy, Spain, and the rest of Europe.
France is a significant contributor to the European Food Service market. France had the largest share in 2019 and should also continue to dominate in the coming years. This development can be attributed to the occurrence of a huge number of fast-food giants like Burger King, KFC, McDonald's, and Subway, among others, and several categories of restaurants across the country. The UK is the fastest-growing segment of the European Food Service Market.
The United Kingdom and France are the two main markets for the hotel and restaurant industry, which contribute most of the income to the European economy.
Furthermore, in 2016, the restaurant services sector generated sales of around € 83.3 billion in the UK alone. Poland had a considerable market share in 2018 and the same trend is expected to continue during the outlook period. The growing number of fast food restaurants is the main driver of growth in the Food Service market in the country. Consumers choose quick service restaurants because of their affordability and fast service, which is an important factor due to the lifestyle of busy people.
Leading Company
Electrolux had the largest share of the European Food Service Market in terms of sales and revenue in 2018.
Key Players
Several of the main players in the Europe Food Service Market are Electrolux, Dover Corporation, Rational AG, Hoshizaki Electric Co., Libbey Inc., Micro Matic, Sirman, Bizerba, Cambro Manufacturing Company, Inc., Duke Manufacturing Co. Inc., Tupperware Brands Corporation, Manitowoc Foodservice Inc., Middleby Corporation, Ali Group, Coreco, Liebherr, Infrico, and Hobart Corporation.
1. Introduction
1.1 Market Definition
1.2 Scope of the report
1.3 Study Assumptions
1.4 Base Currency, Base Year and Forecast Periods
2. Research Methodology
2.1 Analysis Design
2.2 Research Phases
2.2.1 Secondary Research
2.2.2 Primary Research
2.2.3 Data Modelling
2.2.4 Expert Validation
2.3 Study Timeline
3. Report Overview
3.1 Executive Summary
3.2 Key Inferencees
4. Market Dynamics
4.1 Impact Analysis
4.1.1 Drivers
4.1.2 Restaints
4.1.3 Opportunities
4.2 Regulatory Environment
4.3 Technology Timeline & Recent Trends
5. Competitor Benchmarking Analysis
5.1 Key Player Benchmarking
5.1.1 Market share analysis
5.1.2 Products/Service
5.1.3 Regional Presence
5.2 Mergers & Acquistion Landscape
5.3 Joint Ventures & Collaborations
6. Market Segmentation
6.1 Food Service Market, By Place Type
6.1.1 Full Service Restaurants
6.1.2 Quick Service Restaurants
6.1.3 Food Junctions Cafeterias/Buffets
6.1.4 Bars
6.1.5 Managed Food Service
6.1.6 Market Size Estimations & Forecasts (2019-2024)
6.1.7 Y-o-Y Growth Rate Analysis
6.1.8 Market Attractiveness Index
6.2 Food Service Market, By End-User
6.2.1 Industrial Premises
6.2.2 Commercial and Office Premises
6.2.3 Hospital & Nursing Homes
6.2.4 Educational Premises
6.2.5 In-transit Food Service
6.2.6 Sports Centers/Malls
6.2.7 Market Size Estimations & Forecasts (2019-2024)
6.2.8 Y-o-Y Growth Rate Analysis
6.2.9 Market Attractiveness Index
7. Geographical Landscape
7.1 Global Identity Governance and Administration Market, by Region
7.2 Europe
7.2.1 By Country
7.2.1.1 UK
7.2.1.2 France
7.2.1.3 Germany
7.2.1.4 Spain
7.2.1.5 Italy
7.2.1.6 Rest of Europe
7.2.2 By Place Type
7.2.3 By End-User
8. Key Player Analysis
8.1 KFC
8.1.1 Business Description
8.1.2 Products/Service
8.1.3 Financials
8.1.4 SWOT Analysis
8.1.5 Recent Developments
8.1.6 Analyst Overview
8.2 McDonald's
8.3 Pizza Hut
8.4 Burger King
8.5 Electrolux
8.6 Hoshizaki Electric Co
8.7 Starbucks Corp
8.8 Yum! Brands Inc
8.9 Dunkin 'Donuts
8.10 Papa John's
9. Market Outlook & Investment Opportunities
Appendix
List of Tables
List of Figures
Europe Food Service Market By Place Type, From 2022 - 2027 ( USD Billion )

Europe Full Service Restaurants Market By Region, From 2022 - 2027 ( USD Billion )

Europe Quick Service Restaurants Market By Region, From 2022 - 2027 ( USD Billion )

Europe Food Junctions Cafeterias/Buffets Market By Region, From 2022 - 2027 ( USD Billion )

Europe Bars Market By Region, From 2022 - 2027 ( USD Billion )

Europe Managed Food Service Market By Region, From 2022 - 2027 ( USD Billion )

Europe Food Service Market By End-User, From 2022 - 2027 ( USD Billion )

Europe Industrial Premises Market By Region, From 2022 - 2027 ( USD Billion )

Europe Commercial and Office Premises Market By Region, From 2022 - 2027 ( USD Billion )

Europe Hospital & Nursing Homes Market By Region, From 2022 - 2027 ( USD Billion )

Europe Educational Premises Market By Region, From 2022 - 2027 ( USD Billion )

Europe In-transit Food Service Market By Region, From 2022 - 2027 ( USD Billion )

Europe Sports Centers/Malls Market By Region, From 2022 - 2027 ( USD Billion )

U.K. Food Service Market By Place Type, From 2022 - 2027 ( USD Billion )

U.K. Food Service Market By End-User, From 2022 - 2027 ( USD Billion )

Germany Food Service Market By Place Type, From 2022 - 2027 ( USD Billion )

Germany Food Service Market By End-User, From 2022 - 2027 ( USD Billion )

France Food Service Market By Place Type, From 2022 - 2027 ( USD Billion )

France Food Service Market By End-User, From 2022 - 2027 ( USD Billion )

Italy Food Service Market By Place Type, From 2022 - 2027 ( USD Billion )

Italy Food Service Market By End-User, From 2022 - 2027 ( USD Billion )

Spain Food Service Market By Place Type, From 2022 - 2027 ( USD Billion )

Spain Food Service Market By End-User, From 2022 - 2027 ( USD Billion )