Deli Food Market Size, Growth, Forecast (2023-2028)
The Global Deli Food Market Size was worth US$ 305.12 billion in 2022, and it is estimated to reach a valuation of US$ 432.24 billion by the end of 2028, expanding at an annual compound rate of 4.4% between 2023 and 2028. The growth of the Delhi food market is due to the increased number of large retail chains, including supermarkets and hypermarkets.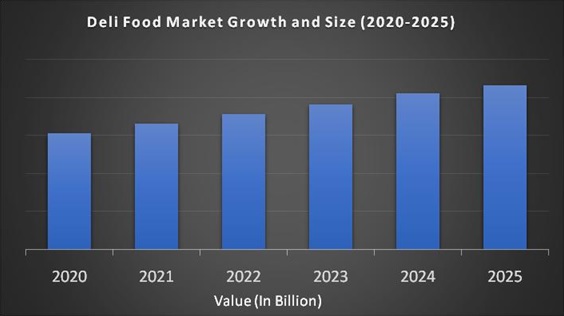 Market Overview:
Prepared foods exemplify a number of foods that are ready to eat, easy to consume, and can be stored for a long time in a freezer or refrigerator for future use. Consumption of these foods, which include a variety of salads, prepackaged sandwiches, pastries and savory snacks, soups and meats, has been shown to increase significantly worldwide in recent years. Deli food products are ready to eat products that can be easily consumed and stored at low temperatures. Deli foods have become an essential part of lifestyle demographics as the use of preserved foods increases in everyday life. An example of deli food is a set of foods that are easy to consume and can be stored for a long time in the refrigerator for future use. These foods include soup, meat, pastries, prepared salads, prepackaged sandwiches, and savory snacks. Deli food is mainly time-free and consumed by working people.
Recent Developments in Deli Food Industry:
NoDa Company Store has become NoDa Company Store + Grocery. Shelves with fresh vegetables, fruits, and herbs replaced the tables and seats in the store.

Meatigo plans to expand seven cities through 45 distribution centers further. The company has partnered with high-quality sausage and deli makers Prasuma Meat and Delicatessen to meet the demand for high-quality food.
REPORT COVERAGE:
| | |
| --- | --- |
| REPORT METRIC | DETAILS |
| Market Size Available | 2022 – 2028 |
| Base Year | 2022 |
| Forecast Period | 2023 - 2028 |
| CAGR | 4.4% |
| Segments Covered | By Type and Region |
| Various Analyses Covered | Global, Regional & Country Level Analysis, Segment-Level Analysis, DROC, PESTLE Analysis, Porter's Five Forces Analysis, Competitive Landscape, Analyst Overview on Investment Opportunities |
| Regions Covered | North America, Europe, APAC, Latin America, Middle East & Africa |
| Market Leaders Profiled | Hormel Foods Corporation, Kraft Foods Group Inc, Samworth Brothers Ltd, Tyson Foods Inc., Waitrose Ltd, JBS S.A., BRF S.A., Astral Foods Ltd., Sisters Food Group, Wm Morrison Supermarkets Plc and Others. |
Deli Food Market Growth:
Deli foods have become an important part of the lifestyle of crucial demographic groups due to increased convenience and disposable income.
Drivers:
Consumer interest in refrigeration and deli food products is growing, and consumer interest in gaining knowledge and understanding of various nutritional ingredients is one of the key trends driving the global Deli Foods market. In many markets, convenience trends are balanced by a desire to 'reconnect' with the food consumed, from understanding origins and sources to starting with more dishes. The higher prevalence of health due to the higher prevalence of lifestyle-related diseases affects the choice of food and ingredients by consumers and manufacturers. Changes in global economic, social and demographic trends can put pressure on food supplies, creating new challenges for food manufacturers and end consumers. These changes are intended to significantly reshape the context of frozen food and consumer perception for categories in the future. As the world population grows and income levels in emerging markets rise, the demand for food and other resources increases to an unprecedented scale, significantly affecting resource availability and market prices.
Given the rapidly changing environment in developing countries like China and India, the demand for raw or frozen meat and dairy products is expected to increase. As more and more people enter the workforce worldwide and adapt to changing lifestyles, retail stores are likely to focus on products that can change the current state of the screen and have a long life. However, the retail sector will likely stand out during the outlook period. Establishing a business unit close to the buyer, guarantees a fluid supply of products and maintains the client's participation in the market, along with maintaining quality in freezing conditions. The market is dominated by companies affiliated with local producers and retailers. In emerging markets, market players will have to adopt new strategies as local manufacturers are increasingly using e-commerce portals to sell delicatessen.
The busy lifestyles and consumer preferences to ready-to-eat meals will be one of the key trends that will promote this market growth during the outlook period thanks to the convenience provided. Retailers are trying to keep their meat inventory refrigerated, increasing demand for fast food and ensuring equal availability over the long term. Lifestyle changes, rapid urbanization, GDP growth, rise in disposable income and growing middle-class populations in emerging economies such as India and China are presumed to fuel growth in this segment during the projection period. Despite significant growth opportunities, some nutritionists are struggling because prepackaged sandwiches are considered unhealthy due to their high salt and sugar content and the use of genetically modified sweeteners.
Restraints:
Industry participants, especially largely unorganized in Asian countries, face significant problems with the price and quality of their products compared to large multinational companies. Considering the transportation and storage of cryogenic products, high maintenance and logistics costs are supposed to deter market participants during the prediction period. On the other hand, it is expected that focus on preventing waste from an environmental perspective will limit this business. In light of high capital expenditures and fluctuations in commodity prices, uncertainty in the cost of delicatessen food production is estimated to affect profit margins.
Deli Food Market Segmentation Analysis:
By Type:
Meats

PrepackedSandwiches

Pies and Savory Appetizers

Prepared Salads, and Others
Geographical Segmentation Analysis:
North America - the United States and Canada

Europe - United Kingdom, Spain, Germany, Italy, and France

The Asia Pacific - India, Japan, China, Australia, Singapore, Malaysia, South Korea, New Zealand, and Southeast Asia

Latin America - Brazil, Argentina, Mexico, and Rest of LATAM

The Middle East and Africa - Africa and Middle East (Saudi Arabia, UAE, Lebanon, Jordan, Cyprus)
Regional Analysis:
Depending on the region, the global Deli food market can be divided into five central areas, namely North America, Europe, Asia Pacific, Latin America and the Middle East and Africa. The North American Deli food market is expected to dominate the overall growth of the business in the coming years due to the large intake of convenient food sources. Additionally, many consumers supplement their regular diet with refrigerated foods and groceries. In addition, product sales in the region are anticipated to increase, with abrupt changes in consumer lifestyles and changes in food consumption patterns and behavior.
The Asia Pacific deli food is expected to witness profitable growth in the coming years. Growth can be recognized as the sale of large quantities of products to food retailers throughout the growing economy. Additionally, the company is investing heavily in cold chain infrastructure facilities to store deli foods to maintain freshness and improve shelf life. The European deli food market is likely to witness profitable growth in the coming years. This growth tends to lead to a vegetarian diet in countries like the United Kingdom, Spain and Germany.
Leading Company:
Deli Markets like Rhino Market, Common Market, Laurel Market and the recently launched Paper Plane Deli & Market is still open to customers.
Key Players in the Market:
Major Key Players in the Global Deli Food Market are
Hormel Foods Corporation

Kraft Foods Group Inc

Samworth Brothers Ltd.

Tyson Foods Inc.

Waitrose Ltd.

JBS S.A.

BRF S.A.

Astral Foods Ltd.

Sisters Food Group

Wm Morrison Supermarkets Plc