Frozen Meat Market Size, Growth, Forecast (2022-2027)
The Global Frozen Meat Market size was valued at US$ 22.18 billion in 2021, and it is predicted that it will reach US$ 33.9 billion by 2027 with an annual development rate of 4.9% between 2022 and 2027.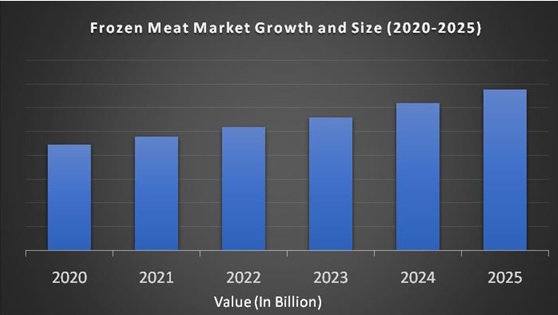 Market Overview:
Frozen meat with cold air or other cooling agents is primarily called frozen meat. Frozen meat is mainly drizzled with preservatives that can prevent food preservatives and extend shelf life. Frozen meat is the best way to overcome seasonal problems and has a long shelf life and long shelf life. Also, frozen meat products reduce food waste and are easy to cook. It offers a variety of benefits, including longer shelf life and food security, and is expected to drive growth in the global frozen meat market during the forecast period. Frozen food includes basic food chemistry, where food is preserved through the freezing process and stored in the freezer before cooking. Frozen foods can be of various types, such as prepared foods, meats and poultry, vegetables and fruits, soups, seafood, and others. Frozen meat improves inventory management, overcomes seasonality issues, and extends shelf life for advanced purchasing and long-term storage.
Recent Developments in Frozen Meat Industry:
In 2017 Verde Farms LLC acquired Estanica Beef, Inc., a fully fed beef producer serving frozen beef steaks. This acquisition will allow Verde Farms to meet the growing demand for grass-fed beef.
Cargill, Inc. acquired Five Star Custom Foods, Ltd., which produces cooked meat flakes, soups, and sauces for American restaurants and food producers.
Frozen Meat Market Growth:
REPORT COVERAGE:
| | |
| --- | --- |
| REPORT METRIC | DETAILS |
| Market Size Available | 2021 – 2027 |
| Base Year | 2021 |
| Forecast Period | 2022 - 2027 |
| CAGR | 4.9% |
| Segments Covered | By Product Type, End-User, Distribution Channel and Region |
| Various Analyses Covered | Global, Regional & Country Level Analysis, Segment-Level Analysis, DROC, PESTLE Analysis, Porter's Five Forces Analysis, Competitive Landscape, Analyst Overview on Investment Opportunities |
| Regions Covered | North America, Europe, APAC, Latin America, Middle East & Africa |
| Market Leaders Profiled | Associated British Foods Plc, Kerry Group Plc, BRF SA, JBS SA, Verde Farms LLC, Pilgrim's Pride Corporation, Marfrig Global Foods SA, Tyson Foods, Inc, Cargill Inc, VH Group and Others. |
An important factor driving the growth of the frozen meat market is that it is ready to eat food in both developed and developing countries and the demand for developing frozen technology is increasing.
Drivers:
Changes in the lifestyles of people around the world and the increased demand for ready-to-eat food are key drivers of markets around the world. An increase in the workforce, higher per capita income in developing countries and higher demand for frozen foods are expected to accelerate growth in this market during the forecast period. The freezing action inhibits the growth of potentially harmful bacteria that cause food poisoning. These factors are expected to increase demand for frozen meat during the outlook period. Quick freezing preserves the texture, flavor and freshness of food. When there is little water, it turns into ice crystals, fixing freshness and nutritional value. Convenience trends and lifestyle changes have led to rapid growth in prepared food sales due to the development of dietary patterns and increased consumer consumption habits. Technological developments to improve the shelf life of products and rising efforts to offer quality products, especially among meat related products, are promoting the expansion in this market. As population migration from rural areas to large cities increases, the growth of the nuclear family in developed countries is expected to boost demand for frozen meat in the next decade. Also, the growing population of women working in developing countries is one of the main factors driving sales of frozen meat.
The retail industry has seen significant growth in the past decade, positively impacting overall demand for frozen meat. The frozen meat market offers a favorable opportunity in the retail industry. Certain meat products are offered only at certain stations. To meet the demand for meat products and overcome seasonality issues, manufacturers are focusing on introducing different types of frozen foods in this category. The market is gaining popularity, especially among young professionals, due to the aspects that consumers can easily consume and save time on products. In recent years, stable economic growth associated with the development of the mining industry has increased the number of employment opportunities, which has increased the average income of consumers. Furthermore, rising per capita income levels in developing countries, especially the growing demand for frozen food in the workforce, are other key factors expected to accelerate the growth of the frozen meat market worldwide during the forecast period. In developed and developing countries, the need to be ready to eat and change lifestyles is one of the main drivers of the global frozen meat market.
Restraints:
Frozen foods contain various types of preservatives that can affect the body, which is another important factor that is expected to hinder the growth of the frozen meat market worldwide during the foreseen period. Frozen meat often turns out to be expensive, which can lead to more expensive food for end users. In this way, the high cost of frozen meat processing has significantly hampered the frozen meat market worldwide, and these costs can discourage potential customers and consider other options. The high cost associated with purchasing refrigeration equipment is an important factor in inhibiting the growth of the frozen meat market worldwide. Many companies are introducing cost-effective processing technology that can offset most of the constraints that affect the frozen meat market worldwide.
Impact of COVID 19 on the Frozen Meat Market:
The COVID-19 pandemic has had a significant impact on companies in many industries in a very short time, including meat and frozen food supply chains. The biggest mistake about COVID-19 is that empty shelves are an indicator of food shortages due to recent operations at grocery stores. Among the frozen foods, frozen meat sales have inclined with the consumers storing them for future use. Despite Covid-19 pandemic, their sales are increasing.
Frozen Meat Market Segmentation Analysis:
The market is classified by type of product as beef, chicken, pork, etc. Frozen beef represented the largest market share of more than 30.0% due to the high consumption and import of frozen meat from Asian countries and around the world. The beef sector is the fastest-growing sector during the forecast period, with pork and chicken expected to emerge. The demand for beef is expected to increase due to the higher protein content compared to other types of meat. The growing demand for pork is driving the market through the import and export of frozen meat.
Distribution channels are classified as convenience stores, supermarkets and hypermarkets, online. The supermarket and hypermarket sectors are expected to expand at the fastest CAGR during the forecast period. Offline channels are driving the market, as consumers prefer the proper exploration of products, authenticity, content, and varieties before buying. However, as the penetration rate of smartphones and Internet connection increases, along with the convenience provided by the e-commerce platform, online distribution channels are gaining momentum among consumers. Online shopping trends are increasing among Internet users due to door-to-door delivery facilities and access to various brands and products.
Geographical Segmentation Analysis:
North America - the United States and Canada

Europe - United Kingdom, Spain, Germany, Italy, and France

The Asia Pacific - India, Japan, China, Australia, Singapore, Malaysia, South Korea, New Zealand, and Southeast Asia

Latin America - Brazil, Argentina, Mexico, and Rest of LATAM

The Middle East and Africa - Africa and Middle East (Saudi Arabia, UAE, Lebanon, Jordan, Cyprus)
Regional Analysis:
North America has the highest share of income in the global frozen meat market due to high consumption of frozen food and increased disposable income in the region. The European market has the second-highest revenue share in the global market due to increased consumption of frozen meat and lifestyle changes. Germany is expected to account for the largest market share of 26.17% by the end of 2025. The Asia Pacific market is expected to show the fastest growth in terms of revenue as adoption of frozen foods increases. Asia Pacific was the largest regional market, representing more than 30.0% in 2018 due to the high consumption in this region. Countries like China and Japan were the main importers of frozen meat products. The Asia Pacific region is expected to expand to the highest CAGR from 2019 to 2025, as the number of restaurants and food restaurants in the region increases, e-commerce growth and seasonal growth are expected to accelerate the regional market growth. In addition, Latin American and Middle East and African markets are expected to show moderate growth during the forecast period. In addition, imports from the Middle East and Africa markets are expected to register a notable annual rate during the envisioned period.
Key Players in the Market:
Major Key Players in the Global Frozen Meat Market are
Associated British Foods Plc

Kerry Group Plc

BRF SA

JBS SA

Verde Farms LLC

Pilgrim's Pride Corporation

Marfrig Global Foods SA

Tyson Foods, Inc

Cargill Inc

VH Group
1. Introduction
1.1 Market Definition
1.2 Scope of the report
1.3 Study Assumptions
1.4 Base Currency, Base Year and Forecast Periods
2. Research Methodology
2.1 Analysis Design
2.2 Research Phases
2.2.1 Secondary Research
2.2.2 Primary Research
2.2.3 Data Modelling
2.2.4 Expert Validation
2.3 Study Timeline
3. Report Overview
3.1 Executive Summary
3.2 Key Inferencees
4. Market Dynamics
4.1 Impact Analysis
4.1.1 Drivers
4.1.2 Restaints
4.1.3 Opportunities
4.2 Regulatory Environment
4.3 Technology Timeline & Recent Trends
5. Competitor Benchmarking Analysis
5.1 Key Player Benchmarking
5.1.1 Market share analysis
5.1.2 Products/Service
5.1.3 Regional Presence
5.2 Mergers & Acquistion Landscape
5.3 Joint Ventures & Collaborations
6. Market Segmentation
6.1 Frozen Meat Market, By Product Type
6.1.1 Pork
6.1.2 Beef
6.1.3 Chicken
6.1.4 Market Size Estimations & Forecasts (2022 - 2027)
6.1.5 Y-o-Y Growth Rate Analysis
6.1.6 Market Attractiveness Index
6.2 Frozen Meat Market, By End-User
6.2.1 Food Service
6.2.2 Retail Customers
6.2.3 Market Size Estimations & Forecasts (2022 - 2027)
6.2.4 Y-o-Y Growth Rate Analysis
6.2.5 Market Attractiveness Index
6.3 Frozen Meat Market, By Distribution Channel
6.3.1 Supermarket & Hypermarket
6.3.2 Convenience Stores
6.3.3 Online
6.3.4 Market Size Estimations & Forecasts (2022 - 2027)
6.3.5 Y-o-Y Growth Rate Analysis
6.3.6 Market Attractiveness Index
7. Geographical Landscape
7.1 Global Identity Governance and Administration Market, by Region
7.2 North America - Market Analysis (2022 - 2027)
7.2.1 By Country
7.2.1.1 USA
7.2.1.2 Canada
7.2.2 By Product Type
7.2.3 By End-User
7.2.4 By Distribution Channel
7.3 Europe
7.3.1 By Country
7.3.1.1 UK
7.3.1.2 France
7.3.1.3 Germany
7.3.1.4 Spain
7.3.1.5 Italy
7.3.1.6 Rest of Europe
7.3.2 By Product Type
7.3.3 By End-User
7.3.4 By Distribution Channel
7.4 Asia Pacific
7.4.1 By Country
7.4.1.1 China
7.4.1.2 India
7.4.1.3 Japan
7.4.1.4 South Korea
7.4.1.5 South East Asia
7.4.1.6 Australia & NZ
7.4.1.7 Rest of Asia-Pacific
7.4.2 By Product Type
7.4.3 By End-User
7.4.4 By Distribution Channel
7.5 Latin America
7.5.1 By Country
7.5.1.1 Brazil
7.5.1.2 Argentina
7.5.1.3 Mexico
7.5.1.4 Rest of Latin America
7.5.2 By Product Type
7.5.3 By End-User
7.5.4 By Distribution Channel
7.6 Middle East and Africa
7.6.1 By Country
7.6.1.1 Middle East
7.6.1.2 Africa
7.6.2 By Product Type
7.6.3 By End-User
7.6.4 By Distribution Channel
8. Key Player Analysis
8.1 Associated British Foods Plc
8.1.1 Business Description
8.1.2 Products/Service
8.1.3 Financials
8.1.4 SWOT Analysis
8.1.5 Recent Developments
8.1.6 Analyst Overview
8.2 Kerry Group Plc
8.3 BRF SA
8.4 JBS SA
8.5 Verde Farms LLC
8.6 Pilgrim's Pride Corporation
8.7 Marfrig Global Foods SA
8.8 Cargill Inc
8.9 Tyson Foods, Inc
8.10 VH Group
9. Market Outlook & Investment Opportunities
Appendix
List of Tables
List of Figures
Global Frozen Meat Market By Region, From 2022 - 2027 ( USD Billion )

Global Frozen Meat Market By Product Type, From 2022 - 2027 ( USD Billion )

Global Pork Market By Region, From 2022 - 2027 ( USD Billion )

Global Beef Market By Region, From 2022 - 2027 ( USD Billion )

Global Chicken Market By Region, From 2022 - 2027 ( USD Billion )

Global Frozen Meat Market By End-User, From 2022 - 2027 ( USD Billion )

Global Food Service Market By Region, From 2022 - 2027 ( USD Billion )

Global Retail Customers Market By Region, From 2022 - 2027 ( USD Billion )

Global Frozen Meat Market By Distribution Channel, From 2022 - 2027 ( USD Billion )

Global Supermarket & Hypermarket Market By Region, From 2022 - 2027 ( USD Billion )

Global Convenience Stores Market By Region, From 2022 - 2027 ( USD Billion )

Global Online Market By Region, From 2022 - 2027 ( USD Billion )