Condensed Milk Market Growth and Forecast (2021-2026):
The global Condensed Milk Market size was estimated to be USD 7.4 billion in 2021 and is envisioned to reach a valuation of USD 9.4 billion by the end of 2026, recording a growth rate of 3.5% over the evaluation period. The wide application of condensed milk in desserts and confectionery is likely to lead the market boom in the future.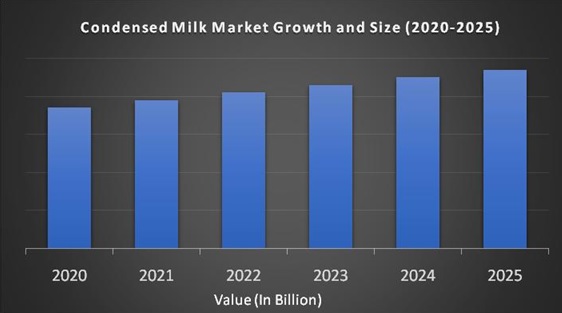 Market Overview:
Condensed milk is basically a form of milk produced by evaporation of moisture from milk. This ratio removes approximately 60% of the water from the total volume of milk. Condensed milk is rich, thick, and provides the same nutritional benefits. Condensed milk has numerous applications, including food, beverage, bakery, and confectionery. The milk evaporation process helps to increases the shelf life of condensed milk. Germany, France and Switzerland are critical manufacturing points for sweetened condensed milk worldwide.
Recent Developments in Condensed Milk Industry:
Royal FrieslandCampina N.V., The Netherlands, increased Alaskan Milk Corporation's share from 8.1% to 68.9%, while expanding the global market by purchasing $ 5505 million worth of shares in the Uytengsus family.

With the merger of FarineLactée Henri Nestlé and Anglo-Swiss Milk Company, Nestlé offers baby products and concentrated milk.

One of the leading market players, Vinamilk is concentrating on improving the brand's penetration in Southeast Asia due to the high demand for dairy products in those countries. This is expected to lead the entire market in the coming years.

Fraser &Neave Holdings Bhd (F & NHB) launched Milk Stix and Squeeze Tube, Malaysia's first cream-sweetened condensed milk to boost product sales.
REPORT COVERAGE:
| | |
| --- | --- |
| REPORT METRIC | DETAILS |
| Market Size Available | 2020 – 2026 |
| Base Year | 2020 |
| Forecast Period | 2021 - 2026 |
| CAGR | 3.5% |
| Segments Covered | By Type, Application, Sales Channel and Region |
| Various Analyses Covered | Global, Regional & Country Level Analysis, Segment-Level Analysis, DROC, PESTLE Analysis, Porter's Five Forces Analysis, Competitive Landscape, Analyst Overview on Investment Opportunities |
| Regions Covered | North America, Europe, APAC, Latin America, Middle East & Africa |
| Market Leaders Profiled | Nestlé S.A., The J.M. Smucker Company, GCMMF PVT LTD, Magnolia Inc, Goya Foods Inc, F&N Foods Pte Ltd, Meijer, Inc, Sun Hing Foods, Meadow Gold Dairies, Olvebra Industrial and Others. |
Condensed Milk Market Growth:
Condensed milk is closely related to the dairy markets, generating notable returns and is supposed to record steady growth over the forecast period.
Drivers:
The global condensed milk market is expected to record growth over the outlook period as demand for processed dairy products increases and the confectionery industry grows. Furthermore, the growing demand for culinary products, such as tea, coffee and desserts, is supposed to accelerate market growth. In addition, concentrated milk is one of the main ingredients in desserts such as cakes and ice cream due to its thick texture and sweet flavor. Therefore, an increase in dessert demand is assumed to have a positive impact on market growth during the prediction period. Quality and longevity are the main consumer preferences and drive the purchase of food and beverages. The long useful life indicates that the consumption of the product has been extended. As a result, consumers tend to buy products in bulk and store them for future use. This purchasing activity is expected to drive the sale of condensed milk. The product lasts for more than a year after the printed expiration date, if opened, for approximately 3 weeks after opening. This is one of the main characteristics of condensed milk and it is presumed to lead the market. As awareness continues to spread through campaigns and social media, there is a growing demand for dairy-free alternatives to all possible foods.
Also, the lactose intolerance group has been buying these products at a very high rate, keeping in mind that desserts can be enjoyed without fear like ordinary people. People with a sustainable mindset also prefer vegan breakfast products and figurative products because they do not guarantee any animal abuse at the time of production. Therefore, due to the multiple benefits of consuming non-dairy products, the vegan concentrated milk market is anticipated to show significant growth in the future. The effect has become evident as vegetable dairy exports increase worldwide. Condensed milk gives the rich dessert a smooth and creamy texture, making the end product tasty and sweet. Similar applications, such as fruit toppings and savory toppings, are expected to increase consumption of the product, thereby promoting market growth over the estimated period. Condensed milk has impressive nutritional value when consumed in the correct amount. This product contains around 60 calories per tablespoon, making it ideal for weight-focused consumers. It also contains essential vitamins and minerals like calcium, potassium, magnesium, and vitamin A that promote bone health. As awareness of the benefits of a product increases, demand for the product is deemed to increase in the coming years. R&D processing of condensed milk by evaporation and drying and treatment at ultra-high temperatures is envisioned to open the way for the market during the forecast period.
Restraints:
The demand for mortgage foods can hinder the growth of condensed milk, which is sweetened primarily for use in multipurpose food applications. Furthermore, as the purchasing power of consumers' increases, their propensity to consume healthy foods has increased. Growth in the healthy drinks and beverages market is expected to limit the market for the next seven years. Furthermore, the quality of the milk used in production and seasonal fluctuations in sales can have a negative impact on the market.
Condensed Milk Market Segmentation Analysis:
By Type:
Sweetened

Unsweetened

Skimmed

Part Skimmed

Flavored
By Application:
Foods

Beverages

Bakery

Confectionary

Personal & beauty care
By Sales Channel:
Online retailing

Supermarkets/hypermarkets

Departmental stores

Retail shops
Geographical Segmentation Analysis:
North America - the United States and Canada

Europe - United Kingdom, Spain, Germany, Italy, and France

The Asia Pacific - India, Japan, China, Australia, Singapore, Malaysia, South Korea, New Zealand, and Southeast Asia

Latin America - Brazil, Argentina, Mexico, and Rest of LATAM

The Middle East and Africa - Africa and Middle East (Saudi Arabia, UAE, Lebanon, Jordan, Cyprus)
Regional Analysis:
In 2018, Europe dominated only the condensed milk market, with a total share of 38.0%. Most global sales have been driven by Germany and Poland, with improved dairy production in these countries. Additionally, sweetened condensed milk is primarily used in morning beverages such as tea and coffee to reduce the bitter taste of coffee beans and tea leaves. The Asia Pacific region is foreseen to show the fastest growth in the future due to the growth of sweetened condensed milk in Europe and North America. In addition, the increase in the consumption of products in the main countries of Southeast Asia, such as Vietnam and Malaysia, is a determining factor. This product is used in many traditional dishes along with other flavors like coconut and cashew to improve flavor. However, this market is expected to face obstacles due to the high-calorie content of the product and the spread of obesity and heart disease. The demand for condensed milk products for use in desserts and confectionery is increasing not only in Canada but also in the United States. The main reason for the increase in demand is that consumers can easily handle the condensed milk available in cans, bottles and tubes, which can be selected according to the needs of the application and in terms of quantity. In addition, the market for aroma milk is growing due to the diverse spice demands of the North American population.
Key Players in the Market:
Major key players in the Global Condensed Milk Market are
Nestlé S.A.

The J.M. Smucker Company

GCMMF PVT LTD

Magnolia Inc.

Goya Foods Inc

F&N Foods Pte Ltd

Meijer, Inc

Sun Hing Foods Inc.

Meadow Gold Dairies

Olvebra Industrial
1. Introduction
1.1 Market Definition
1.2 Study Deliverables
1.3 Base Currency, Base Year and Forecast Periods
1.4 General Study Assumptions
2. Research Methodology
2.1 Introduction
2.2 Research Phases
2.2.1 Secondary Research
2.2.2 Primary Research
2.2.3 Econometric Modelling
2.2.4 Expert Validation
2.3 Analysis Design
2.4 Study Timeline
3. Overview
3.1 Executive Summary
3.2 Key Inferences
3.3 Epidemology
4. Drivers, Restraints, Opportunities, and Challenges Analysis (DROC)
4.1 Market Drivers
4.2 Market Restraints
4.3 Key Challenges
4.4 Current Opportunities in the Market
5. Market Segmentation
5.1 Sales Channel
5.1.1 Introduction
5.1.2 Online retailing
5.1.3 Supermarkets/hypermarkets
5.1.4 Departmental stores
5.1.5 Retail shops
5.1.6 Y-o-Y Growth Analysis, By Sales Channel
5.1.7 Market Attractiveness Analysis, By Sales Channel
5.1.8 Market Share Analysis, By Sales Channel
5.2 Type
5.2.1 Introduction
5.2.2 Sweetened
5.2.3 Unsweetened
5.2.4 Skimmed
5.2.5 Part Skimmed
5.2.6 Flavored
5.2.7 Y-o-Y Growth Analysis, By Type
5.2.8 Market Attractiveness Analysis, By Type
5.2.9 Market Share Analysis, By Type
5.3 Application
5.3.1 Introduction
5.3.2 Foods
5.3.3 Beverages
5.3.4 Bakery
5.3.5 Confectionary
5.3.6 Personal & beauty care
5.3.7 Y-o-Y Growth Analysis, By Application
5.3.8 Market Attractiveness Analysis, By Application
5.3.9 Market Share Analysis, By Application
6. Geographical Analysis
6.1 Introduction
6.1.1 Regional Trends
6.1.2 Impact Analysis
6.1.3 Y-o-Y Growth Analysis
6.1.3.1 By Geographical Area
6.1.3.2 By Sales Channel
6.1.3.3 By Type
6.1.3.4 By Application
6.1.4 Market Attractiveness Analysis
6.1.4.1 By Geographical Area
6.1.4.2 By Sales Channel
6.1.4.3 By Type
6.1.4.4 By Application
6.1.5 Market Share Analysis
6.1.5.1 By Geographical Area
6.1.5.2 By Sales Channel
6.1.5.3 By Type
6.1.5.4 By Application
6.2 North America
6.1.1 Introduction
6.1.2 United States
6.1.3 Canada
6.3 Europe
6.2.1 Introduction
6.2.2 U.K
6.2.3 Spain
6.2.4 Germany
6.2.5 Italy
6.2.6 France
6.4 Asia-Pacific
6.3.1 Introduction
6.3.2 China
6.3.3 India
6.3.4 Japan
6.3.5 Australia
6.3.6 South Korea
6.5 Latin America
6.4.1 Introduction
6.4.2 Brazil
6.4.3 Argentina
6.4.4 Mexico
6.4.5 Rest of Latin America
6.6 Middle East & Africa
6.5.1 Introduction
6.5.2 Middle-East
6.5.3 Africa
7. Strategic Analysis
7.1 PESTLE analysis
7.1.1 Political
7.1.2 Economic
7.1.3 Social
7.1.4 Technological
7.1.5 Legal
7.1.6 Environmental
7.2 Porter's Five analysis
7.2.1 Bargaining Power of Suppliers
7.2.2 Bargaining Power of Consumers
7.2.3 Threat of New Entrants
7.2.4 Threat of Substitute Products and Services
7.2.5 Competitive Rivalry within the Industry
8. Market Leaders' Analysis
8.1 Nestlé S.A.
8.1.1 Overview
8.1.2 Product analysis
8.1.3 Financial analysis
8.1.4 Recent Developments
8.1.5 SWOT analysis
8.1.6 Analyst View
8.2 The J.M. Smucker Company
8.3 GCMMF PVT LTD
8.4 Magnolia Inc.
8.5 Goya Foods Inc
8.6 F&N Foods Pte Ltd
8.7 Meijer, Inc
8.8 Sun Hing Foods Inc.
8.9 Meadow Gold Dairies
8.10 Olvebra Industrial
9. Competitive Landscape
9.1 Market share analysis
9.2 Merger and Acquisition Analysis
9.3 Agreements, collaborations and Joint Ventures
9.4 New Product Launches
10. Market Outlook and Investment Opportunities
Appendix
a) List of Tables
b) List of Figures
Global, regional and country-level analysis and forecasts of the study market; providing Insights on the major countries/regions in which this industry is blooming and to also identify the regions that are still untapped

The Segment-level analysis in terms of By Type, Application, Sales Channel and along with market size forecasts and estimations to detect key areas of industry growth in detail

Identification of key drivers, restraints, opportunities, and challenges (DROC) in the market and their impact on shifting market dynamics

Study of the effect of exogenous and endogenous factors that affect the global market; which includes broadly demographic, economics, and political, among other macro-environmental factors presented in an extensive PESTLE Analysis

Study the micro environment factors that determine the overall profitability of an Industry, using Porter's five forces analysis for analysing the level of competition and business strategy development

A comprehensive list of key market players along with their product portfolio, current strategic interests, key financial information, legal issues, SWOT analysis and analyst overview to study and sustain the market environment

Competitive landscape analysis listing out the mergers, acquisitions, collaborations in the field along with new product launches, comparative financial studies and recent developments in the market by the major companies

An executive summary, abridging the entire report in such a way that decision-making personnel can rapidly become acquainted with background information, concise analysis and main conclusions

Expertly devised analyst overview along with Investment opportunities to provide both individuals and organizations a strong financial foothold in the market
Global Condensed Milk Market By Region, From 2021-2026 ( USD Million )

Global Condensed Milk Market By Type, From 2021-2026 ( USD Million )

Global sweetened Market By Region, From 2021-2026 ( USD Million )

Global unsweetened Market By Region, From 2021-2026 ( USD Million )

Global skimmed Market By Region, From 2021-2026 ( USD Million )

Global part skimmed Market By Region, From 2021-2026 ( USD Million )

Global flavored Market By Region, From 2021-2026 ( USD Million )

Global Condensed Milk Market By Application, From 2021-2026 ( USD Million )

Global foods Market By Region, From 2021-2026 ( USD Million )

Global beverages Market By Region, From 2021-2026 ( USD Million )

Global bakery Market By Region, From 2021-2026 ( USD Million )

Global confectionary Market By Region, From 2021-2026 ( USD Million )

Global personal & beauty car Market By Region, From 2021-2026 ( USD Million )

Global Condensed Milk Market By Sales Channel, From 2021-2026 ( USD Million )

Global online retailing Market By Region, From 2021-2026 ( USD Million )

Global supermarkets/hypermarkets Market By Region, From 2021-2026 ( USD Million )

Global departmental stores Market By Region, From 2021-2026 ( USD Million )

Global retail shops Market By Region, From 2021-2026 ( USD Million )

North America Condensed Milk Market By Type, From 2021-2026 ( USD Million )

North America sweetened Market By Region, From 2021-2026 ( USD Million )

North America unsweetened Market By Region, From 2021-2026 ( USD Million )

North America skimmed Market By Region, From 2021-2026 ( USD Million )

North America part skimmed Market By Region, From 2021-2026 ( USD Million )

North America flavored Market By Region, From 2021-2026 ( USD Million )

North America Condensed Milk Market By Application, From 2021-2026 ( USD Million )

North America foods Market By Region, From 2021-2026 ( USD Million )

North America beverages Market By Region, From 2021-2026 ( USD Million )

North America bakery Market By Region, From 2021-2026 ( USD Million )

North America confectionary Market By Region, From 2021-2026 ( USD Million )

North America personal & beauty car Market By Region, From 2021-2026 ( USD Million )

North America Condensed Milk Market By Sales Channel, From 2021-2026 ( USD Million )

North America online retailing Market By Region, From 2021-2026 ( USD Million )

North America supermarkets/hypermarkets Market By Region, From 2021-2026 ( USD Million )

North America departmental stores Market By Region, From 2021-2026 ( USD Million )

North America retail shops Market By Region, From 2021-2026 ( USD Million )

United States Condensed Milk Market By Type, From 2021-2026 ( USD Million )

United States Condensed Milk Market By Application, From 2021-2026 ( USD Million )

United States Condensed Milk Market By Sales Channel, From 2021-2026 ( USD Million )

Canada Condensed Milk Market By Type, From 2021-2026 ( USD Million )

Canada Condensed Milk Market By Application, From 2021-2026 ( USD Million )

Canada Condensed Milk Market By Sales Channel, From 2021-2026 ( USD Million )

Europe Condensed Milk Market By Type, From 2021-2026 ( USD Million )

Europe sweetened Market By Region, From 2021-2026 ( USD Million )

Europe unsweetened Market By Region, From 2021-2026 ( USD Million )

Europe skimmed Market By Region, From 2021-2026 ( USD Million )

Europe part skimmed Market By Region, From 2021-2026 ( USD Million )

Europe flavored Market By Region, From 2021-2026 ( USD Million )

Europe Condensed Milk Market By Application, From 2021-2026 ( USD Million )

Europe foods Market By Region, From 2021-2026 ( USD Million )

Europe beverages Market By Region, From 2021-2026 ( USD Million )

Europe bakery Market By Region, From 2021-2026 ( USD Million )

Europe confectionary Market By Region, From 2021-2026 ( USD Million )

Europe personal & beauty car Market By Region, From 2021-2026 ( USD Million )

Europe Condensed Milk Market By Sales Channel, From 2021-2026 ( USD Million )

Europe online retailing Market By Region, From 2021-2026 ( USD Million )

Europe supermarkets/hypermarkets Market By Region, From 2021-2026 ( USD Million )

Europe departmental stores Market By Region, From 2021-2026 ( USD Million )

Europe retail shops Market By Region, From 2021-2026 ( USD Million )

U.K. Condensed Milk Market By Type, From 2021-2026 ( USD Million )

U.K. Condensed Milk Market By Application, From 2021-2026 ( USD Million )

U.K. Condensed Milk Market By Sales Channel, From 2021-2026 ( USD Million )

Germany Condensed Milk Market By Type, From 2021-2026 ( USD Million )

Germany Condensed Milk Market By Application, From 2021-2026 ( USD Million )

Germany Condensed Milk Market By Sales Channel, From 2021-2026 ( USD Million )

France Condensed Milk Market By Type, From 2021-2026 ( USD Million )

France Condensed Milk Market By Application, From 2021-2026 ( USD Million )

France Condensed Milk Market By Sales Channel, From 2021-2026 ( USD Million )

Italy Condensed Milk Market By Type, From 2021-2026 ( USD Million )

Italy Condensed Milk Market By Application, From 2021-2026 ( USD Million )

Italy Condensed Milk Market By Sales Channel, From 2021-2026 ( USD Million )

Spain Condensed Milk Market By Type, From 2021-2026 ( USD Million )

Spain Condensed Milk Market By Application, From 2021-2026 ( USD Million )

Spain Condensed Milk Market By Sales Channel, From 2021-2026 ( USD Million )

Asia Pacific Condensed Milk Market By Type, From 2021-2026 ( USD Million )

Asia Pacific sweetened Market By Region, From 2021-2026 ( USD Million )

Asia Pacific unsweetened Market By Region, From 2021-2026 ( USD Million )

Asia Pacific skimmed Market By Region, From 2021-2026 ( USD Million )

Asia Pacific part skimmed Market By Region, From 2021-2026 ( USD Million )

Asia Pacific flavored Market By Region, From 2021-2026 ( USD Million )

Asia Pacific Condensed Milk Market By Application, From 2021-2026 ( USD Million )

Asia Pacific foods Market By Region, From 2021-2026 ( USD Million )

Asia Pacific beverages Market By Region, From 2021-2026 ( USD Million )

Asia Pacific bakery Market By Region, From 2021-2026 ( USD Million )

Asia Pacific confectionary Market By Region, From 2021-2026 ( USD Million )

Asia Pacific personal & beauty car Market By Region, From 2021-2026 ( USD Million )

Asia Pacific Condensed Milk Market By Sales Channel, From 2021-2026 ( USD Million )

Asia Pacific online retailing Market By Region, From 2021-2026 ( USD Million )

Asia Pacific supermarkets/hypermarkets Market By Region, From 2021-2026 ( USD Million )

Asia Pacific departmental stores Market By Region, From 2021-2026 ( USD Million )

Asia Pacific retail shops Market By Region, From 2021-2026 ( USD Million )

Japan Condensed Milk Market By Type, From 2021-2026 ( USD Million )

Japan Condensed Milk Market By Application, From 2021-2026 ( USD Million )

Japan Condensed Milk Market By Sales Channel, From 2021-2026 ( USD Million )

China Condensed Milk Market By Type, From 2021-2026 ( USD Million )

China Condensed Milk Market By Application, From 2021-2026 ( USD Million )

China Condensed Milk Market By Sales Channel, From 2021-2026 ( USD Million )

India Condensed Milk Market By Type, From 2021-2026 ( USD Million )

India Condensed Milk Market By Application, From 2021-2026 ( USD Million )

India Condensed Milk Market By Sales Channel, From 2021-2026 ( USD Million )

Australia Condensed Milk Market By Type, From 2021-2026 ( USD Million )

Australia Condensed Milk Market By Application, From 2021-2026 ( USD Million )

Australia Condensed Milk Market By Sales Channel, From 2021-2026 ( USD Million )

South Korea Condensed Milk Market By Type, From 2021-2026 ( USD Million )

South Korea Condensed Milk Market By Application, From 2021-2026 ( USD Million )

South Korea Condensed Milk Market By Sales Channel, From 2021-2026 ( USD Million )

Latin America Condensed Milk Market By Type, From 2021-2026 ( USD Million )

Latin America sweetened Market By Region, From 2021-2026 ( USD Million )

Latin America unsweetened Market By Region, From 2021-2026 ( USD Million )

Latin America skimmed Market By Region, From 2021-2026 ( USD Million )

Latin America part skimmed Market By Region, From 2021-2026 ( USD Million )

Latin America flavored Market By Region, From 2021-2026 ( USD Million )

Latin America Condensed Milk Market By Application, From 2021-2026 ( USD Million )

Latin America foods Market By Region, From 2021-2026 ( USD Million )

Latin America beverages Market By Region, From 2021-2026 ( USD Million )

Latin America bakery Market By Region, From 2021-2026 ( USD Million )

Latin America confectionary Market By Region, From 2021-2026 ( USD Million )

Latin America personal & beauty car Market By Region, From 2021-2026 ( USD Million )

Latin America Condensed Milk Market By Sales Channel, From 2021-2026 ( USD Million )

Latin America online retailing Market By Region, From 2021-2026 ( USD Million )

Latin America supermarkets/hypermarkets Market By Region, From 2021-2026 ( USD Million )

Latin America departmental stores Market By Region, From 2021-2026 ( USD Million )

Latin America retail shops Market By Region, From 2021-2026 ( USD Million )

Brazil Condensed Milk Market By Type, From 2021-2026 ( USD Million )

Brazil Condensed Milk Market By Application, From 2021-2026 ( USD Million )

Brazil Condensed Milk Market By Sales Channel, From 2021-2026 ( USD Million )

Argentina Condensed Milk Market By Type, From 2021-2026 ( USD Million )

Argentina Condensed Milk Market By Application, From 2021-2026 ( USD Million )

Argentina Condensed Milk Market By Sales Channel, From 2021-2026 ( USD Million )

Mexico Condensed Milk Market By Type, From 2021-2026 ( USD Million )

Mexico Condensed Milk Market By Application, From 2021-2026 ( USD Million )

Mexico Condensed Milk Market By Sales Channel, From 2021-2026 ( USD Million )

Rest of Latin America Condensed Milk Market By Type, From 2021-2026 ( USD Million )

Rest of Latin America Condensed Milk Market By Application, From 2021-2026 ( USD Million )

Rest of Latin America Condensed Milk Market By Sales Channel, From 2021-2026 ( USD Million )

Middle East and Africa Condensed Milk Market By Type, From 2021-2026 ( USD Million )

Middle East and Africa sweetened Market By Region, From 2021-2026 ( USD Million )

Middle East and Africa unsweetened Market By Region, From 2021-2026 ( USD Million )

Middle East and Africa skimmed Market By Region, From 2021-2026 ( USD Million )

Middle East and Africa part skimmed Market By Region, From 2021-2026 ( USD Million )

Middle East and Africa flavored Market By Region, From 2021-2026 ( USD Million )

Middle East and Africa Condensed Milk Market By Application, From 2021-2026 ( USD Million )

Middle East and Africa foods Market By Region, From 2021-2026 ( USD Million )

Middle East and Africa beverages Market By Region, From 2021-2026 ( USD Million )

Middle East and Africa bakery Market By Region, From 2021-2026 ( USD Million )

Middle East and Africa confectionary Market By Region, From 2021-2026 ( USD Million )

Middle East and Africa personal & beauty car Market By Region, From 2021-2026 ( USD Million )

Middle East and Africa Condensed Milk Market By Sales Channel, From 2021-2026 ( USD Million )

Middle East and Africa online retailing Market By Region, From 2021-2026 ( USD Million )

Middle East and Africa supermarkets/hypermarkets Market By Region, From 2021-2026 ( USD Million )

Middle East and Africa departmental stores Market By Region, From 2021-2026 ( USD Million )

Middle East and Africa retail shops Market By Region, From 2021-2026 ( USD Million )

Middle East Condensed Milk Market By Type, From 2021-2026 ( USD Million )

Middle East Condensed Milk Market By Application, From 2021-2026 ( USD Million )

Middle East Condensed Milk Market By Sales Channel, From 2021-2026 ( USD Million )

Africa Condensed Milk Market By Type, From 2021-2026 ( USD Million )

Africa Condensed Milk Market By Application, From 2021-2026 ( USD Million )

Africa Condensed Milk Market By Sales Channel, From 2021-2026 ( USD Million )