Milk Market Size, Growth, Forecast (2023-2028)
The Global Milk Market size was worth US$ xx million in 2022, and it is foreseen to reach US$ xx million by 2028 with an annual expansion rate of xx% between 2023 and 2028.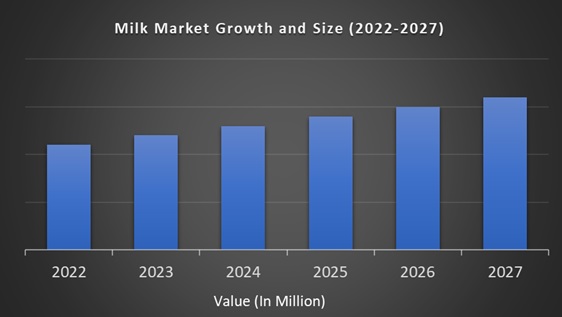 Market Overview:
Milk is one of the first categories of food adopted by humanity and is considered an important part of human nutrition. Milk is defined as a company that deals with the processing and collection of animal milk for human consumption. Common dairy animals include cattle, goats, buffalo, camels, and sheep. The milk obtained from these animals can be consumed directly and transformed into ice cream, cheese, butter, condensed milk and yogurt. These products provide a variety of nutrients such as calcium, protein, zinc, magnesium, vitamin D, and B12. The health benefits associated with milk motivated the population of all sectors to consume dairy products. Milk is considered a packet of essential nutrients for the human body and is highly recommended as a source of calcium and healthy fats.
Recent Developments in Milk Industry:
In January 2019, French dairy company Lactalis continued on its way towards the goal of becoming a guilty company by acquiring India-based Prabhat Dairy for $ 23 million to gain a leading market share in West India.
REPORT COVERAGE:
| | |
| --- | --- |
| REPORT METRIC | DETAILS |
| Market Size Available | 2022 – 2028 |
| Base Year | 2022 |
| Forecast Period | 2023 - 2028 |
| CAGR | xx% |
| Segments Covered | By Product Type, Distribution Channel and Region |
| Various Analyses Covered | Global, Regional & Country Level Analysis, Segment-Level Analysis, DROC, PESTLE Analysis, Porter's Five Forces Analysis, Competitive Landscape, Analyst Overview on Investment Opportunities |
| Regions Covered | North America, Europe, APAC, Latin America, Middle East & Africa |
| Market Leaders Profiled | Dean Foods, Royal Friesland Campina N.V, China Mengniu Dairy Company Limited, Arla Foods, Kraft Foods Group, Inc, Land O'Lakes Inc, Yili Group, Meiji Dairies Corporation and Others. |
Milk Market Growth:
The growing demand for milk products is driven by a growing population, higher income levels, and increased health awareness.
Drivers:
With the wide demand for dairy products and an active role in the global food industry, milk plays an important role in the growth of the world economy. Over the years, the milk industry has improved product safety through specialization, modernization, and integration. Also, the development of world trade has also affected the profitability of dairy farms. Farmers now have easy access to advanced technologies that help quantify information to monitor a variety of tasks such as turf and livestock management. Apart from this, a variety of robotics, smartphone data applications, satellite systems and drones are also available on the market to help farmers make profitable and efficient decisions. Additionally, there is a growing demand for clean label products that are free of additives, artificial preservatives, or chemicals. This requires manufacturers to expand their product portfolio with the introduction of organic dairy products. Greater efficiency and use of concentrated feed in large dairy farms. The farm consolidation process continued, including moving the farms away from watercourses and city centers, guided by current regulations to control environmental damage. Dairy is an important part of the rural economy of developing nations like India and is an important source of employment and income. However, the milk production per animal is considerably lower compared to other large milk producers. The nutritional benefits of dairy products are one of the main drivers of growth in the global dairy market. The rich vitamins, minerals and proteins present in milk make dairy products essential for humans. For example, the calcium content of milk is an important part of infant nutrition because it helps develop healthy bones and teeth in young children.
Additionally, vitamin D reduces the risk of cancer prevention, potassium lowers blood pressure and improves heart health, and fermented milk acts as a source of probiotics that improves gut health. Changes in consumer thinking have brought about a number of changes. Lifestyle changes have led to an increase in demand for value-added dairy products compared to the base product, fluid milk. The consumers are becoming more health conscious and the value-added dairy industry is showing little growth. As the consumption capacity of Indians increases, so does the willingness to buy healthier superfoods that we call value-added products. The value-added products in the dairy industry are "cheese, saddlebags, ghee, yogurt and probiotic drinks. The high nutritional value of fermented dairy products is driving sales of yogurt cakes and other dairy desserts. The global milk market is mainly dominated by the butter sector, followed by the cheese and saddlebags sector. The yogurt and dairy desserts segment are expected to grow faster around the world. Other factors responsible for the growth of the milk market include increased consumer spending, population growth, and consumer preference for nutritious foods. The dairy sector and the growing demand for milk-based ingredients are one of the key factors supporting the growth of the market. This could be due to population growth, rising incomes, health awareness, and a thriving food and beverage industry. Another important trend in the industry is the automation technology integrated into dairy farms.
Restraints:
The growing vegan and vegetarian preferences of the vegetarian population are limiting the consumption of dairy. Lactose intolerance, milk sensitivity, consumer migration to plant foods and misconceptions related to milk consumption are major limitations in the milk market.
Impact of COVID 19 on the Milk Market:
The global milk market will be reset to new standards that will continue to be redefined and redesigned in the post-COVID-19 era. Identifying trends and accurate analysis is more important than ever to manage uncertainty, manage change, and constantly adapt to new and changing market conditions. Continuous monitoring for new signs of a new world order after the COVID-19 crisis is essential for ambitious companies and agile leaders seeking success in today's rapidly changing milk market environment.
Milk Market Segmentation Analysis:
The global milk market has been segmented by product type as skimmed milk powder, liquid milk, whey protein, butter, infant nutrition and a variety of other products. Liquid milk is an important dairy product, and the demand for liquid dairy products is growing rapidly as consumer awareness of health and living standards increases. Babies are one of the main drivers in the market for infant formula and baby milk. The global market for infant nutrition reached 2.5 million in 2019 and is expected to grow more than 7% in the next 10 years. The increase in milk supply is also supporting the growth of the sector. In most countries, including the densely populated India and China, milk is considered an important part of a healthy diet. Liquid milk accounts for more than 90% of the demand for dairy products in rural areas and more than 85% of urban areas in India.
By distribution channel, the supermarkets and hypermarkets accounted for almost 50% in terms of sales value in 2018. The strategy of the retail market of the manufacturer to reach retail stores is driving sales through supermarkets and hypermarkets. Convenience stores, specialty stores, and e-commerce also account for a significant portion of dairy product sales.
Geographical Segmentation Analysis:
North America - the United States and Canada

Europe - United Kingdom, Spain, Germany, Italy, and France

The Asia Pacific - India, Japan, China, Australia, Singapore, Malaysia, South Korea, New Zealand, and Southeast Asia

Latin America - Brazil, Argentina, Mexico, and Rest of LATAM

The Middle East and Africa - Africa and Middle East (Saudi Arabia, UAE, Lebanon, Jordan, Cyprus)
Regional Analysis:
In developing countries in Asia Pacific and Europe, dairy product sales account for more than 50% of worldwide sales. This western market is experiencing a high growth rate mainly due to product innovation and increased consumer health awareness. In the Asia Pacific region, India dominates the market, followed by China and Australia, and demand in Europe is driven by countries such as Belarus and Ukraine. For example, modernization has created business opportunities to reduce greenhouse gas emissions, improve milk quality, and process local dairy products. The Asia-Pacific region has become the largest dairy market due to strong dairy sales in China and rapidly increasing demand for fermented dairy products in India and Indonesia. Asia Pacific's share of the overall dairy market reached 36% in 2019 and is likely to remain dominant during the forecast period as dairy sales are highly profitable at double digits in countries such as Pakistan, Vietnam, India and Laos.
Key Players in the Market:
Major Key Players in the Global Milk Market are
Dean Foods

Royal Friesland Campina N.V

China Mengniu Dairy Company Limited

Arla Foods

Kraft Foods Group, Inc

Land O'Lakes Inc

Yili Group

Meiji Dairies Corporation