Camel Milk Market Size, Share, and Growth Analysis:
Camel Milk Market size was worth USD XX billion in 2020 and estimated to be growing at a CAGR of XX%, to reach USD XX billion by 2026. Camel's milk has supported Bedouin, nomad and pastoral cultures since the domestication of camels millennia ago. Herders may for periods survive solely on the milk when taking the camels on long distances to graze in desert and arid environments.
Compared to the cow, buffalo, and milk fat, camel milk fat contains fewer short-chained fatty acids, but the same long-chained fatty acids can be found. Camel milk has more fat and protein than cow's milk. Cholesterol in camel milk is lower than cow or goat milk.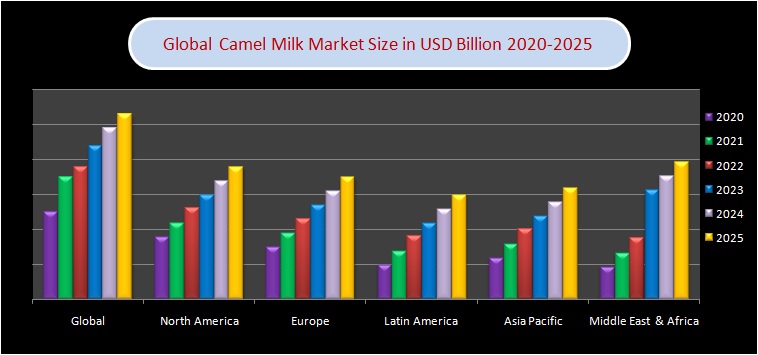 Recent Developments in Camel Milk Market:
In November 2019, Aadvik Foods has launched camel milk powder. This powder is made through the freeze-drying process, which preserves the natural properties of milk.

While Amul has long toyed with the idea of ​​launching camel milk, Bikaner-based Aadvik Foods beat out the dairy giant to bring not just camel milk, but even powdered milk and chocolates to market. Believed to have several health benefits, such as high insulin and vitamin content, "ship of the desert" milk is slowly evolving as a niche dairy product. While prices remain prohibitive for mass consumption, underground consumers are realizing the benefits of camel milk, an acquired taste given its salty nature.
Camel Milk Market Growth Insights:
The growing popularity of camel milk due to its easily digestible property among lactose-intolerant consumers is expected to have a positive impact on the industry. Other than that, milk is considered more nutritious compared to cow's milk because it contains higher amounts of copper, iron, sodium, potassium, magnesium, manganese, and vitamins A and C. It is one of the most nutritious dairy drinks, containing natural probiotics. Camel milk enhances overall immunity and gastrointestinal health. The drink is low in fat, which is only around 2-3%, compared to cow's dairy, so it is expected to appeal to more health-conscious consumers who are monitoring their caloric intake. In addition, it helps babies and children since it is the closest substitute for breast milk. In several countries in the Middle East and Africa, it is used to feed malnourished children. Camel milk is traditionally consumed in raw or fermented form. However, with the growing number of urban consumers, manufacturers are diversifying their offerings to satisfy this population. Ice creams, flavored drinks, chocolate, and sweets are gaining popularity among countries, including the markets of Saudi Arabia, the United Arab Emirates, Kazakhstan, Morocco, Algeria, India, Egypt, Mauritania, and Australia. Therefore, the market has a great opportunity in terms of product innovation due to the increasing demand in emerging and untapped markets. Camel dairy products are relatively expensive compared to traditional dairy products for livestock due to high production costs. The expenses related to the camel milk products compared to other products is foreseen to impede business growth in the projected years.
Camel Milk Market Segmentation:
The global camel milk market can be divided based on the Distribution channel and Product.
The offline distribution channel accounted for more than 80% of the global camel milk market revenue. Consumers prefer to buy dairy products due to their short shelf life and daily needs. Among the offline distribution channel, large retailers such as supermarkets and hypermarkets accounted for the largest share due to the wide range of products and attractive discounts. These stores, like Whole Foods Market, have simplified the distribution and expanded the reach of camel milk dairy products around the world.
The natural and flavored milk segments together accounted for more than 55% of total sales in 2019. These products have helped support nomadic and Bedouin societies for centuries. Natural milk is considered a cultural and traditional drink in the countries of the Middle East. Therefore, much of the product is consumed raw or plain. In recent years, derivatives such as powder, yogurt, cheese, butter, ice cream, chocolates, infant formulas, and even cosmetics have gained popularity around the world. Industry players are diversifying their product lines to secure their profit margins. Camel milk production requires high investment and must compete with the well-established cattle milk market, so a diverse product portfolio is important to industry players. The companies, including Camelicious, have their own cheese production plants. Also, infant formulas made from camels are a close substitute for breast milk because they have a similar lactose content. For instance, Camelicious offers powdered camel milk products for lactose intolerant babies in a Mexican children's hospital.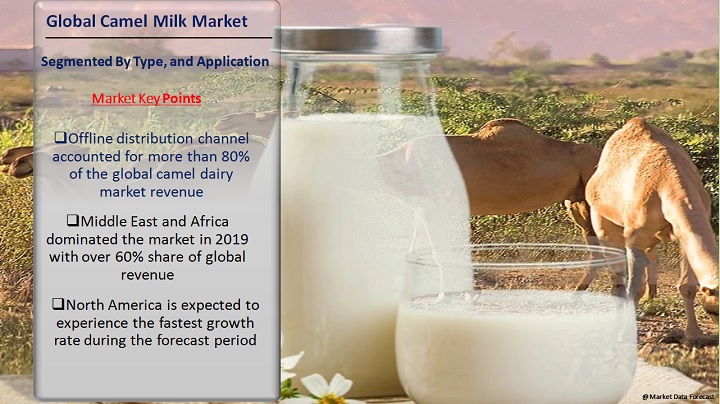 Impact of COVID-19 on Camel Milk Market
COVID-19 will continue to impact the food industry and its supply chains. Meeting short-term demands shouldn't be a major challenge for most companies in the food industry, but industry experts and analysts have expressed a lack of clarity on the degree and extent of the impact sprouts. Due to this uncertainty, the F&B sector experienced delays in the supply of products. Many companies have launched contingency plans to build in-depth supply chain facilities across the world. Food manufacturers with services in other countries have begun working with local suppliers to keep products moving and overcome potential ingredient shortages. The F&B culture that had flourished over the past decades will have to see new challenges with the slowdown of the Coronavirus, such as recovering from losses and a preference for ordering food online.
Regional Presence of the Market:
The global Camel Milk market has been categorized by geography into North America, Asia Pacific, Europe, Latin America, and the Middle East, and Africa.
In 2015, North America led the global Camel milk market in terms of market share. The market for these Camel milk in the Asia-Pacific area is amplifying because more of consumption. The Asia-Pacific and other rising nations are foreseen to develop at a quick pace in the Camel milk market in the following years when compared with the seasoned markets of developed regions.
The Middle East and Africa dominated the market in 2019 with over 60% share of global revenue. Somalia, Kenya, Mali, Ethiopia, Saudi Arabia, and Niger are the main camel milk-producing countries in the world, where Somalia and Kenya accounted for more than 60% of the production. Furthermore, in terms of consumption, Saudi Arabia is the world's largest market, where per capita consumption is around 33 liters per year. Additionally, Somalia, Ethiopia, Sudan, and Kenya also have a high per capita consumption rate in the region.
North America is expected to experience the fastest growth rate during the forecast period. The adoption of camel milk has increased among diabetic consumers in the United States and Canada due to its low sugar content. As a result, companies in the sector are strengthening their offer in these countries through offline and online retailers. Most of these stores offer frozen drinks instead of cold drinks.
Leading Company
Desert Farms had the largest share of the Camel Milk Market in terms of sales revenue in 2019.
Leading Key Companies Covered in this report are:
The major players operating in the Global Camel milk industry include Desert Farms, Camel Milk Victoria, VITAL CAMEL MILK, Camel Milk UK, Wang Yuan Camel Milk, and Camel Milk Australia.
1. Introduction
1.1 Market Definition
1.2 Study Deliverables
1.3 Base Currency, Base Year and Forecast Periods
1.4 General Study Assumptions
2. Research Methodology
2.1 Introduction
2.2 Research Phases
2.2.1 Secondary Research
2.2.2 Primary Research
2.2.3 Econometric Modelling
2.2.4 Expert Validation
2.3 Analysis Design
2.4 Study Timeline
3. Overview
3.1 Executive Summary
3.2 Key Inferences
3.3 Epidemology
4. Drivers, Restraints, Opportunities, and Challenges Analysis (DROC)
4.1 Market Drivers
4.2 Market Restraints
4.3 Key Challenges
4.4 Current Opportunities in the Market
5. Market Segmentation
5.1 Type
5.1.1 Introduction
5.1.2 Raw Camel Milk
5.1.3 Raw Frozen Camel Milk
5.1.4 Camel Milk Powder
5.1.5 Camel Milk Handmade Soaps
5.1.6 Camel Milk Flakes
5.1.7 Others
5.1.8 Y-o-Y Growth Analysis, By Type
5.1.9 Market Attractiveness Analysis, By Type
5.1.10 Market Share Analysis, By Type
5.2 Application
5.2.1 Introduction
5.2.2 Daily Foods
5.2.3 Healthcare
5.2.4 Daily Necessities
5.2.5 Y-o-Y Growth Analysis, By Application
5.2.6 Market Attractiveness Analysis, By Application
5.2.7 Market Share Analysis, By Application
6. Geographical Analysis
6.1 Introduction
6.1.1 Regional Trends
6.1.2 Impact Analysis
6.1.3 Y-o-Y Growth Analysis
6.1.3.1 By Geographical Area
6.1.3.2 By Type
6.1.3.3 By Application
6.1.4 Market Attractiveness Analysis
6.1.4.1 By Geographical Area
6.1.4.2 By Type
6.1.4.3 By Application
6.1.5 Market Share Analysis
6.1.5.1 By Geographical Area
6.1.5.2 By Type
6.1.5.3 By Application
6.2 North America
6.1.1 Introduction
6.1.2 United States
6.1.3 Canada
6.3 Europe
6.2.1 Introduction
6.2.2 U.K
6.2.3 Spain
6.2.4 Germany
6.2.5 Italy
6.2.6 France
6.4 Asia-Pacific
6.3.1 Introduction
6.3.2 China
6.3.3 India
6.3.4 Japan
6.3.5 Australia
6.3.6 South Korea
6.5 Latin America
6.4.1 Introduction
6.4.2 Brazil
6.4.3 Argentina
6.4.4 Mexico
6.4.5 Rest of Latin America
6.6 Middle East & Africa
6.5.1 Introduction
6.5.2 Middle-East
6.5.3 Africa
7. Strategic Analysis
7.1 PESTLE analysis
7.1.1 Political
7.1.2 Economic
7.1.3 Social
7.1.4 Technological
7.1.5 Legal
7.1.6 Environmental
7.2 Porter's Five analysis
7.2.1 Bargaining Power of Suppliers
7.2.2 Bargaining Power of Consumers
7.2.3 Threat of New Entrants
7.2.4 Threat of Substitute Products and Services
7.2.5 Competitive Rivalry within the Industry
8. Market Leaders' Analysis
8.1 Desert Farms
8.1.1 Overview
8.1.2 Product Analysis
8.1.3 Financial analysis
8.1.4 Recent Developments
8.1.5 SWOT analysis
8.1.6 Analyst View
8.2 Milk Victoria
8.3 VITAL CAMEL MILK
8.4 Camel Milk UK
8.5 Wang Yuan Camel Milk
8.6 Camel Milk Australia
9. Competitive Landscape
9.1 Market share analysis
9.2 Merger and Acquisition Analysis
9.3 Agreements, collaborations and Joint Ventures
9.4 New Product Launches
10. Market Outlook and Investment Opportunities
Appendix
a) List of Tables
b) List of Figures
Global, regional and country-level analysis and forecasts of the study market; providing Insights on the major countries/regions in which this industry is blooming and to also identify the regions that are still untapped
Segment-level analysis in terms of by Type, by Application along with market size forecasts and estimations to detect key areas of industry growth in detail
Identification of key drivers, restraints, opportunities and challenges (DROC) in the market and their impact on shifting market dynamics
Study of the effect of exogenous and endogenous factors that affect the global market; which includes broadly demographic, economic and political, among other macro-environmental factors presented in an extensive PESTLE Analysis
Study the micro environment factors that determine the overall profitability of an Industry, using Porter's five forces analysis for analyzing the level of competition and business strategy development
A comprehensive list of key market players along with their product portfolio, current strategic interests, key financial information, legal issues, SWOT analysis and analyst overview to study and sustain the market environment
Competitive landscape analysis listing out the mergers, acquisitions, collaborations in the field along with new product launches, comparative financial studies and recent developments in the market by the major companies
An executive summary, abridging the entire report in such a way that decision-making personnel can rapidly become acquainted with background information, concise analysis and main conclusions
Expertly devised analyst overview along with Investment opportunities to provide both individuals and organizations a strong financial foothold in the market
Global Camel Milk Market By Region, From 2021-2026 ( USD Million )

Global Camel Milk Market By Type, From 2021-2026 ( USD Million )

Global Raw Camel Milk Market By Region, From 2021-2026 ( USD Million )

Global Raw Frozen Camel Milk Market By Region, From 2021-2026 ( USD Million )

Global Camel Milk Powder Market By Region, From 2021-2026 ( USD Million )

Global Camel Milk Handmade soaps Market By Region, From 2021-2026 ( USD Million )

Global Camel Milk Flakes Market By Region, From 2021-2026 ( USD Million )

Global Others Market By Region, From 2021-2026 ( USD Million )

Global Camel Milk Market By Application, From 2021-2026 ( USD Million )

Global Daily Foods Market By Region, From 2021-2026 ( USD Million )

Global Healthcare Market By Region, From 2021-2026 ( USD Million )

Global Daily Necessitites Market By Region, From 2021-2026 ( USD Million )

North America Camel Milk Market By Type, From 2021-2026 ( USD Million )

North America Raw Camel Milk Market By Region, From 2021-2026 ( USD Million )

North America Raw Frozen Camel Milk Market By Region, From 2021-2026 ( USD Million )

North America Camel Milk Powder Market By Region, From 2021-2026 ( USD Million )

North America Camel Milk Handmade soaps Market By Region, From 2021-2026 ( USD Million )

North America Camel Milk Flakes Market By Region, From 2021-2026 ( USD Million )

North America Others Market By Region, From 2021-2026 ( USD Million )

North America Camel Milk Market By Application, From 2021-2026 ( USD Million )

North America Daily Foods Market By Region, From 2021-2026 ( USD Million )

North America Healthcare Market By Region, From 2021-2026 ( USD Million )

North America Daily Necessitites Market By Region, From 2021-2026 ( USD Million )

United States Camel Milk Market By Type, From 2021-2026 ( USD Million )

United States Camel Milk Market By Application, From 2021-2026 ( USD Million )

Canada Camel Milk Market By Type, From 2021-2026 ( USD Million )

Canada Camel Milk Market By Application, From 2021-2026 ( USD Million )

Europe Camel Milk Market By Type, From 2021-2026 ( USD Million )

Europe Raw Camel Milk Market By Region, From 2021-2026 ( USD Million )

Europe Raw Frozen Camel Milk Market By Region, From 2021-2026 ( USD Million )

Europe Camel Milk Powder Market By Region, From 2021-2026 ( USD Million )

Europe Camel Milk Handmade soaps Market By Region, From 2021-2026 ( USD Million )

Europe Camel Milk Flakes Market By Region, From 2021-2026 ( USD Million )

Europe Others Market By Region, From 2021-2026 ( USD Million )

Europe Camel Milk Market By Application, From 2021-2026 ( USD Million )

Europe Daily Foods Market By Region, From 2021-2026 ( USD Million )

Europe Healthcare Market By Region, From 2021-2026 ( USD Million )

Europe Daily Necessitites Market By Region, From 2021-2026 ( USD Million )

U.K. Camel Milk Market By Type, From 2021-2026 ( USD Million )

U.K. Camel Milk Market By Application, From 2021-2026 ( USD Million )

Germany Camel Milk Market By Type, From 2021-2026 ( USD Million )

Germany Camel Milk Market By Application, From 2021-2026 ( USD Million )

France Camel Milk Market By Type, From 2021-2026 ( USD Million )

France Camel Milk Market By Application, From 2021-2026 ( USD Million )

Italy Camel Milk Market By Type, From 2021-2026 ( USD Million )

Italy Camel Milk Market By Application, From 2021-2026 ( USD Million )

Spain Camel Milk Market By Type, From 2021-2026 ( USD Million )

Spain Camel Milk Market By Application, From 2021-2026 ( USD Million )

Asia Pacific Camel Milk Market By Type, From 2021-2026 ( USD Million )

Asia Pacific Raw Camel Milk Market By Region, From 2021-2026 ( USD Million )

Asia Pacific Raw Frozen Camel Milk Market By Region, From 2021-2026 ( USD Million )

Asia Pacific Camel Milk Powder Market By Region, From 2021-2026 ( USD Million )

Asia Pacific Camel Milk Handmade soaps Market By Region, From 2021-2026 ( USD Million )

Asia Pacific Camel Milk Flakes Market By Region, From 2021-2026 ( USD Million )

Asia Pacific Others Market By Region, From 2021-2026 ( USD Million )

Asia Pacific Camel Milk Market By Application, From 2021-2026 ( USD Million )

Asia Pacific Daily Foods Market By Region, From 2021-2026 ( USD Million )

Asia Pacific Healthcare Market By Region, From 2021-2026 ( USD Million )

Asia Pacific Daily Necessitites Market By Region, From 2021-2026 ( USD Million )

Japan Camel Milk Market By Type, From 2021-2026 ( USD Million )

Japan Camel Milk Market By Application, From 2021-2026 ( USD Million )

China Camel Milk Market By Type, From 2021-2026 ( USD Million )

China Camel Milk Market By Application, From 2021-2026 ( USD Million )

India Camel Milk Market By Type, From 2021-2026 ( USD Million )

India Camel Milk Market By Application, From 2021-2026 ( USD Million )

Australia Camel Milk Market By Type, From 2021-2026 ( USD Million )

Australia Camel Milk Market By Application, From 2021-2026 ( USD Million )

South Korea Camel Milk Market By Type, From 2021-2026 ( USD Million )

South Korea Camel Milk Market By Application, From 2021-2026 ( USD Million )

Latin America Camel Milk Market By Type, From 2021-2026 ( USD Million )

Latin America Raw Camel Milk Market By Region, From 2021-2026 ( USD Million )

Latin America Raw Frozen Camel Milk Market By Region, From 2021-2026 ( USD Million )

Latin America Camel Milk Powder Market By Region, From 2021-2026 ( USD Million )

Latin America Camel Milk Handmade soaps Market By Region, From 2021-2026 ( USD Million )

Latin America Camel Milk Flakes Market By Region, From 2021-2026 ( USD Million )

Latin America Others Market By Region, From 2021-2026 ( USD Million )

Latin America Camel Milk Market By Application, From 2021-2026 ( USD Million )

Latin America Daily Foods Market By Region, From 2021-2026 ( USD Million )

Latin America Healthcare Market By Region, From 2021-2026 ( USD Million )

Latin America Daily Necessitites Market By Region, From 2021-2026 ( USD Million )

Brazil Camel Milk Market By Type, From 2021-2026 ( USD Million )

Brazil Camel Milk Market By Application, From 2021-2026 ( USD Million )

Argentina Camel Milk Market By Type, From 2021-2026 ( USD Million )

Argentina Camel Milk Market By Application, From 2021-2026 ( USD Million )

Mexico Camel Milk Market By Type, From 2021-2026 ( USD Million )

Mexico Camel Milk Market By Application, From 2021-2026 ( USD Million )

Rest of Latin America Camel Milk Market By Type, From 2021-2026 ( USD Million )

Rest of Latin America Camel Milk Market By Application, From 2021-2026 ( USD Million )

Middle East and Africa Camel Milk Market By Type, From 2021-2026 ( USD Million )

Middle East and Africa Raw Camel Milk Market By Region, From 2021-2026 ( USD Million )

Middle East and Africa Raw Frozen Camel Milk Market By Region, From 2021-2026 ( USD Million )

Middle East and Africa Camel Milk Powder Market By Region, From 2021-2026 ( USD Million )

Middle East and Africa Camel Milk Handmade soaps Market By Region, From 2021-2026 ( USD Million )

Middle East and Africa Camel Milk Flakes Market By Region, From 2021-2026 ( USD Million )

Middle East and Africa Others Market By Region, From 2021-2026 ( USD Million )

Middle East and Africa Camel Milk Market By Application, From 2021-2026 ( USD Million )

Middle East and Africa Daily Foods Market By Region, From 2021-2026 ( USD Million )

Middle East and Africa Healthcare Market By Region, From 2021-2026 ( USD Million )

Middle East and Africa Daily Necessitites Market By Region, From 2021-2026 ( USD Million )

Middle East Camel Milk Market By Type, From 2021-2026 ( USD Million )

Middle East Camel Milk Market By Application, From 2021-2026 ( USD Million )

Africa Camel Milk Market By Type, From 2021-2026 ( USD Million )

Africa Camel Milk Market By Application, From 2021-2026 ( USD Million )