Milk Powder Market Size, Growth, Forecast (2023-2028)
The Global Milk Powder Market size was worth US$ 27.78 billion in 2022, and it is estimated to reach a valuation of US$ 38.08 billion by the end of 2028, rising at an annual compound rate of 4.4% between 2023 and 2028. Because powdered milk has a low moisture content, it has a longer shelf life than liquid milk, leading to the growth of the market.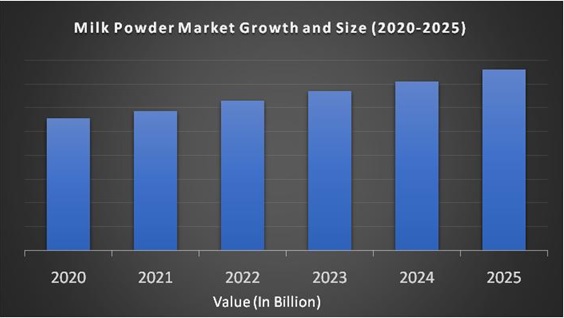 Market Overview:
Milk Powder is a dry dairy product that is made by dehydrating milk by evaporation. The purpose of producing milk powder is to increase the shelf life of milk without using a refrigerator. Various types of milk powder include whole milk powder, skim milk powder, and bleach. It is widely consumed worldwide due to the nutritional benefits applied to infant formulas, confectionery, baked desserts, and salty products. Powdered milk is a healthy food because it has many micro and macronutrients. Powdered milk contains a significant amount of protein, contains remarkable amounts of vitamin C, B12, calcium, and other essential nutrients, and does not require individual containers for storage, making it a more convenient option than regular milk.
Recent Developments in Milk Powder Industry:
In March 2019, Yili Company acquired the Westland Milk Products business. The acquisition allowed Yili to expand its business worldwide, expand its product portfolio and take full advantage of Westland Milk Products' expertise.

In May 2017, Ausnutria signed a favourable contract to acquire the entire Australian Dairy Park (ADP) business. This acquisition includes R&D activities, as well as complete commercial operations, including the production, packaging and sale of dairy and milk powder.

In November 2017, Dairy Farmers of America Inc. opened a new milk powder plant in Garden City, Kansas, announcing a desire to support growing demand for domestic and international milk powder and industrial growth in the region.

In October 2017, Saputo Inc. announced the acquisition of the dairy food company Murray Goulburn Co-Operative Co Limited to add and complement the activities of the company's dairy business (Australia).
REPORT COVERAGE:
| | |
| --- | --- |
| REPORT METRIC | DETAILS |
| Market Size Available | 2022 – 2028 |
| Base Year | 2022 |
| Forecast Period | 2023 - 2028 |
| CAGR | 4.4% |
| Segments Covered | By Type, Application, Function and Region |
| Various Analyses Covered | Global, Regional & Country Level Analysis, Segment-Level Analysis, DROC, PESTLE Analysis, Porter's Five Forces Analysis, Competitive Landscape, Analyst Overview on Investment Opportunities |
| Regions Covered | North America, Europe, APAC, Latin America, Middle East & Africa |
| Market Leaders Profiled | Nestle, Danone, Lactalis, Frieslandcampina, Fonterra, Dean Foods, Arla Foods, Dairy Farmers Of America, Kraft Foods, Saputo and Others. |
Milk Powder Market Growth:
Many countries have failed to meet the growing demand for milk, and the need for milk powder has increased, depending on imported milk, which is generally purchased in the form of powder.
Drivers:
Milk Powder contains nicotine amide riboside, a micronutrient that can help prevent obesity, improve muscle performance, improve energy consumption, and to avoid diabetes. These factors drive the growth of the global milk powder market. The main advantage of milk powder is that it has a low moisture content, which increases the shelf life. Longer service life is desirable in places with high temperatures and inadequate transportation facilities. The reduction in transportation and storage costs associated with milk powder is driving the growth of the worldwide milk powder market. The demand for infant formula is also expected to increase as disposable income for the population living in emerging countries increases and adoption as an alternative to increasing milk. As concerns about UHT milk grow, the growth of the worldwide milk powder market is supposed to be obstructed. As milk powder has diversified its fields of application in the food and beverage industry, the continued growth of this industry has positively contributed to stimulating demand, especially in emerging regions such as China, India and Brazil.
Milk Powder provides nutritional value and is being used in sports nutrition products, including dietary bars and beverages. The increasing demand for these products due to an increase in knowledge of physical fitness is driving the milk powder market. With the advent of globalization, people are becoming busier. Their way of life has changed, and the amount of time allotted for tasks like cooking has been dramatically reduced. The shortage of such quality time is pushing the consumers to look out for other alternative products to quicken their regular household tasks. Consumers have adopted packaged and processed foods and convenient meals to reduce the time required to prepare food. By finding a suitable alternative, this factor paved the way for milk formula worldwide.
In addition, the shelf life of powdered milk is longer than that of ordinary milk, so the demand for powdered milk increases more than that of regular products. Also, the increase in the number of working women encourages the adoption of milk powder, promoting the growth of the milk powder market worldwide. Besides, the introduction or development of new products such as flavored milk powder or lactose-free milk powder is assumed to accelerate the growth of the milk powder market in the future.
Restraints:
However, milk powder often contains emulsifiers. Emulsifiers are additives made from vegetable, animal and synthetic raw materials to help milk powder and similar processed products achieve a smooth texture, prevent separation and extend shelf life. There is a regular review about the safety of allowed additives by the FDA, which is based on scientific information and decides the continuity or withdrawal of such additive.
This is a healthy alternative, which can affect the popularity of milk powder and limit the growth of the global milk powder market. Furthermore, strict regulations regarding milk powder have been developed in many countries, including China, as a result of the Chinese milk powder scandal, where hundreds of babies died from the consumption of soy milk powder. These regulations regarding declining dairy prices worldwide represent a challenge for manufacturers, hindering the growth of the global market.
Milk Powder Market Segmentation Analysis:
By Type:
Dry Buttermilk

Dry Whey Products

Dry Whole Milk

Dry Dairy Blends

Non-Fat Dry Milk
By Application:
Infant Formulas

Nutritional Formulas

Confectionaries

Baked Sweets and Savouries
By Function:
Foaming

Emulsification

Flavouring

Thickening
Geographical Segmentation Analysis:
North America - the United States and Canada

Europe - United Kingdom, Spain, Germany, Italy, and France

The Asia Pacific - India, Japan, China, Australia, Singapore, Malaysia, South Korea, New Zealand, and Southeast Asia

Latin America - Brazil, Argentina, Mexico, and Rest of LATAM

The Middle East and Africa - Africa and Middle East (Saudi Arabia, UAE, Lebanon, Jordan, Cyprus)
Regional Analysis:
The main regions in the global milk powder market are Asia Pacific, Europe, North America and the rest of the world (RoW). Globally, New Zealand is a significant exporter of milk powder. The United States is a major producer of milk powder, but much of its mass production is consumed domestically. China and France are also among the largest markets for infant formula. The milk powder market in the Asia-Pacific region is fueled by lifestyle changes due to globalization and an increase in the workforce, and countries such as Indonesia, Malaysia, the Philippines and Thailand see a growing supply of modern retail chains. Due to the increase in the wealthy population and the increasing penetration of the Internet and social networks, the consumption of processed and packaged foods increases, which makes it suitable for the packaging of products in the region.
On the other hand, in LAMEA, the market for powdered milk continues to multiply due to changes in consumption activities and lifestyles. As a result, people in the region have been encouraged to start with packaged foods. Moreover, the demand for infant formula in the area has increased as consumption of infant formula has expanded.
Key Players in the Market:
Major Key Players in the Global Milk Powder Market are
Nestle

Danone

Lactalis

Frieslandcampina

Fonterra

Dean Foods

Arla Foods

Dairy Farmers Of America

Kraft Foods

Saputo