Milk Replacers Market Size, Growth, Forecast (2023-2028)
The global Milk Replacers Market size is foreseen to ascend from USD 4.3 billion in 2022 to reach USD 6.8 billion by 2028, expanding at a CAGR of about 8% in the next few years.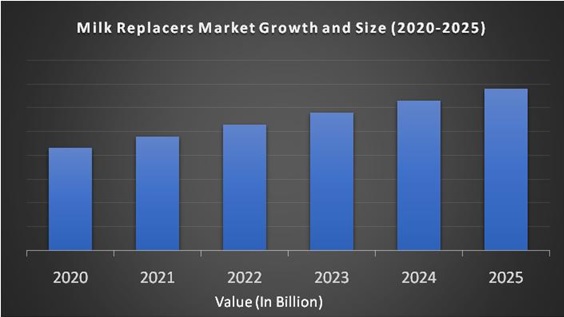 Market Overview:
Milk replacers, widely known as milk substitutes, are made using a variety of raw materials and are made to mimic the nutritional value of cattle milk, and are supplied to young calves when natural milk is not adequate. These milk replacers play an important role in improving and maintaining health in the early stages of the calf. Milk replacers also help milk producers' lower costs by maximizing the benefits of milk production, as they see a drop in the cost of raw materials used in milk production worldwide. Milk-based replacers are considered ideal since the digestive system of their offspring is adapted to act on milk, helping to absorb the maximum amount of nutrients from milk-based replacers. This alternative is mainly used in developed countries due to the high awareness of livestock keepers about the benefits of milk-based alternatives. Milk replacers are less fatty than whole milk and rich in minerals, vitamins, and other nutrients. Veal milk substitutes are available in both liquid and powder form, and the product is available in powder form, making it easy to use. The powder form can be combined with water or whole milk before feeding and storing. Milk replacers also have an extended shelf life compared to whole milk.
Recent Developments in Milk Replacers Industry:
In October 2019, Royal FrieslandCampina N.V. announced that it had signed a contract to expand the production and supply of mozzarella cheese with Royal A-ware. Apart from milk supply and recipes, the former company is also well-known for its sales of mozzarella cheese.

Cargill announced a reorganization of the animal nutrition business in September 2019 as animal health and animal health issues increased.

In June 2019, Land O'Lakes, Inc. made a deal with the Royal Agrifirm Group, a firm in the Netherlands to developAgrilakes, a Chinese-based joint venture for dairy animal food.
REPORT COVERAGE:
| | |
| --- | --- |
| REPORT METRIC | DETAILS |
| Market Size Available | 2022 – 2028 |
| Base Year | 2022 |
| Forecast Period | 2023 - 2028 |
| CAGR | 8% |
| Segments Covered | By Type, Livestock, Source, Form and Region |
| Various Analyses Covered | Global, Regional & Country Level Analysis, Segment-Level Analysis, DROC, PESTLE Analysis, Porter's Five Forces Analysis, Competitive Landscape, Analyst Overview on Investment Opportunities |
| Regions Covered | North America, Europe, APAC, Latin America, Middle East & Africa |
| Market Leaders Profiled | Bewital Agri GmbH & Company Kg, Cargill (U.S.), Archer Daniels Midland Company (U.S.), CHS Inc. (U.S.), Land O' Lakes (U.S.), Lactalis Group (France), Glanbia, VanDrie Group (Netherlands), FrieslandCampina (Netherlands), Nutreco N.V. (Netherlands), Alltech (U.S.) and Others. |
Milk Replacers Market Growth:
The global milk replacers market is determined to record moderate growth in the future, and makers are focusing on innovative formulation solutions to help the calf obtain all the essential nutrients.
Drivers:
Milk replacers across the world have been growing in recent years. The growing market for dairy farmers is increasingly aware of its potential, and the market for replacing beef milk is growing. Milk replacer manufacturers are designing products that support calf intestinal health and general health early in life. The milk replacers market is expected to show an outstanding CAGR while achieving rapid growth in the market during the forecast period. Milk replacers are cheaper than cow's milk and have a high market growth rate. Manufacturers are investing in research and development to develop technologies that provide products that support intestinal health and improve immunity. Milk replacers also offer protein, fortified vitamins, organic selenium, and trace minerals that are necessary for optimal absorption and usage. Young calves can grow well when fed as a milk substitute, and the rumen can develop just as it does when whole milk is consumed. Milk replacers help prevent digestive problems and the risk of redness. It also reduces the risk of disease transmission from cows to calves. The milk changer is best suited for automatic calf feeding systems. Awareness, prosperity, enormous purchasing power and the greater nature of the animal products industry are key drivers of market demand.
The global increase in the consumption of animal products is positively affecting the growth of the milk substitute market. While global demand for beef-based foods and milk-based products increases, significant growth can also be seen in livestock farming. From the birth of the calf, the quality of the final livestock product must be guaranteed, which is why we are increasingly focusing on the diet of the offspring. Cow's milk is sold as a base product and is also used as a raw material for many milk-based products, so the calf must supply a milk substitute. Developed countries around the world are developing and following established processes to put pressure on dairy and meat products to improve agricultural quality and prevent the spread of disease caused by unregulated diets. Organized dairy producers are also emerging in developing countries. These factors are driving the overall demand for milk replacers in the global market. The main players in the market for veal milk replacers focus on improving brands and promoting their products on a variety of platforms. Manufacturers also strive to increase the popularity of the product among consumers by raising awareness and providing knowledge. Additionally, major companies are investing heavily in the research and development process to launch new products with new goals.
Restraints:
Since much of the livestock and dairy farming market is not yet organized, much of the milk replacers market does not limit the milk replacers market.
Milk Replacers Market Segmentation Analysis:
By Type:
By Livestock:
By Source:
Milk-based

Non-milk-based

Blended
By Form:
Geographical Segmentation Analysis:
North America - the United States and Canada

Europe - United Kingdom, Spain, Germany, Italy, and France

The Asia Pacific - India, Japan, China, Australia, Singapore, Malaysia, South Korea, New Zealand, and Southeast Asia

Latin America - Brazil, Argentina, Mexico, and Rest of LATAM

The Middle East and Africa - Africa and Middle East (Saudi Arabia, UAE, Lebanon, Jordan, Cyprus)
Regional Analysis:
Geographically, the worldwide market for liquid milk alternatives finds market coverage in North America, Europe, Asia Pacific, Latin America and the Middle East and Africa. The North American milk replacer market is considered to expand in a remarkable way over the next few years. This regional growth is due to the increased interest in R&D activities for the development of innovative products throughout the region. In addition, milk substitutes are the main substitute for livestock feed. Europe is dominating the market due to the high consumption of substitutes for liquid milk in the region. The European Commission focuses on the health and nutrition of animals in the early stages of growth. According to European law, all calves must be able to communicate with their mother for at least two weeks after birth for the consumption of colostrum. It is then transferred to a calf farm to provide milk substitutes to replace milk. Additionally, as dairy use increases, livestock keepers have used liquid milk substitutes in their breeding systems.
Key Players in the Market:
Major Key Players in the Global Milk Replacers Market are
Bewital Agri GmbH & Company Kg

Cargill (U.S.)

Archer Daniels Midland Company (U.S.)

CHS Inc. (U.S.)

Land O' Lakes (U.S.)

Lactalis Group (France)

Glanbia

VanDrie Group (Netherlands)

FrieslandCampina (Netherlands)

Nutreco N.V. (Netherlands)

Alltech (U.S.)