Infant Nutrition Market Size, Growth, Forecast (2023-2028)
The Global Infant Nutrition Market size was worth US$ 34.2 billion in 2022, and it is estimated to reach a valuation of US$ 61.6 billion by the end of 2028, expanding at an annual growth rate of 7.7% between 2023 and 2028. Nutrition is one of the most important factors affecting children's development and growth.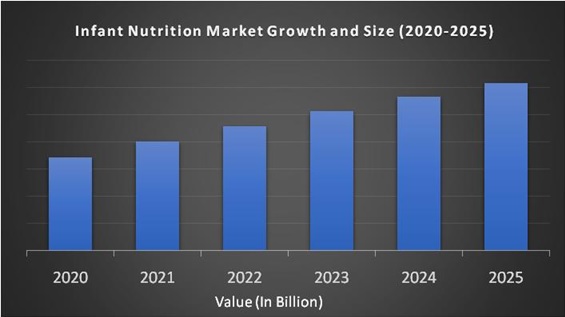 Market Overview:
The infant nutrition market is made up of a wide range of products, from baby formulas to baby food. Infant nutrition is generally produced to feed babies under 12 months of age and is made in liquid or powder form. Infant nutrition promotes healthy growth and development of babies, improves cognitive ability and progress, prevents allergies, and increases gastrointestinal health and immunity. Child Nutrition is a personalized nutritional blend designed to enhance the overall nutritional value of child nutrition products, including vitamins (primarily vitamin D), minerals, amino acids, and nucleotides. Infant nutrition is a substitute for breast milk. The first six months after birth plays a vital role in the development of the child, and the most important thing is to ensure optimal nutrition during this period. Breast milk is considered nutritious, and it contains carbohydrates, proteins, minerals, fats and vitamins that are essential for children's development. However, in some cases, the mother may not be able to make breast milk or breastfeed for other reasons. In a few instances, infant nutrition products act as suitable substitutes.
Recent Developments in Infant Nutrition Industry:
January 2019: An Arla Foods Amba subsidiary called Arla Foods Ingredients introduced a new infant formula called Easy Digest Whey Protein. The company aims to reduce gastrointestinal problems by changing the amount of protein used.

September 2019: Researchers from the Technical University of Denmark and the University of Kyoto have found a new infant formula that is as good as breast milk. It contains the same sugar and can be administered to children who are not breastfed.

BASF (Germany) and GlycoSyn (USA) have formed associations focused on child nutrition. This included the development and commercialization of human milk oligosaccharides (HMO).

In 2019 BASF launched the first PREBILAC 2'-FL HMO for the infant nutrition market. Therefore, many essential companies participate, and the market is very competitive.
REPORT COVERAGE:
| | |
| --- | --- |
| REPORT METRIC | DETAILS |
| Market Size Available | 2022 – 2028 |
| Base Year | 2022 |
| Forecast Period | 2023 - 2028 |
| CAGR | 7.7% |
| Segments Covered | By Type, Formulation and Region |
| Various Analyses Covered | Global, Regional & Country Level Analysis, Segment-Level Analysis, DROC, PESTLE Analysis, Porter's Five Forces Analysis, Competitive Landscape, Analyst Overview on Investment Opportunities |
| Regions Covered | North America, Europe, APAC, Latin America, Middle East & Africa |
| Market Leaders Profiled | Ausnutria Hyproca, Abbott Laboratories, Bristol-Myers Squibb Company, Glanbia plc, Pfizer, Inc, GlaxoSmithKline plc, Mead Johnson, Nestlé S.A, Perrigo Nutritionals, Danone Nutricia and Others. |
Infant Nutrition Market Growth:
One of the main factors that are expected to support this market growth is an increase in the number of women that joined the postpartum workforce, mothers are unable to consume lactates, and fathers seeking additional sources of nutrition for their babies will promote the sale of ingredients in the coming years.
Drivers:
Nutrients help babies to grow and develop, improve cognitive abilities and development, prevent allergies and improve gastrointestinal health and immunity. There are certain factors that drive market growth, such as increasing workforce, increasing spending on children's health, and growing demand for organic baby food. Parents currently spend more on their babies compared to the previous year due to various social factors. Children are now considered more protected than before. According to many surveys, parents spend a lot of money on babies, sometimes with guilt, shame, and social anxiety. In recent years, the number of young working mothers has increased significantly. It has been a critical factor in promoting the growth of the global infant food nutrition market. This is because working mothers rely primarily on processed infant nutrition products. Therefore, organic food is one of the fastest-growing sectors in the food industry and has experienced double-digit growth in most developed markets, compared to the single-digit growth rate of conventional food.
Global demand is increasing due to factors such as parents' desire to provide healthier foods for their babies. In addition, in many developing markets, factors such as the growth of the middle class, rapid urbanization, and the higher participation rate of women in the labor force have led to the adoption of convenience-oriented lifestyles, making make baby food and infant formulas even more. The growing middle-class population in emerging and developing countries has broken new ground in the infant nutrition market as the need for products compatible with working mother hours increases. In the coming years, the global infant nutrition market is anticipated to show healthy growth. In recent years, sales of infant nutrition products in developed countries have experienced single-digit growth rates.
Restraints:
For the limited use of ingredients in baby food, the low fertility rate of the government and food department and strict quality controls may hamper the infant nutrition market. Additionally, barriers to market entry are regulatory hurdles associated with obtaining approvals for infant formula and food manufacturing.
Infant Nutrition Market Segmentation Analysis:
By Type:
Infant Milk Formula

Follow-on Milk Formula

Growing Up Milk Formula

Specialty Baby Milk Formula
By Formulation:
Powder

Liquid Concentrate

Ready to Feed Formula
Geographical Segmentation Analysis:
North America - the United States and Canada

Europe - United Kingdom, Spain, Germany, Italy, and France

The Asia Pacific - India, Japan, China, Australia, Singapore, Malaysia, South Korea, New Zealand, and Southeast Asia

Latin America - Brazil, Argentina, Mexico, and Rest of LATAM

The Middle East and Africa - Africa and Middle East (Saudi Arabia, UAE, Lebanon, Jordan, Cyprus)
Regional Analysis:
In terms of geography, North America occupies the largest market in terms of sales. Factors such as high disposable income, the presence of large companies in the region, and well-developed pharmaceutical and biotech industries are attributed to market growth in the area. Along with increased awareness and disposable income, high per capita health expenditures are contributing to the growth of the regional market. The average age of American women is growing as young women increasingly prioritize their careers over family planning. As a result, parents' interest in baby health and nutrition is driving the growth of the North American market.
Furthermore, consumers in developed countries are willing to pay a higher amount for their products due to the general perception of healthier and safer products than traditional products.
Europe is the second-largest market for infant formula due to its excellent manufacturing facilities and high energy consumption per baby. The Asia Pacific region is foreseen to show the highest growth rates in the coming years. Factors such as the growth of the baby boomer population, the increase in disposable income and high urbanization contribute to the growth of the Asia Pacific market. It is also a leader in emerging markets with slowing sales in developed countries. China's massive population base and rapidly growing consumers with increasing purchasing power are highly attractive to multinational brands. However, in 2008 the baby and toddler melamine issue still dominated the market and created an environment in that consumers care about the health and safety of babies.
Key Players in the Market:
Major Key Players in the Global Infant Nutrition Market are
Ausnutria Hyproca

Abbott Laboratories

Bristol-Myers Squibb Company

Glanbia plc

Pfizer, Inc

GlaxoSmithKline plc

Mead Johnson

Nestlé S.A

Perrigo Nutritionals

Danone Nutricia