Sports Nutrition Market Size, Growth, Forecast (2022-2027)
The Global Sports Nutrition Market size was worth US$ 15.6 billion in 2021, and it is estimated to reach a valuation of US$ 31.0 billion by the end of 2027, rising at an annual growth rate of about 9% between 2022 and 2027. Sports nutrition is consumed mainly by athletes to replenish their body water level. Lifestyle and recreation users are increasingly favoring these products.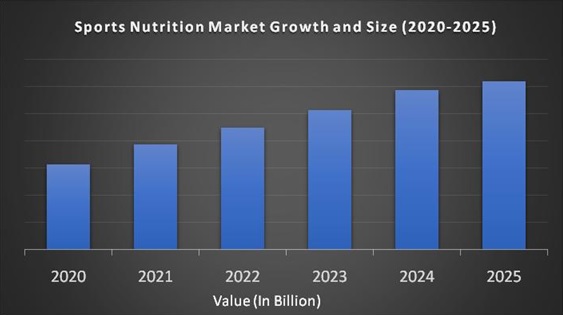 Market Overview:
Sports nutrition plays a vital role in enhancing the strength of athletes as it comprises various minerals, vitamins, supplements, and so on, which are produced by proteins, carbohydrates and fats. Sports nutrition products comprise supplements, protein drinks, carbohydrate drinks, protein bars, carbohydrates/energy, protein powder, isotonic powder drinks, capsules/tablets and other supplements. These products are developed and consumed by athletes and bodybuilders to improve overall health, performance, and muscle growth. Sports drinks were commonly used by athletes to replenish body water levels. Bodybuilders are the leading users of sports supplements, which include energy bars and drinks, protein bars, and dietary supplements made with ingredients like creatine, caffeine, linoleic acid, and taurine. New product developments, a rapid increase in urbanization, and the growth of numerous retailers, health clubs, and gyms support this business expansion.
Recent Developments in Sports Nutrition Industry:
In 2018, Amazon launched the private-label sports assistant brand "OWN PWR" for American consumers.

In 2017, CytoSport, Inc., a subsidiary of Hormel Food Corporation, launched Muscle Milk Protein Bar as an extension of its current sports nutrition division.

In 2017, the vitamin store launched brand-defined stores in nine locations, increasing customer engagement and improving the overall experience.

NOW Sports in 2018, alongside Informed Sports, a third-party certification provider worked on the identification of prohibited substances in its products. These certifications help companies build consumer confidence and improve brand reputation.

Momentous, a start-up in sports nutrition introduced its first line NSG approved protein powders in 2017, which comprised AbsoluteZero, ArcFire and RedShift.

In 2016, Klean Athlete launched Klean Creatine to help athletes gain muscle mass, increase endurance, and regain fatigue.
REPORT COVERAGE:
| | |
| --- | --- |
| REPORT METRIC | DETAILS |
| Market Size Available | 2021 – 2027 |
| Base Year | 2021 |
| Forecast Period | 2022 - 2027 |
| CAGR | 9% |
| Segments Covered | By Type, Distribution Channel and Region |
| Various Analyses Covered | Global, Regional & Country Level Analysis, Segment-Level Analysis, DROC, PESTLE Analysis, Porter's Five Forces Analysis, Competitive Landscape, Analyst Overview on Investment Opportunities |
| Regions Covered | North America, Europe, APAC, Latin America, Middle East & Africa |
| Market Leaders Profiled | Glanbia Plc, Hormel Foods Corporation, Hormel Foods Corporation, MusclePharm, CytoSport, SternLife, InnovoPro Ltd, Après, Gatorade and Others. |
Sports Nutrition Market Growth:
Developing countries have enormous growth potential in sports nutrition products due to rapid urbanization, increased disposable income, and a high proportion of youth.
Drivers:
The global sports nutrition market is expected to show significant growth within the outlook period due to the recent increase in lifestyle and increased demand from recreational user groups. Also, as the number of health clubs and gyms increases, health awareness increases and this market is supposed to become active within the forecast period. In addition to this, rapid urbanization and disposable income increase as the purchase of sports nutrition products increases and healthy snacks are likely to accelerate the growth of the sports nutrition market as part of the diet. Athletes and bodybuilders have been the leading consumers of sports nutrition products worldwide over the years, but they have been widely adopted among lifestyle users. The main factors driving demand for sports nutrition products worldwide are rapid urbanization, increased consumer awareness of health, and increased disposable income for consumers.
Furthermore, the easy accessibility of nutritional supplements plays a vital role in the growth of the market. The advent of electronic commerce has increased sales of these products, especially in emerging economies such as India, China, and Brazil. In addition, various companies in the market are starting their businesses through electronic platforms to increase their share. In developed countries, a high proportion of the obese population is the driving force behind this market. Moreover, as the number of youth with a career in the sports sector increases, the demand for sports nutrition products is increasing. It is expected to fuel this market within the scheduled period with a substantial increase in national and international sporting events. The availability of cheap counterfeit products and food security concerns are assumed to limit the growth of this market. An increase in demand during the development period may be an opportunity for growth in the sports nutrition market within the projection period. The expansion of distribution channels is presumed to promote the growth in this market in the next six years.
Restraints:
The availability of counterfeits at an affordable price is a crucial factor in slowing the growth of the market. These products do not meet food safety standards. High levels of contraband and counterfeit products affect the sales of reputable companies and disrupt the market position. Therefore, the availability of these products and food safety standards will continue to limit the growth of this market. Additionally, due to negative consumer perceptions of ingredients such as stimulants, anabolic steroids, and prohormones, players in the sports nutrition market have struggled to gain consumer confidence.
Sports Nutrition Market Segmentation Analysis:
By Type:
Creatine

BCAA

Protein Powder

ISO Drink Powder

Supplement Powder

RTD Protein Drinks

Protein Bars

Carbohydrate/Energy Bars

Carbohydrate Drinks

ISO & Other Sports Drinks
By Distribution Channel:
Fitness Institutions

Large Retail & Mass Merchandisers

Small Retail

Drug & Specialty Stores

Online
Geographical Segmentation Analysis:
North America - the United States and Canada

Europe - United Kingdom, Spain, Germany, Italy, and France

The Asia Pacific - India, Japan, China, Australia, Singapore, Malaysia, South Korea, New Zealand, and Southeast Asia

Latin America - Brazil, Argentina, Mexico, and Rest of LATAM

The Middle East and Africa - Africa and Middle East (Saudi Arabia, UAE, Lebanon, Jordan, Cyprus)
Regional Analysis:
North America dominated the global sports nutrition market, with a 61.0% share in 2019. Government initiatives promoting an increasing number of gyms and health centers and sports-related activities drive demand for sports nutrition products in the region. Furthermore, the number of new product launches in the sports supplement category is increasing, and some of the key market players in the area are some of the key factors driving the growth of the regional market. The number of athletes in Europe is expected to increase significantly, and the demand for supplements will increase, which will lead to the growth of the local market. Also, several companies in the region offer sports supplements through online channels. Traditionally, these products were used only by athletes.
However, in recent years, people in Europe have started consuming sports supplements to maintain a healthy lifestyle and control weight, driving market growth. With the increasing popularity of sports nutrition products in the Asia Pacific region, it is foreseen to be the fastest-growing market, offering opportunities for national players. Additionally, digital infrastructure has been enhanced in emerging countries such as India and China, providing significant opportunities for online platforms to promote the sale of sports nutrition products. Besides, various initiatives taken by the governments of China, Japan, Singapore, Malaysia and India to increase their participation in sports are expected to lead the local market during the forecast period.
Leading Company:
PepsiCo has restructured its existing sports nutrition products to reduce fat, salt and sugar content.
Key Players in the Market:
Major Key Players in the Global Sports Nutrition Market are
Glanbia Plc

Hormel Foods Corporation

Stokely-Van Comp, Inc.

MusclePharm

CytoSport, Inc

SternLife

InnovoPro Ltd.

Après

Gatorade