Nutraceuticals Market Size, Growth, Forecast (2023-2028)
Nutraceuticals Market size was worth USD 382.51 billion in 2022, and it is estimated to reach a valuation of US$ 722.49 billion by the end of 2028, rising at an annual compound rate of 8.3% between 2023 and 2028. The increasing demand for dietary supplement products for functional foods is expected to lead the market due to less use of genetically modified food and crops.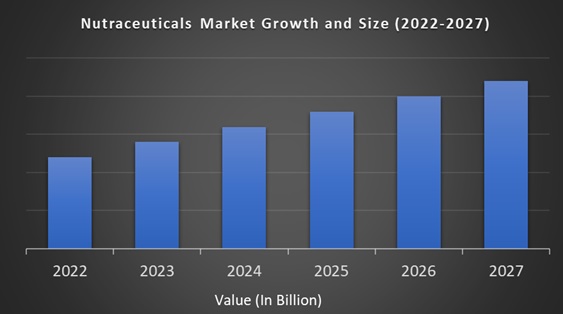 Market Overview:
Nutraceuticals are standardized food sources derived from food sources that further benefit the essential nutritional value found in food. They are derived from food sources that have additional health benefits along with the fundamental dietary value of foods. It can be considered as a non-specific biological therapy used to promote safety, control symptoms and avoid destructive processes. Nutraceuticals are products that provide additional health benefits and nutrition for the human body. It is made up of fortified nutrients such as taurine, CoQ10, omega-3, calcium, zinc and antioxidants to improve consumer health. This nutrient helps prevent medical conditions like high blood pressure, diabetes, heart disease, and allergies.
The integration of functional foods and personal care has benefited the nutraceuticals market with cosmetics due to its anti-aging properties. The increased risk of chronic diseases such as diabetes, high blood pressure, obesity, and cholesterol is expected to increase the demand for these nutraceuticals during the forecast period. Functional foods provide medicinal and health benefits and improve the nutritional value of foods.
Impact of COVID-19on Nutraceutical Ingredients Market:
Over the Pandemic of COVID- 19 all over the world, there will be an increased demand for Nutraceutical Ingredients, such as herbal supplements, dietary nutrition products for immunity boosting. During the Pandemic of Covid-19, the need for immunity is rising. Market growth of immunity booster product grows on steady-state.
Recent Developments in Nutraceuticals Industry:
In May 2020, Kemon Industry (US) launched the new immunity-boosting Nutraceutical Ingredients products made by algae source beta-glucan ingredients and European Authorities permit production.
The global EPA AND DHA, as well as Omega-3 products is having increasing revenue during the Covid-19 pandemic period. Also, the market growth is on steady-state because of mounting immunity-boosting products.

In December 2017, Arla Foods and PT Indofood CBP SuksesMakmurTbk (Indonesia) will launch a new joint venture to expand Arla Foods' presence in the Indonesian market.

In August 2018, ADM announced that it would add Onavita algae DHA powder to its line of Omega-3 product solutions. The new Omega-3 powder is part of ADM's portfolio of health and wellness ingredients, including probiotics, vitamins, plant extracts, and nourishing oils.

In October 2018, Cargill launched Latitude, a plant-based, sustainable alternative omega-3 source for fish feeding applications. Latitude reduces dependence on marine ingredients, including feed fish, and provides environmental degradation and guarantees for marine fish.
REPORT COVERAGE:
| | |
| --- | --- |
| REPORT METRIC | DETAILS |
| Market Size Available | 2022 – 2028 |
| Base Year | 2022 |
| Forecast Period | 2023 - 2028 |
| CAGR | 8.3% |
| Segments Covered | By Application and Region |
| Various Analyses Covered | Global, Regional & Country Level Analysis, Segment-Level Analysis, DROC, PESTLE Analysis, Porter's Five Forces Analysis, Competitive Landscape, Analyst Overview on Investment Opportunities |
| Regions Covered | North America, Europe, APAC, Latin America, Middle East & Africa |
| Market Leaders Profiled | Archer Daniels Midland Company, Cargill, Royal DSM N.V, BASF SE, Nestle S.A, Groupe Danone S.A, Groupe Danone S.A, PepsiCo, Aland (Jiangsu) Nutraceutical Co., Ltd, General Mills, Blytheco, Gamajet, Pharmachem Laboratories, Balchem Corp and Others. |
Nutraceuticals Market Growth:
Expensive treatments have paved the way for nutraceuticals as an alternative to expensive drugs that are assumed to increase in the near future.
Drivers:
As the number of nutrition care professionals or service providers such as nutritionists and dietitians increases, awareness of nutraceutical products and dietary supplements is also increasing. In light of the increased application for the treatment of cardiovascular disease and malnutrition, a favorable prospect for medical nutrition appears to stimulate the growth of dietary supplements. Rising health care costs, coupled with an increase in the elderly population worldwide, are expected to support the growth of the global nutraceuticals market during the outlook period. As consumer interest in healthy foods has increased, the food and beverage market has recently blossomed, and the trend is expected to continue throughout the forecast period. The demand for functional foods is believed to provide excellent health benefits due to the nutrient content and is increasing. This is anticipated to promote the growth of the global nutraceutical market further.
As the demand for milk and meat has increased, animal feed manufacturers have added functional feed to animal feed. This is strengthening the nutraceuticals market. In addition to this, the high level of awareness among consumers in developed countries about the benefits of a nutritional diet and the growing demand for natural beauty products is helping the growth of the worldwide market. Consumers in developed countries have a high level of knowledge of the side effects of pharmaceuticals and are increasingly choosing healthier foods and dietary supplements derived from products derived from natural ingredients.
Positive consumer attitudes toward functional foods are accelerating target market growth due to the additional health and wellness benefits of these healthy food products. Expectations of an increase in the elderly population, rising health care costs, lifestyle changes, food innovation, and rising prices helped the overall growth of the functional food industry. The global nutraceuticals industry has witnessed significant advances in product innovation and portfolio expansion in recent years. State-owned companies are actively involved in launching strategies to gain a competitive advantage in the health food industry. In the short term, open market participants are foreseen to do the same.
Restraints:
The rise in the price of functional foods, in particular, limits consumption in underdeveloped countries. Functional food prices are generally higher than pharmaceuticals. The substantial difference between nutraceuticals and drug prices is forcing consumers to choose low-cost drugs. Low awareness of functional foods is another factor that challenges growth. A large population around the world has yet to realize the benefits of these nutraceuticals.
Nutraceuticals Market Segmentation Analysis:
Global Nutraceutical Ingredients market is segmented by types, by the form, and by the regions.
By Types, in which Prebiotics, Probiotics, protein, and amino acid, Vitamins Omega-3 fatty acids, fibers and carbohydrates, phytochemicals, and plant extracts are the major components of Nutraceutical Ingredients. Among these, the probiotics are having a major market share. They are mainly made by plant herbal raw materials. It helps in health benefits and provides different types of nutrition to the body of human beings as well as animals. Prebiotic products are having future scope in the market.
By form, dry and liquid forms of the Nutraceutical Ingredients are available in the market. Both the dry and liquid Nutraceutical Ingredients are having complex production processes. Dry form Nutraceutical Ingredients products are more stable and easy to handle so the demand for the dry form is relatively high.
Regional Analysis:
The Asia-Pacific region became a crucial region in the global nutraceutical market in 2019 as consumer health issues increase and awareness of dietary supplements increases. In addition, the growth of the aging population, changes in spending patterns for medical devices, and changes in lifestyle have enhanced the growth of the functional food industry in the Asia Pacific region. The broad product portfolio and government regulations for useful food products are some of the factors that inhibit the growth of the nutraceuticals industry. However, as the trend to strengthen foods into functional foods increases, the need for nutraceuticals is also foreseen to create growth opportunities. The increasing awareness of China and India about nutritional strengthening is estimated to continue to be a factor in the growth of the functional food industry.
Furthermore, in terms of regulatory support to promote investment, the expansion of the retail market in countries such as China, Indonesia, Malaysia and India are expected to lead the nutraceuticals market by increasing access to buyers during the forecast period. The consumption of dietary supplements in North America is expected to accelerate in the coming years as awareness of nutritional improvement increases among American and Canadian experts. Moreover, as concerns about the adverse effects associated with existing pharmaceutical drugs increase, the high adoption of medicinal herbs among people in the United States and Canada are deemed to expand the size of the nutraceuticals industry during the projection period.
Key Players in the Market:
Archer Daniels Midland Company

Cargill, Incorporated

Royal DSM N.V

BASF SE

Nestle S.A

Groupe Danone S.A

E. I. du Pont de Nemours and Company

PepsiCo Inc

Aland (Jiangsu) Nutraceutical Co., Ltd

General Mills, Inc

Blytheco

Gamajet

Pharmachem Laboratories

Balchem Corp

Alpha Packaging

Aker BioMarine

Barrington Nutritionals

Premier Nutraceutical Pvt Ltd

Sydler India

Marlyn Nutraceuticals
Leading company:
In the Global Nutraceutical Ingredients market, Kraft Heinz and GlaxoSmithKline industry are in a leading position.