Dietary Supplements Market Growth and Forecast (2022 - 2027):
Dietary Supplements Market size was worth US$ 123.28 billion in 2021, and it is estimated to reach a valuation of US$ 230.73 billion by 2027, expanding at an annual compound rate of 8.2%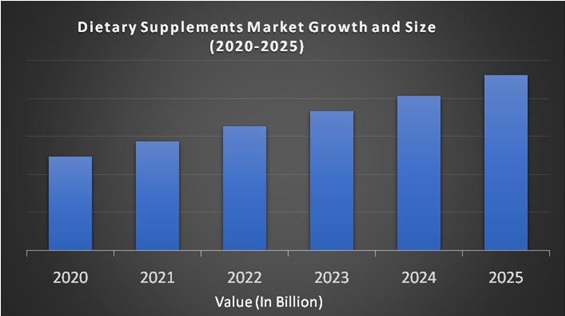 Dietary Supplements Market Overview:
Dietary supplement manufacturers mobilize efforts to increase awareness of their products, allowing consumers to focus on their nutritional needs actively. These supplements include vitamins, minerals, herbs, amino acids, and many other products. Supplements are often available in various forms like capsules, powders, tablets, energy bars, and drinks. Popular dietary supplements include vitamins D and E; minerals like calcium and iron; herbs like Echinacea and Garlic; unique products like glucosamine, probiotics and fish oil. Calcium and vitamin D are essential for bone strength and reducing bone loss, and folic acid reduces the risk of some congenital disabilities.
Recent Developments in Dietary Supplements Industry:
Reckitt Benckiser Group plc acquired Upspring, Ltd., a US-based healthcare company. This strategy will improve the delivery of products for pregnant women and babies.

Glanbia Nutritionals agreed to acquire Watson, a provider of Connecticut-based, high-quality custom nutritional premixes and ingredient conditioning solutions for the Connecticut-based nutrition, food and beverage, personal care, and food service industries.

PepsiCo agreed to purchase CytoSportInc, which includes the Muscle Milk and Evolve Protein brands from Hormel Foods Corporation.

Pfizer Inc. and GlaxoSmithKline plc agreed to establish a new world-leading consumer healthcare joint venture.

Herbalife Nutrition Ltd. launched the Formula 1 Select Meal Replacement Shake and Protein Drink Mix Select plant nutrition mix. This new product is intended to enhance the company's plant nutrition product offering.
REPORT COVERAGE:
| | |
| --- | --- |
| REPORT METRIC | DETAILS |
| Market Size Available | 2019 – 2025 |
| Base Year | 2019 |
| Forecast Period | 2020 - 2025 |
| CAGR | 8.2% |
| Segments Covered | By Ingredient, Form, Application, End-User and Region |
| Various Analyses Covered | Global, Regional & Country Level Analysis, Segment-Level Analysis, DROC, PESTLE Analysis, Porter's Five Forces Analysis, Competitive Landscape, Analyst Overview on Investment Opportunities |
| Regions Covered | North America, Europe, APAC, Latin America, Middle East & Africa |
| Market Leaders Profiled | Abbott Laboratories, GlaxoSmithKline, Amway, Archer Daniels Midland, Bayer AG, Pfizer, Glanbia, Arkopharma Laboratoires Pharmaceutiques, Carlyle Group, Nu Skin Enterprises and Others. |
Dietary Supplements Market Growth:
Eating dietary supplements can help you stay healthy by strengthening your immune system and reducing the chance of developing illnesses, allergies, and other disorders.
Dietary Supplements Market Drivers:
Rapid urbanization and rising disposable income, along with increased awareness of health problems, are factors that are expected to accelerate market growth during the forecast period.
Due to the rise in the prevalence of cardiovascular disorders and the number of weight management programs, favorable prospects for medical nutrition are supposed to drive demandit. The need for products is increasing due to factors such as the growing interest in health and changes in lifestyles and eating habits. A positive outlook for the sports nutrition market is also one of the main drivers. As the number of sporting events worldwide increases, athletes can focus on fitness. Demand for dietary supplements Share is assumed to increase as the number of sports complexes and gyms. Supplements help you lead a healthy life by providing you with the essential nutrients your healthy body needs. Malnutrition in babies is a major crisis in developing countries. This factor is presumed to create growth opportunities for market players, especially in underdeveloped markets in African and Asian countries.
The increasing importance of e-commerce portals as a means of sales for functional food manufacturers in terms of providing access to products through crucial benefits, including favorable discounts and collectible delivery capabilities, is presumed to break new ground in the next eight years. As a result, dietary supplement manufacturers are expected to increase spending on developing better quality products during the outlook period. The dietary supplement industry is driven by a busy work schedule for people who work with changes in nutritional intervals. These factors have promoted the sale of dietary and nutritional supplements in powder, liquid and capsule form worldwide. As the importance of microencapsulation in the pharmaceutical industry increases, manufacturers of this market that ensure the color properties and quality of finished ingredients should use the capsule dosage form during the forecast period.which include vitamins, mineral mixtures, carotenoids, and omega-3, are used to reduce the risk of malnutrition in adults and babies.
Dietary Supplements Market Restraints:
The growing demand for organic food is anticipated to continue to be a factor in the expansion of the dietary supplement market in the coming years. Adverse publicity and misrepresentation of the product's use negatively affected the manufacturer's reliability and reputation.
The use of clinical nutritional products during the projection period is expected to accelerate due to the high birth rate, an increase in the elderly population, an increase in the number of premature babies, and the number of patients receiving malnutrition treatment. Due to the burden of infectious and non-communicable diseases, health care spending increases, making it substantially higher in emerging economies. This trend forced consumers to choose dietary supplements. The increasing importance of health as a lifestyle option has led many companies to participate in the vitamin, mineral and plant sectors of the research market. Therefore, the focus on preventive healthcare systems, coupled with strong warranty and marketing efforts for lifestyle-enhancing products, is driving the market.
Dietary Supplements Market Segmentation Analysis:
By Ingredient:
By Form:
By Application:
By End-User:
Adults

Geriatrics

Pregnant women

Children

Infants
Dietary Supplements Market Regional Analysis:
North America - the United States and Canada

Europe - United Kingdom, Spain, Germany, Italy, and France

The Asia Pacific - India, Japan, China, Australia, Singapore, Malaysia, South Korea, New Zealand, and Southeast Asia

Latin America - Brazil, Argentina, Mexico, and Rest of LATAM

The Middle East and Africa - Africa and Middle East (Saudi Arabia, UAE, Lebanon, Jordan, Cyprus)
As awareness of the benefits of protein intake increases, the importance of an active lifestyle increases, and as the demand for sports nutrition products increases, it is expected to play an essential role in promoting the use of dietary supplements in North America. The region accounted for over 38% of the total market share in 2019 and is foreseen to witness growth as it reduces calorie levels and increases the use of high nutritional content products. In Mexico, raising awareness of the benefits of nutritional products from the launch of new products is expected to expand its coverage in the near future. Demand for commodities is also expected to skyrocket in the coming years as increasing awareness of protein consumption to maintain muscle mass and maintain optimal levels of nutrition among middle-aged adults in developed countries, including the United States and Canada.
As awareness of the importance of healthy eating increases in countries like China and India, it is anticipated to continue to be a beneficial factor in the Asia Pacific region. In addition, expansion of the retail sector in emerging markets, including India, Indonesia, China, and Malaysia, in light of regulatory support to stimulate investment along with government initiatives, is expected to increase regional demand during the forecast period. In Europe, increased protein consumption in developed countries such as Germany and the UK are expected to accelerate the use of amino acids for the production of dietary supplements Growth. Additionally, increased sales of multivitamin products, especially vitamins B and C, are expected to have a significant impact on growth in the near future as adoption by the workforce and bodybuilders increases.
Dietary Supplements Market Key Players in the Market:
Major Key Players in the Global Dietary Supplements Market are
Abbott Laboratories

GlaxoSmithKline

Amway

Archer Daniels Midland

Bayer AG

Pfizer Inc

Glanbia

Arkopharma Laboratoires Pharmaceutiques

Carlyle Group

Nu Skin Enterprises
1. Introduction
1.1 Market Definition
1.2 Scope of the report
1.3 Study Assumptions
1.4 Base Currency, Base Year and Forecast Periods
2. Research Methodology
2.1 Analysis Design
2.2 Research Phases
2.2.1 Secondary Research
2.2.2 Primary Research
2.2.3 Data Modelling
2.2.4 Expert Validation
2.3 Study Timeline
3. Report Overview
3.1 Executive Summary
3.2 Key Inferencees
4. Market Dynamics
4.1 Impact Analysis
4.1.1 Drivers
4.1.2 Restaints
4.1.3 Opportunities
4.2 Regulatory Environment
4.3 Technology Timeline & Recent Trends
5. Competitor Benchmarking Analysis
5.1 Key Player Benchmarking
5.1.1 Market share analysis
5.1.2 Products/Service
5.1.3 Regional Presence
5.2 Mergers & Acquistion Landscape
5.3 Joint Ventures & Collaborations
6. Market Segmentation
6.1 Dietary Supplements Market, By Ingredient
6.1.1 Botanicals
6.1.2 Vitamins
6.1.3 Market Size Estimations & Forecasts (2022 - 2027)
6.1.4 Y-o-Y Growth Rate Analysis
6.1.5 Market Attractiveness Index
6.2 Dietary Supplements Market, By Form
6.2.1 Tablet
6.2.2 Capsule
6.2.3 Soft Gel
6.2.4 Market Size Estimations & Forecasts (2022 - 2027)
6.2.5 Y-o-Y Growth Rate Analysis
6.2.6 Market Attractiveness Index
6.3 Dietary Supplements Market, By Application
6.3.1 Immunity
6.3.2 Cardiac Health
6.3.3 Market Size Estimations & Forecasts (2022 - 2027)
6.3.4 Y-o-Y Growth Rate Analysis
6.3.5 Market Attractiveness Index
6.4 Dietary Supplements Market, By End-User
6.4.1 Adults
6.4.2 Geriatrics
6.4.3 Pregnant women
6.4.4 Children
6.4.5 Infants
6.4.6 Market Size Estimations & Forecasts (2022 - 2027)
6.4.7 Y-o-Y Growth Rate Analysis
6.4.8 Market Attractiveness Index
7. Geographical Landscape
7.1 Global Identity Governance and Administration Market, by Region
7.2 North America - Market Analysis (2022 - 2027)
7.2.1 By Country
7.2.1.1 USA
7.2.1.2 Canada
7.2.2 By Ingredient
7.2.3 By Form
7.2.4 By Application
7.2.5 By End-User
7.3 Europe
7.3.1 By Country
7.3.1.1 UK
7.3.1.2 France
7.3.1.3 Germany
7.3.1.4 Spain
7.3.1.5 Italy
7.3.1.6 Rest of Europe
7.3.2 By Ingredient
7.3.3 By Form
7.3.4 By Application
7.3.5 By End-User
7.4 Asia Pacific
7.4.1 By Country
7.4.1.1 China
7.4.1.2 India
7.4.1.3 Japan
7.4.1.4 South Korea
7.4.1.5 South East Asia
7.4.1.6 Australia & NZ
7.4.1.7 Rest of Asia-Pacific
7.4.2 By Ingredient
7.4.3 By Form
7.4.4 By Application
7.4.5 By End-User
7.5 Latin America
7.5.1 By Country
7.5.1.1 Brazil
7.5.1.2 Argentina
7.5.1.3 Mexico
7.5.1.4 Rest of Latin America
7.5.2 By Ingredient
7.5.3 By Form
7.5.4 By Application
7.5.5 By End-User
7.6 Middle East and Africa
7.6.1 By Country
7.6.1.1 Middle East
7.6.1.2 Africa
7.6.2 By Ingredient
7.6.3 By Form
7.6.4 By Application
7.6.5 By End-User
8. Key Player Analysis
8.1 Abbott Laboratories
8.1.1 Business Description
8.1.2 Products/Service
8.1.3 Financials
8.1.4 SWOT Analysis
8.1.5 Recent Developments
8.1.6 Analyst Overview
8.2 GlaxoSmithKline
8.3 Amway
8.4 Archer Daniels Midland
8.5 Bayer AG
8.6 Pfizer Inc
8.7 Glanbia
8.8 Arkopharma Laboratoires Pharmaceutiques
8.9 Carlyle Group
8.10 Nu Skin Enterprises
9. Market Outlook & Investment Opportunities
Appendix
List of Tables
List of Figures
Global Dietary Supplements Market By Region, From 2022 - 2027 ( USD Billion )

Global Dietary Supplements Market By Ingredients, From 2022 - 2027 ( USD Billion )

Global Botanicals Market By Region, From 2022 - 2027 ( USD Billion )

Global Vitamins Market By Region, From 2022 - 2027 ( USD Billion )

Global Dietary Supplements Market By Form, From 2022 - 2027 ( USD Billion )

Global Tablet Market By Region, From 2022 - 2027 ( USD Billion )

Global Capsule Market By Region, From 2022 - 2027 ( USD Billion )

Global Soft Gel Market By Region, From 2022 - 2027 ( USD Billion )

Global Dietary Supplements Market By Application, From 2022 - 2027 ( USD Billion )

Global Immunity Market By Region, From 2022 - 2027 ( USD Billion )

Global Cardiac Health Market By Region, From 2022 - 2027 ( USD Billion )

Global Dietary Supplements Market By End-User, From 2022 - 2027 ( USD Billion )

Global Adults Market By Region, From 2022 - 2027 ( USD Billion )

Global Geriatrics Market By Region, From 2022 - 2027 ( USD Billion )

Global Pregnant women Market By Region, From 2022 - 2027 ( USD Billion )

Global Children Market By Region, From 2022 - 2027 ( USD Billion )

Global Infants Market By Region, From 2022 - 2027 ( USD Billion )