Functional Food Market Size, Growth, Forecast (2023-2028)
The Global Functional Food Market size was at US$ 177.41 billion in 2022, and it is predicted that it will reach a valuation of US$ 275.77 million by the end of 2028 with an annual expansion rate (CAGR) of 6.7% between 2023 and 2028.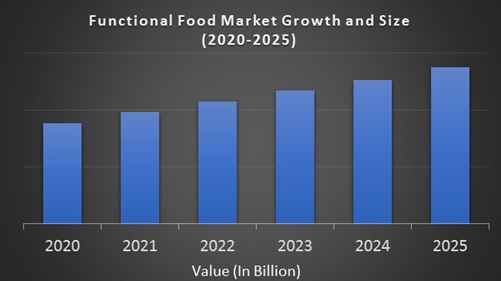 Market Overview:
Functional foods can be described as modified foods that claim to improve health. It does not cure disease, but it helps reduce the risk of fatal diseases by improving physical health with the provision of essential nutrients and protein. Functional foods are highly nutritious foods with powerful health benefits. Functional foods in the diet add benefits to the physiological condition of an individual. Some of the functional foods are dietary supplements and diets, designer foods, herbal products, and processed foods such as soups, cereals, and beverages. These foods are rich in nutrients and other substances that promote health. It prevents nutritional deficiencies, protects against a variety of diseases, offers proper growth and development, and improves overall health.
Functional Food Market Growth:
With the increasing prevalence of chronic diseases, consumers are turning to healthier food consumption which is driving the growth in global functional foods market.
REPORT COVERAGE:
| | |
| --- | --- |
| REPORT METRIC | DETAILS |
| Market Size Available | 2022 – 2028 |
| Base Year | 2022 |
| Forecast Period | 2023 - 2028 |
| CAGR | 6.7% |
| Segments Covered | By Ingredient, Product, Application and Region |
| Various Analyses Covered | Global, Regional & Country Level Analysis, Segment-Level Analysis, DROC, PESTLE Analysis, Porter's Five Forces Analysis, Competitive Landscape, Analyst Overview on Investment Opportunities |
| Regions Covered | North America, Europe, APAC, Latin America, Middle East & Africa |
| Market Leaders Profiled | Sanitarium Health & Wellbeing Company, Unilever, Red Bull GmbH, Royal FrieslandCampina, PepsiCo Inc, Raisio Group, Nestlé, Arla Foods, Ocean Spray Cranberries Inc, Meiji Group, Murray Goulburn and Others. |
Drivers:
Increasing consumer interest and a greater understanding of how a proper diet can boost immunity are some of the key factors driving the growth of the global functional foods market. Additionally, market growth is driven by the increased disposable income and augmented demand for improved food and beverage products. Among adult consumers, the elderly population is believed to benefit from functional foods due to age-related health problems. Therefore, a growing global elderly population is driving business growth. Also, continued population growth will shift the focus from high-consumption regions like the United States and Japan to more densely populated regions like China and India. These changes will provide tremendous growth opportunities for the functional foods market in the near future. Functional ingredients like omega-3s and probiotics are widely used in fish oil and yogurt to reduce the risk of cardiovascular disease and improve the quality of the gut microbiota. These trends are expected to energize the market during the forecast period. Increasing demand for fortified and nutritional food additives is supposed to drive growth. Food and beverage manufacturers are enhancing their product offering with nutritional additives such as fiber, omega-3 fatty acids, minerals, and vitamins. The main motivation for incorporating the aforementioned additives in the food and beverage industry is to increase the nutritional content of foods. Functional foods provide certain health benefits beyond daily nutrient intake, such as enhancing immune system strength, improving heart health, mental energy, cholesterol control, improving bone health, and other benefits related to eye health and vision. Increasing demand for fortified nutrients and food additives is likely to drive the functional food market size. Food and beverage manufacturers use dietary ingredients like omega-3 fatty acids, fiber, vitamins, minerals, and other fortifying agents in their product offerings. Consumers are becoming more health conscious and paying more attention to their lifestyle and healthy diet. Due to age-related health problems, the elderly population is believed to benefit from functional foods. Therefore, an increase in the global elderly population is driving the growth in the size of the functional food market.
Increasing disposable income resulting from economic development in developing countries leads to augmented consumption of functional foods, increasing the size of the market. Another important factor driving demand is the rising consumer awareness of gut health. This is a response to cases of death from intestinal inflammation among other intestinal diseases. Consuming probiotics helps fight bad bacteria in such cases, supports human immunity, and improves intestinal health. Of the wide variety of products available on the market, probiotic yogurt is the most consumed product with proven benefits for digestive health. In addition, with the growing trend of healthy diet patterns and increased consumer health awareness, numerous additional opportunities are being created for future market growth. The growth rate of the elderly population, the unhealthy lifestyle of millennials, and the growth rate of chronic diseases from childhood are important factors driving the demand for functional foods. As fatal accidents from intestinal inflammation increase, awareness among people related to intestinal health is another aspect supporting the growth of the market.
Restraints:
Numerous food safety regulations and the limited health benefits of functional foods compared to the number of benefits claimed by vendors are certain factors that can slow the growth of the global functional foods market. Also, the economic problems are hampering the developments in this market. Adoption is limited by the high prices of many products. Issues related to product availability, coupled with claims of a lack of nutrients derived from a variety of functional foods, hamper the growth of the functional foods business.
Functional Food Market Segmentation Analysis:
Based on the ingredients, the vitamin segment is expected to dominate the functional foods market demand in the next six years. Greater awareness of the amazing benefits associated with taking vitamins, such as lowering cholesterol levels, controlling blood sugar, and helping to maintain overall health, is a major contributor to segment growth. All these benefits provided by vitamins have promote the demand of this segment. The prebiotic and probiotic segments are is foreseen to witness a higher CAGR during the conjecture period. They offer a variety of health benefits, such as reducing the risk of cancer and improving the absorption of calcium and magnesium. All these benefits encourage end users to choose foods based on prebiotics.
Based on the application, the heart health sector is determined to grow at a faster CAGR over the next several years as the demand for functional foods increases among people suffering from congestive heart failure, cardiovascular disease, congenital heart defects and hardening of the arteries. Additionally, segment demand will increase as interest in joint health, weight loss, and bone and muscle gains rises.
On a product basis, the dairy sector is estimated to experience a higher CAGR over the coming years. The mounting demand for dairy products such as yogurt, dairy drinks and spreads is one of the main drivers of the increase in demand in this sector. This product is rich in compounds and is often added as an ingredient in food preparation.
Impact of COVID-19 on the Functional Food Market:
Increased purchasing power of consumers and increased medical spending have further increased the global market demand for functional foods. With the advent of coronavirus, consumers are actively seeking a variety of functional foods with added nutritional value to boost immunity. Additionally, consumers have switched to healthy lifestyles during this testing time to minimize the spread of the coronavirus, especially in 2020. These factors will enhance the growth of functional foods in the future.
Geographical Segmentation Analysis:
North America - the United States and Canada

Europe - United Kingdom, Spain, Germany, Italy, and France

The Asia Pacific - India, Japan, China, Australia, Singapore, Malaysia, South Korea, New Zealand, and Southeast Asia

Latin America - Brazil, Argentina, Mexico, and Rest of LATAM

The Middle East and Africa - Africa and Middle East (Saudi Arabia, UAE, Lebanon, Jordan, Cyprus)
Regional Analysis:
North America and Europe are the main markets for functional foods. Increasing consumer interest and a better understanding of the immune-boosting properties of proper diet and eating habits are some of the key factors driving the growth of vitamin and mineral rich foods and beverages. Asia Pacific region is expected to lead the global functional foods business over the conjecture period. This is due to the rate of population growth in Asian countries, coupled with the increase in disposable income and the higher consumption of processed foods. With the growing awareness of health and fitness in developing countries, the rapid consumption of processed foods is a major factor promoting the regional market. The area is characterized by growing concern for food safety among consumers, influencing consumer behavior and driving growth accordingly. Improving food is supposed to be a key approach for governments to address growing concerns about malnutrition and poverty, which will contribute significantly to industry growth.
Key Players in the Market:
Major Key Players in the Global Functional Food Market are
Sanitarium Health & Wellbeing Company

Unilever

Red Bull GmbH

Royal FrieslandCampina

PepsiCo Inc

Raisio Group

Nestlé

Arla Foods

Ocean Spray Cranberries Inc

Meiji Group

Murray Goulburn

Kraft Foods Inc

Mars Inc

Kellogg Company

Kirin Holdings

GlaxoSmithKline Company

Danone

General Mills Inc

Glanbia Plc

Dean Foods

Dr Pepper Snapple Group

BNL Food Group

The Coca-Cola Company

Abbott Laboratories