Clinical Nutrition Market Size (2022 to 2027)
As per the report, the size of the global clinical nutrition market is projected to grow from USD 14.58 Billion in 2022 to USD 17.85 Billion by 2027. This market is estimated to be growing at a CAGR of 4.13% during the forecast period.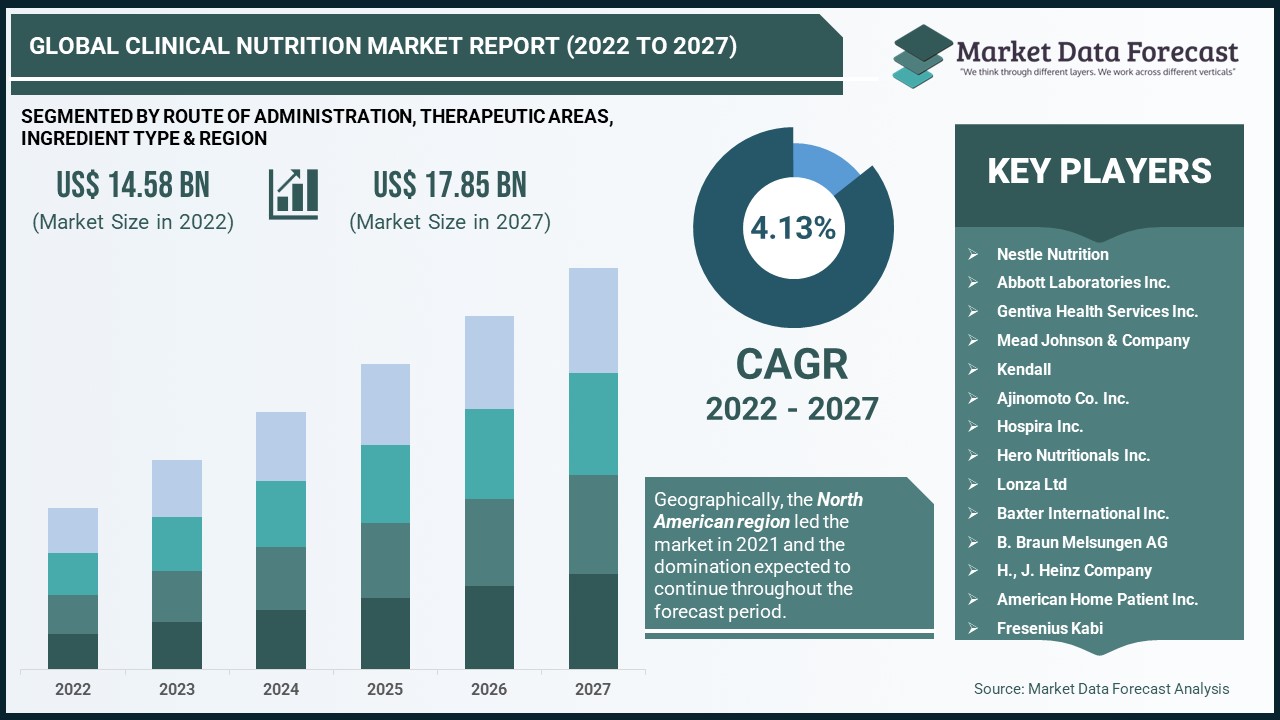 Clinical nutrition aids in improving absorption, metabolism, digestion, and discharge functions by providing essential nutrients such as minerals, vitamins, and proteins. These products are vital for patients with a high degree of malnourishment, patients in intensive care units, patients recovering from trauma or surgery, and patients suffering from chronic diseases. In addition, it has been found that treating disease-related malnutrition with clinical nutrition therapies can reduce mortality.
Clinical nutrition is necessary for patients facing nutritional deficiency or unable to consume food due to enhanced disease conditions, leading to lower quality of life, complications, increased risk of mortality, and lengthening of a recovery period. In addition, clinical nutrition plays a vital role in maintaining nutritional imbalance for malnourished patients who have a higher risk of complications because of a lack of nutrition.
Impact of COVID-19 on the global clinical nutrition market:
The SARS-CoV-2 (COVID-19) pandemic has rocked the pillars of our culture and, indeed, our healthcare system. COVID-19 has been characterized by diverse clinical presentations that have not yet been fully understood. In addition to marked respiratory symptoms, the virus induces a disproportionate immune response in certain people with a severe allergic reaction. Since the onset of the pandemic, older people and patients with various illnesses have been reported as the most seriously affected patients, reflecting standard risk categories for malnutrition. The infection also causes a severe lack of appetite and other symptoms such as anosmia, dysgeusia, or diarrhea, both of which raise the risk of disease-related malnutrition (DRM). Acute malnutrition caused by Covid-19 infection would also be associated with an increased loss of muscle mass and a deterioration of immune defenses that would lead to the severity of COVID-19. Moreover, some of the medications used in the treatment can exacerbate these effects, as in the case of diarrhea. These all situations can enhance the growth of the clinical nutrition market.
Post the lockdown; many companies came up with new clinical nutritious products to improve the physical and mental health of individuals concerning the COVID-19 pandemic to preserve adequate nutrition at the person, household, national and global levels, using an adapted version of the ecological model of health behavior like clinical nutrition products. There are many initiatives taken to increase awareness regarding nutrition across the globe. An online initiative calls for improved vitamin C supplementation in the battle against COVID-19. Its petition is reportedly signed by more than 100 physicians and 200 nutritionists, calling on the UK Government and its public health and nutrition departments to prescribe vitamin C supplements to all people during the pandemic, and the US Natural Products Association (NPA) continues to stress the importance of keeping health food stores open in California.
Besides, there are many challenges faced by nutritionists that encounter during this pandemic. For example, to meet the different agencies' COVID-19 diet guidelines outlined in nutrition practice, countries must now have sufficient human capital resources. But still, there are some regions a shortage of human capital in the provision of clinical nutrition is likely to be high on the list of challenges. Also, as dietitians are frequently not permitted to access COVID-19 hospitals, clinical nutrition teams need to write and introduce new nutrition guidelines to ensure that nutrition screening and appraisal remain a priority.
MARKET DRIVERS
The rising incidence of metabolic disorders and increased healthcare expenditure favor the growth of the global clinical nutrition market.
The prevalence of metabolic diseases has risen in raw evidence over the last decade. The actual number of people choosing to diagnose metabolic conditions has increased over the past decade, resulting in a rise in the number of patients diagnosed. As a result, with the growing incidence of metabolic disorders, there is an excellent potential for clinical nutrition industry participants to access the emerging markets and establish their presence. Increasing numbers of people suffering from chronic disorders such as cancer and diabetes, combined with an increasing geriatric population, a growing obese population due to unsanitary eating behaviors, and physical inactivity, increasing the rate of pre-mature births increases the growth of the global clinical nutrition market.
It has also been noted that healthcare spending tends to rise faster than economic growth in most nations, continuing the pattern observed over the decades. Consequently, as healthcare spending is growing across the world's major countries, the clinical nutrition market is projected to grow due to its broad applicability. As a result, there is a range of investment opportunities for clinical nutrition from countries worldwide, including private foundations and the international community. Significant supporting agencies include the National Institutes of Health, the US Department of Agriculture, the Robert Woods Johnson Foundation, and the Nestle Foundation. These financing opportunities have been established to promote the development of the business examined.
Additionally, the expansion of the healthcare sector, the emergence of innovative products into the market, awareness programs by private and public institutions, the high occurrence of neurological diseases, and reimbursement policies are expected to propel growth opportunities for the clinical nutrition market.
MARKET RESTRAINTS:
The need to make up for nutritional therapies' safety and quality standards is a restraint for the global clinical nutrition market. Additionally, strict guidelines related to nutrition supplements and less knowledge among emerging countries like India and China are expected to hamper the market's growth rate slightly. Clinical nutritional products are considered pharmaceutical products. Therefore, the manufacturers should follow the guidelines set by the U.S Food and Drug Administration and the European Medicines Agency (EMA) in Europe. The difficulties associated with getting approvals from the government authorities are a significant challenging factor.
REPORT COVERAGE:
| | |
| --- | --- |
| REPORT METRIC | DETAILS |
| Market Size Available | 2021 to 2027 |
| Base Year | 2021 |
| Forecast Period | 2022 to 2027 |
| Segments Covered | By Route Of Administration, Therapeutic Areas, Ingredients Type, and Region |
| Various Analyses Covered | Global, Regional & Country Level Analysis, Segment-Level Analysis, Drivers, Restraints, Opportunities, Challenges, PESTLE Analysis, Porter's Five Forces Analysis, Competitive Landscape, Analyst Overview on Investment Opportunities |
| Regions Covered | North America, Europe, Asia Pacific, Latin America, Middle East, and Africa |
This market research report on the global clinical nutrition market has been segmented based on the route of administration, therapeutic areas, ingredients type, and region.
Clinical Nutrition Market - By Route of Administration:
Oral Nutrition

Enteral Nutrition

Parenteral Nutrition
Based on the administration route, the oral clinical nutrition segment is dominating the market as the Enteral and parenteral segments are expensive due to expenses involved in the processing of nutrients or products. As a result, the oral segment accounted for the largest share in 2020 and is expected to continue the trend throughout the forecast period. This growth is attributed to its extensive usage in patients owing to its easy intake and availability for several diseases.
Clinical Nutrition Market - By Therapeutic Areas:
Malabsorption

Diarrhea

Cancer

Food Allergies

Maldigestion

Diabetes

Short-Bowel Syndrome

Acute Lung Injury

Acute Respiratory Distress
Based on therapeutic areas, the Diabetes segment is ruling the clinical nutrition market owing to the increase in the rate of diabetic patients in recent years. The cancer market segment was growing rapidly with a high CAGR and is expected to contribute significantly during the forecast period.
The cancer segment is projected to be the fastest-growing segment during the forecast period. It is attributed to the nutritional deficiency in patients due to various cancer treatments such as chemotherapy, hormone therapy, radiation therapy, surgery, immunotherapy, and stem cell transplant.
Clinical Nutrition Market - By Ingredients Type:
Vitamins

Minerals

Carbohydrates

Amino Acids
Based on ingredients type, the Vitamins segment contributes a significant share to the clinical nutrition market and is expected to grow further during the forecast period.
Clinical Nutrition Market - By Region:
North America

Europe

Asia Pacific

Latin America

The Middle East and Africa
Regionally, the Clinical Nutrition market in North America and Europe was rapidly growing due to the high malnutrition rate and increased population affected by various diseases. North America was the leading revenue contributor to the global clinical nutrition market in 2020 and is anticipated to dominate the market during the forecast period due to an upsurge in several chronic diseases such as coronary artery disease, ischemic stroke, diabetes, and a few cancer indications, and increase in the geriatric population. Besides, the initiative taken by the U.S. government to promote complete nutrition care for cancer patients is anticipated to drive the market further. However, Asia-Pacific is expected to experience the fastest CAGR during the forecast period due to increased metabolic disorders, high disposable incomes, and patient awareness regarding adopting clinical nutrition products.
The Asia Pacific region is ruling the Global Clinical nutrition market by contributing a significant share in revenue due to increased birth rates, a rise in the geriatric population, increasing chronic conditions in patients, and unhealthy food habits.
In the forecast period, Asia-Pacific has the highest growth compared to the other regions. The significant factors contributing to the development of the Asia Pacific clinical nutrition market include an increase in the prevalence of metabolic disorders, a rise in the geriatric population in the Asia Pacific Region, and high healthcare costs. The incidence of diabetes in China is also growing rapidly, a significant factor for obesity. As per the International Diabetes Federation (IDF) data, there were over 114,394,800 cases of diabetes in China in 2017, and the rate of prevalence of diabetes in adults is 10.9%. In addition, the number of patients undergoing diagnosis of metabolic disorders has increased over the decade; hence, there is an increase in the number of patients diagnosed in the Asia Pacific region.
The size of the Clinical Nutrition market in Europe was worth USD 3.56 Billion in 2020 and is estimated to be growing at a CAGR of 7.17 % to reach USD 5.03 Billion by 2025. The European clinical nutrition market is driven by the aging population and increased disease diagnosis.
Japan's market is estimated to expand with a CAGR of 7.9% over the forecast period, owing to a large geriatric population base and increasing incidences of chronic conditions, including diabetes mellitus and cancer, due to dietary shifts. In addition, the presence of associations such as the Japan Society of Nutrition and Food Science (JSNFS), working towards promoting public health and creating awareness about clinical nutrition, will favor the growth of the Japanese market over the forecast timeframe.
Brazil's market dominated the Latin America region and was valued around USD 1,586.6 million in 2018. The market growth will be driven by the increasing obese population and the growing incidences of chronic diseases. In addition, the high prevalence of preterm births leading to a rise in demand for clinical nutrition will favor Brazil's market growth. Moreover, a strong association with the American Society of Parenteral and Enteral Nutrition helps develop the clinical nutrition market in the country.
The presence of associations such as the South African Society for Enteral and Parenteral Nutrition, creating awareness about clinical nutrition in the country, and the growing burden of enfeebling diseases will drive the South African market over the forecast timeframe. In addition, health infrastructure development and the increasing public and private player initiatives to boost sales of nutritional formulae in the country will propel market growth.
NOTABLE COMPANIES IN THIS MARKET:
Some of the key market participants in the global clinical nutrition market profiled in this report are Nestle Nutrition, Abbott Laboratories Inc., Gentiva Health Services Inc., Mead Johnson & Company, Kendall, Ajinomoto Co. Inc., Hospira Inc., Hero Nutritionals Inc., Lonza Ltd, Baxter International Inc., B. Braun Melsungen AG, H., J. Heinz Company, American Home Patient Inc. and Fresenius Kabi.
Most companies concentrate on strategic tactics, such as mergers, partnerships, acquisitions, and others, to achieve a higher share of the global market while still seeking to strengthen their product portfolio. In addition, a scaling understanding of clinical nutrition has fuelled the market for adult and pediatric dietary formulations, with players trying to develop food alternatives that satisfy all the needs of the target population worldwide.
MAJOR MARKET HAPPENINGS IN THE RECENT PAST:
In 2019, Nestle acquired Persona to expand its product portfolio in personalized nutrition.
In 2019, Fresenius Medical care completed the acquisition of NxStage Medical.
In 2018, Nestle bought the rights to distribute foodservice products and consumer packaged goods from Starbucks Corporation.
1. Introduction
1.1 Market Definition
1.2 Study Deliverables
1.3 Base Currency, Base Year and Forecast Periods
1.4 General Study Assumptions
2. Research Methodology
2.1 Introduction
2.2 Research Phases
2.2.1 Secondary Research
2.2.2 Primary Research
2.2.3 Econometric Modelling
2.2.4 Expert Validation
2.3 Analysis Design
2.4 Study Timeline
3. Overview
3.1 Executive Summary
3.2 Key Inferences
3.3 New Developments
4. Drivers, Restraints, Opportunities, and Challenges Analysis (DROC)
4.1 Market Drivers
4.2 Market Restraints
4.3 Key Challenges
4.4 Current Opportunities in the Market
5. Market Segmentation
5.1 By Route of Administration
5.1.1 Oral Nutrition
5.1.2 Enteral Nutrition
5.1.3 Parenteral Nutrition
5.2 By Therapeutic Area
5.2.1 Malabsorption
5.2.2 Diarrhoea
5.2.3 Cancer
5.2.4 Food Allergies
5.2.5 Maldigestion
5.2.6 Diabetes
5.2.7 Short-Bowel Syndrome
5.2.8 Acute Lung Injury
5.2.9 Acute Respiratory Distress
5.3 By Ingredients Type
5.3.1 Vitamins
5.3.2 Minerals
5.3.3 Carbohydrates
5.3.4 Amino Acids
6. Geographical Analysis
6.1 North America
6.1.1 Introduction
6.1.2 United States
6.1.3 Canada
6.2 Europe
6.2.1 Introduction
6.2.2 U.K
6.2.3 Spain
6.2.4 Germany
6.2.5 Italy
6.2.6 France
6.3 Asia-Pacific
6.3.1 Introduction
6.3.2 China
6.3.3 India
6.3.4 Japan
6.3.5 South Korea
6.3.6 Australia
6.4 Latin America
6.4.1 Introduction
6.4.2 Brazil
6.4.3 Mexico
6.4.4 Argentina
6.4.5 Rest of Latin America
6.5 Middle East & Africa
6.5.1 Introduction
6.5.2 Middle-East
6.5.3 Africa
7. Strategic Analysis
7.1 PESTLE analysis
7.1.1 Political
7.1.2 Economic
7.1.3 Social
7.1.4 Technological
7.1.5 Legal
7.1.6 Environmental
7.2 Porter's Five analysis
7.2.1 Bargaining Power of Suppliers
7.2.2 Bargaining Power of Consumers
7.2.3 Threat of New Entrants
7.2.4 Threat of Substitute Products and Services
7.2.5 Competitive Rivalry within the Industry
8. Market Leaders' Analysis
8.1 Nestle Nutrition
8.1.1 Overview
8.1.2 Product Analysis
8.1.3 Strategic Evaluation and Operations
8.1.4 Financial analysis
8.1.5 Legal issues
8.1.6 Recent Developments
8.1.7 SWOT analysis
8.1.8 Analyst View
8.2 Abbott Laboratories Inc.
8.3 Gentiva Health Services Inc.
8.4 Mead Johnson & Company
8.5 Kendall
8.6 Ajinomoto Co. Inc.
8.7 Hospira Inc.
8.8 Hero Nutritionals Inc.
8.9 Lonza Ltd
8.10 Baxter International Inc.
8.11 B. Braun Melsungen AG
8.12 H. J. Heinz Company
9. Competitive Landscape
9.1 Market share analysis
9.2 Merger and Acquisition Analysis
9.3 Agreements, collaborations and Joint Ventures
9.4 New Product Launches
10. Expert Opinions
10.1 Market Outlook
10.2 Investment Opportunities
Appendix
a) List of Tables
b) List of Figures