Cereal Ingredients Market Size, Growth, Forecast (2023-2028)
The global Cereal Ingredients Market size was worth USD 755.6 million in 2022, and it is estimated to reach a valuation of USD 898.9 million by the end of 2028 at a CAGR of 3.53% during the forecast period. As the demand for ready-to-eat food increases, the use of Cereal ingredients increases.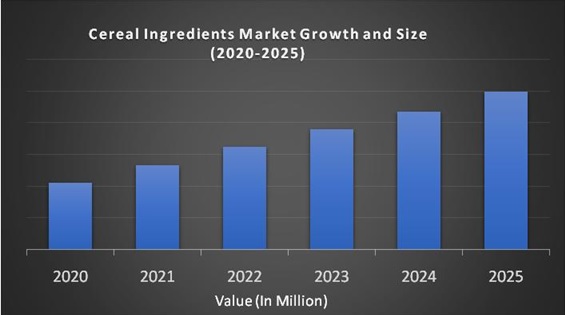 Market Overview:
Cereals are generally defined as small, edible grass, which grows for starchy seeds suitable for food. Cereals and grain components form an essential part of human and livestock diets, and the market for them has evolved over the years. The main ingredients in cereals, such as wheat, rice, corn, barley, and oats, are rich sources of minerals, fats, proteins, vitamins, carbohydrates, and oils. In many developing countries, much of daily life depends on grain in the form of millet, wheat, rice, or corn. Cereal Ingredients are also rich in vitamins, minerals, proteins, and fats. Whole grains like cereals are used to prepare nutritious breakfast products that are beneficial to the development of an individual's health. The Cereal Ingredients Market has a tremendous growth range. On the other hand, grain consumption is moderate in developed countries. However, the rapid use of breakfast cereals, the market for cereal ingredients in these countries is continuously growing.
Recent Developments in Cereal Ingredients Industry:
Associated British Food PLC has acquired Dorset Cereals, a British manufacturer of breakfast foods that complements the company's Jordans and Ryvitacrispbread brands.

In November 2018 Kellogg's launched a new Hi series! Happy inside of fiber, prebiotics and probiotics. This new product is specially designed to support digestive health. It comes in three flavors: Strawberry, Coconut Crisp, and Coarse Blueberry. This is highly beneficial for those who add more prebiotics and probiotics to their diet and help maintain overall health.

In July 2018, DuPont Nutrition and Health announced the launch of a new Guardian Toco 30P antioxidant that can be used in granola and breakfast cereal products. It comes in powder form and helps manufacturers quickly add antioxidants to their products. This also maintains the freshness of the grain and is safer than synthetic antioxidants.
REPORT COVERAGE:
| | |
| --- | --- |
| REPORT METRIC | DETAILS |
| Market Size Available | 2022 – 2028 |
| Base Year | 2022 |
| Forecast Period | 2023 - 2028 |
| CAGR | 3.53% |
| Segments Covered | By Type, Application and Region |
| Various Analyses Covered | Global, Regional & Country Level Analysis, Segment-Level Analysis, DROC, PESTLE Analysis, Porter's Five Forces Analysis, Competitive Landscape, Analyst Overview on Investment Opportunities |
| Regions Covered | North America, Europe, APAC, Latin America, Middle East & Africa |
| Market Leaders Profiled | Kerry Group, Ricebran Technologies, Associated British Food Plc, Archer Daniels Midland Company, Bunge Limited, SunOpta Inc, Cargill Inc, Cereal Ingredients Inc, Kellogg Company, Nestle S.A and Others. |
Cereal Ingredients Market Growth:
The growing demand for the health benefits of organic grains is a crucial factor in feeding the organic sector of the global Cereal Ingredients Market.
Drivers:
Cereal Ingredients are preferable to other breakfast options, which include high-calorie spreads, toasts, meat dishes, bread, and more, due to their higher nutritional value compared to others. The global Cereal Ingredients Market is expected to witness growth during the forecast period with the growing demand for processed food and healthy nutritional meal preparation. Cereal Ingredients Market is preferable to other breakfast options, which include high-calorie spreads, toasts, meat dishes, bread, and others, due to their higher nutritional value compared to others. The main ingredients of the cereals are wheat flakes, corn flakes, pieces of wheat, rice flakes, corn flakes, oatmeal, pieces of corn, barley flakes, bits of rice, etc. In addition, the change in eating habits, especially in developing countries, is also expected to improve market demand during the outlook period. Cereal crop improvement techniques and genetic improvements to enhance the quality of crop are some of the future market opportunities that can help drive Cereal Ingredients Market growth during the projection period.
The spread of health problems is supposed to contribute to the growth of the global Cereal Ingredients Market, as the development of a cereal-based market is assumed to reduce health-related issues related to global obesity concerns. People choose healthier and more nutritious foods than bread, pizza, and other foods. The increase in disposable income, together with changes in eating habits, is a factor that drives the growth of the worldwide Cereal Ingredients Market. The popularity and consumption of cereal ingredients for beverage manufacturing are expected to increase, and increasing demand for wheat, barley and other grain grains will promote growth in the target market.
The consciousness of the consumer's diet and healthy eating habits are turning to the grain Cereal Ingredients Market. With the growing demand for natural and nutritious food for processed foods, population growth is expected to improve market growth in the coming years. Studies to determine the nutritional benefits of ingredients such as nutrition, dietary genetic modification, and genetic nutrition interactions are playing an essential role in helping the cereal growth market further enhances market growth by meeting needs and consumer preferences. Developing profitable cereals foods with high nutritional value can create more significant opportunities for profit in target markets.
Restraints:
During the grain extrusion process, a significant amount of protein destruction occurs, degrading the quality of the Cereal Ingredients. This factor is presumed to limit the market during the forecast period in the Cereal Ingredients Market. Furthermore, volatility in commodity prices is suspected to be a major obstacle to growth in the global Cereal Ingredients Market.
Cereal Ingredients Market Segmentation Analysis:
By Type:
Wheat

Rice

Oat

Corn

Barley
By Application:
Hot Breakfast Cereal

Cold Breakfast Cereal
Geographical Segmentation Analysis:
North America - the United States and Canada

Europe - United Kingdom, Spain, Germany, Italy, and France

The Asia Pacific - India, Japan, China, Australia, Singapore, Malaysia, South Korea, New Zealand, and Southeast Asia

Latin America - Brazil, Argentina, Mexico, and Rest of LATAM

The Middle East and Africa - Africa and Middle East (Saudi Arabia, UAE, Lebanon, Jordan, Cyprus)
Regional Analysis:
North America dominated the Cereal Ingredients Market, followed by Europe and the Asia Pacific. In countries like China, India, Australia and Japan, the demand for grain ingredients is expected to increase. The growing demand for processed foods in the Middle East is anticipated to expand the Cereal Ingredients Market during the forecast period. China and India are likely to become important markets for the future grain raw material market due to the high availability of raw materials, low labor and high availability of work. Russia has become the largest grain ingredient market in Europe and is supposed to grow during the projection period. The Asia Pacific region is the fastest-growing region in the grain ingredients market. In the Asia-Pacific region, China dominates the market that has contributed to the largest market share, followed by Japan and Australia. This is due to changes in breakfast cereal consumption patterns and a trend towards healthier products. It can predict significant growth in developed countries alongside developing countries.
Developing countries are expected to face high market demand for grain components due to better economic conditions, population growth, healthy eating habits and increased disposable incomes. Furthermore, the increased adoption of Western lifestyles has been the driving force behind sales in the market. The development of fortified, multi-grain, low carb, high fiber breakfast cereals attracted health-conscious consumers, fueling the market growth. In addition to functional health benefits, the inclusion of natural ingredients such as natural preservatives, antioxidants, and enzymes in breakfast cereals is increasing. The expansion of retail distribution channels is another factor in the development of sales in rural and relatively small cities.
Key Players in the Market:
Major Key Players in the Global Cereal Ingredients Market are
Kerry Group

Ricebran Technologies

Associated British Food Plc

Archer Daniels Midland Company

Bunge Limited

SunOpta Inc

Cargill Inc.

Cereal Ingredients Inc.

Kellogg Company

Nestle S.A