Buttermilk Market Size, Growth, Forecast (2023-2028)
The global Buttermilk Market size was assessed to be USD 840 billion in 2022, and it is foreseen that it will reach a valuation of USD 950 billion by 2028 at a CAGR of 1.5% during the assessment period. The demand for buttermilk is increasing because it is good for digestion and boosts immunity.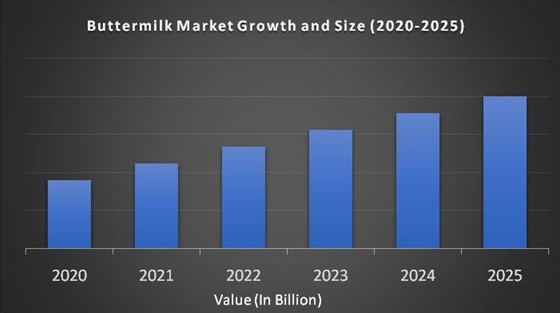 Market Overview:
Buttermilk is obtained by whisking fresh or pasteurized cream with little acidity. It is often served cold after adding black salt, cumin powder, and finely chopped coriander leaves. In general, there are two types of buttermilk on the market. It represents an integral part of a balanced diet and has been traditionally consumed as a snack for centuries in India. Relieved from the heat of the sun, it has gained enormous popularity in India as a result of a very hot summer. In addition, buttermilk has been widely used as an ingredient in the manufacture of ice cream, dairy sauces, and numerous confectionery products, increasing demand. The notable features like emulsion, foaming, water binding, flavor enhancement and others have promoted the use of buttermilk. The average shelf life of whey powder is 12 months from the date of manufacture when stored in a dry environment free from direct sunlight.
Buttermilk Market Growth:
An important factor driving the global buttermilk market is reduced shelf life due to reduced moisture content.
REPORT COVERAGE:
| | |
| --- | --- |
| REPORT METRIC | DETAILS |
| Market Size Available | 2022 – 2028 |
| Base Year | 2022 |
| Forecast Period | 2023 - 2028 |
| CAGR | 1.5% |
| Segments Covered | By Type, Application and Region |
| Various Analyses Covered | Global, Regional & Country Level Analysis, Segment-Level Analysis, DROC, PESTLE Analysis, Porter's Five Forces Analysis, Competitive Landscape, Analyst Overview on Investment Opportunities |
| Regions Covered | North America, Europe, APAC, Latin America, Middle East & Africa |
| Market Leaders Profiled | Amul, Arla foods, Dairy America, Fonterra, Dairy Farmers of America, Glanbia, Valley Milk, Associated Milk Producers, Arion Dairy Products, Innova Food Ingredients, Sterling Agro Industries, Grain Millers, Agri-Mark, Land O' Lakes and Others. |
Drivers:
Along with the growing consumer health awareness, the numerous health benefits of buttermilk, such as improving digestion, relieving inflammation and strengthening the immune system, have fueled the growth of the global buttermilk market. It is also used in the food industry to make ice cream, dairy sauces, and various confectionery products. This has increased the demand for whey, accelerating the growth of the market. The demand for buttermilk is expected to accelerate with the introduction of new whey like curry leaves, ginger, green peppers, cumin seeds, coriander and pepper with a long shelf life and products with traditional flavors and spices. Buttermilk was originally the liquid left to remove cultured or fermented cream butter. Traditionally, before the cream was degreased into whole milk, the milk was left for a period of time to allow the cream and milk to separate. During this time, bacteria that naturally produce lactic acid in milk fermented. This promotes the process of folding the butter because the fat in a low pH cream is added more easily than the fat in fresh cream. The acidic environment also increases shelf life by preventing the growth of potentially harmful microorganisms. However, in facilities using a cream separator, the cream was hardly acidic. Rich in potassium, vitamins, especially vitamin B12, calcium and vitamins, carbohydrate proteins and fats used for the breakdown of riboflavin, buttermilk blocks extra fat and helps maintain weight.
The basic dynamics discussed in this report have a significant impact on the market. Buttermilk manufacturers offer claims like Kosher, Halal certified to help expand the market in GCC countries, and clean labels and certified packaging ideas make buttermilk a very promising product for consumers. It can also be used in place of skim milk to help you compare it in the produce section, and it's high in protein making it attractive to gym fans and health-related populations as well as natural products cigars is still a trend. It is also used to increase the flavor of ready-to-use foods by helping to keep food fresh and to increase or maintain the emulsifying properties of food. Similarly, buttermilk is a rich source of phosphorus, which helps to produce RNA and DNA damaged by chance or by the process. Due to its many health benefits and applications, many industry experts are showing an interest in the product. Additionally, buttermilk is a good source of phosphorus that helps the body retain energy, filter kidney waste, and build strong teeth and bones. The main drawback of dairy products is the shelf life of the product can be much longer, so it breaks down very quickly due to a large number of beneficial bacteria. Buttermilk is in the growth stage, and many industry experts are looking for products that invest large amounts of R&D to make money on the market by finding the most innovative properties of buttermilk and launching these products.
Restraints:
The majority of the population prefers homemade foods due to the negative impression of the health impact of packaged products. This is one of the main factors that inhibit the growth of the global buttermilk market.
Buttermilk Market Segmentation Analysis:
By Type:
Liquid buttermilk

Buttermilk powder
By Application:
Confectionery

Frozen desserts and Ice Cream

Bakery

Dairy-based

Beverages

Specialty foods

Soups and Sauces

Salad dressings

Others
Regional Analysis:
Geographically, the global buttermilk market can be divided into regions, including North America, Latin America, Western Europe and Eastern Europe, Asia Pacific, the Middle East, and Africa. North America is determined to rule the global market both in terms of usage and value in the estimated timeframe. The United States is a major producer of buttermilk powder. The North American buttermilk market is expected to be followed by the European buttermilk market, making it the fastest-growing market in the world. The Asia-Pacific region is the most targeted region because only India is the world's largest milk exporter. In addition, bakery, gravy and soup adoption of buttermilk is increasing, presumed to be dominant in the Asia Pacific region. Developing countries are expected to experience an increase in demand for buttermilk as the same global use of key food ingredients increases.
Key Players in the Market:
Major Key Players in the Global Buttermilk Market are
Amul

Arla foods

Dairy America

Sodiaal Group

Fonterra

Dairy Farmers of America

Glanbia

Valley Milk

Associated Milk Producers

Arion Dairy Products

Innova Food Ingredients

Sterling Agro Industries

Grain Millers

Agri-Mark

Land O' Lakes