Carbonated Beverages Market Size, Growth (2023-2028)
The Global Carbonated Beverages Market size was worth US$ 392.6 billion in 2022, and it is estimated to reach a valuation of US$ 412.5 billion by the end of 2028, expanding at an annual growth rate of 3.15% between 2023 and 2028. The sales of carbonated beverages depend heavily on the companies' ability to develop new products based on changing consumer needs.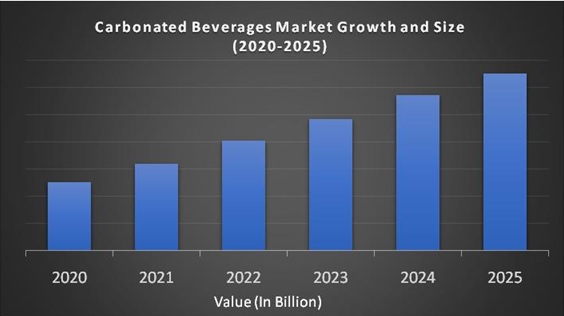 Market Overview:
Carbonated beverages are liquids with the addition of carbon dioxide under pressure to provide effervescence. Soda water or sparkling water is used as the basis for making these drinks. Carbonated beverages contain sweeteners, spices and water. Carbonic acid is produced by adding water and carbon dioxide that itches after consumption. Various types of carbonated drinks, such as sparkling water, tea, smoothies, and juices, are available in the market. Soft drink consumption is highest in the summer months and comes in a variety of flavors such as cola, orange and lemon. They have a significant amount of sugar. In this line, there is a continuous diversification of products, and new natural flavors are introduced. However, traditional flavors dominate the market. They are packaged drinks that are available in bottles, cans and PET bottles without any alcohol content. Therefore, it is called soft drink and covers smoothies, juices, teas and ready-to-drink coffees, concentrates and functional beverages.
Recent Developments in Carbonated Beverages Industry:
In 2017 Diageo launched a low-calorie winery under the Smirnoff brand. The company also offers low-carb RTD beverages and is low in carbohydrates, zero sugar, and artificial sweeteners.

In May 2018, Coca-Cola established a juice processing plant in Kenya. Coca-Cola companies in Nairobi, based in East and West Africa, plan to align a variety of soft drinks on the Kenyan market to meet the growing demand of consumers.

March 2018: Coca-Cola launched alcohol. The launch of this product will break the continuation of 126 years when entering the prosperous market of the company "Alcopop".
REPORT COVERAGE:
| | |
| --- | --- |
| REPORT METRIC | DETAILS |
| Market Size Available | 2022 – 2028 |
| Base Year | 2022 |
| Forecast Period | 2023 - 2028 |
| CAGR | 3.15% |
| Segments Covered | By Type, Flavor, Distribution Channel and Region |
| Various Analyses Covered | Global, Regional & Country Level Analysis, Segment-Level Analysis, DROC, PESTLE Analysis, Porter's Five Forces Analysis, Competitive Landscape, Analyst Overview on Investment Opportunities |
| Regions Covered | North America, Europe, APAC, Latin America, Middle East & Africa |
| Market Leaders Profiled | Britvic PLC, Cott Corporation, PepsiCo, Parle Agro, Coca-Cola Company and Others. |
Carbonated Beverages Market Growth:
The rise in the carbonated beverages market around the world is likely to witness steady growth as the market is in the saturation stage in different parts of the world.
Drivers:
Growth in the youth population in developing countries, along with rising disposable incomes among consumers, is anticipated to drive growth in the global carbonated beverage market. The increasing demand for processed foods and beverages, along with the growing population of BRICS countries, is expected to help the market. The industry has relatively low prices and margins compared to other consumer goods. Therefore, key industry participants focus on packaging innovation to achieve market gains along with sustainability. Coca-Cola Company balances the relationship between bottle sustainability and functional design. They discard brand stocks, and the bottles are more sustainable than regular PET bottles. The demand for carbonated beverages with reduced sugar content is supposed to appeal to consumers due to new perceptions of health worldwide. There are various flavors like orange, cola and lemon. However, the original soft drink sector is dominant in terms of demand.
With increasing health awareness among consumers, naturally flavored drinks such as tropical and superfruits have been introduced. Product innovation and the transitional approach to innovative packaging and reusable bottle and can manufacturing are expected to provide ample opportunities for market participants. This phase is expected to reduce the dumping of waste material and ensure market continuity. The increase in the popularity of soft drinks, especially among young people, is a significant factor driving the growth of the global Carbonated Beverages market. Carbonated drinks improve the swallowing ability of young adults and young adults. It also makes you feel full because it stays longer than water in the human system.
The increasing frequency of serving carbonated beverages as side dishes at various fast food restaurants and cafes is also driving growth in the global Carbonated Beverages Market value. Growing consumer demand for mortgage and diet soda as the adoption of a healthy lifestyle increases is another factor driving growth in the global carbonated drinks market size. Furthermore, the growth of young populations and the increase in disposable income in developing countries are factors that are likely to drive the demand in the world market in the near future.
Restraints:
The main challenge for the carbonated beverage industry comes from health lobbyists. Reports of childhood obesity have increased in recent years. This can negatively affect the overall growth of the market. Strict regulations on the use of plastics in packaging materials appear as obstacles and can limit the global market growth. Additionally, the high sugar content in carbonated beverages can lead to diabetes, obesity, and calcium depletion. This factor can impede the growth of the global carbonated beverage market.
Carbonated Beverages Market Segmentation Analysis:
By Type:
Standard

Diet

Fruit

Others
By Flavour:
By Distribution Channel:
Hypermarkets and Supermarkets

Independent Retailers

Convenience Stores

Others
Geographical Segmentation Analysis:
North America - the United States and Canada

Europe - United Kingdom, Spain, Germany, Italy, and France

The Asia Pacific - India, Japan, China, Australia, Singapore, Malaysia, South Korea, New Zealand, and Southeast Asia

Latin America - Brazil, Argentina, Mexico, and Rest of LATAM

The Middle East and Africa - Africa and Middle East (Saudi Arabia, UAE, Lebanon, Jordan, Cyprus)
Regional Analysis:
The North American carbonated beverages market represents the largest share in terms of sales and is supposed to maintain its position over the outlook period due to the presence of the leading manufacturing companies in the region. North America has a significant share of the global business. The growing demand for processed foods and beverages in the industry is assumed to have a positive impact on local markets. However, cases of obesity in the region have led to a steady decline in demand for ten years.
The European carbonated beverages market is presumed to occupy the second position in the income category as consumption of soft drinks in individuals increases, especially in restaurants and food stores. Europe, led by Germany, France, Italy and Spain, is a market for soft drinks. The initial adoption of soft drink-based products combined with high living standards compared to developing countries is an essential factor responsible for market development.
The carbonated beverages market in the Asia-Pacific region is anticipated to see a significant increase in profits during the prediction period due to the rising youth population and the rise of fast food in the area. The Asia Pacific market is expected to show the most rapid growth in the next seven years. Lowering strict rules and regulations and increasing disposable incomes among consumers in emerging countries such as China, India, Southeast Asia, Korea and Japan are supposed to help overall growth. In Central and South America, growth is foreseen due to lower medical awareness compared to other regions that lack regulatory policies related to sugar-based beverages. Additionally, the companies in this area have focused on introducing new products, which are likely to spur growth.
Leading Company:
Coca-Cola is one of the leading manufacturers, distributors and marketers of carbonated beverages. The company has licenses for more than 500 brands of soft drinks. By 2010, the company had sold concentrates and syrups in many individual bottles, bottling and distributing the final product.
Key Players in the Market:
Major Key Players in the Global Carbonated Beverages Market are
Britvic PLC

Cott Corporation

PepsiCo

Parle Agro

Coca-Cola Company