Soft Drink Concentrates Market Size, Growth (2023-2028)
The Global Soft Drink Concentrates Market Size was worth US$ 31.28 billion in 2022, and it is estimated to reach a value of US$ 41.27 billion by the end of 2028, rising at an annual compound rate of 5.7% between 2023 and 2028. The growing demand for ready-to-drink (RTD) beverages drives the overall market.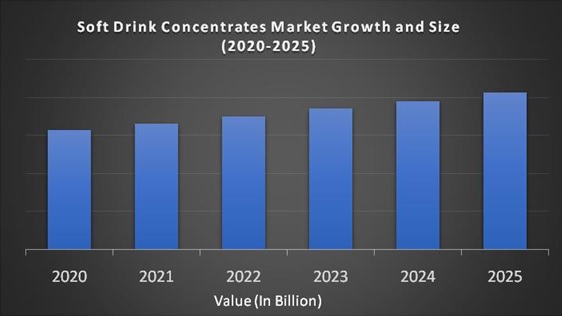 Market Overview:
Soft drinks concentrates are beverages that contain carbonated or purified water, sweeteners and flavoring substances. The sweeteners can be sugar, corn syrup with fructose, fruit juice or sugar substitutes, that is, artificial or natural. Soft Drink Concentrates contain caffeine, dyes, stabilizers, preservatives, and other ingredients. Soft drinks use about 80% of the water, which incurs additional transportation costs and occupies too much of the warehouse. To reduce these problems, the ingredients are further processed to achieve a concentrated form. Soft drink concentrates contain sugar, colorants, flavors, and can sometimes contain stabilizers, and fruit concentrates with minimal moisture content.
In the food and beverage sector, the soft drink concentrate market has grown significantly due to the ease of operation and the availability of various varieties. As the trend toward consumption of processed beverages increases, the soft drink market expands at a faster growth rate. Sweeteners used in soft drinks may be in the form of corn syrup with fructose, sugar, sugar substitutes, fruit juices, or other natural sweeteners. Based on the formulation and use of soft drinks, it may also contain other ingredients such as colorants, caffeine, preservatives, stabilizers, and other components.
Recent Developments in Soft Drink Concentrates Industry:
In May 2018, Coca-Cola established a juice processing plant in Kenya. Coca-Cola companies in East and West Africa based in Nairobi plan to align a variety of soft drinks in the Kenyan market to meet the growing demand for the consumers. The need for soft drink concentrates in the region is expected to increase.

Indian-based fruit concentrate manufacturers have mainly deployed Indian children's products. In addition to developing product and sales channels, soft drink concentrate manufacturers are focusing on improving packaging to meet consumers' simultaneous demand for packaging.
REPORT COVERAGE:
| | |
| --- | --- |
| REPORT METRIC | DETAILS |
| Market Size Available | 2022 – 2028 |
| Base Year | 2022 |
| Forecast Period | 2023 - 2028 |
| CAGR | 5.7% |
| Segments Covered | By Application, End-Use and Region |
| Various Analyses Covered | Global, Regional & Country Level Analysis, Segment-Level Analysis, DROC, PESTLE Analysis, Porter's Five Forces Analysis, Competitive Landscape, Analyst Overview on Investment Opportunities |
| Regions Covered | North America, Europe, APAC, Latin America, Middle East & Africa |
| Market Leaders Profiled | Kraft Foods, The Coca-Cola Company, PepsiCo Inc., Big Red Inc., Monster Beverage Corporation, Dohler, Cott Corporation, Nestle SA, Dr Pepper Snapple Group and Others. |
Soft Drink Concentrates Market Growth:
The growth potential of the Soft Drink Concentrates market depends on research and development and the opportunity to introduce new flavors by leading players.
Drivers:
As the population grew, the global Soft Drink Concentrates market was activated. This is the main reason for the growth of the global business. Changes in consumer preference for food quality and nutritional value have spurred market growth. Manufacturers are looking for ways to market their products in an attractive way to attract consumers and improve sales. A growing variety of soft drink concentrates worldwide has fueled the growth of the market. Manufacturers are now working on making high-quality products that can be safely consumed. This market is driven by consumer demand for processed foods and beverages without compromising the taste and nutrition of the product. The rising focus on research and development coupled with the business created with new flavors is likely to drive this market growth. The soft drink concentrate market is characterized by the growing demand for luxurious and healthy products.
In addition, the ongoing changes in lifestyle and increasing developments in the food and beverage sector have majorly augmented the demand in the soft drink concentrates industry. The growth of the world population has a significant impact on the food supply worldwide. Consumers are looking for nutritional labeling and food quality. Multinational companies' consumer-focused advertising is driving the growth of the soft drink concentrate market with the availability of various types of soft drink concentrate products worldwide. Producers' perspective on alternatives allows buyers to trade with interest, enabling them to sell their products attractively. As soft drink variation expands, societies focus cross-sectionally on products that stimulate business growth. The company is also taking immediate steps to create quality products that can be used harmlessly. Several companies are now following Good Manufacturing Practice (GMP) to produce safe products and comply with product-specific laws and regulations.
Among the carbonated soft drink concentrate sections, coke concentrate is considered a more significant segment compared to the non-coke sector. World population growth is expected to have a substantial impact on the food supply worldwide. But the trend now is towards better nutrition, detailed labeling, and food quality. With the food and beverage industry-leading MNC offering new varieties of soft drinks, the considerable expense in attractive advertising will help promote intensive soft drink sales worldwide. Some manufacturers comply with Good Manufacturing Practice (GMP) to make safe products.
Restraints:
Because Soft Drink Concentrates contains large amounts of caffeine, increased health awareness among consumers is expected to support the growth of non-coke concentrates. For non-carbonated concentrate, add fruit flavored fruit concentrate or add fruit concentrate. Variants offer grapes, pineapples, apples, mixed fruits or berries, mangoes, citrus, and more. Consumers are becoming more aware of their health, so the demand for natural and healthy food is promoting the soft drink concentrates market.
Soft Drink Concentrates Market Segmentation Analysis:
By Application:
Carbonated

Non-Carbonated

Grape

Pineapple

Grapefruit

Orange

Apple

Mixed

Mango
By End-Use:
Food Service

Mass Merchandise

Fountain Machine
Geographical Segmentation Analysis:
North America - the United States and Canada

Europe - United Kingdom, Spain, Germany, Italy, and France

The Asia Pacific - India, Japan, China, Australia, Singapore, Malaysia, South Korea, New Zealand, and Southeast Asia

Latin America - Brazil, Argentina, Mexico, and Rest of LATAM

The Middle East and Africa - Africa and Middle East (Saudi Arabia, UAE, Lebanon, Jordan, Cyprus)
Regional Analysis:
At the regional level, the global soft drink concentrate market diversifies into North America, Asia Pacific, Latin America, Europe, the Middle East, and Africa.
Europe leads the Soft Drink Concentrates market. The growing population and the increasing availability of various soft drinks are factors that contribute to the growth of the market in developing countries. In Europe, Germany dominated the market by accounting for the largest share in terms of imports.
The Asia Pacific soft drink concentrate market is also growing positively. The Asia Pacific region is expected to show the fastest growth in countries such as China, India, Korea, and Japan due to rising disposable incomes, population growth, and changes in eating habits. India has experienced the highest growth in value consumption in the past five years. South Asia is part of a world with a rapidly growing urban population made up of a large proportion of young people. Countries like India, Thailand, Indonesia and Malaysia are generating wind tariffs in Asia, and soft drinks are centering demand. Some countries in other parts of the world, such as Mexico and North Africa, are also developing rapidly, contributing to the growth of the soft drink concentrate market.
Key Players in the Market:
Major Key Players in the Global Soft Drink Concentrates Market are
Kraft Foods

The Coca-Cola Company

PepsiCo Inc.

Royal Cusan

Big Red Inc.

Monster Beverage Corporation

Dohler Group

Cott Corporation

Nestle SA

Dr Pepper Snapple Group