Water Enhancers Market Size, Growth, Forecast (2023-2028)
The global Water Enhancers Market size was valued at US$ 2.83 million in 2022 and it is determined to reach a valuation of US$ 8.9 million by 2028 with an annual expansion rate of 10.4% between 2023 and 2028.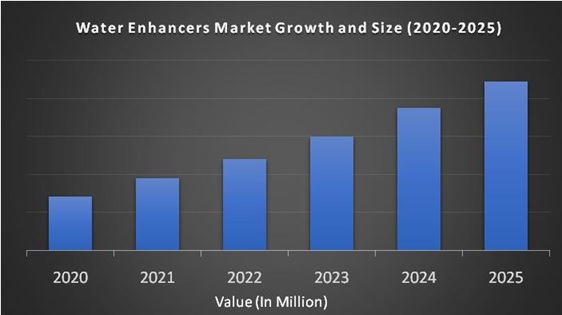 Product Description:
Water enhancers are consumable products that add flavor and additional dietary benefits to carbonated water. Due to carbon dioxide gas, the drink has a certain dull, carbonated taste, and this carbonated drink is accepted worldwide in various soft drinks. Carbonic acid is a process that dissolves carbon dioxide in water at low temperatures and pressures. However, this flavor is a little expensive for your health. This has been of interest to people around the world. Product concentrates are generally available in small packages, allowing retailers to increase shelf margins by saving shelf space for other products while providing convenience to end-users. Efforts to make beverages with a unique taste, as well as the nutrient-free carbonated beverage process for human health, have become more popular since the first decade of the 21st century.
Water Enhancers Market Growth:
Product concentrates, like water enhancers, are becoming more common in the retail market worldwide. In general, smaller packages are convenient for consumers, add value to retailers in terms of value for storage space, and add margin to manufacturers in the water enhancers industries, promoting this business further.
REPORT COVERAGE:
| | |
| --- | --- |
| REPORT METRIC | DETAILS |
| Market Size Available | 2022 – 2028 |
| Base Year | 2022 |
| Forecast Period | 2023 - 2028 |
| CAGR | 10.4% |
| Segments Covered | By Type, Active Ingredients, Raw Materials, Distribution Channel and Region |
| Various Analyses Covered | Global, Regional & Country Level Analysis, Segment-Level Analysis, DROC, PESTLE Analysis, Porter's Five Forces Analysis, Competitive Landscape, Analyst Overview on Investment Opportunities |
| Regions Covered | North America, Europe, APAC, Latin America, Middle East & Africa |
| Market Leaders Profiled | Arizona Beverages, Craft Foods, PepsiCo, Pepper Snapple Group, Coca Cola Company, Nestle and Others. |
Drivers:
Rapid industrialization, backed by tantalizing marketing, created a "health care class" among people. Therefore, this behavioral change in consumer preference for flavored beverages has further led the market for water enhancers. This has enabled the improvement of health and the mass production of nutritious food and beverages worldwide, allowing market pioneers to launch and sell products such as water purifiers and more. Functional and fortified foods and beverages worldwide have influenced many small players to launch their products and have led the growth of the enhancers market to a positive trajectory during the forecast period. Also, as demand for water enhancers continues to rise, major food and beverage companies include water enhancers in their product portfolios that are expected to drive growth in the global water enhancers market during the forecast period. Therefore, to avoid carbonated beverages, consumers prefer healthy substitutes. This has increased the demand for water enhancers that provide functional properties to water. As consumer preference for functional ingredients has increased, the demand for functional beverages in the global market has increased the demand for those seeking healthy beverage options. Even changes in consumer preferences for carbonated energy and soft drinks due to the growing obesity population in Western countries, the health perceptions associated with the consumption of carbonated beverages, and health problems have led to the market increase of water.
Additionally, it was found that carbonated beverages due to the release of carbon dioxide from the digestive tract can significantly increase symptoms of irritable bowel syndrome, which is characterized by chronic abdominal pain, discomfort, and bloating. Much of the population in western countries suffers from obesity. Soft drinks have not been medically shown to increase the likelihood of obesity, but as health awareness increases, customers seem to avoid consuming these soft drinks. Therefore, these health problems among customers are leading the global market for large-scale water enhancers. Almost all major companies offer liquid water enhancers in compact and compressible plastic bottles, pushing this product into the constantly growing food and beverage category, spurring the growth of the liquid water enhancers market in the near future. The fortifying concept targets Millennials and relies on supplements and functional foods and drinks to meet the daily nutritional requirements of a busy lifestyle. Supported by attractive marketing, the global consumer base for health-enhancing foods and beverages has expanded significantly. With the anticipated benefits, water enhancers guarantee a wide range of applications in the sports and sports drinks industry, the healthcare sector and the consumer sector. The rising demand for innovative drinks is driving this demand for water enhancers in the global market
Restraints:
The global water enhancers market has some limitations with great monetization potential. Lack of strict regulatory regulations, consumer-friendly manufacturing practices by market participants, and concerns about intake safety, as well as lack of awareness of certain products among consumers, are some of the limitations that hamper the global market for water enhancers.
Impact of COVID 19 on the Water Enhancers Market:
COVID-19 has resulted in social isolation within the country, closed borders, loss of business, loss of employment, closings in all industries, and many more economic impacts. Governments around the world have launched financial and monetary stimulation programs to prevent economic damage caused by viruses. This is expected to affect the global market for water enhancers.
Water Enhancers Market Segmentation Analysis:
The global water enhancers market is basically classified by active ingredient, source of raw material, type and distribution channel.
By active ingredients, the market is segmented into electrolytes, antioxidants, vitamins and sweeteners. Vitamin and electrolyte-based water enhancers segment represents more than 50% of the global water enhancers market. Most of these water enhancers come from natural colors, fruits and vegetables. Fruit flavors like lemon, coconut water, and strawberries are in higher demand.
By Raw materials the market is segmented on the basis of tea leaves, coffee beans, fruits &vegetables and coconut water.
By type the market is segregated on the basis of drops of energy drops and fitness drops, flavored water enhancers and workout drops. Flavored water enhancers in all types of market segments represent the majority of the market worldwide. Fitness Water drops are another important segment of the market that is expected to grow at a significant rate of growth during the forecast period. The other segment consists of products that contain multifunctional water enhancers, such as a combination of flavor and energy.
By distribution channel, Supermarkets are the largest single market for sales of water enhancers. Supermarkets and hypermarkets have played an important role in the distribution of functional food and beverages since their appearance. Distribution models through this retail channel are widely accepted by both business and consumers as the premium retail shopping experience and consumer interactions increase. As more and more consumers reject soft drinks for health reasons, hypermarkets and supermarket shelves have begun to overflow with healthy water improvers.
Geographical Segmentation Analysis:
North America - the United States and Canada

Europe - United Kingdom, Spain, Germany, Italy, and France

The Asia Pacific - India, Japan, China, Australia, Singapore, Malaysia, South Korea, New Zealand, and Southeast Asia

Latin America - Brazil, Argentina, Mexico, and Rest of LATAM

The Middle East and Africa - Africa and Middle East (Saudi Arabia, UAE, Lebanon, Jordan, Cyprus)
Regional Analysis:
Geographically, the global water enhancers market is divided into seven main regions of North America, Asia Pacific and Japan, the Middle East and Africa, Latin America, Eastern Europe and Western Europe. North America is an important region of the world market for water enhancers, followed by Western Europe. The market is increasing rapidly as consumers pay more attention to maintaining their health. Consumers are looking for a convenient product to keep moisture in and stay healthy in everyday tasks. People opt for mini droplets, concentrated flavor enhancers, which claim to contain healthy ingredients, that instantly transform water into a value-added drink. Changes in consumer preference for soft drinks (CSD) for nutritionally functional beverages increase the potential demand for water enhancers. Asia-Pacific is also expected to be the fastest-growing region in the world market for water Enhancers during the outlook period.
Key Players in the Market:
Major Key Players in the Global Water Enhancers Market are
Arizona Beverages

Craft Foods

PepsiCo

Pepper Snapple Group

Coca Cola Company

Nestle