Flavored Water Market Size, Growth, Forecast (2023-2028)
The global Flavored Water Market size was calculated at USD 17.2 billion in 2022, and it is determined to reach USD 36.7 billion by 2028 at a CAGR of 11.5% during the anticipated period. Increased consumer interest in wellness and emerging markets will provide opportunities for this market.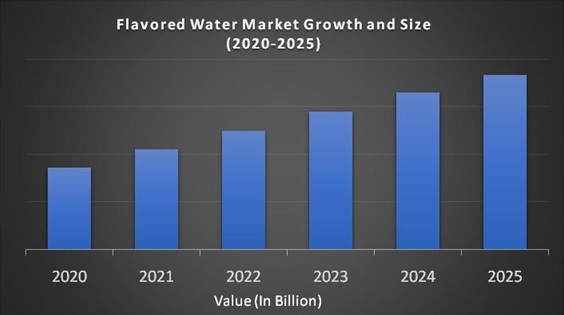 Market Overview:
Flavored water belongs to the category of beverages that are sold similarly to water. However, it excludes ingredients, such as artificial flavors, vitamins, sweeteners and others. It mainly focuses on images related to health and functional benefits. As health awareness increases among consumers around the world, healthy alternatives to commonly consumed foods and drinks are growing in popularity. Flavored water could be bottled water, purified water, or spring water, while functional water is a derivative with added functional value in the form of minerals, vitamins, and nutrients.
Recent Developments in Flavored Water industry:
In January 2018, the JUST Beverage Company propelled seasoned water, for example, natural apple cinnamon, natural lemon, and natural tangerine.

February 2020: BLNCD Naturals, Minnesota's leading CBD health and wellness brand, entered the beverage industry by teaming up with Big Watt Coffee and introducing three exciting flavors of CBD sparkling water.
Flavored Water Market Growth:
With a growing interest in health and consumer awareness, demand has shifted from carbonated or artificial soft drinks to healthy alternatives, including flavored and functional water.
REPORT COVERAGE:
| | |
| --- | --- |
| REPORT METRIC | DETAILS |
| Market Size Available | 2022 – 2028 |
| Base Year | 2022 |
| Forecast Period | 2023 - 2028 |
| CAGR | 11.5% |
| Segments Covered | By Product Type and Region |
| Various Analyses Covered | Global, Regional & Country Level Analysis, Segment-Level Analysis, DROC, PESTLE Analysis, Porter's Five Forces Analysis, Competitive Landscape, Analyst Overview on Investment Opportunities |
| Regions Covered | North America, Europe, APAC, Latin America, Middle East & Africa |
| Market Leaders Profiled | Sunny Delight Beverage Company, Hint Water, Kraft Foods, Balance Water Company, Nestle Water, Herbal Water, PepsiCo, The Coca-Cola Company, Groupe Danone, New York Spring Water and Others. |
Drivers:
Increased obesity prevalence and awareness of the healthy lifestyles are expected to continue to be a major driver of growth in the global flavored water market. Natural flavors are becoming more popular as consumer health problems inhibit the consumption of artificial flavors and soft drinks. The number of functions is particularly attractive due to the health benefits and reduced exchange costs because the price is almost the same as the price of the perfume. When a variety of flavors and options are available in functional flavors and waters, it will spur market growth as consumers try new flavors and prefer the best. Tasty and functional water is a bit expensive, but these days, when income levels rise, people can ingest premium products like this water, especially in this developing country. This is expected to be an important factor that will have a positive impact on market growth. Manufacturing companies are linking water to their health and beauty regimes to identify the right market. This will continue to affect markets in developing countries during the forecast period. As China's industrialization erupted, demand for bottled drinking water increased due to the supply-demand. It is currently offering an increase in flavored water and is expected to continue in the near future. The commonly available flavor and functional aqueous products include mixed flavors, cherry, guava, lemon, peach, and apple. Preservatives, pigments, caffeine, and carbonate are not included in this water. As a result, flavor and functional water products are becoming increasingly important to consumers.
Carbonated beverages, such as cola and other drinks contain carbon dioxide and have various side effects, such as weight gain due to high calories, diabetes, high blood sugar load, etc. Rapid urbanization and increasing disposable income stimulate people around the world to become more interested in their health, allowing them to consume more flavored water. As obesity and related health problems increase in the United States and health awareness increases, consumers will be encouraged to choose flavors that are rich in minerals, vitamins, and natural flavors and that feel naturally healthy. In addition, the increase in consumption bases and the growing demand in various regions of the Americas will contribute to the growth of the worldwide market. Also, non-aerated drinks, like functional water have various nutritional benefits. The supply of contaminated water from industry and many other sectors has increased the demand for bottled water, including flavored and functional water. Cargill Inc., a food and beverage manufacturer has developed a variety of functional water ingredients, such as natural, calorie-free sweeteners and cholesterol-lowering agents. In addition, the functional components of water reduce cholesterol and address cardiac and calcium absorption. Some of the driving forces behind the growing demand for clean and potable water are consumers' consumption of premium products due to an aging population, changes in consumer preferences and tastes, increased consumer awareness on healthy alternatives and well-being, greater urbanization and higher disposable income and changes in lifestyle. As demand increases in emerging markets and disposable income rises, it will provide additional growth opportunities for the global flavored water market.
Restraints:
Some of the main challenges in flavored water market around the world are the availability of alternative products at very similar prices, a balance of flavors, sugar and other ingredients, and increased campaigns for packaged bottles. There are several protest campaigns against bottle packaging, which can greatly affect the market. The threat of alternatives is a long-standing challenge that can continue to negatively impact market growth.
Flavored Water Market Segmentation Analysis:
By Product Type:
Flavoured Water

Functional Water
Impact of Covid-19 on the Global Flavored Water Market:
The Covid-19 pandemic has resulted in a worldwide shutdown, sticking people to their homes. The increased work from home conditions has promoted the need for nutritious products to improve immunity. This is likely to promote the consumption of flavored drinks in the coming years across the globe, promoting the market boom.
Geographical Segmentation Analysis:
North America - the United States and Canada

Europe - United Kingdom, Spain, Germany, Italy, and France

The Asia Pacific - India, Japan, China, Australia, Singapore, Malaysia, South Korea, New Zealand, and Southeast Asia

Latin America - Brazil, Argentina, Mexico, and Rest of LATAM

The Middle East and Africa - Africa and Middle East (Saudi Arabia, UAE, Lebanon, Jordan, Cyprus)
Regional Analysis:
Depending on the region, this market is classified as North America, Europe, Asia Pacific and LAMEA. The United States has the largest market for flavored water. The Asia-Pacific region dominates the global flavored water market, and the region is expected to show high growth in the coming years. In countries like China and India, growth in the flavored water market is estimated to be high due to rapid urbanization, lifestyle changes, and increased disposable income. The United States, Germany, France, Italy, and Japan have the highest flavor penetration, while Asia Pacific has seen the fastest growth. Emerging economies in Asia are rapidly urbanizing and finally adopting a sophisticated lifestyle. In addition, countries in the Middle East and Latin America are supposed to witness the highest share. APAC is also determined to develop with a considerable CAGR during the outlook period. North America is the leading locale in the global flavored water market in 2017, owing to increased consumer awareness about benefits related to flavored water. With strong economic growth, favorable conditions for the North American market have strengthened the growth of the beverage market in the region. Carbonated beverages and bottled water are the main beverage sectors, but the amount of flavorings and minerals has grown significantly during the forecast period.
Key Players in the Market:
Major Key Players in the Global Flavored Water Market are
Sunny Delight Beverage Company

Hint Water

Kraft Foods

Balance Water Company

Nestle Water

Herbal Water

PepsiCo

The Coca-Cola Company and Groupe Danone

New York Spring Water