Flavored Syrups Market Growth and Forecast (2022-2027):
The global Flavored Syrups Market size was worth US$ 42.27 billion in 2021, and it is estimated to reach a valuation of US$ 51.31 billion by the end of 2027, rising at an annual compound rate of 4.0% between 2022 and 2027. The global syrup market is experiencing significant demand from the food and beverage industry.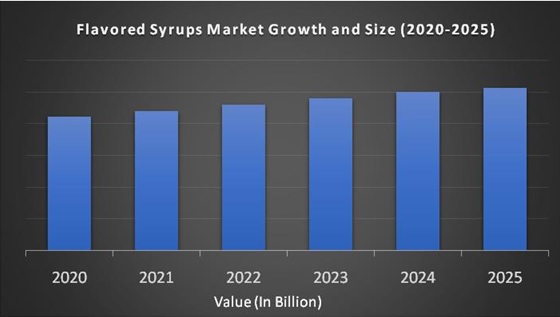 Market Overview:
The flavored syrup is a spicy or semi-liquid liquid produced through organic or synthetic sources that are used to improve the flavor of a drink or food. The use of flavored syrup depends on local trends and eating habits. The beverage industry is a crucial part of the consumption of flavored syrups and tends to focus more on concentrated syrup. The preparation of drinks, fresh fruit juices, cakes and confectionery are the primary sources of flavor syrup markets worldwide. Flavors such as vanilla, coffee and chocolate are widely consumed worldwide.
The flavored syrup is also available for spirits and is expected to increase its share during the forecast period. Consumers tend to adopt organic flavored syrup, among which young people and children are most attracted to the adoption of this syrup. The sweet-flavored syrup is sugar-free syrup, the highest on the list of spice types, and the trend is increasing in recent years. Also, syrup with a salty taste is consumed mainly in food compared to beverages. The global flavor syrup market is supposed to expand to a single-digit CAGR during the outlook period.
Recent Developments in Flavored Syrups Industry:
Starbucks uses coffee in a variety of naturally flavored syrups, such as caramel, hazelnut, caramel nut, mint mocha, cinnamon dolce, peaches, and vanilla.

In April 2019, Torani launched Puremade Syrups and Sauce, which allows companies to serve company-made syrups and sauces. Whether it's a complex cold-brewed coffee or an intense iced tea, the pure syrup is designed to pair perfectly with your finished drink. Puremadee Syrup provides excellent spice and sweetness ratios, is preservative-free and GMO-free.

In October 2018, NuNaturals announced the launch of a new line of natural, sugar-free pourable syrup. This new product comes in a variety of flavors such as vanilla, chocolate, maple flavor, chai, and pumpkin spices. The main goal of the launch is to provide consumers with lower sugar levels options, and this new product is gluten and hypoglycemia free, non-GMO.
REPORT COVERAGE:
| | |
| --- | --- |
| REPORT METRIC | DETAILS |
| Market Size Available | 2021 – 2027 |
| Base Year | 2021 |
| Forecast Period | 2022 - 2027 |
| CAGR | 4% |
| Segments Covered | By Flavor, Flavor Type, Application and Region |
| Various Analyses Covered | Global, Regional & Country Level Analysis, Segment-Level Analysis, DROC, PESTLE Analysis, Porter's Five Forces Analysis, Competitive Landscape, Analyst Overview on Investment Opportunities |
| Regions Covered | North America, Europe, APAC, Latin America, Middle East & Africa |
| Market Leaders Profiled | Hershey, Tate & Lyle, Kraft Heinz Company, Monin Inc, Kerry Group Plc, Sonoma Syrup, Cedarvale Maple Syrup, VSBO and Others. |
Flavored Syrups Market Growth:
Flavored Syrup makers have gone on to produce a variety of syrups as food has increased consumer preference for a variety of custom flavors. In particular, the increasing demand for flavored syrup among consumers contributes to the growth of the global flavored syrup market.
Drivers:
As the demand for flavored syrups in the food and beverage industry increases, the market for flavored syrups is likely to strengthen. The main activities of flavoring syrups in the food and beverage industry include soft drink concentrates, multi-flavored beverage syrups, frozen dessert topping additives for yogurt and flavoring powders for use in food and soft drinks. The growth of the market is mainly due to the increased demand for personalized flavors in the food and beverage industry. The application of flavor syrup as a flavor enhancer and sweetener has attracted growing interest among manufacturers in the industry. The beverage category contributes to the increased market demand, including a variety of liquid syrups in different flavors. The fruit-flavored syrup is widely applied to beverage products like cocktails, soda and soft drinks, soft drinks, and dominates the world market.
With consumers' increasing preference for high-fruit syrups, manufacturers have marketed a wide variety of syrups with natural ingredients. For example, the two most desirable fruit flavors include raspberry and orange. Additionally, if consumers want to try a variety of unique fruit flavors, manufacturers are encouraged to develop duo fruit syrup such as lime ginger, lime mint, and raspberry mint. The flavored syrup acts as an artificial sweetener along with taste enhancers. In addition to the sweet flavored syrup, the flavored syrup is expanding for purposes other than beverages.
The salty syrup is used to dress salads, meat recipes, confectionery and bakery preparations. However, the demand for chocolate-flavored syrup plays a vital role in the growth of the world flavored syrup market due to consumers' preference for chocolate flavor in food.
Additionally, the food and beverage industry is one of the driving forces in the flavor syrup market, and consumer preference for other syrups in prepared foods is expected to spur the growth of the global flavored syrup market. The pharmaceutical industry contributes to the growing market demand due to the abundance of characteristics and the need for flavor syrup in pharmaceuticals to stimulate the appetite.
Restraints:
The main limitation faced by the global flavored syrup market is that the high sugar content used as an artificial sweetener is a significant cause of health risks, such as high blood sugar, diabetes and gastrointestinal disorders. The domestically produced corn syrup has proven to be a major constraint on the growth of the flavored syrup market. However, there is a growing concern about obesity due to the high consumption of sugar. In this sense, consuming fructose corn syrup (HFCS) and sucrose-containing sweet sugary drinks (SSB) is making an unhealthy diet. This may challenge the situation of the worldwide flavored syrup market.
Flavored Syrups Market Segmentation Analysis:
By Flavor:
Chocolate

Coffee

Herbs & Seasonings

Vanilla

Fruit

Maple

Malt

Palm

Others
By Flavor Type:
Salty

Sour

Mint

Savoury

Sweet
By Application:
Dairy & Frozen Desserts

Bakery

Confectionery

Beverage

Others
Geographical Segmentation Analysis:
North America - the United States and Canada

Europe - United Kingdom, Spain, Germany, Italy, and France

The Asia Pacific - India, Japan, China, Australia, Singapore, Malaysia, South Korea, New Zealand, and Southeast Asia

Latin America - Brazil, Argentina, Mexico, and Rest of LATAM

The Middle East and Africa - Africa and Middle East (Saudi Arabia, UAE, Lebanon, Jordan, Cyprus)
Regional Analysis:
The world flavored syrup market is divided into seven regions: Asia Pacific (APEJ), Western Europe, Eastern Europe, Japan, Middle East, and Africa (MEA), North America, and Latin America.
North America had the largest share of 33.9% in 2018. The growth of the flavored syrup market is primarily due to consumer preference for flavored syrups in daily meals such as cereals, snacks, desserts and drinks. Increase in this area due to the sufficient availability of high-quality ingredients such as chocolate, toppings, shells, and spices. This encourages the use of scented syrups throughout the food and beverage industry. The Asia Pacific region is foreseen to grow at a maximum annual average of 5.6% from 2019 to 2025. Bakery products are considered to be products that are consumed in bulk at an affordable price. Additionally, consumers are eager to consume sweet foods, leading manufacturers to introduce innovative products infused with flavored syrup. Many foreign companies entered the Asian market and quickly entered this industry.
Key Players in the Market:
Major Key Players in the Global Flavored Syrups Market are
Hershey

Tate & Lyle

Kraft Heinz Company

Monin Inc.

Kerry Group Plc.

Sonoma Syrup

Cedarvale Maple Syrup

VSBO
1. Introduction
1.1 Market Definition
1.2 Study Deliverables
1.3 Base Currency, Base Year and Forecast Periods
1.4 General Study Assumptions
2. Research Methodology
2.1 Introduction
2.2 Research Phases
2.2.1 Secondary Research
2.2.2 Primary Research
2.2.3 Econometric Modelling
2.2.4 Expert Validation
2.3 Analysis Design
2.4 Study Timeline
3. Overview
3.1 Executive Summary
3.2 Key Inferences
3.3 New Developments
4. Drivers, Restraints, Opportunities, and Challenges Analysis (DROC)
4.1 Market Drivers
4.2 Market Restraints
4.3 Key Challenges
4.4 Current Opportunities in the Market
5. Market Segmentation
5.1 By Flavor
5.1.1 Chocolate
5.1.2 Coffee
5.1.3 Herbs & Seasonings
5.1.4 Vanilla
5.1.5 Fruit
5.1.6 Maple
5.1.7 Malt
5.1.8 Palm
5.1.9 Others
5.2 By Flavor Type
5.2.1 Salty
5.2.2 Sour
5.2.3 Mint
5.2.4 Savoury
5.2.5 Sweet
5.3 By Application
5.3.1 Dairy & Frozen Desserts
5.3.2 Bakery
5.3.3 Confectionery
5.3.4 Beverage
5.3.5 Others
6. Geographical Analysis
6.1 North America
6.1.1 Introduction
6.1.2 United States
6.1.3 Canada
6.2 Europe
6.2.1 Introduction
6.2.2 U.K
6.2.3 Spain
6.2.4 Germany
6.2.5 Italy
6.2.6 France
6.3 Asia-Pacific
6.3.1 Introduction
6.3.2 China
6.3.3 India
6.3.4 Japan
6.3.5 South Korea
6.3.6 Australia
6.4 Latin America
6.4.1 Introduction
6.4.2 Brazil
6.4.3 Argentina
6.4.4 Mexico
6.4.5 Rest of Latin America
6.5 Middle East & Africa
6.5.1 Introduction
6.5.2 Middle-East
6.5.3 Africa
7. Strategic Analysis
7.1 PESTLE analysis
7.1.1 Political
7.1.2 Economic
7.1.3 Social
7.1.4 Technological
7.1.5 Legal
7.1.6 Environmental
7.2 Porter's Five analysis
7.2.1 Bargaining Power of Suppliers
7.2.2 Bargaining Power of Consumers
7.2.3 Threat of New Entrants
7.2.4 Threat of Substitute Products and Services
7.2.5 Competitive Rivalry within the Industry
8. Market Leaders' Analysis
8.1 Hershey
8.1.1 Overview
8.1.2 Product Analysis
8.1.3 Strategic Evaluation and Operations
8.1.4 Financial analysis
8.1.5 Legal issues
8.1.6 Recent Developments
8.1.7 SWOT analysis
8.1.8 Analyst View
8.2 Tate & Lyle
8.3 Kraft Heinz Company
8.4 Monin Inc.
8.5 Kerry Group Plc.
8.6 Sonoma Syrup
8.7 Cedarvale Maple Syrup
8.8 Sensient Technologies Corporation
9. Competitive Landscape
9.1 Market share analysis
9.2 Merger and Acquisition Analysis
9.3 Agreements, collaborations and Joint Ventures
9.4 New Product Launches
10. Expert Opinions
10.1 Market Outlook
10.2 Investment Opportunities
Appendix
a) List of Tables
b) List of Figures
Global Flavored Syrups Market By Region, From 2022-2027 (USD Billion)

Global Flavored Syrups Market By Flavour, From 2022-2027 (USD Billion)

Global Chocolate Flavored Syrups Market By Region, From 2022-2027 (USD Billion)

Global Coffee Flavored Syrups Market By Region, From 2022-2027 (USD Billion)

Global Herbs & Seasonings Flavored Syrups Market By Region, From 2022-2027 (USD Billion)

Global Vanilla Flavored Syrups Market By Region, From 2022-2027 (USD Billion)

Global Fruit Flavored Syrups Market By Region, From 2022-2027 (USD Billion)

Global Maple Flavored Syrups Market By Region, From 2022-2027 (USD Billion)

Global Malt Flavored Syrups Market By Region, From 2022-2027 (USD Billion)

Global Palm Flavored Syrups Market By Region, From 2022-2027 (USD Billion)

Global Other Flavored Syrups Market By Region, From 2022-2027 (USD Billion)

Global Flavored Syrups Market By Flavour Type , From 2022-2027 (USD Billion)

Global Salty Flavored Syrups Market By Region, From 2022-2027 (USD Billion)

Global Sour Flavored Syrups Market By Region, From 2022-2027 (USD Billion)

Global Mint Flavored Syrups Market By Region, From 2022-2027 (USD Billion)

Global Savoury Flavored Syrups Market By Region, From 2022-2027 (USD Billion)

Global Sweet Flavored Syrups Market By Region, From 2022-2027 (USD Billion)

Global Flavored Syrups Market By Application, From 2022-2027 (USD Billion)

Global Dairy & Frozen Desserts Market By Region, From 2022-2027 (USD Billion)

Global Bakery Market By Region, From 2022-2027 (USD Billion)

Global Confectionery Market By Region, From 2022-2027 (USD Billion)

Global Beverage Market By Region, From 2022-2027 (USD Billion)

Global Other applications Market By Region, From 2022-2027 (USD Billion)

North America Flavored Syrups Market By Region, From 2022-2027 (USD Billion)

North America Flavored Syrups Market By Flavour, From 2022-2027 (USD Billion)

North America Chocolate Flavored Syrups Market By Region, From 2022-2027 (USD Billion)

North America Coffee Flavored Syrups Market By Region, From 2022-2027 (USD Billion)

North America Herbs & Seasonings Flavored Syrups Market By Region, From 2022-2027 (USD Billion)

North America Vanilla Flavored Syrups Market By Region, From 2022-2027 (USD Billion)

North America Fruit Flavored Syrups Market By Region, From 2022-2027 (USD Billion)

North America Maple Flavored Syrups Market By Region, From 2022-2027 (USD Billion)

North America Malt Flavored Syrups Market By Region, From 2022-2027 (USD Billion)

North America Palm Flavored Syrups Market By Region, From 2022-2027 (USD Billion)

North America Other Flavored Syrups Market By Region, From 2022-2027 (USD Billion)

North America Flavored Syrups Market By Flavour Type , From 2022-2027 (USD Billion)

North America Salty Flavored Syrups Market By Region, From 2022-2027 (USD Billion)

North America Sour Flavored Syrups Market By Region, From 2022-2027 (USD Billion)

North America Mint Flavored Syrups Market By Region, From 2022-2027 (USD Billion)

North America Savoury Flavored Syrups Market By Region, From 2022-2027 (USD Billion)

North America Sweet Flavored Syrups Market By Region, From 2022-2027 (USD Billion)

North America Flavored Syrups Market By Application, From 2022-2027 (USD Billion)

North America Dairy & Frozen Desserts Market By Region, From 2022-2027 (USD Billion)

North America Bakery Market By Region, From 2022-2027 (USD Billion)

North America Confectionery Market By Region, From 2022-2027 (USD Billion)

North America Beverage Market By Region, From 2022-2027 (USD Billion)

North America Other applications Market By Region, From 2022-2027 (USD Billion)

United States Flavored Syrups Market By Flavour, From 2022-2027 (USD Billion)

United States Flavored Syrups Market By Flavour Type , From 2022-2027 (USD Billion)

United States Flavored Syrups Market By Application, From 2022-2027 (USD Billion)

Canada Flavored Syrups Market By Flavour, From 2022-2027 (USD Billion)

Canada Flavored Syrups Market By Flavour Type , From 2022-2027 (USD Billion)

Canada Flavored Syrups Market By Application, From 2022-2027 (USD Billion)

Europe Flavored Syrups Market By Region, From 2022-2027 (USD Billion)

Europe Flavored Syrups Market By Flavour, From 2022-2027 (USD Billion)

Europe Chocolate Flavored Syrups Market By Region, From 2022-2027 (USD Billion)

Europe Coffee Flavored Syrups Market By Region, From 2022-2027 (USD Billion)

Europe Herbs & Seasonings Flavored Syrups Market By Region, From 2022-2027 (USD Billion)

Europe Vanilla Flavored Syrups Market By Region, From 2022-2027 (USD Billion)

Europe Fruit Flavored Syrups Market By Region, From 2022-2027 (USD Billion)

Europe Maple Flavored Syrups Market By Region, From 2022-2027 (USD Billion)

Europe Malt Flavored Syrups Market By Region, From 2022-2027 (USD Billion)

Europe Palm Flavored Syrups Market By Region, From 2022-2027 (USD Billion)

Europe Other Flavored Syrups Market By Region, From 2022-2027 (USD Billion)

Europe Flavored Syrups Market By Flavour Type , From 2022-2027 (USD Billion)

Europe Salty Flavored Syrups Market By Region, From 2022-2027 (USD Billion)

Europe Sour Flavored Syrups Market By Region, From 2022-2027 (USD Billion)

Europe Mint Flavored Syrups Market By Region, From 2022-2027 (USD Billion)

Europe Savoury Flavored Syrups Market By Region, From 2022-2027 (USD Billion)

Europe Sweet Flavored Syrups Market By Region, From 2022-2027 (USD Billion)

Europe Flavored Syrups Market By Application, From 2022-2027 (USD Billion)

Europe Dairy & Frozen Desserts Market By Region, From 2022-2027 (USD Billion)

Europe Bakery Market By Region, From 2022-2027 (USD Billion)

Europe Confectionery Market By Region, From 2022-2027 (USD Billion)

Europe Beverage Market By Region, From 2022-2027 (USD Billion)

Europe Other applications Market By Region, From 2022-2027 (USD Billion)

U.K Flavored Syrups Market By Flavour, From 2022-2027 (USD Billion)

U.K Flavored Syrups Market By Flavour Type , From 2022-2027 (USD Billion)

U.K Flavored Syrups Market By Application, From 2022-2027 (USD Billion)

Spain Flavored Syrups Market By Flavour, From 2022-2027 (USD Billion)

Spain Flavored Syrups Market By Flavour Type , From 2022-2027 (USD Billion)

Spain Flavored Syrups Market By Application, From 2022-2027 (USD Billion)

Germany Flavored Syrups Market By Flavour, From 2022-2027 (USD Billion)

Germany Flavored Syrups Market By Flavour Type , From 2022-2027 (USD Billion)

Germany Flavored Syrups Market By Application, From 2022-2027 (USD Billion)

Italy Flavored Syrups Market By Flavour, From 2022-2027 (USD Billion)

Italy Flavored Syrups Market By Flavour Type , From 2022-2027 (USD Billion)

Italy Flavored Syrups Market By Application, From 2022-2027 (USD Billion)

France Flavored Syrups Market By Flavour, From 2022-2027 (USD Billion)

France Flavored Syrups Market By Flavour Type , From 2022-2027 (USD Billion)

France Flavored Syrups Market By Application, From 2022-2027 (USD Billion)

Asia-Pacific Flavored Syrups Market By Region, From 2022-2027 (USD Billion)

Asia-Pacific Flavored Syrups Market By Flavour, From 2022-2027 (USD Billion)

Asia-Pacific Chocolate Flavored Syrups Market By Region, From 2022-2027 (USD Billion)

Asia-Pacific Coffee Flavored Syrups Market By Region, From 2022-2027 (USD Billion)

Asia-Pacific Herbs & Seasonings Flavored Syrups Market By Region, From 2022-2027 (USD Billion)

Asia-Pacific Vanilla Flavored Syrups Market By Region, From 2022-2027 (USD Billion)

Asia-Pacific Fruit Flavored Syrups Market By Region, From 2022-2027 (USD Billion)

Asia-Pacific Maple Flavored Syrups Market By Region, From 2022-2027 (USD Billion)

Asia-Pacific Malt Flavored Syrups Market By Region, From 2022-2027 (USD Billion)

Asia-Pacific Palm Flavored Syrups Market By Region, From 2022-2027 (USD Billion)

Asia-Pacific Other Flavored Syrups Market By Region, From 2022-2027 (USD Billion)

Asia-Pacific Flavored Syrups Market By Flavour Type , From 2022-2027 (USD Billion)

Asia-Pacific Salty Flavored Syrups Market By Region, From 2022-2027 (USD Billion)

Asia-Pacific Sour Flavored Syrups Market By Region, From 2022-2027 (USD Billion)

Asia-Pacific Mint Flavored Syrups Market By Region, From 2022-2027 (USD Billion)

Asia-Pacific Savoury Flavored Syrups Market By Region, From 2022-2027 (USD Billion)

Asia-Pacific Sweet Flavored Syrups Market By Region, From 2022-2027 (USD Billion)

Asia-Pacific Flavored Syrups Market By Application, From 2022-2027 (USD Billion)

Asia-Pacific Dairy & Frozen Desserts Market By Region, From 2022-2027 (USD Billion)

Asia-Pacific Bakery Market By Region, From 2022-2027 (USD Billion)

Asia-Pacific Confectionery Market By Region, From 2022-2027 (USD Billion)

Asia-Pacific Beverage Market By Region, From 2022-2027 (USD Billion)

Asia-Pacific Other applications Market By Region, From 2022-2027 (USD Billion)

China Flavored Syrups Market By Flavour, From 2022-2027 (USD Billion)

China Flavored Syrups Market By Flavour Type , From 2022-2027 (USD Billion)

China Flavored Syrups Market By Application, From 2022-2027 (USD Billion)

India Flavored Syrups Market By Flavour, From 2022-2027 (USD Billion)

India Flavored Syrups Market By Flavour Type , From 2022-2027 (USD Billion)

India Flavored Syrups Market By Application, From 2022-2027 (USD Billion)

Japan Flavored Syrups Market By Flavour, From 2022-2027 (USD Billion)

Japan Flavored Syrups Market By Flavour Type , From 2022-2027 (USD Billion)

Japan Flavored Syrups Market By Application, From 2022-2027 (USD Billion)

South Korea Flavored Syrups Market By Flavour, From 2022-2027 (USD Billion)

South Korea Flavored Syrups Market By Flavour Type , From 2022-2027 (USD Billion)

South Korea Flavored Syrups Market By Application, From 2022-2027 (USD Billion)

Australia Flavored Syrups Market By Flavour, From 2022-2027 (USD Billion)

Australia Flavored Syrups Market By Flavour Type , From 2022-2027 (USD Billion)

Australia Flavored Syrups Market By Application, From 2022-2027 (USD Billion)

Latin America Flavored Syrups Market By Region, From 2022-2027 (USD Billion)

Latin America Flavored Syrups Market By Flavour, From 2022-2027 (USD Billion)

Latin America Chocolate Flavored Syrups Market By Region, From 2022-2027 (USD Billion)

Latin America Coffee Flavored Syrups Market By Region, From 2022-2027 (USD Billion)

Latin America Herbs & Seasonings Flavored Syrups Market By Region, From 2022-2027 (USD Billion)

Latin America Vanilla Flavored Syrups Market By Region, From 2022-2027 (USD Billion)

Latin America Fruit Flavored Syrups Market By Region, From 2022-2027 (USD Billion)

Latin America Maple Flavored Syrups Market By Region, From 2022-2027 (USD Billion)

Latin America Malt Flavored Syrups Market By Region, From 2022-2027 (USD Billion)

Latin America Palm Flavored Syrups Market By Region, From 2022-2027 (USD Billion)

Latin America Other Flavored Syrups Market By Region, From 2022-2027 (USD Billion)

Latin America Flavored Syrups Market By Flavour Type , From 2022-2027 (USD Billion)

Latin America Salty Flavored Syrups Market By Region, From 2022-2027 (USD Billion)

Latin America Sour Flavored Syrups Market By Region, From 2022-2027 (USD Billion)

Latin America Mint Flavored Syrups Market By Region, From 2022-2027 (USD Billion)

Latin America Savoury Flavored Syrups Market By Region, From 2022-2027 (USD Billion)

Latin America Sweet Flavored Syrups Market By Region, From 2022-2027 (USD Billion)

Latin America Flavored Syrups Market By Application, From 2022-2027 (USD Billion)

Latin America Dairy & Frozen Desserts Market By Region, From 2022-2027 (USD Billion)

Latin America Bakery Market By Region, From 2022-2027 (USD Billion)

Latin America Confectionery Market By Region, From 2022-2027 (USD Billion)

Latin America Beverage Market By Region, From 2022-2027 (USD Billion)

Latin America Other applications Market By Region, From 2022-2027 (USD Billion)

Brazil Flavored Syrups Market By Flavour, From 2022-2027 (USD Billion)

Brazil Flavored Syrups Market By Flavour Type , From 2022-2027 (USD Billion)

Brazil Flavored Syrups Market By Application, From 2022-2027 (USD Billion)

Argentina Flavored Syrups Market By Flavour, From 2022-2027 (USD Billion)

Argentina Flavored Syrups Market By Flavour Type , From 2022-2027 (USD Billion)

Argentina Flavored Syrups Market By Application, From 2022-2027 (USD Billion)

Mexico Flavored Syrups Market By Flavour, From 2022-2027 (USD Billion)

Mexico Flavored Syrups Market By Flavour Type , From 2022-2027 (USD Billion)

Mexico Flavored Syrups Market By Application, From 2022-2027 (USD Billion)

Middle East & Africa Flavored Syrups Market By Region, From 2022-2027 (USD Billion)

Middle East & Africa Flavored Syrups Market By Flavour, From 2022-2027 (USD Billion)

Middle East & Africa Chocolate Flavored Syrups Market By Region, From 2022-2027 (USD Billion)

Middle East & Africa Coffee Flavored Syrups Market By Region, From 2022-2027 (USD Billion)

Middle East & Africa Herbs & Seasonings Flavored Syrups Market By Region, From 2022-2027 (USD Billion)

Middle East & Africa Vanilla Flavored Syrups Market By Region, From 2022-2027 (USD Billion)

Middle East & Africa Fruit Flavored Syrups Market By Region, From 2022-2027 (USD Billion)

Middle East & Africa Maple Flavored Syrups Market By Region, From 2022-2027 (USD Billion)

Middle East & Africa Malt Flavored Syrups Market By Region, From 2022-2027 (USD Billion)

Middle East & Africa Palm Flavored Syrups Market By Region, From 2022-2027 (USD Billion)

Middle East & Africa Other Flavored Syrups Market By Region, From 2022-2027 (USD Billion)

Middle East & Africa Flavored Syrups Market By Flavour Type , From 2022-2027 (USD Billion)

Middle East & Africa Salty Flavored Syrups Market By Region, From 2022-2027 (USD Billion)

Middle East & Africa Sour Flavored Syrups Market By Region, From 2022-2027 (USD Billion)

Middle East & Africa Mint Flavored Syrups Market By Region, From 2022-2027 (USD Billion)

Middle East & Africa Savoury Flavored Syrups Market By Region, From 2022-2027 (USD Billion)

Middle East & Africa Sweet Flavored Syrups Market By Region, From 2022-2027 (USD Billion)

Middle East & Africa Flavored Syrups Market By Application, From 2022-2027 (USD Billion)

Middle East & Africa Dairy & Frozen Desserts Market By Region, From 2022-2027 (USD Billion)

Middle East & Africa Bakery Market By Region, From 2022-2027 (USD Billion)

Middle East & Africa Confectionery Market By Region, From 2022-2027 (USD Billion)

Middle East & Africa Beverage Market By Region, From 2022-2027 (USD Billion)

Middle East & Africa Other applications Market By Region, From 2022-2027 (USD Billion)

Middle East Flavored Syrups Market By Flavour, From 2022-2027 (USD Billion)

Middle East Flavored Syrups Market By Flavour Type, From 2022-2027 (USD Billion)

Middle East Flavored Syrups Market By Application, From 2022-2027 (USD Billion)

Africa Flavored Syrups Market By Flavour, From 2022-2027 (USD Billion)

Africa Flavored Syrups Market By Flavour Type, From 2022-2027 (USD Billion)

Africa Flavored Syrups Market By Application, From 2022-2027 (USD Billion)