Jams and Preserves Market Size, Growth, Forecast (2023-2028)
The Global Jams and Preserves Market size was worth US$ 8.46 billion in 2022, and it is predicted to reach US$ 9.87 billion by 2028 with an annual expansion rate of 3.58% between 2023 and 2028.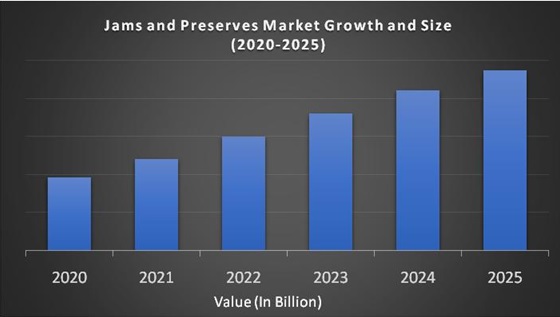 Market Overview:
As consumers focus on healthy lifestyles, the use of jams and preserves has increased over the years. These products have become a basic requirement in the manufacture of other food products such as cookies, smoothies, cakes, sandwiches, salads, etc. The companies that make these products focus on increasing their fruit content and making their products with sugar to make them attractive to consumers.
Recent Developments in Jams and Preserves Industry:
B&G Foods has established a strategic partnership with a third-party logistics provider to manage most warehousing and distribution functions in the United States.
JM Smucker planned to build a manufacturing plant in Colorado that produced peanut butter and jam to expand his business in the United States.
Jams and Preserves Market Growth:
The increase in the demand for the use of natural and organic ingredients in the preparation of jams and preserves is expected to increase the jams and preserves market growth.
REPORT COVERAGE:
| | |
| --- | --- |
| REPORT METRIC | DETAILS |
| Market Size Available | 2022 – 2028 |
| Base Year | 2022 |
| Forecast Period | 2023 - 2028 |
| CAGR | 3.58% |
| Segments Covered | By Product Type, Flavor Type, Distribution Channel and Region |
| Various Analyses Covered | Global, Regional & Country Level Analysis, Segment-Level Analysis, DROC, PESTLE Analysis, Porter's Five Forces Analysis, Competitive Landscape, Analyst Overview on Investment Opportunities |
| Regions Covered | North America, Europe, APAC, Latin America, Middle East & Africa |
| Market Leaders Profiled | Bonne Maman, B&G Foods, Inc, Conagra Brands, Inc, The Hain Celestial Group, Inc, F. Duerr& Sons, The JM Smucker Company, Hindustan Unilever Limited, Braswell's, Kraft Heinz Company, RochakAgro Food Products Pvt Ltd, Murphy Orchards, Wilkin & Sons Ltd, The Nashville Jam Co, The Hershey Company, WT Lynch Foods Limited and Others. |
Drivers:
The global jam and preserves market is expected to experience steady growth over the outlook period. With the growing demand for gourmet varieties of jams and preserves, there will be a positive outlook in the years to come. The market for fruit jams, jellies and preserves is driven by the convenience of food supplements, the preference for ready-to-use products, different distribution channels, changes in lifestyle and food preferences due to urbanization and the popularity of various flavored food ingredients. Changes in eating habits, changes in consumer taste preferences, and growing demand for organic foods drive the growth of global jams and preserve market. Consumers recognize that gourmet jams and preserves are an indulgent luxury and are therefore widely used as gifts. Also, as disposable income increases, consumers not only want to try new products, but are also willing to pay higher prices for premium products. The growing demand for natural and organic products is one of the key trends stimulating the growth prospects of this market during the forecast period. The increasing popularity of natural products has led farmers to increase the prices of their products even more if their products are certified organic. This type of farming can use advanced ecological approaches to better manage its fields and crops.
Also, organic farming is a safe growing method because it does not use pesticides or toxic chemicals. This has led many farmers to switch to organic farming. Additionally, consumers recognize that organic foods provide better nutritional benefits than non-organic foods, driving the growth of this market for years to come. However, with growing health problems, sugar is being replaced by other alternatives, such as artificial sweeteners, fruit concentrates, etc., when low-sugar and sugar-free jams, jellies and preserves are prepared. Regular jam contains large amounts of sugar, which helps with shelf life, flavor, and texture. Additionally, fruits like raspberries and blueberries are infused with special ingredients like spices, herbs, honey, and chia seeds to produce low-sugar, sugar-free jams, jellies, and preserves. Since low-carb and low-fat diets are prevalent throughout the world, consumers are constantly looking for healthy, tasty, and convenient food options, such as low-sugar and low-fat jams, jellies, and preserves. The convenience of buying such products in stores near you is associated with a constant growth rate. Regular jam contains a large amount of sugar, which helps improve shelf life, taste, and texture. However, as health problems increase, sugar is low in sugar and is being replaced by alternatives such as artificial sweeteners and fruit concentrates for making sugar-free jams, jellies and preserves.
Factors such as a greater preference for ready-to-eat foods, easy availability, and a changing lifestyle drive sale in the marketplace. Ready-to-eat food is preferred to traditional options, as people adopt a busy lifestyle. The high cost of raw materials such as fruit. Increasing awareness of the damage caused by certain chemicals in preservatives is also a major obstacle to market growth. In mass production processes, some substandard products are very likely to pass the final check. Consumer confidence in a particular brand can be broken by misplacing the product. These mistakes are costly to the market. There are many instances where reliable brands have been called into question due to a poor-quality batch. In addition, the high calorie and nutritional content of these foods leads consumers to these options. Increasing urbanization has a direct impact on jams, jellies, and the preservation of the market. The sale of bread also affects the sale of these products. The higher the sale of bread, the greater the expected growth of this market. As a result, consumers are demanding jams and preserves with improved mortgage, low-fat, and other health-promoting properties.
Restraints:
The main limitations are the growing awareness of health among populations such as obesity, diabetes, etc., and the potential for alternative types of spread in the jams and preserves market.
Jams and Preserves Market Segmentation Analysis:
According to product segmentation, the jams and preserves market is segmented into Jams, Marmalade, Honey, Sweet Spreads and Others. The jam segment dominated the market and represented more than 52% of the market share in terms of revenue. The variety of jams is huge, and many consumers and suppliers are experimenting with different flavors that will drive the growth of this sector in the future.
Through distribution channels, the market is separated into supermarket/Hypermarket, Grocery Stores, Wholesale, Online and Others.
Based on the flavor type, the market is separated into Blackberry, Mango, Strawberry, Apricot, Grape, Raspberry and Others.
Geographical Segmentation Analysis:
North America - the United States and Canada

Europe - United Kingdom, Spain, Germany, Italy, and France

The Asia Pacific - India, Japan, China, Australia, Singapore, Malaysia, South Korea, New Zealand, and Southeast Asia

Latin America - Brazil, Argentina, Mexico, and Rest of LATAM

The Middle East and Africa - Africa and Middle East (Saudi Arabia, UAE, Lebanon, Jordan, Cyprus)
Regional Analysis:
The North American jam and preserves market is expected to post a compound annual growth rate of 2.8% during the conjecture period. North American jam, jelly, and canning manufacturers use boiled, ripe fruits and sugar substitutes like pectin to make their products more colorful and flavorful. The market for jams and preserves has increased as the demand for practical foods has increased. In North America,there is a growing demand for nutritious, innovative, healthy, and organic jams, jellies, and preserves. It has been observed in the market and is a transition from common sweet preserves, jellies, and jams to other varieties such as sweet and spicy, sweet and smoky, sweet and spicy. Various macroeconomic factors and domestic market forces will determine the growth and development of demand patterns in the emerging countries of Asia-Pacific, Latin America, and the Middle East. It is a tradition in many European countries to consume jams and preserves with bread for breakfast. Also, many consumers mix it with a variety of dishes such as smoothies, salads, and desserts. These factors will drive the growth prospects of this market in Europe in the next four years. France is a major contributor in terms of consumption, while Germany and the United Kingdom are two other major countries. Asia and Hispanics are among the top trends affecting jams product innovation.
Key Players in the Market:
Major Key Players in the Global Jams and Preserves Market are
Bonne Maman

B&G Foods, Inc

Conagra Brands, Inc

The Hain Celestial Group, Inc

F. Duerr& Sons

The JM Smucker Company

Hindustan Unilever Limited

Braswell's, Welch's

Kraft Heinz Company

RochakAgro Food Products Pvt Ltd

Murphy Orchards

Wilkin & Sons Ltd

The Nashville Jam Co

The Hershey Company

WT Lynch Foods Limited