Fruit Concentrate Market Size, Growth, Forecast (2023-2028)
The global Fruit Concentrate Market size was valued at USD 35 billion in 2022 and is determined to develop with a compound annual growth rate of about 6% in the next five years.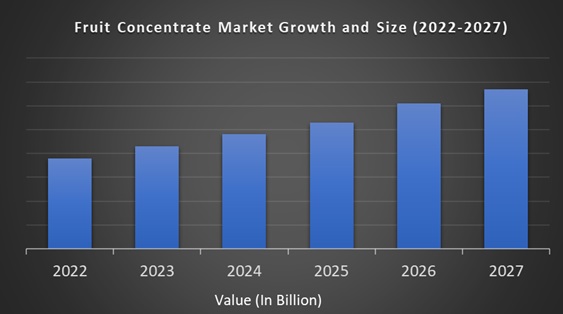 Product Description:
Fruit concentrates are becoming an integral part of the beverage industry. They are mainly used to produce soft drinks, alcoholic and non-alcoholic beverages. Fruit concentrates are prepared by extracting the moisture content of the ripe fruit behind the rich fruit pulp used as fruit concentrate in the manufacture of fruit juice and sherbet. In the food and beverage industry, they are used as natural flavors in a variety of applications, and fruit concentrates are reconstituted with water to prepare natural fruit juices. They act as natural sweeteners and are used to produce natural food colors and various confectionery and desserts. The fruits are extracted and concentrated to extract water, making it easy and inexpensive for transportation, storage, and transportation. Fruit concentrates are widely used by manufacturers in a variety of food products, so customers can receive these products in their natural form.
Recent Developments in Fruit Concentrate Industry:
In April 2019, Doehler North America Inc. took over the majority stake in Zumos Catalano Aragoneses SA to expand the company's product portfolio and expand the company's customer base by offering benefits to customers with a broader range. of offers.
Fruit Concentrate Market Growth:
As health awareness among consumers in all regions has increased, consumers have come to demand beverage products that contain fruit. Fruit concentrates are a useful and suitable replacement for carbonated and aerated drinks.
REPORT COVERAGE:
| | |
| --- | --- |
| REPORT METRIC | DETAILS |
| Market Size Available | 2022 – 2028 |
| Base Year | 2022 |
| Forecast Period | 2023 - 2028 |
| CAGR | 6% |
| Segments Covered | By Fruit, Product Type, Application and Region |
| Various Analyses Covered | Global, Regional & Country Level Analysis, Segment-Level Analysis, DROC, PESTLE Analysis, Porter's Five Forces Analysis, Competitive Landscape, Analyst Overview on Investment Opportunities |
| Regions Covered | North America, Europe, APAC, Latin America, Middle East & Africa |
| Market Leaders Profiled | Kerry Group Plc, Capricon, Cherimoya, Oceanaa, AGRANA Group, Coca Cola's Minute Maid, Dohler Group, Acerola, Starfruit, Lychee and Others. |
Drivers:
As the demand for health-related products has increased, the demand for fruit concentration markets worldwide has increased. As health awareness among in all regions has increased, consumers have come to demand beverage products that contain fruit. Fruit concentrates are a useful and suitable replacement for carbonated and aerated drinks. In addition, the demand for foods and beverages that are easy to consume has increased due to the customer's lively lifestyle and, as a result, the production of healthy and easy-to-consume beverage products has increased. The increased demand for healthy and convenient food, lifestyle changes, increased urbanization, and increased disposable income are key factors responsible for market growth. Fruit concentrates are the most economical and convenient alternative to replace fresh fruits for a variety of uses, increasing demand in the global market. The clear focus sector contributed to the largest market share worldwide. Also, baked goods made from fructose hydrate not only sweet sugar, but also fructose. This is because fructose attracts more water than granulated sugar. Fructose in fruit concentrate is a healthier alternative to sucrose in diabetics because it has a lower glycemic index than sucrose. Due to these advantages of fructose, fruit concentrates become a very attractive natural substitute for sugar in the baking industry. The global fruit concentration market is expected to be promoted in developing and developed countries. As demand for pure concentrates such as baby food sweeteners and snacks increases, the growth of the global fruit concentrate market is accelerating. Liquid concentrates are also called juice concentrates. It is used prominently in the production of reconstituted fruit juice. Due to the rapid increase in urban population and busy lifestyle, the demand for ready-to-eat products over the years will skyrocket. Since certain seasonal fruits are not available, changing consumption trends to more refined fruit puree concentrates instead of natural fruit juices can support industrial development. Fruit concentrates are a convenient and inexpensive alternative to fresh fruit and are in high demand among city dwellers as the demand for healthy and convenient food increases.
Due to the high content of vitamins and essential nutrients, the increased demand for baby food and prepared foods will increase product sales. As the number of health-conscious consumers increase, the demand for organic food will increase, as will the demand for fruit concentrate puree. In addition, the strong demand for healthy drinks and smoothies among athletes to maintain weight and fitness will improve product adoption. Manufacturers must implement new measures to comply with government regulations and maintain product quality. Increased competitiveness among manufacturers for product innovation and new player advancements can create a new form of industrial development. The growing demand for natural sweeteners, flavors and natural colors in the food industry has fueled the growth of the fruit concentrate market. Fruit concentrates allow shoppers to sample seasonal fruits that are not available during the off-season, year-round. Consumption of fruit concentrates has increased due to increased consumption of fruit concentrates for flavored foods, such as yogurt, smoothies, homemade juices, and sherbet. Furthermore, in the food industry, consumption of sports drinks in fruit juices, increased consumption of perfumes, spirits, beer mixes, fruit wines, syrups and ciders are expected to lead the fruit concentrate market during the period of forecast. These characteristics of fruit concentrates are likely to increase the demand for fruit concentrates made from under-grown fruits. Fruit concentrates are non-fermented beverages that contain negligible amounts of water. It is obtained by squeezing fresh fruits that are as healthy as fresh fruits. The storage and logistics costs associated with fruit juice concentrates are very low.
Restraints:
A growing trade deficit with fresh and processed fruits will be a challenge for industry participants. Post-harvest losses, particularly those during fruit storage, transportation, and processing, can interfere with industry imports. Fresh fruits are always better for consumption than concentrated fruits, because fresh fruits contain more fructose than concentrated fruits, and high fructose consumption negatively affects, and the production of fruit concentrate depends on fruit production.
Fruit Concentrate Market Segmentation Analysis:
The global fruit concentration market is classified by fruit, product type and application.
On the type of fruit, the global fruit concentrate market is classified into apples, lemons, specialty fruits, oranges, pineapples, pears, and grapes. Specialty fruits are estimated to occupy a dominant role in the fruit concentrate puree industry in 2018. Easier access to fresh fruit, coupled with consumer preferences for exotic flavored foods and beverages, will increase engagement. of the industry. Due to the large number of cakes, pastries, drinks and other nutrients, the increased demand for apple concentrate will accelerate the growth of the segment. Increased demand for sports drinks for athletes for potassium, vitamin and dietary fiber content is expected to stimulate demand for banana concentrates.
By Product type, the worldwide market is bifurcated into powder concentrate and liquid concentrate. The powder concentrate is touted to be expanding with a notable growth rate in the coming years.
By application, the market for fruit concentrates is classified into confectionery, beverages, dairy products and bakeries. The beverage products have the biggest market share in the fruit concentrate market, which is followed by bakery products. Concentrated fruit products provide healthy nutritional value, flavor, natural sweetness, and color. The rapidly increasing demand for homemade and artisanal alcoholic beverages is expected to accelerate the size of the fruit concentrate puree market. As the number of breweries increases and experimental alcohol consumption increases, the market share will increase. As the number of options for scented alcoholic beverages, such as fruit beer and cocktails, increases, industry engagement will increase as millennial alcoholic beverage consumption increases.
Geographical Segmentation Analysis:
North America - the United States and Canada

Europe - United Kingdom, Spain, Germany, Italy, and France

The Asia Pacific - India, Japan, China, Australia, Singapore, Malaysia, South Korea, New Zealand, and Southeast Asia

Latin America - Brazil, Argentina, Mexico, and Rest of LATAM

The Middle East and Africa - Africa and Middle East (Saudi Arabia, UAE, Lebanon, Jordan, Cyprus)
Regional Analysis:
North America is the most advanced region in the global fruit concentrate market. In Europe, it is expected to drive market growth by increasing consumption of fruit concentrates in a variety of food and drink products. The fruit concentrate market in the Asia Pacific region is based on applications such as the confectionery and bakery industries. Market will propel in the coming years due to other factors such as the use of fruit concentrate instead of sugar in the bakery sector, lower logistics and warehousing costs, changing consumer trends and food preferences, and the demand for fruit concentrate in the local beverage market. The popularity of fruit juices and spices in the Middle East and Africa leads to the world market for fruit concentrates.
Key Players in the Market:
Major Key Players in the Global Fruit Concentrate Market are
Kerry Group Plc

Capricon

Cherimoya

Oceanaa

AGRANA Group

Coca Cola's Minute Maid

Dohler Group

Acerola

Starfruit

Lychee