Sugar Substitutes Market Growth and Forecast (2023 - 2028):
The global Sugar Substitutes Market size was calculated to be USD 6.35 billion in 2022, and it is estimated to expand with a value of USD 10.29 billion by 2028 at a CAGR of 4.5% over the determined period. The growing demand for sugar substitutes in the food and beverage industry is expected to help the market gain enormous traction in the coming years.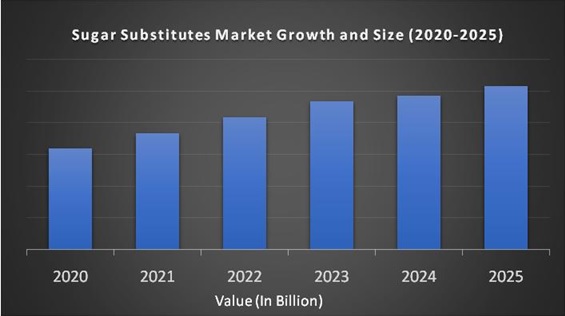 Market Overview:
Sugar, a carbohydrate used in many foods for a sweet taste, is extracted from various sources, such as sugar cane. Monosaccharides (simple sugar), galactose, and fructose are among the most common types of sugar. The sugar consumed by humans is known as sucrose and, when ingested, it hydrolyzes to glucose and fructose. Sugar is mainly used in bakery products and commercial beverages and sweeteners. Sugar was possibly a commodity with a wide range of commercial products worldwide. People are looking for alternatives because of concerns about obesity and a host of serious health problems caused by sugar consumption. A variety of sugar substitutes has become popular as consumer tastes and preferences increase, especially health problems. The artificial sweetener industry is at the forefront of making big profits by investing in the alternative sugar market. These can be obtained from plants or manufactured synthetically. Advances in processing technology have allowed us to expand and mass-produce raw materials to produce sugar substitutes.
Recent Developments in Sugar Substitutes Industry:
In 2016, PepsiCo began adding aspartame to a new Calorie-free Pepsi or Diet Pepsi.

In 2018 GLG Life Tech Corp. launched a line of Reb M sweetener products consisting of stevia leaves.

In May 2018, Cargill released a new calorie-free sweetener containing substances extracted from Stevia. As demand for healthier alternatives to synthetic sweeteners increased, the product name 'EverSweet' was introduced.
REPORT COVERAGE:
| | |
| --- | --- |
| REPORT METRIC | DETAILS |
| Market Size Available | 2022 – 2028 |
| Base Year | 2022 |
| Forecast Period | 2023 - 2028 |
| CAGR | 4.5% |
| Segments Covered | By Origin, Composition, Application and Region |
| Various Analyses Covered | Global, Regional & Country Level Analysis, Segment-Level Analysis, DROC, PESTLE Analysis, Porter's Five Forces Analysis, Competitive Landscape, Analyst Overview on Investment Opportunities |
| Regions Covered | North America, Europe, APAC, Latin America, Middle East & Africa |
| Market Leaders Profiled | Cargill Incorporated, Tate & Lyle PLC, E. I. du Pont de Nemours and Company, Roquette Freres S.A., Pure Circle Ltd, Ajinomoto Co. Inc, Archer Daniels Midland Company, MacAndrews & Forbes Incorporated, Ingredion Incorporation, JK Sucralose Incorporation and Others. |
Sugar Substitutes Market Growth:
Regular consumption of sugar can lead to weight gain, an increased risk of heart disease, an increased risk of acne, diabetes, cancer, depression, accelerated skin aging, and fatty liver, which is boosting the market business for sugar substitutes.
Drivers:
With the increasing trend to move to a low-calorie diet, it has become a major factor driving product development in the alternatives to the sugar market. Food companies are also looking for attractive income potential as a substitute for sugar. Several brands containing sugar substitutes have attracted the attention of the population of developed countries. Stevia-based functional food is one example. This is one of the important trends for the growth of the market for sugar substitutes. The family of artificial sweeteners is considered "generally recognized as safe" and is accumulating steam. Therefore, scientific support is driving their needs in more and more regions of developing countries. The market potential is being strengthened as its role in nutritional interventions to control the risk of type 2 diabetes and heart disease increases. Additionally, many of the functional sweeteners in food companies are on the rise as they promise consumers that these sugar substitutes will have a beneficial effect in preventing tooth decay. As the number of FDA approved products increases, you are helping to expand the profitable path in the sugar substitute market. Along with growing consumer awareness of sugar substitutes, the growing demand for low calorie or low-calorie products is a major contributor to the growth of the sugar substitute market. Sugar substitutes are mainly used in drinks, ice creams, powdered drink mixes, processed foods like puddings, jams, jellies, sweets, dairy products, etc.
Today, consumers are more health-conscious and follow a healthy diet. In the food and beverage industry, table calories, which are high in calories, are rapidly being replaced by a variety of sugar substitutes. Diet foods, sodas, sugar-free desserts, and grains are some of the common foods that contain sugar substitutes. Sometimes sugar substitute mixtures are used. USA and Europe, the use of stevia as a sweetener has been approved and the demand for stevia leaves has soared. Compared to other countries, the import rate of sugar substitutes in countries such as Indonesia and India are low due to a lack of consumer awareness of sugar substitutes. Sugar substitutes are used in a variety of applications including bakery, confectionery, dairy, frozen foods, beverages, pharmaceuticals, and personal care. Increasing awareness of population health and continued technological development are among the key factors expected to drive market growth. Increased prevalence of diabetes and weight-related problems are among the main factors in the adoption of sugar substitutes. The Asia-Pacific region is believed to be a promising region for manufacturers of sugar substitutes, which improves the living standards of the middle-class population and increases consumer energy consumption. In addition to this, the growing concern of the health-conscious population is expected to be one of the main factors driving the growth of the market.
Restraints:
A strict regulatory framework for the concept among the general public that the production of sugar substitutes and the consumption of sugar substitutes is assumed to cause health problems will prevent the market from realizing its full potential during the forecast period. Product labelling, claims issues and ambiguity related to health problems stemming from the consumption of sugar substitutes are deterrents to the sugar substitute market. The health problems associated with consuming sugar substitutes prevent consumers from using sugar substitutes extensively.
Sugar Substitutes Market Segmentation Analysis:
By Origin:
By Composition:
Stevia

Aspartame

Cyclamate

Sucralose

Saccharine

AceK

D-Tagarose

Sorbitol

Maltitol

Xylitol
By Application:
Heath & Personal Care

Beverages

Food

Pharmaceuticals

Others
Geographical Segmentation Analysis:
North America - the United States and Canada

Europe - United Kingdom, Spain, Germany, Italy, and France

The Asia Pacific - India, Japan, China, Australia, Singapore, Malaysia, South Korea, New Zealand, and Southeast Asia

Latin America - Brazil, Argentina, Mexico, and Rest of LATAM

The Middle East and Africa - Africa and Middle East (Saudi Arabia, UAE, Lebanon, Jordan, Cyprus)
Regional Analysis:
As demand for sweeteners increases in North America, the region will likely dominate the world market for sugar substitutes. The growing demand for sugar substitutes for industrial and non-industrial uses and changing consumer preferences are driving market demand for sugar substitutes for the time being. Additionally, North America is one of the leading manufacturers in the sweetener market as demand for prepared foods, alternative sources of sugar, and functional foods increases. Europe is assumed to grow at an average annual rate of 3.2% from 2018 to 2025. Sugar substitutes are contributing to the growth of the local market. The Asia Pacific region is estimated to have averaged an average annual growth rate of 7.0% during the prediction period. Health problems associated with sugar consumption, the presence of emerging economies that provide profit margins to key market participants, and rising disposable incomes are driving regional markets. The Latin American market is foreseen to reach US $ 11.7 billion by 2024, with an average annual growth rate of 5.1% during the outlook period. Growth in this region may be due to rich natural resources and the presence of sorbitol manufacturers.
Key Players in the Market:
Major Key Players in the Global Sugar Substitutes Market are
Cargill Incorporated

Tate & Lyle PLC

E. I. du Pont de Nemours and Company

Roquette Freres S.A.

Pure Circle Ltd

Ajinomoto Co. Inc

Archer Daniels Midland Company

MacAndrews & Forbes Incorporated

Ingredion Incorporation

JK Sucralose Incorporation