Artificial Sweetener Market Size, Growth, Forecast (2023-2028)
The global Artificial Sweetener Market size was valued around USD 7.2 billion in 2022, and it is determined to reach USD 9.7 billion by the end of 2028, register an annual growth rate of 5.05% over the predicted period. As concerns about obesity increase, consumer acceptance of a healthy diet plan is growing rapidly across the globe.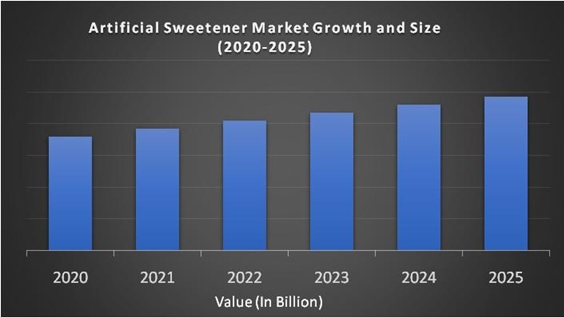 Market Overview:
Artificial sweeteners are produced synthetically as sugar substitutes and have a sweet taste. Not all artificial sweeteners are the same. The Food and Drug Administration and the European Food Safety Administration (EFSA) have approved only five artificial sweeteners and they are saccharin, acesulfame, aspartame, neo-time and sucralose. Sugar-free foods are very popular due to their low-calorie content and properties. As a result, the food sector uses various low-calorie artificial sweeteners instead of high-calorie sugar. It is currently used as an alternative to sugar, as it keeps blood sugar levels low and is widely used in processed foods like sugary drinks, jams and jellies, and other similar products. The main artificial sweeteners include aspartame, saccharin, and sodium benzoate. Aspartame is extensively used as a tabletop sweetener in the developed nations. It is approximately 200 times sweeter than regular sugar and is used in low-calorie desserts, sugarless chewing gum, cereal, tea, coffee, yogurt, milk formulations, etc.
Recent Developments in Artificial Sweetener Industry:
Tate & Lyle PLC, a renowned company that makes artificial sweeteners, agreed to purchase a 15% stake in Sweet Green Fields in 2017, which is a well-known provider of premium sweeteners.

Archer Daniels Midland Company acquired Eatem Foods to diversify its product portfolio. The company announced that it will launch a new product called 'Calcium VivaSweet' exclusive calorie-free sweetener.

In March 2018, Ajinomoto Co., Inc. agreed to acquire Circle Foods L.L.C.
REPORT COVERAGE:
| | |
| --- | --- |
| REPORT METRIC | DETAILS |
| Market Size Available | 2022 – 2028 |
| Base Year | 2022 |
| Forecast Period | 2023 - 2028 |
| CAGR | 5.05% |
| Segments Covered | By Type, Application, Distribution Channel and Region |
| Various Analyses Covered | Global, Regional & Country Level Analysis, Segment-Level Analysis, DROC, PESTLE Analysis, Porter's Five Forces Analysis, Competitive Landscape, Analyst Overview on Investment Opportunities |
| Regions Covered | North America, Europe, APAC, Latin America, Middle East & Africa |
| Market Leaders Profiled | Zydus Wellness Ltd, Sunwin Stevia International, Inc, PureCircle, MORITA KAGAKU KOGYO CO.,LTD, Hermes Sweeteners Ltd, NutraSweet Property Holdings, Inc, McNeil Nutritionals, JK Sucralose, Ajinomoto Co., Inc, Roquette and Others. |
Artificial Sweetener Market Growth:
The Artificial Sweetener recognizes the health of society prefers sugar substitutes over real sugar and, as a result, is expected to stimulate market growth.
Drivers:
As people's awareness and health increases, the global market for artificial sweeteners is growing, leading to demand for low-calorie sugar substitutes and sugar-free products.
Furthermore, health problems, the harmful effects of sugar, and the spread of lifestyle diseases like heart disease and diabetes have led people to choose healthy alternatives like artificial sweeteners. Therefore, food processing companies promote low-calorie and sugar-free substitutes as their main products, promoting the market growth. Of the five sweeteners, aspartame and sucralose are common additives used to sweeten various products in the food and beverage industry. Artificial sweeteners find greater application in the food and beverage industry, including soft drinks, sauces, chewing gum, jellies, dressings, baked goods, candy, fruit juices, ice cream, and more. The soft drink industry has been found to have the highest consumption of artificial sweeteners as the demand for low sugar and diet drinks increases. Toxicological evidence and concerns about the safety of artificial sweeteners are the main limitations on the market. Aspartame is a high-intensity sweetener in recent years and is supposed to grow during the outlook period. These products are calorie-free, which helps control weight by increasing diet drinks, and is assumed to increase market demand.
In addition, this market has a number of factors that can pose significant challenges to the growth of the global market for artificial sweeteners. There is a significant demand for the production of healthy drinks like natural fruit juices. Realizing that diet has a profound effect on health, consumers were encouraged to change consumption patterns. More and more people are looking for a healthy alternative to 'less sugar'. The adoption of artificial sweeteners is also increasing significantly as we move into a health-savvy demographic of low-calorie foods and beverages. Food producers use high-strength artificial sweeteners to provide lighter products with fewer calories and attractive flavor properties, based on consumer preference. Other products that contain artificial sweeteners as an integral part of the ingredient base include diet drinks, tabletop sweeteners, yogurt, and frozen dairy products. The power and investment of many existing and emerging players in the market is increasing.
Consumers, despite the high obesity rate, the constant desire for delicious and sweet foods leads to an increase in demand for artificial sweeteners, which is anticipated to create numerous opportunities for market growth.
Restraints:
Its long-term use can cause diabetes, which interferes with the body's ability to regulate blood sugar, making it difficult for the market to grow. Long-term consumption of artificial sweeteners can cause bloating, diarrhea, and gastrointestinal disorders. According to a recent study, high-intensity sweeteners, such as saccharin and aspartame, can cause blood-related disorders, including leukemia, which can be fatal and lead to death. These factors can hamper the growth of the global artificial sweetener industry.
Artificial Sweetener Market Segmentation Analysis:
By Type:
Aspartame

Acesulfame-K

Monosodium Glutamate

Saccharin

Sodium Benzoate
By Application:
Bakery items

Dairy products

Confectionery

Beverages
By Distribution Channel:
Supermarkets & hypermarkets

Departmental stores

Convenience stores

Others
Geographical Segmentation Analysis:
North America - the United States and Canada

Europe - United Kingdom, Spain, Germany, Italy, and France

The Asia Pacific - India, Japan, China, Australia, Singapore, Malaysia, South Korea, New Zealand, and Southeast Asia

Latin America - Brazil, Argentina, Mexico, and Rest of LATAM

The Middle East and Africa - Africa and Middle East (Saudi Arabia, UAE, Lebanon, Jordan, Cyprus)
Regional Analysis:
Artificial sweeteners based on regions are classified as Asia, North America, South America, Central America, Western Europe, Eastern Europe, Middle East and Africa. North America, leads the size of the artificial sweetener market. In the USA, there is a greater demand for bakery products. Neotame is used to process bakery products due to its high shelf-life stability, which promotes product demand by 2025 as it does not provide a bitter or metallic taste and does not provide a long shelf life. It is expected to be amplified because it is used for packaged foods on the market scale for artificial sweeteners in Europe, the UK, Spain, Italy, France and Germany. As the number of retail stores increases and the demand for convenient groceries increases, the demand for packaged foods can accelerate. This product is used in the manufacture of jams and jellies, sweets and cookies to reduce the number of calories and demonstrate the nutritional value of the metabolic system, promoting the scale of the artificial sweeteners market in estimated time. Driven by the size of the artificial sweetener market in Australia, Korea, Japan, India, and China, the Asia Pacific market may be driven by the growth of the dairy manufacturing industries, including milk, yogurt, tofu, and cream. These products are used in the manufacture of dairy products, giving them a sweet taste without compromising the texture and appearance that can promote the growth of the market in the evaluated period.
Key Players in the market:
Major Key Players in the Global Artificial Sweetener Market are
Zydus Wellness Ltd.

Sunwin Stevia International, Inc.

PureCircle

MORITA KAGAKU KOGYO CO.,LTD

Hermes Sweeteners Ltd.

NutraSweet Property Holdings, Inc.

McNeil Nutritionals

JK Sucralose

Ajinomoto Co., Inc.

Roquette