Agave Nectar Market Size, Growth, Forecast (2023-2028)
The Global Agave Nectar Market size was worth US$ 156 million in 2022, and it is estimated that it will reach US$ 272 million by 2028 with a compound annual growth rate of 5.7% between 2023 and 2028.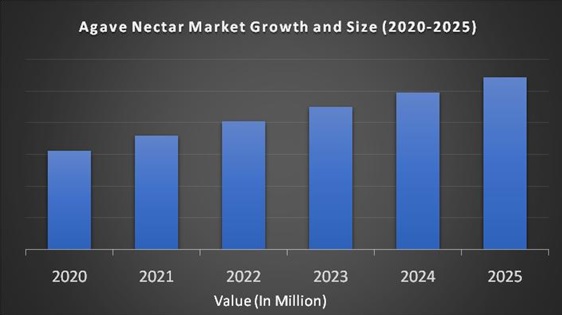 Market Overview:
Agave nectar is a commercially produced sweetener from various species of agave such as Agave tequilana (blue agave) and Agave salmiana. Agave nectar is a natural substitute for artificial sweeteners and refined sugars that are less viscous than sugar. Agave syrup with a fine and light consistency is used as a garnish in foods such as fruit salads, pancakes and ice cream. As Agave Nectar is comparatively 1.4 to 1.6 times sweeter than traditional sugar, it is applied in limited quantities in the preparation of foods and beverages. Agave syrup contains anti-inflammatory and antioxidant properties. It has low blood sugar, provides excellent sweetness to foods and beverages, and adds distinctive flavor to foods. Agave syrup is a sweetener, similar to honey, but with a slightly finer consistency. It is used to improve health and reduce blood sugar levels. Agave honey is a rich source of some nutrients such as manganese, potassium, and calcium. Agave nectar is produced primarily from the blue agave found in southern Mexico. Agave syrup is used as a sugar substitute for baked goods such as breads, buns, buns, cakes, and cookies. Agave honey is healthier than refined sugar and is used throughout the world as a binder in breakfast cereals.
Recent Developments in Agave Nectar Industry:
In 2017, Hain Celestial Inc. acquired CLARKS UK Ltd., a British brand of maple syrup and natural sweetener. The strength of the Clarks brand has placed Hain Celestial Inc. in a strong position to take advantage of the growing consumer trend towards more natural and healthier foods.
In 2019, Domino Foods Inc joined the Arrow Stream provider network to gain new business opportunities and sales reps.
Agave Nectar Market Growth:
One important factor driving growth in the global agave nectar market is the growing consumer awareness of the health benefits of agave syrup as it replaces honey and sugar.
REPORT COVERAGE:
| | |
| --- | --- |
| REPORT METRIC | DETAILS |
| Market Size Available | 2022 – 2028 |
| Base Year | 2022 |
| Forecast Period | 2023 - 2028 |
| CAGR | 5.7% |
| Segments Covered | By Product Type, Application, Form, Distribution Channel and Region |
| Various Analyses Covered | Global, Regional & Country Level Analysis, Segment-Level Analysis, DROC, PESTLE Analysis, Porter's Five Forces Analysis, Competitive Landscape, Analyst Overview on Investment Opportunities |
| Regions Covered | North America, Europe, APAC, Latin America, Middle East & Africa |
| Market Leaders Profiled | Maretai Organics, Wholesome Sweeteners, The Groovy Food Company, Dandy Lions Limited, Malt Products Corporation, Nekutli Agave Nectar, Clarks, Pura Foods Ltd and Others. |
Drivers:
Agave nectar has grown in popularity as a natural sweetener and is being used more and more as a substitute for sugar in various regions. Driven by these factors, the global agave nectar market is expected to lock in the market as interest in new product launches increases. The increasing prevalence of diabetes around the world, the increasing demand for agave nectar in the food and beverage industry, the diversification of products and the increase in consumer demand for organic and natural ingredients are some of the key factors expected to drive the growth of the global agave nectar market during the forecast period. Agave syrup replaces honey and sugar. Growing consumer awareness of the health benefits of agave nectar, another driving force in the global agave nectar market. Several manufacturers of agave nectar focus on offering healthier products. Therefore, the global agave nectar market is foreseen to show strong growth over the outlook period. Growing supermarkets and retail stores are rapidly increasing demand for agave honey around the world. In addition, granulated agave sugar is widely used as a topping in breadcrumb cakes, coffee cakes, oatmeal, etc., which has a positive impact on the growth of the target market during the foreseen period. Additionally, the growing demand for bakery products such as coffee cakes, waffles, buns, pancakes, and scones is another factor that will drive the growth of the agave syrup market.
Growing consumer awareness of the health benefits associated with natural products produced without the use of chemicals, additives and artificial ingredients is a key factor driving the growth of the global market. Also, the increasing demand for natural sweetener products in the food and beverage industry and the increased preference of consumers for a variety of flavors are some of the factors that are expected to drive the growth of the target market.
Additionally, agave nectar manufacturers offer a variety of health products. There are also a growing number of supermarkets promoting agave syrup. Therefore, the global agave nectar market is expected to show strong growth during the conjecture period. Population growth, individual purchasing power, and effective distribution channels are expected to boost global market growth over the next decade. The increase in health problems is associated with a poor diet. Increasing health problems among children and adults have led consumer preferences to pay more attention to food problems like sugar and calories. The growing awareness of the harmful effects of added colors, flavors and preservatives has led consumers to demand transparency.
Restraints:
The lack of knowledge of the benefits related to the consumption of agave nectar is an important factor limiting the growth of the world market in the coming years. Consumption of unregulated amounts of agave nectar is expected to have a negative impact on health and slow the growth of the agave nectar market during the foreseen period, along with strict regulations on the marketing of food ingredients into food ingredients. The amount of fructuous intake through agave nectar should be limited, as it includes resistance and can cause liver problems.
Agave Nectar Market Segmentation Analysis:
Agave nectar is classified according to types such as bright, amber, raw and dark agave honey. Light agave nectar has a neutral flavor and is mainly used in foods such as desserts, pastries, etc. Amber agave nectar contains a medium caramel flavor that is used to prepare sauces and salty foods. Raw agave syrup has a mild, neutral flavor and is used as a substitute sweetener for raw foods.
The global agave nectar market is also segmented based on forms such as powders and liquids. According to distribution channels, the market is divides into supermarkets, online stores, and retail stores. The supermarket sector is growing significantly as consumers around the world increase their demand for agave juice.
Global agave nectar is classified based on applications as baked goods that are divided into breads, cakes, pastries, and more. Agave nectar is used in poultry and meat products, salty foods, and more.
Impact of COVID 19 on the Agave Nectar Market:
Agave nectar is widely used in the food and beverage industry. Due to the coronavirus outbreak, the market will rebound in the fourth quarter of 2020. The spread of COVID-19 has severely hampered the industry as tight shutdowns have taken place in several regions. Supply chain, transport and trade disruptions, and restrictions on production disruptions are factors that have an adverse impact on the food industry. Border closures, quarantine, supply chain, and trade disruptions can limit people's access to sufficient, diverse and nutritious food sources, especially in countries like the United States, China, and Italy.Agave nectar is used primarily by manufacturers involved in the production of a variety of food products. Therefore, the agave nectar market is expected to grow moderately over the next two to three quarters.
Geographical Segmentation Analysis:
North America - the United States and Canada

Europe - United Kingdom, Spain, Germany, Italy, and France

The Asia Pacific - India, Japan, China, Australia, Singapore, Malaysia, South Korea, New Zealand, and Southeast Asia

Latin America - Brazil, Argentina, Mexico, and Rest of LATAM

The Middle East and Africa - Africa and Middle East (Saudi Arabia, UAE, Lebanon, Jordan, Cyprus)
Regional Analysis:
Geographically, the global agave honey market can be divided into major regions, including North America, Asia Pacific, Europe, Latin America, the Middle East, and Africa. The North American market is expected to dominate the world market for agave syrup. The growth of the bakery industry and the increasing demand for snacks and baked goods from convenient options have intensified the growth of the global agave nectar market and is therefore expected to significantly expand the market's revenue contribution during the foreseen period. The Asia Pacific market is expected to record the highest growth rate during the anticipated period. Increasing consumer preference for natural sweeteners in food products and high consumption of bakery products are expected to support the growth of the Asia Pacific market. Aslo, the European market is expected to register significant revenue growth in the global market. South Asia and East Asia are growing rapidly and increasing their share of the global agave syrup market due to the increased adoption of natural products. The growth of the agave syrup market is accelerating in the region as awareness of the health benefits of agave syrup increases along with its growing application in the pharmaceutical and cosmetic industries. The economies of South Asia and East Asia, such as China, India and Korea, are the next potential markets for manufacturers that are engaged in constant research and development to innovate flavored agave juice for more applications in food and beverages industry.
Key Players in the Market:
Major Key Players in the Global Agave Nectar Market are
Maretai Organics

Wholesome Sweeteners

The Groovy Food Company

Dandy Lions Limited

Malt Products Corporation

Nekutli Agave Nectar

Clarks

Pura Foods Ltd