Beet Sugar Market Size, Growth, Forecast (2023-2028)
The Global Beet Sugar Market Size was worth US$ 4.31 billion in 2022, and it is estimated to reach a valuation of US$ 6.34 billion by the end of 2028, expanding at an annual compound rate of 5.7% between 2023 and 2028. Growing demand for sugar will drive the growth of the world market for sugar beet juice extract during the forecast period.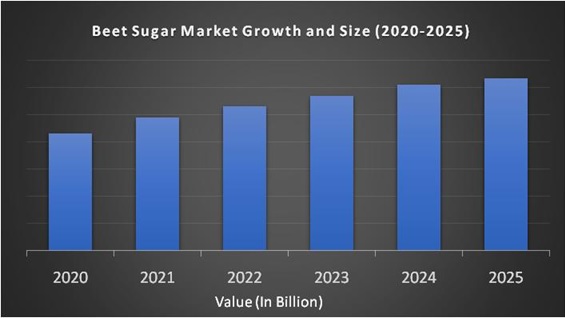 Market Overview:
Beet plants, scientifically known as Beta vulgaris subsp, are plants grown commercially for sugar production. Beets are plants with high sucrose content and are cultivated for the commercial production of sugar. Beet plants with conical, white, fleshy roots grow in temperate zones. The beet pulp is supplied in the form of granules or dry flakes and is produced as an outcome of sugar beets. It contains a huge volume of sugar, carbohydrates and various minerals and vitamins like Manganese, Potassium and Vitamin C.
Beet pulp is commonly used for animal feed applications, and beet pulp is also used in the pharmaceutical and functional food industries. Beetroot pulp has been found to help maintain the right muscle and nerve health and maintain proper liver, pancreas, and kidney function. Beetroot pulp also has B vitamins, folic acid, and antioxidant properties that maintain adequate health. Beetroot pulp increases immunity and protects against various immunodeficiency diseases.
Recent Developments in Beet Sugar Industry:
In 2018, BMA BraunschweigischeMaschinenbauanstalt AG and Salzgitter Maschinenbau AG were merged into a single legal entity. The purpose of this merger is to create a new entity that creates a more stable and diverse portfolio of product offerings.
REPORT COVERAGE:
| | |
| --- | --- |
| REPORT METRIC | DETAILS |
| Market Size Available | 2022 – 2028 |
| Base Year | 2022 |
| Forecast Period | 2023 - 2028 |
| CAGR | 5.7% |
| Segments Covered | By Application, Function, Organizational Structure and Region |
| Various Analyses Covered | Global, Regional & Country Level Analysis, Segment-Level Analysis, DROC, PESTLE Analysis, Porter's Five Forces Analysis, Competitive Landscape, Analyst Overview on Investment Opportunities |
| Regions Covered | North America, Europe, APAC, Latin America, Middle East & Africa |
| Market Leaders Profiled | Renuka beet sugar, Michigan Sugar Company, Syngenta, Spreckals Sugar Company, Sidney Sugars Incorporated, Amalgamated Sugar Company, American Crystal Sugar, The Western Sugar Cooperative, Southern Minnesota Beet Sugar Cooperative and Others. |
Beet Sugar Market Growth:
As health and fitness awareness increases, market demand for sugar beet pulp is expected to increase during the forecast period.
Drivers:
Due to fluctuations in weather conditions that affect sugar production, increased demand for sugar substitutes is expected to drive growth. The advent of technology allowed the development of artisan beets using a small number of pesticides and fertilizers. The sugar produced from this beet serves as a better alternative to extractive sweeteners. Along with sugar, the extracts are also used in the production of biofuels. Various applications of this product are supposed to develop the market in the near future further. The increasing popularity of prepared foods drives the demand for sugar beet juice extract. The extract is used as a natural sweetener and coloring and flavoring component in various convenience foods. The recent European Food Safety Authority (EFSA) permit for the use of genetically modified beets in the food and beverage industry is assumed to stimulate market growth.
Furthermore, increased sugar beet production and its application in ethanol production are expected to drive overall market growth. Increased consumer awareness of maintaining a healthy lifestyle and eating habits is presumed to drive demand for natural sweeteners. Beetroot molasses is a healthy replacement for conventional sweeteners. Beetroot juice extract contains betaine, a natural and potential source of nutrients used in energy drinks for athletes and fitness lovers. As the use of sugar beet juice extract increases in the beverage industry, it is anticipated to lead the world market in the coming years. Also, beet juice extract is highly hydrating and is also used in the cosmetic and pharmaceutical industries. As demand for sugar beet pulp increases, there is an increasing demand for healthy foods worldwide among consumers. Another important factor driving the beet pulp market is consumer health and health awareness.
With growing awareness of animal welfare, consumers have been able to focus more on improving the quality of livestock feed. Therefore, consumers prefer a more nutritious and healthy feed for livestock. It is also used in hair care products, shampoos, conditioners, creams, and lotions, aftershaves, and deodorants. The increased use of these natural ingredients is suspected of contributing to increased demand for products. Increased health and hygiene awareness and demand for organic sugar are expected to stimulate demand for products such as sugar beet juice extract. Players who want to expand market participants or regional footprints should focus on the desirability of raw materials to expand production facilities. Therefore, market demand for sugar beet pulp is likely to witness an increased demand in the animal feed industry during the forecast period.
Restraints:
There are some limitations that may hinder the growth of the world beet sugar market. One of the main inhibitors is the adverse impact of contamination on the production of sugar beet crops. Extracting sugar from these unhealthy crops can degrade the quality of the final product, hindering the market growth. The impact of contamination caused by the production of sugar beet crops may inhibit the growth of the sugar beet market during the anticipated period.
Beet Sugar Market Segmentation Analysis:
By Application:
Bakery

Confectionery

Dairy Industry

Beverage

Others
By Function:
Regular Conditions

Medical Conditions
By Organizational Structure:
Organized market

Unorganized market
Geographical Segmentation Analysis:
North America - the United States and Canada

Europe - United Kingdom, Spain, Germany, Italy, and France

The Asia Pacific - India, Japan, China, Australia, Singapore, Malaysia, South Korea, New Zealand, and Southeast Asia

Latin America - Brazil, Argentina, Mexico, and Rest of LATAM

The Middle East and Africa - Africa and Middle East (Saudi Arabia, UAE, Lebanon, Jordan, Cyprus)
Regional Analysis:
The Asia-Pacific beet sugar market will have a more prominent share in the coming years, especially in India and Southeast Asia, which are multiplying in China. The Asia-Pacific region is foreseen to expand at the fastest average annual growth rate of 6.3% from 2020 to 2025. The area is also supposed to provide significant growth opportunities for new sectors, such as food and spirits in India, China and other developing countries. Bangladesh embraces western culture and lifestyle. The growing demand for ready-to-eat, packaged and convenient cooking is presumed to coincide with the growth of local markets.
North America beet sugar market, especially the United States, still plays an important role that cannot be ignored. Changes in the United States may influence the development trend of sugar beets. Europe beet sugar market maintained a revenue share of approximately 32% in 2018 with mass production of beets in several nations and premium and high yields. In addition, startups are taking control of market segments with premium products targeting customers with higher purchasing power. Furthermore, the high consumption of alcoholic beverages is driving local demand for natural flavors and sweeteners, promoting the expansion of this market.
Leading Company:
NutriScience Innovation LLC, a renowned company around the world, offers a wide range of applications for beet sugar extract in pharmaceuticals, chemicals, and energy drinks.
Key Players in the Market:
Major Key Players in the Global Beet Sugar Market are
Renuka beet sugar

Michigan Sugar Company

Syngenta

Spreckals Sugar Company

Sidney Sugars Incorporated

Amalgamated Sugar Company

American Crystal Sugar

The Western Sugar Cooperative

Southern Minnesota Beet Sugar Cooperative