Fusion Beverage Market Growth and Forecast (2020-2025):
The global Fusion Beverage Market size was worth USD 5.7 billion in 2020, and it is predicted that it will reach a value of USD 9.22 billion by 2025 at a CAGR of 6.2% during the conjecture time. The rising significance towards the diet evaluation is most likely to push the market growth of the global fusion beverages market.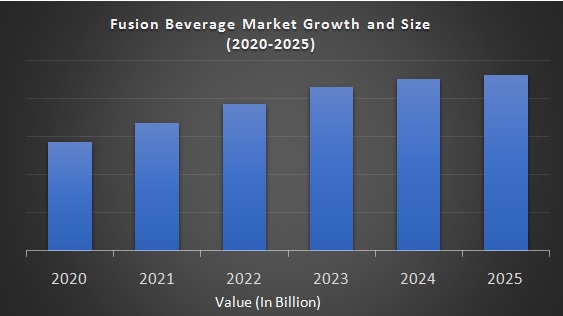 Market Overview:
Fusion drinks are a new concept in the beverage sector. To satisfy consumers' taste buds, we offer new flavors and new tastes. Fusion drinks are available in different forms, such as carbonated drinks are drinks with added carbon dioxide. Fused Tea and Coffee involves a blend of tea and coffee. It can also be an extract of fruit and tea or coffee or a combination of both. Fruit juice is a drink made from fruit extract. It is derived through the pressing or extraction process of natural liquids found in vegetables and fruits. Juices can be fruit concentrates or liquids made from biological sources of various foods. They can be food sources such as clam, seafood or meat juice.
Recent Developments in Fusion Beverage Industry:
In 2018, ZICO Beverages developed COCO-LIXIRS. This was an attempt to take full advantage of the growing demand for coconut water. This is an organic, cold-pressed drink with the addition of organic coconut water. This is a product development textbook to accommodate changing consumer preferences.

In 2019, Coca Cola identified trends in the demand for multiple sensory experiences. This included Millennials, who taste like drinks. So the company created a 'Coca Cola Plus Coffee drink'. One of the unique types of coffee drinks has a caramel tint to give the drink a blast. This launch enables brands to actively understand requirements and develop products accordingly.
REPORT COVERAGE:
| | |
| --- | --- |
| REPORT METRIC | DETAILS |
| Market Size Available | 2019 – 2025 |
| Base Year | 2019 |
| Forecast Period | 2020 - 2025 |
| CAGR | 6.2% |
| Segments Covered | By Distribution Channel and Region |
| Various Analyses Covered | Global, Regional & Country Level Analysis, Segment-Level Analysis, DROC, PESTLE Analysis, Porter's Five Forces Analysis, Competitive Landscape, Analyst Overview on Investment Opportunities |
| Regions Covered | North America, Europe, APAC, Latin America, Middle East & Africa |
| Market Leaders Profiled | PepsiCo, Coca-Cola, Gatorade, Power Ade, ZICO Beverages, Pocari, 100Plus, Lucozade and Others. |
Fusion Beverage Market Growth:
The global fusion beverage market will show high growth due to growing consumer demand for the taste and health of food and beverage options.
Drivers:
The global fusion drink market is gaining popularity in a wide variety of products. Consumer tastes are changing and the market is ready to grow significantly in line with that flavor through innovative beverages like Fusion Drinks. Increased beverage adoption, emerging economies, and rising health care trends in the nutritional millennium generation are some of the factors that accelerate the growth of the fusion beverage market during the forecast period. Today, more and more people eat and drink. More people are not eager to cook at home the longer they work. Therefore, it is not surprising that the change is huge and that there are sub-shifts in it. Secondary shifts are born out of the need to eat out and stay healthy. This is mainly due to high consumer interest in wellness. Therefore, fusion drinks that blend healthy flavors will have a significant increase in demand during the outlook period. As healthy drinks become a lifestyle choice, beverage brands worldwide are redesigning their product line by adding the latest products to keep up with these dynamic trends. Plus, consumers want drinks that provide a multi-sensory experience. This is more than just freshness and indulgence. Fusion drinks have sprung from this place, providing new ground for consumers to indulge in. The market will grow remarkably, creating significant opportunities in the market. Fusion beverage manufacturers will have a broader range of brand positioning as their affinity for natural ingredients increases. As the transition to beverages infused with natural ingredients and away from beverages with added antioxidants, manufacturers must provide high-quality natural ingredients.
Additionally, manufacturers are taking advantage of the 'clean label' trend to help 'self-oriented' consumers make reasonable decisions by listing all the ingredients used in fusion drink products. Storytelling is also emerging as one of the most effective marketing special effects in the fusion drink environment. The packaging format reflects the history of a particular brand and reflects its core values. As millennials increasingly prefer unique products, manufacturers use packaging forms with strong brand stories to attract and engage consumers in a different way than ever. On the other hand, the prevalence of e-commerce websites is increasing and the need for physical activity and healthcare will create more new opportunities for the growth of the global fusion beverage market during the foreseen period mentioned above. Dietary assessment of the sophistication of 'flavor' and 'wholeness' and the growing trend of consumer appetite are two main factors that set the stage for future consumption of fusion drinks.
Restraints:
The high cost of beverages and strict safety and quality standards are acting as a deterrent to the growth of the fusion drink market during the forecast period mentioned above.
Fusion Beverage Market Segmentation Analysis:
By Distribution Channel:
Retail & Supermarkets

Online Platform
Geographical Segmentation Analysis:
North America - the United States and Canada

Europe - United Kingdom, Spain, Germany, Italy, and France

The Asia Pacific - India, Japan, China, Australia, Singapore, Malaysia, South Korea, New Zealand, and Southeast Asia

Latin America - Brazil, Argentina, Mexico, and Rest of LATAM

The Middle East and Africa - Africa and Middle East (Saudi Arabia, UAE, Lebanon, Jordan, Cyprus)
Regional Analysis:
One of the most dominant regions in the global fusion drink market will be North America due to one of the most active jobs and high levels of life experience. Plus, there are some of the most influential players in the area. However, the region that can create impressive growth opportunities during the forecast period is the Asia-Pacific region, with good economic standards and better living standards, leading to higher disposable income. Also, players are already trying to make the most of the situation.
Key Players in the market:
Major key players in the Global Fusion Beverage Market are
PepsiCo

Coca-Cola

Gatorade

Power Ade

ZICO Beverages

Pocari

100Plus

Lucozade
1. Introduction
1.1 Market Definition
1.2 Study Deliverables
1.3 Base Currency, Base Year and Forecast Periods
1.4 General Study Assumptions
2. Research Methodology
2.1 Introduction
2.2 Research Phases
2.2.1 Secondary Research
2.2.2 Primary Research
2.2.3 Econometric Modelling
2.2.4 Expert Validation
2.3 Analysis Design
2.4 Study Timeline
3. Overview
3.1 Executive Summary
3.2 Key Inferences
3.3 Epidemology
4. Drivers, Restraints, Opportunities, and Challenges Analysis (DROC)
4.1 Market Drivers
4.2 Market Restraints
4.3 Key Challenges
4.4 Current Opportunities in the Market
5. Market Segmentation
5.1 Distribution Channel
5.1.1 Introduction
5.1.2 Retail & Supermarkets
5.1.3 Online Platform
5.1.4 Y-o-Y Growth Analysis, By Distribution Channel
5.1.5 Market Attractiveness Analysis, By Distribution Channel
5.1.6 Market Share Analysis, By Distribution Channel
6. Geographical Analysis
6.1 Introduction
6.1.1 Regional Trends
6.1.2 Impact Analysis
6.1.3 Y-o-Y Growth Analysis
6.1.3.1 By Geographical Area
6.1.3.2 By Distribution Channel
6.1.4 Market Attractiveness Analysis
6.1.4.1 By Geographical Area
6.1.4.2 By Distribution Channel
6.1.5 Market Share Analysis
6.1.5.1 By Geographical Area
6.1.5.2 By Distribution Channel
6.2 North America
6.1.1 Introduction
6.1.2 United States
6.1.3 Canada
6.3 Europe
6.2.1 Introduction
6.2.2 U.K
6.2.3 Spain
6.2.4 Germany
6.2.5 Italy
6.2.6 France
6.4 Asia-Pacific
6.3.1 Introduction
6.3.2 China
6.3.3 India
6.3.4 Japan
6.3.5 Australia
6.3.6 South Korea
6.5 Latin America
6.4.1 Introduction
6.4.2 Brazil
6.4.3 Argentina
6.4.4 Mexico
6.4.5 Rest of Latin America
6.6 Middle East & Africa
6.5.1 Introduction
6.5.2 Middle-East
6.5.3 Africa
7. Strategic Analysis
7.1 PESTLE analysis
7.1.1 Political
7.1.2 Economic
7.1.3 Social
7.1.4 Technological
7.1.5 Legal
7.1.6 Environmental
7.2 Porter's Five analysis
7.2.1 Bargaining Power of Suppliers
7.2.2 Bargaining Power of Consumers
7.2.3 Threat of New Entrants
7.2.4 Threat of Substitute Products and Services
7.2.5 Competitive Rivalry within the Industry
8. Market Leaders' Analysis
8.1 PepsiCo
8.1.1 Overview
8.1.2 Product Analysis
8.1.3 Financial analysis
8.1.4 Recent Developments
8.1.5 SWOT analysis
8.1.6 Analyst View
8.2 Coca-Cola
8.3 Gatorade
8.4 Power Ade
8.5 ZICO Beverages
8.6 Pocari
8.7 100Plus
8.8 Lucozade
9. Competitive Landscape
9.1 Market share analysis
9.2 Merger and Acquisition Analysis
9.3 Agreements, collaborations and Joint Ventures
9.4 New Product Launches
10. Market Outlook and Investment Opportunities
Appendix
a) List of Tables
b) List of Figures
Global, regional and country-level analysis and forecasts of the study market; providing Insights on the major countries/regions in which this industry is blooming and to also identify the regions that are still untapped

The Segment-level analysis in terms of By Distribution Channel and along with market size forecasts and estimations to detect key areas of industry growth in detail

Identification of key drivers, restraints, opportunities, and challenges (DROC) in the market and their impact on shifting market dynamics

Study of the effect of exogenous and endogenous factors that affect the global market; which includes broadly demographic, economics, and political, among other macro-environmental factors presented in an extensive PESTLE Analysis

Study the micro environment factors that determine the overall profitability of an Industry, using Porter's five forces analysis for analysing the level of competition and business strategy development

A comprehensive list of key market players along with their product portfolio, current strategic interests, key financial information, legal issues, SWOT analysis and analyst overview to study and sustain the market environment

Competitive landscape analysis listing out the mergers, acquisitions, collaborations in the field along with new product launches, comparative financial studies and recent developments in the market by the major companies

An executive summary, abridging the entire report in such a way that decision-making personnel can rapidly become acquainted with background information, concise analysis and main conclusions

Expertly devised analyst overview along with Investment opportunities to provide both individuals and organizations a strong financial foothold in the market
Global Fusion Beverage Market By Region, From 2020-2025 ( USD Billion )

Global Fusion Beverage Market By Distribution Channel, From 2020-2025 ( USD Billion )

Global Retail & Supermarkets Market By Region, From 2020-2025 ( USD Billion )

Global Online Platform Market By Region, From 2020-2025 ( USD Billion )