Fruit And Vegetable Juice Market Size, Growth (2023-2028)
The Global Fruit and Vegetable Juice Market Size was worth US$ 154.1 billion in 2022, and it is estimated to value about US$ 257.17 billion by the end of 2028, progressing at a growth rate of about 6% between 2023 and 2028. The market is expected to grow in developing countries.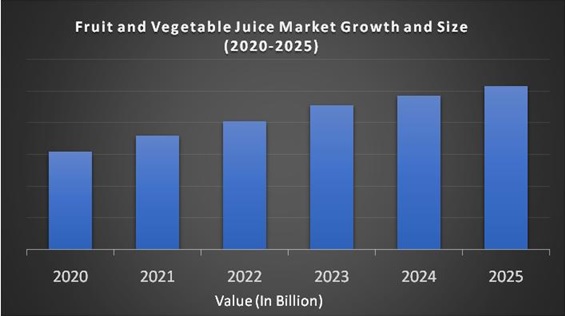 Market Overview:
Fruit and Vegetable Juice, enhanced with functional ingredients, provides new product opportunities for companies that understand and understand consumer preferences to meet their expectations and develop and market useful fruit juice products. Omega-3, fiber, vitamins, bioactive compounds, and probiotic bacteria are some of the functional ingredients that provide tremendous opportunities for the juice industry. Vitamins are also added to fruit juices to improve the nutritional profile of fruit juice products. Vitamin D, vitamin E, vitamin A, and vitamin C are some of the essential vitamins that are added to fruit juices. A variety of government initiatives are underway around the world to increase the consumption of strengthened food and beverages, especially in developing countries such as China and India.
Recent Developments in Fruit and Vegetable Juice Industry:
In 2019, Heinz Co Australia launched a new variant of the Golden Circle brand, an artificial coloring without sugar and flavorless juice.

In 2019, Eckes-Granini was the largest juice brand for value sales outside of commerce, and Aldi confirmed the leadership in terms of volume outside trade.

Fruit Tree Fresh Less Sugar & Calorie was launched in late 2018, and Ribena juice was not sweet, so it was released in 2019.
REPORT COVERAGE:
| | |
| --- | --- |
| REPORT METRIC | DETAILS |
| Market Size Available | 2022 – 2028 |
| Base Year | 2022 |
| Forecast Period | 2023 - 2028 |
| CAGR | 6% |
| Segments Covered | By Flavour, Type, Concentration, Category, Distribution Channel and Region |
| Various Analyses Covered | Global, Regional & Country Level Analysis, Segment-Level Analysis, DROC, PESTLE Analysis, Porter's Five Forces Analysis, Competitive Landscape, Analyst Overview on Investment Opportunities |
| Regions Covered | North America, Europe, APAC, Latin America, Middle East & Africa |
| Market Leaders Profiled | Del Monte Foods, Pepsi Co, Welch's, Nestle, Ocean Spray Cranberries, Dr. Pepper Snapple Group Inc., Citrus World and Others. |
Fruit and Vegetable Juice Market Growth
The market for fruit and vegetable juices demands the beverage industry sector as consumer awareness and preference for health products increases.
Drivers:
The increase in consumption of this product, changes in consumer tastes, the adoption of healthier eating habits and the appearance of cold juice are the main factors that accelerate the growth of this market worldwide. The growth of the global fruit and vegetable juice market is driven by the growing demand for healthy foods from an increasingly sturdy consumer base. The increasing popularity of cold pressing juice is one of the main factors affecting the growth of this juice market worldwide. Cold-pressed juice preserves the vitamins, minerals, and enzymes that are lost during the heating and oxidation steps of the traditional juice-making process. Few consumers are aware of the benefits of mixed fruit and vegetable juices, especially those in developing countries. This prompted diverse juice vendors in the market to conduct marketing and advertising activities to increase consumer awareness of the benefits of these juice products.
Health and fitness have played an essential role in today's world, and there have been potential changes in making healthy juices from soda pop. In many cases, fruit juices are incorporated as part of the daily breakfast routine, as they provide a daily quota of minerals and vitamins that are offered daily. As the number of consumers worldwide increases along with healthy lifestyle trends, the demand for fruit juices has increased dramatically, leading manufacturers to develop new variants. This drink accelerates the growth of the market since it has no nutritional value compared to the fruit and vegetable juices sold in the market. Therefore, a large number of populations are switching to the consumption of natural juices that provide nutritional drinks and offer fewer disadvantages compared to soft drinks. Cold-pressed juices generally consist of natural extracts of fruits and vegetables and mixtures thereof.
In most cases, they are not pasteurized and consumed within a few days with refrigeration. Since this process does not use heat or oxygen, there is no loss of nutrients in the process. With the arrival of this product, many have chosen healthier and more nutritious options. Consumption of soft drinks such as cola and scented soft drinks are declining worldwide, as sugar content, artificial colors, phosphoric acid, artificial sweeteners, and caffeine can adversely affect the human body. As a result, many consumers are switching from carbonated beverages to natural fruit juices. Changes in consumer lifestyles and eating habits have accelerated the growth of the market by increasing the intake of cheap, healthy and fast nutritional sources, such as packaged fruit juices.
Restraints:
The fructose corn syrup, which goes into the making of this juice drink, has spoiled consumer interest by compromising its healthy image. To revive the beverage market, manufacturers offer more robust options in the category with claims like "no high-fructose corn syrup" on the label.
Fruit and Vegetable Juice Market Segmentation Analysis:
By Flavour:
Fruit:
Mango

Apple

Guava

Pomegranate

Grape

Orange

Lemon

Pineapple

Others
Vegetable:
Carrot

Beetroot

Tomato

Pumpkin

Others
By Type:
Ambient

Chilled

Frozen

Others
By Concentration:
100% juice

25-99% juice

4 <25% juice

Flavoured

Others
By Category:
Carbonated

Non-Carbonated
By Distribution Channel:
Convenience stores

Supermarkets or hypermarkets

Independent retailers

On-trade
Geographical Segmentation Analysis:
North America - the United States and Canada

Europe - United Kingdom, Spain, Germany, Italy, and France

The Asia Pacific - India, Japan, China, Australia, Singapore, Malaysia, South Korea, New Zealand, and Southeast Asia

Latin America - Brazil, Argentina, Mexico, and Rest of LATAM

The Middle East and Africa - Africa and Middle East (Saudi Arabia, UAE, Lebanon, Jordan, Cyprus
Regional Analysis:
North America dominated the global fruit and vegetable juice industry as it consumed a lot of juice and increased demand for healthier alternatives, such as cold juices and mixed fruit and vegetables. Europe lagged far behind North America in terms of market share. The presence of cognitive consumers and the adoption of healthy eating habits are vital factors for the prosperity of the industry in this region. In the Asia-Pacific region, large population groups exist, and consumer awareness is supposed to increase in countries such as India and China. Therefore, the area is assumed to reach the highest CAGR during the forecast period.
The trend observed in the Asia Pacific region is the preference for small single-serving PET bottles, which are priced lower than large containers. The demand for mango, apple, pineapple and orange juice looks excellent in this country and promotes market growth. As the demand for healthier options increased in the region, manufacturers had to develop more natural and nutritious products. Countries like Belgium, France, the Netherlands, the United Kingdom and Germany are the largest consumers of this juice worldwide. Emerging countries in the region, such as the center and east, such as Poland, are also expected to make considerable profits in the near future as demand in the region increases.
Top Companies:
Retail giant AS Watson Group continued to dominate the juice business. The leading brands of the company are dominating in various sectors of juice.
Key Players in the Market:
Major Key Players in the Global Fruit and Vegetable Juice Market are
Del Monte Foods

Del Monte Foods Corporation

Pepsi Co

Welch's

Nestle

Ocean Spray Cranberries

Dr. Pepper Snapple Group Inc.,

Citrus World