Bakery Premixes Market Size, Growth, Forecast (2022-2027)
The Global Bakery Premixes Market Size was worth USD 340.2 million in 2021, and it is estimated to reach a valuation of USD 595.33 million by the end of 2027, rising at an annual growth rate of 8.24% between 2022 and 2027.
Market Overview:
Bakery premixes are substances that contain a combination of ingredients (typically 40-60%) of the final product, in which only flour is added for the production of various bakery products. Bakery premixes contain a unique mix of baking ingredients that provide a variety of flavors, textures, and colors to bakery products, including cakes, pies, buns, baking flour, muffins, bakery improvers, donuts, and muffins. Bakery premixes offer a variety of benefits to manufacturers, including better product consistency and the potential for incorrect weighing of raw materials used in the processing of bakery products and reduced labor and inventory costs. They also include fermentation and combinations of flours and types of flours found in various products.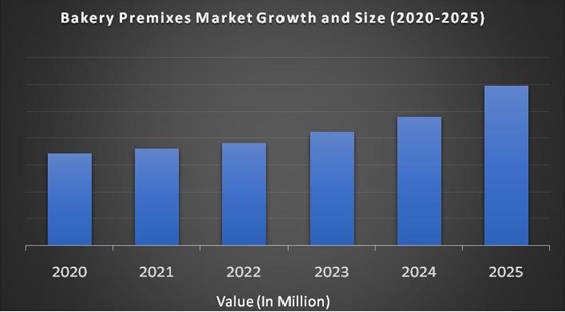 Recent Developments in Bakery Premixes Industry:
In April 2019, Karl Fazer launched two new bakery products: Fazer Suklaamarenkileivos and Fazer Kinuskimarenkileivos.

In April 2019, Lesaffre opened a new baking center in Austria, with a focus on developing industrial baking solutions.

In March 2019, ADM launched a new line of organic flour. This new flour line includes all-purpose organic flour and organic premium breadcrumbs, plus additional natural processed products that will be launched on the market in the coming years.

In 2018, Dow and DuPont, one of the most famous stationery providers on the planet, became major stimulants in the gluten-free bakery space.
REPORT COVERAGE:
| | |
| --- | --- |
| REPORT METRIC | DETAILS |
| Market Size Available | 2021 – 2027 |
| Base Year | 2021 |
| Forecast Period | 2022 – 2027 |
| CAGR | 8.24% |
| Segments Covered | By Product, Application, Distribution Channel and Region |
| Various Analyses Covered | Global, Regional & Country Level Analysis, Segment-Level Analysis, DROC, PESTLE Analysis, Porter's Five Forces Analysis, Competitive Landscape, Analyst Overview on Investment Opportunities |
| Regions Covered | North America, Europe, APAC, Latin America, Middle East & Africa |
| Market Leaders Profiled | Karl Fazer AB, Premia Food Additives Pvt. Ltd, Trans Standard, Puratos, Corbion, Bakels Group, Nestle, KCG Corporation, Nisshin Seifun Group Inc, Cargill, Lesaffre, Winner Group, GK Ingredients, Archer Daniels Midland Company, Midas Foods and Others. |
Bakery Premixes Market Growth:
The global bakery premix market is gaining momentum in several places due to the development and profitability of the foodservice industry.
Drivers:
As the prevalence of various diseases increases, the demand for gluten-free products increases, including bakery premixes. These products help prevent multiple diseases, such as obesity, heart disease, numerous types of cancer, and metabolic syndrome, so the higher your knowledge of health, the higher your demand. As the urbanized population increases, sales of bread and bakery products increase, which is supposed to force the bakery premix market worldwide. Additionally, market growth will increase during the forecast period as awareness of the bakery premix among the foodservice industry and consumers increases to meet the demand for a variety of custom bakery products. As demand for prepared foods increases in developing and developing countries, sales of bakery premixes worldwide are assumed to increase to meet changing consumer preferences.
In addition, the expansion of the market will be complemented by favorable properties, such as a perfect consistency to reduce the possibility of measuring the wrong raw materials used in the process. Along with the addition of essential ingredients such as vitamins, minerals, and other essential nutrients, increasing consumer awareness of the benefits of custom premixes in bakery products will strengthen market value, as well as the development of the global bakery premix market during the forecast period. The reduced labor or inventory costs of using the bakery premix are advantageous to manufacturers of these premixes.
Restraints:
Rising research and development costs, increasing costs of fortified and concentrated foods, and rigorous government-approved processes are critical constraints in the global market for bakery premixes. One factor that is presumed to hinder the growth of the bakery premix market is the high initial investment along with the demands for skilled workers for these machines.
Bakery Premixes Market Segmentation Analysis:
By product, the complete mix segment is anticipated to make up a large part of the global market. It is expected to drive growth in this sector as demand for complete mix increases in commercial baking applications. The mass-based premix segment is suspected of posting moderate growth in the coming years. This type of premix requires water, eggs, butter and other ingredients to make bakery products.
Based on the applications, the bread products segment is expected to register significant growth in the global bakery premix market. In developed countries, demand for bread products such as whole wheat bread, toast, white bread and specialty pieces of bread is supposed to drive growth in this segment. The bread-free products segment is presumed to record a steady increase in the global market. Non-bread products include cakes, muffins, pancakes, cakes, and donuts.
By distribution channel, indirect sales accounted for 35.0% of market share in 2018, which includes supermarkets, convenience stores, specialty stores, and online retailers. The supermarket sub-segment leads the market by rapidly converting traditional grocery stores into supermarkets. The grocery segment is expected to witness rapid growth as the number of independent health food or health food stores increases. The grocery store has easy access to multiple items under one roof.
Bakery Premixes Market Geographical Segmentation Analysis:
North America - the United States and Canada

Europe - United Kingdom, Spain, Germany, Italy, and France

The Asia Pacific - India, Japan, China, Australia, Singapore, Malaysia, South Korea, New Zealand, and Southeast Asia

Latin America - Brazil, Argentina, Mexico, and Rest of LATAM

The Middle East and Africa - Africa and Middle East (Saudi Arabia, UAE, Lebanon, Jordan, Cyprus)
Regional Analysis:
The North American bread premixes market is anticipated to play a significant role in the global business in the coming years. If the demand for bakery products as the primary food increases in the countries of the region, the need for bakery premixes in North America is presumed to increase. As the preference for bakery products increases during festivals and special events, strong distribution channels and full product availability are expected to drive growth in the target market. North America is estimated to be the leading market for bakery premixes, followed by European bread premixes market. The European market is anticipated to grow modestly during the forecast period. Increased demand for ready-mix products in the region is expected to support the growth of the European market for bakery premixes.
The Asia Pacific bakery premix market is anticipated to grow significantly in the coming years. The growth of the Asia Pacific market is attributed to the growth of the bakery products industry. The trend of westernization in the region, along with changes in individual food preferences, is projected to drive the growth of the bakery premix market in the Asia Pacific region.
Top Leading Company:
The bakery mixes offered by PURATOS include Tegral combinations where you need to add yeast and water and Easy Bases where you need to add flour with water and yeast.
Key Players in the Market:
Major Key Players in the Global Bakery Premixes Market are
Karl Fazer AB

Premia Food Additives Pvt. Ltd

Trans Standard International

Puratos

Corbion

Bakels Group

Nestle

KCG Corporation

Nisshin Seifun Group Inc

Cargill

Lesaffre

Winner Group

GK Ingredients

Archer Daniels Midland Company

Midas Foods