Bottled Water Processing Market Size, Growth (2023-2028)
The Global Bottled Water Processing Market Size was worth US$ 206 million in 2022, and it is estimated to reach a valuation of US$ 308.5 million by the end of 2028, expanding at an annual growth rate of 8.4% between 2023 and 2028. The market is driven by technological innovations in bottled water treatment equipment and increased consumption of bottled water.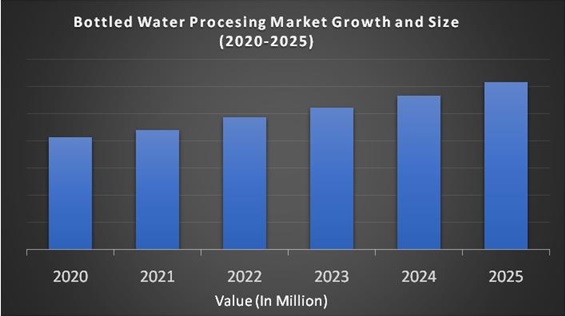 Market Overview:
Water always remains a healthy beverage option, and bottled water is the healthiest option for packaged beverages compared to other sodas. Consumer interest in bottled beverages recently is related to health, safety, convenience, and value. There are also consumers interested in the taste of bottled water. Bottled water is treated to remove and re-emerge pathogenic and protozoal organisms, impairing quality and shortening shelf life.
The water treatment stage includes water filtration, carbonation, bottle blower, and bottle washer, after which the treated water bottle is shipped for packaging. Membrane technologies such as reverse osmosis, ultrafiltration, microleakage, and chlorination are also part of water treatment. Bottled water is defined as the amount of processing and packaging suitable for drinking water. Standards to verify the quality of drinking water is established by the government with reference to international standards. This standard mainly emphasizes the minimum and maximum concentration of minerals, total suspended substrates, etc.
Recent Developments in Bottled Water Processing Industry:
In September 2018, Toray Industries Inc. (Japan) and Dotcome (Japan) water treatment systems can help solve a desalination project in partnership with the Andhra Pradesh government to help address water issues in India.

In February 2017, PepsiCo launched LIFEWTR, a premium brand of bottled water, a bottle of purified water with a balanced pH and added electrolyte for taste.

In April 2017, Danone (USA) launched a luxury brand of bottled water Mizone in China and sold local superstars and major social impact factors and commercial products.

Dow Water & Process Solutions, a business unit of the Dow Chemical Company, has been appointed by SUEZ, a leader in the design, construction and process of reverse osmosis (RO) desalination plants since 1969 to supply advanced RO elements for water desalination of the sea in the desalination of Barka. I did it Phase 4 Plant (Barka IWP), located in Barka, Governor of Batina, in southern Oman.
REPORT COVERAGE:
| | |
| --- | --- |
| REPORT METRIC | DETAILS |
| Market Size Available | 2022 – 2028 |
| Base Year | 2022 |
| Forecast Period | 2023 - 2028 |
| CAGR | 8.4% |
| Segments Covered | By Equipment, Technology, Application and Region |
| Various Analyses Covered | Global, Regional & Country Level Analysis, Segment-Level Analysis, DROC, PESTLE Analysis, Porter's Five Forces Analysis, Competitive Landscape, Analyst Overview on Investment Opportunities |
| Regions Covered | North America, Europe, APAC, Latin America, Middle East & Africa |
| Market Leaders Profiled | Pall Corporation, General Electric, The Dow Chemical Company, Geron Corporation, Seychelles Environmental Technologies Inc, Velocity Equipment Solutions Inc, Norland International Inc, Liquid Packaging Solutions Inc, Axeon Water Technologies and Others. |
Bottled Water Processing Market Drivers:
The world market is highly dependent on the technology and equipment used to produce bottled water. The main driving force in the world market is the lack of drinking water and the contamination of various bodies of water. The primary sector that is multiplying in the world bottled water treatment market is the filter sector used for water purification. Bottled water is considered an easy way to stay hydrated and helps you maintain a healthy diet. Due to various features such as convenience, health, safety, and high-quality value, the bottled water segment is considered an attractive part of the American beverage industry. Bottled water in the United States is widely regulated by the Food and Drug Administration (FDA) as a packaged food and provides a safe and reliable source of drinking water. Several bottled water companies are launching new products with bold and attractive fragrance materials and packaging. They are also bringing a more comprehensive selection of mineral water to the market.
To increase market share, several bottled water processing manufacturers are introducing new exotic flavors and introducing eye-catching and attractive packaging to appeal to consumers. Other factors contributing to the growth of the global market include research and development on advanced processing equipment. Other factors that contribute to the growth of the world market are the biggest consumer health problems and the highest demand for purity in the beverage sector.
One factor limiting the growth of the global market is the substantial capital expenditures required to establish new production facilities. The growing demand for high purity water by consumers due to growing health concerns is a crucial factor driving the growth of the global bottled water processing market. Introducing new flavors with attractive packaging is another factor that will drive the growth of the worldwide market during the forecast period. The main driving factors of this industry are the lack of drinking water and the contamination of other bodies. Bottled beverages are considered one of the most consumed beverages due to their accessibility. Boiling water at home is time-consuming and energy inefficient, and this trend is expected to contribute significantly to the growth of the industry. The air supplied to the processing and packaging facilities must be of sufficient quality to prevent contamination of the equipment, dirty air, excessive dust, odor, or the accumulation of grease or grease are potential water contaminants. With growing awareness of healthy living and the intake of safe beverages in contaminated tap water, significant opportunities exist for the industry, creating a positive outlook for the industry.
Restraints:
High energy and operating costs deter the bottled water processing market. Underdeveloped countries lack the necessary infrastructure for distribution, processing and storage. Disinfection techniques, such as chemical treatment with chlorine gas, require a lot of water to be treated. In underdeveloped countries, this infrastructure and equipment are very scarce. The initial investment in the configuration of a membrane module in the final application is very high for small players. It also makes it harder for new entrants to set up expensive manufacturing units and market their products, as existing companies dominate the market. Therefore, the high capital cost to establish a new plant becomes a significant limitation for the growth of the global bottled water processing market.
Bottled Water Processing Market Segmentation Analysis:
By Equipment:
Filter

Bottle Washer

Filler

Capper

Blow Molder

Shrink Wrapper
By Technology:
RO

UF

MF

Chlorination

Washing

Filling
By Application:
Still

Flavoured

Sparkling
Geographical Segmentation Analysis:
North America - the United States and Canada

Europe - United Kingdom, Spain, Germany, Italy, and France

The Asia Pacific - India, Japan, China, Australia, Singapore, Malaysia, South Korea, New Zealand, and Southeast Asia

Latin America - Brazil, Argentina, Mexico, and Rest of LATAM

The Middle East and Africa - Africa and Middle East (Saudi Arabia, UAE, Lebanon, Jordan, Cyprus
Regional Analysis:
North America is the region that dominates the world bottled water processing market. The United States occupies most of North America. The Asia Pacific region is also multiplying in terms of the bottled water processing business. China and India contribute to the growth of the market. In Europe, Germany and Italy are the primary consumers of bottled water. The main factors driving the global market in the Asia-Pacific region are high consumption, a trend to change consumer habits, bulk purchases, and increased disposable income.
Top Leading Company:
Nestlé has a pilot plan to improve plastics harvesting at scale and assess scalability and replicability, from technical interventions such as reverse vending machines to building extended producer responsibility systems.
Key Players in the Market:
Major Key Players in the Global Bottled Water Processing Market are
Pall Corporation

General Electric

The Dow Chemical Company

Geron Corporation

Seychelles Environmental Technologies Inc.

Velocity Equipment Solutions Inc.

Norland International Inc.

Liquid Packaging Solutions Inc.

Axeon Water Technologies