Chocolate Powdered Drinks Market Size Analysis 2022 - 2027:
Chocolate Powdered Drinks Market Size was at USD x.xx million in 2020 and is anticipated to reach over USD x.xx million by the end of the assessment period, recording a CAGR of x.xx% throughout the anticipated period 2022 - 2027.
Powdered chocolate drinks can be mixed with water or milk to make instant chocolate beverages. Powdered chocolate drinks can be served hot or cold according to the needs and wishes of consumers. They are beneficial for health with good taste that attracts consumers of all ages, especially children, adolescents, and young people, who consume it on a large scale. The vigorous aspects of powdered chocolate beverages are low-cost production, and they exhibit several characteristics that are beneficial to the health of the end-user. The potential growth of powdered chocolate beverages has a niche market compared to tea and coffee in the world. Due to the hot and humid climatic region of the world, the cocoa market faces a significant challenge for the overall growth of the market.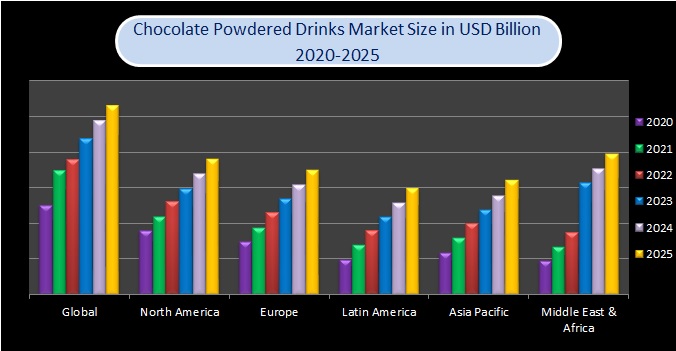 Recent Developments in Chocolate Powdered Drinks Market:
Barry Callebaut, the world's leading manufacturer of high-quality cocoa and chocolate products, successfully completed the acquisition of the Cocoa Ingredients Division of Singapore-based Petra Foods Ltd., after regulatory approval.

Archer Daniels Midland Company announced an important step in the expansion of its global cocoa and chocolate business with the signing of an agreement to purchase Schokinag-Schokolade-Industrie Herrmann GmbH & Co. KG, one of the main European producers of chocolate and cocoa powder.

Barry Callebaut, the world's leading manufacturer of high-quality chocolate and cocoa products, strengthens its specialty businesses in Europe by acquiring the commercial beverage distribution business of FrieslandCampina Kievit. The transaction also includes a long-term manufacturing contract under which FrieslandCampina Kievit will continue to produce distribution products for Barry Callebaut.

Chinese company Mengniu Dairy has reached an agreement to buy Kirin Holdings' Australian Lion Dairy & Drinks for A $ 600 million, the company's second acquisition in the Australian dairy market in recent years. The agreement includes all brands and assets for white milk, milk-based beverages, yogurt, juice and popsicles, as well as the dairy and beverage license agreement for the Yoplait brand.

Coca-Cola's acquisition of Costa Coffee for 3.9 billion pounds has had a major impact. UK-based Costa has 3,800 coffees in more than 30 countries, of which around two-thirds are in its local UK market. The two companies may have an interest in beverages, but that is the only overlap in their activities.

The Ferrero Group published about its definitive agreement to purcahse Nestlé's US confectionery business for $ 2.8 billion in cash, which registered sales of around $ 900 million in 2016.

As the world's second-largest processed food company, Kraft Foods Inc's $ 18.9 billion acquisition of British confectionery manufacturer Cadbury ends after a long battle within from the board.
| | |
| --- | --- |
| REPORT METRIC | DETAILS |
| Market Size Available | 2020 – 2026 |
| Base Year | 2020 |
| Forecast Period | 2022 - 2027 |
| CAGR | x.x% |
| Segments Covered | By Type, By End user, By Distributional Channels, and Region |
| Various Analyses Covered | Global, Regional & Country Level Analysis, Segment-Level Analysis, DROC, PESTLE Analysis, Porter's Five Forces Analysis, Competitive Landscape, Analyst Overview on Investment Opportunities |
| Regions Covered | North America, Europe, APAC, Latin America, Middle East & Africa |
| Market Leaders Profiled | Kanegrade Ltd., Nestlé S.A., GlaxoSmithKline Plc., Mondelez, Gatorade, PepsiCo Inc., Mars Inc., and others. |
Market Drivers and Restraints:
Chocolate has always been a popular product in various forms for the vast majority of consumers around the world. Chocolate products and beverages are widely consumed at home, in cafes, shops and coffee shops, in tetra containers, bottles, sachets, without a prescription in cups, mugs, glasses and other. Changing lifestyle, increasing disposable income and changing eating habits are some of the key factors in the demand for chocolate powdered drinks. Factors such as low production costs and health benefits are also growth drivers. The influence of Western culture has a positive impact on the growth of the market. The development of new products and the reduction of the cost of finished products will open up new market opportunities. Additionally, improving taste and effective branding of powdered beverages by manufacturers is an important factor in supporting market growth. However, adulteration and poor quality of the products is a limiting factor affecting the growth of the worldwide market.
Market Segmentation:
The global chocolate powdered drinks market is segmented by types, end-users and distribution channels. According to the type of product, the market is divided into dark chocolate drinks, milk chocolate drinks, and white chocolate drinks.
According to end users, the market is segmented into energy drinks, dairy drinks, cappuccino mixes, protein shakes and chocolate drinks that can be served both hot and cold and also enhance the taste of the drinks, which attracts a large number of consumers.
According to the distribution channel, the market is segmented into supermarkets/hypermarkets, convenience stores, specialty stores, online and grocery stores. Among these, the hypermarkets/supermarkets segment contributes to a higher market share in terms of turnover. The increase in online food and beverage purchases is supposed to drive growth in that segment.
Impact of covid-19 on Chocolate Powdered Drinks Market:
COVID-19 will continue to impact the food industry and all its related businesses. Meeting short-term demands shouldn't be a major challenge for most food companies, but industry experts and analysts have expressed a lack of clarity about the scope and extent of germs' impact. As a result of this uncertainty, the F&B sector experienced product supply delays. Although the chocolate powdered drinks market faced some difficulties during the coronavirus lock down period, it is estimated to bounce back with the consumer demand in the coming years.
Regional Analysis:
The global Chocolate Powdered Drinks market has been categorized by geography to offer a clear understanding of the overall marketplace, and the worldwide market has been studied in four regions, namely North America, Asia Pacific, Europe, Latin America, and Middle East and Africa. More than half of the world's cocoa is produced in West African countries such as Nigeria, Ghana, and Cameroon. These regions produce the largest amount of cocoa beans in the world. The largest market for powdered chocolate drinks is in the country of Brazil. The countries that dominate the market for powdered chocolate drinks are Ghana, United Kingdom, Belgium and Switzerland. Regions such as North America, the Middle East and Asia Pacific also have a high demand for chocolate powdered beverages and higher consumption of the product is predicted in developing regions such as India, China and Brazil.
Leading Company:
Nestlé S.A. had the largest share of the Global Chocolate Powdered Drinks Market in terms of sales and revenue in 2019.
Key Players Covered in Chocolate Powdered Drinks Market:
The Global Chocolate Powdered Drinks Market is concentrated with a few well-established players such as Kanegrade Ltd., Nestlé S.A., GlaxoSmithKline Plc., Mondelez, Gatorade, PepsiCo Inc., Mars Inc., and others.
1. Introduction
1.1 Market Definition
1.2 Scope of the report
1.3 Study Assumptions
1.4 Base Currency, Base Year and Forecast Periods
2. Research Methodology
2.1 Analysis Design
2.2 Research Phases
2.2.1 Secondary Research
2.2.2 Primary Research
2.2.3 Data Modelling
2.2.4 Expert Validation
2.3 Study Timeline
3. Report Overview
3.1 Executive Summary
3.2 Key Inferencees
4. Market Dynamics
4.1 Impact Analysis
4.1.1 Drivers
4.1.2 Restaints
4.1.3 Opportunities
4.2 Regulatory Environment
4.3 Technology Timeline & Recent Trends
5. Competitor Benchmarking Analysis
5.1 Key Player Benchmarking
5.1.1 Market share analysis
5.1.2 Products/Service
5.1.3 Regional Presence
5.2 Mergers & Acquistion Landscape
5.3 Joint Ventures & Collaborations
6. Market Segmentation
6.1 Chocolate Powdered Drinks Market, By Type
6.1.1 White
6.1.2 Milk
6.1.3 Dark
6.1.4 Market Size Estimations & Forecasts (2019-2024)
6.1.5 Y-o-Y Growth Rate Analysis
6.1.6 Market Attractiveness Index
6.2 Chocolate Powdered Drinks Market, By Distribution Channel
6.2.1 Store-Based
6.2.2 Non-Store Based
6.2.3 Market Size Estimations & Forecasts (2019-2024)
6.2.4 Y-o-Y Growth Rate Analysis
6.2.5 Market Attractiveness Index
6.3 Chocolate Powdered Drinks Market, By End-Use
6.3.1 Cappuccino Mixes
6.3.2 Chocolate Drinks
6.3.3 Energy Drinks
6.3.4 Protein Shakes
6.3.5 Milk Beverages
6.3.6 Market Size Estimations & Forecasts (2019-2024)
6.3.7 Y-o-Y Growth Rate Analysis
6.3.8 Market Attractiveness Index
7. Geographical Landscape
7.1 Global Identity Governance and Administration Market, by Region
7.2 North America - Market Analysis (2018 - 2024)
7.2.1 By Country
7.2.1.1 USA
7.2.1.2 Canada
7.2.2 By Type
7.2.3 By Distribution Channel
7.2.4 By End-Use
7.3 Europe
7.3.1 By Country
7.3.1.1 UK
7.3.1.2 France
7.3.1.3 Germany
7.3.1.4 Spain
7.3.1.5 Italy
7.3.1.6 Rest of Europe
7.3.2 By Type
7.3.3 By Distribution Channel
7.3.4 By End-Use
7.4 Asia Pacific
7.4.1 By Country
7.4.1.1 China
7.4.1.2 India
7.4.1.3 Japan
7.4.1.4 South Korea
7.4.1.5 South East Asia
7.4.1.6 Australia & NZ
7.4.1.7 Rest of Asia-Pacific
7.4.2 By Type
7.4.3 By Distribution Channel
7.4.4 By End-Use
7.5 Latin America
7.5.1 By Country
7.5.1.1 Brazil
7.5.1.2 Argentina
7.5.1.3 Mexico
7.5.1.4 Rest of Latin America
7.5.2 By Type
7.5.3 By Distribution Channel
7.5.4 By End-Use
7.6 Middle East and Africa
7.6.1 By Country
7.6.1.1 Middle East
7.6.1.2 Africa
7.6.2 By Type
7.6.3 By Distribution Channel
7.6.4 By End-Use
8. Key Player Analysis
8.1 Nestlé S.A
8.1.1 Business Description
8.1.2 Products/Service
8.1.3 Financials
8.1.4 SWOT Analysis
8.1.5 Recent Developments
8.1.6 Analyst Overview
8.2 Kanegrade Ltd
8.3 GlaxoSmithKline Plc
8.4 Mondelez
8.5 Gatorade
8.6 PepsiCo Inc
8.7 Mars Inc
9. Market Outlook & Investment Opportunities
Appendix
List of Tables
List of Figures
Global Chocolate Powdered Drinks Market By Region, From 2022 - 2027 ( USD Billion )

Global Chocolate Powdered Drinks Market By Type, From 2022 - 2027 ( USD Billion )

Global White Market By Region, From 2022 - 2027 ( USD Billion )

Global Milk Market By Region, From 2022 - 2027 ( USD Billion )

Global Dark Market By Region, From 2022 - 2027 ( USD Billion )

Global Chocolate Powdered Drinks Market By Distribution Channel, From 2022 - 2027 ( USD Billion )

Global Store-Based Market By Region, From 2022 - 2027 ( USD Billion )

Global Non-Store Based Market By Region, From 2022 - 2027 ( USD Billion )

Global Chocolate Powdered Drinks Market By End-Use, From 2022 - 2027 ( USD Billion )

Global Cappuccino Mixes Market By Region, From 2022 - 2027 ( USD Billion )

Global Chocolate Drinks Market By Region, From 2022 - 2027 ( USD Billion )

Global Energy Drinks Market By Region, From 2022 - 2027 ( USD Billion )

Global Protein Shakes Market By Region, From 2022 - 2027 ( USD Billion )

Global Milk Beverages Market By Region, From 2022 - 2027 ( USD Billion )

North America Chocolate Powdered Drinks Market By Type, From 2022 - 2027 ( USD Billion )

North America White Market By Region, From 2022 - 2027 ( USD Billion )

North America Milk Market By Region, From 2022 - 2027 ( USD Billion )

North America Dark Market By Region, From 2022 - 2027 ( USD Billion )

North America Chocolate Powdered Drinks Market By Distribution Channel, From 2022 - 2027 ( USD Billion )

North America Store-Based Market By Region, From 2022 - 2027 ( USD Billion )

North America Non-Store Based Market By Region, From 2022 - 2027 ( USD Billion )

North America Chocolate Powdered Drinks Market By End-Use, From 2022 - 2027 ( USD Billion )

North America Cappuccino Mixes Market By Region, From 2022 - 2027 ( USD Billion )

North America Chocolate Drinks Market By Region, From 2022 - 2027 ( USD Billion )

North America Energy Drinks Market By Region, From 2022 - 2027 ( USD Billion )

North America Protein Shakes Market By Region, From 2022 - 2027 ( USD Billion )

North America Milk Beverages Market By Region, From 2022 - 2027 ( USD Billion )

United States Chocolate Powdered Drinks Market By Type, From 2022 - 2027 ( USD Billion )

United States Chocolate Powdered Drinks Market By Distribution Channel, From 2022 - 2027 ( USD Billion )

United States Chocolate Powdered Drinks Market By End-Use, From 2022 - 2027 ( USD Billion )

Canada Chocolate Powdered Drinks Market By Type, From 2022 - 2027 ( USD Billion )

Canada Chocolate Powdered Drinks Market By Distribution Channel, From 2022 - 2027 ( USD Billion )

Canada Chocolate Powdered Drinks Market By End-Use, From 2022 - 2027 ( USD Billion )

Europe Chocolate Powdered Drinks Market By Type, From 2022 - 2027 ( USD Billion )

Europe White Market By Region, From 2022 - 2027 ( USD Billion )

Europe Milk Market By Region, From 2022 - 2027 ( USD Billion )

Europe Dark Market By Region, From 2022 - 2027 ( USD Billion )

Europe Chocolate Powdered Drinks Market By Distribution Channel, From 2022 - 2027 ( USD Billion )

Europe Store-Based Market By Region, From 2022 - 2027 ( USD Billion )

Europe Non-Store Based Market By Region, From 2022 - 2027 ( USD Billion )

Europe Chocolate Powdered Drinks Market By End-Use, From 2022 - 2027 ( USD Billion )

Europe Cappuccino Mixes Market By Region, From 2022 - 2027 ( USD Billion )

Europe Chocolate Drinks Market By Region, From 2022 - 2027 ( USD Billion )

Europe Energy Drinks Market By Region, From 2022 - 2027 ( USD Billion )

Europe Protein Shakes Market By Region, From 2022 - 2027 ( USD Billion )

Europe Milk Beverages Market By Region, From 2022 - 2027 ( USD Billion )

U.K. Chocolate Powdered Drinks Market By Type, From 2022 - 2027 ( USD Billion )

U.K. Chocolate Powdered Drinks Market By Distribution Channel, From 2022 - 2027 ( USD Billion )

U.K. Chocolate Powdered Drinks Market By End-Use, From 2022 - 2027 ( USD Billion )

Germany Chocolate Powdered Drinks Market By Type, From 2022 - 2027 ( USD Billion )

Germany Chocolate Powdered Drinks Market By Distribution Channel, From 2022 - 2027 ( USD Billion )

Germany Chocolate Powdered Drinks Market By End-Use, From 2022 - 2027 ( USD Billion )

France Chocolate Powdered Drinks Market By Type, From 2022 - 2027 ( USD Billion )

France Chocolate Powdered Drinks Market By Distribution Channel, From 2022 - 2027 ( USD Billion )

France Chocolate Powdered Drinks Market By End-Use, From 2022 - 2027 ( USD Billion )

Italy Chocolate Powdered Drinks Market By Type, From 2022 - 2027 ( USD Billion )

Italy Chocolate Powdered Drinks Market By Distribution Channel, From 2022 - 2027 ( USD Billion )

Italy Chocolate Powdered Drinks Market By End-Use, From 2022 - 2027 ( USD Billion )

Spain Chocolate Powdered Drinks Market By Type, From 2022 - 2027 ( USD Billion )

Spain Chocolate Powdered Drinks Market By Distribution Channel, From 2022 - 2027 ( USD Billion )

Spain Chocolate Powdered Drinks Market By End-Use, From 2022 - 2027 ( USD Billion )

Asia Pacific Chocolate Powdered Drinks Market By Type, From 2022 - 2027 ( USD Billion )

Asia Pacific White Market By Region, From 2022 - 2027 ( USD Billion )

Asia Pacific Milk Market By Region, From 2022 - 2027 ( USD Billion )

Asia Pacific Dark Market By Region, From 2022 - 2027 ( USD Billion )

Asia Pacific Chocolate Powdered Drinks Market By Distribution Channel, From 2022 - 2027 ( USD Billion )

Asia Pacific Store-Based Market By Region, From 2022 - 2027 ( USD Billion )

Asia Pacific Non-Store Based Market By Region, From 2022 - 2027 ( USD Billion )

Asia Pacific Chocolate Powdered Drinks Market By End-Use, From 2022 - 2027 ( USD Billion )

Asia Pacific Cappuccino Mixes Market By Region, From 2022 - 2027 ( USD Billion )

Asia Pacific Chocolate Drinks Market By Region, From 2022 - 2027 ( USD Billion )

Asia Pacific Energy Drinks Market By Region, From 2022 - 2027 ( USD Billion )

Asia Pacific Protein Shakes Market By Region, From 2022 - 2027 ( USD Billion )

Asia Pacific Milk Beverages Market By Region, From 2022 - 2027 ( USD Billion )

Japan Chocolate Powdered Drinks Market By Type, From 2022 - 2027 ( USD Billion )

Japan Chocolate Powdered Drinks Market By Distribution Channel, From 2022 - 2027 ( USD Billion )

Japan Chocolate Powdered Drinks Market By End-Use, From 2022 - 2027 ( USD Billion )

China Chocolate Powdered Drinks Market By Type, From 2022 - 2027 ( USD Billion )

China Chocolate Powdered Drinks Market By Distribution Channel, From 2022 - 2027 ( USD Billion )

China Chocolate Powdered Drinks Market By End-Use, From 2022 - 2027 ( USD Billion )

India Chocolate Powdered Drinks Market By Type, From 2022 - 2027 ( USD Billion )

India Chocolate Powdered Drinks Market By Distribution Channel, From 2022 - 2027 ( USD Billion )

India Chocolate Powdered Drinks Market By End-Use, From 2022 - 2027 ( USD Billion )

Australia Chocolate Powdered Drinks Market By Type, From 2022 - 2027 ( USD Billion )

Australia Chocolate Powdered Drinks Market By Distribution Channel, From 2022 - 2027 ( USD Billion )

Australia Chocolate Powdered Drinks Market By End-Use, From 2022 - 2027 ( USD Billion )

South Korea Chocolate Powdered Drinks Market By Type, From 2022 - 2027 ( USD Billion )

South Korea Chocolate Powdered Drinks Market By Distribution Channel, From 2022 - 2027 ( USD Billion )

South Korea Chocolate Powdered Drinks Market By End-Use, From 2022 - 2027 ( USD Billion )

Latin America Chocolate Powdered Drinks Market By Type, From 2022 - 2027 ( USD Billion )

Latin America White Market By Region, From 2022 - 2027 ( USD Billion )

Latin America Milk Market By Region, From 2022 - 2027 ( USD Billion )

Latin America Dark Market By Region, From 2022 - 2027 ( USD Billion )

Latin America Chocolate Powdered Drinks Market By Distribution Channel, From 2022 - 2027 ( USD Billion )

Latin America Store-Based Market By Region, From 2022 - 2027 ( USD Billion )

Latin America Non-Store Based Market By Region, From 2022 - 2027 ( USD Billion )

Latin America Chocolate Powdered Drinks Market By End-Use, From 2022 - 2027 ( USD Billion )

Latin America Cappuccino Mixes Market By Region, From 2022 - 2027 ( USD Billion )

Latin America Chocolate Drinks Market By Region, From 2022 - 2027 ( USD Billion )

Latin America Energy Drinks Market By Region, From 2022 - 2027 ( USD Billion )

Latin America Protein Shakes Market By Region, From 2022 - 2027 ( USD Billion )

Latin America Milk Beverages Market By Region, From 2022 - 2027 ( USD Billion )

Brazil Chocolate Powdered Drinks Market By Type, From 2022 - 2027 ( USD Billion )

Brazil Chocolate Powdered Drinks Market By Distribution Channel, From 2022 - 2027 ( USD Billion )

Brazil Chocolate Powdered Drinks Market By End-Use, From 2022 - 2027 ( USD Billion )

Argentina Chocolate Powdered Drinks Market By Type, From 2022 - 2027 ( USD Billion )

Argentina Chocolate Powdered Drinks Market By Distribution Channel, From 2022 - 2027 ( USD Billion )

Argentina Chocolate Powdered Drinks Market By End-Use, From 2022 - 2027 ( USD Billion )

Mexico Chocolate Powdered Drinks Market By Type, From 2022 - 2027 ( USD Billion )

Mexico Chocolate Powdered Drinks Market By Distribution Channel, From 2022 - 2027 ( USD Billion )

Mexico Chocolate Powdered Drinks Market By End-Use, From 2022 - 2027 ( USD Billion )

Rest of Latin America Chocolate Powdered Drinks Market By Type, From 2022 - 2027 ( USD Billion )

Rest of Latin America Chocolate Powdered Drinks Market By Distribution Channel, From 2022 - 2027 ( USD Billion )

Rest of Latin America Chocolate Powdered Drinks Market By End-Use, From 2022 - 2027 ( USD Billion )

Middle East and Africa Chocolate Powdered Drinks Market By Type, From 2022 - 2027 ( USD Billion )

Middle East and Africa White Market By Region, From 2022 - 2027 ( USD Billion )

Middle East and Africa Milk Market By Region, From 2022 - 2027 ( USD Billion )

Middle East and Africa Dark Market By Region, From 2022 - 2027 ( USD Billion )

Middle East and Africa Chocolate Powdered Drinks Market By Distribution Channel, From 2022 - 2027 ( USD Billion )

Middle East and Africa Store-Based Market By Region, From 2022 - 2027 ( USD Billion )

Middle East and Africa Non-Store Based Market By Region, From 2022 - 2027 ( USD Billion )

Middle East and Africa Chocolate Powdered Drinks Market By End-Use, From 2022 - 2027 ( USD Billion )

Middle East and Africa Cappuccino Mixes Market By Region, From 2022 - 2027 ( USD Billion )

Middle East and Africa Chocolate Drinks Market By Region, From 2022 - 2027 ( USD Billion )

Middle East and Africa Energy Drinks Market By Region, From 2022 - 2027 ( USD Billion )

Middle East and Africa Protein Shakes Market By Region, From 2022 - 2027 ( USD Billion )

Middle East and Africa Milk Beverages Market By Region, From 2022 - 2027 ( USD Billion )

Middle East Chocolate Powdered Drinks Market By Type, From 2022 - 2027 ( USD Billion )

Middle East Chocolate Powdered Drinks Market By Distribution Channel, From 2022 - 2027 ( USD Billion )

Middle East Chocolate Powdered Drinks Market By End-Use, From 2022 - 2027 ( USD Billion )

Africa Chocolate Powdered Drinks Market By Type, From 2022 - 2027 ( USD Billion )

Africa Chocolate Powdered Drinks Market By Distribution Channel, From 2022 - 2027 ( USD Billion )

Africa Chocolate Powdered Drinks Market By End-Use, From 2022 - 2027 ( USD Billion )