Cocoa Fiber Market Growth and Forecast (2021-2026):
The Global Cocoa Fiber Market size was worth US$ 345 million in 2021, and it is estimated that it will reach US$ 747 million by 2026 with an annual development rate (CAGR) of 7.6% between 2021 and 2026.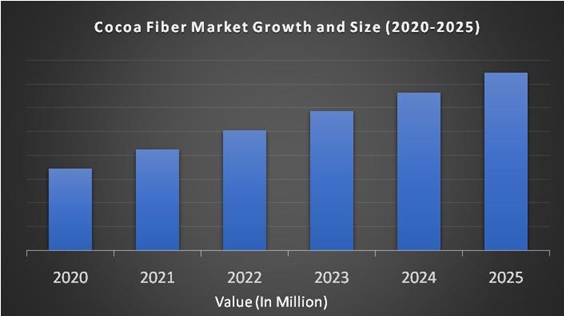 Market Overview:
Cocoa fiber is a dietary fiber that is used as an additive in the food industry. Dietary fiber has a wide range of effective health applications, such as reducing the risk of colon cancer, heart disease, and diabetes, treating colon diseases, improving gastrointestinal function, and more. Cocoa fibers are obtained from roasted cocoa shells by micronisation, washing and thermal steam. It is also a cocoa fiber that is used in a variety of end uses including bakery, beverage, cosmetic, and pharmaceuticals. Used as a substitute for cocoa powder, cocoa fiber has a miniature effect on flavor and improves nutritional value, shelf life and texture. Cocoa fibers are also used in cardboard and paper manufacturing to create custom solution applications for multiple industries. Manufacturers are launching cocoa-based fiber variants to meet the changing needs of customers in relation to a variety of health concerns and the growing demand for healthy and innovative products. Companies are also focused on rapidly innovating to improve production capacity and provide a healthy and diverse product range.
Recent Developments in Cocoa Fiber Industry:
In January 2020, the Irish-based Healy Group launched PrimaFi Cocoa, a cocoa fiber-based product. This product contains natural and dietary cocoa fiber that replaces 40% of the sugar without disturbing the appetite.
Cocoa Fiber Market Growth:
The global cocoa fiber market is driven by increasing applications for production in the confectionery, bakery, cosmetic, nutraceutical, pharmaceutical and animal feed sectors.
REPORT COVERAGE:
| | |
| --- | --- |
| REPORT METRIC | DETAILS |
| Market Size Available | 2020 – 2026 |
| Base Year | 2020 |
| Forecast Period | 2021 - 2026 |
| CAGR | 7.6% |
| Segments Covered | By Nature, Product Type, End-Use, Sales Channel and Region |
| Various Analyses Covered | Global, Regional & Country Level Analysis, Segment-Level Analysis, DROC, PESTLE Analysis, Porter's Five Forces Analysis, Competitive Landscape, Analyst Overview on Investment Opportunities |
| Regions Covered | North America, Europe, APAC, Latin America, Middle East & Africa |
| Market Leaders Profiled | Healy Group, Cargill, United Cocoa Processor, Archer Daniels Midland Company, Barry Callebaud, Euroduna Food Ingredients, GreenField Natural Ingredients, Interfiber, Jindal Cocoa, Carlyle Cocoa, Cemoi, Moner Cocoa and Others. |
Drivers:
Consumers are very aware of the foods they eat, so they frequently check the ingredient list of foods before making a purchase. This has led to an increase in the use of natural ingredients in food and beverages. Consumers' awareness around the world of the many health benefits associated with chocolate has seen a significant increase in recent years and it is expected to continue to generate revenue in the global cocoa fiber market during the forecast period. Antioxidants prevent aging, keep skin fresh, activate fat burning and have a stimulating effect. Due to this factor, the demand for cocoa fiber will increase in the future. Recent studies proved that cocoa fiber, along with high polyphenols, is also an excellent source for antioxidants compared to others. Different initiatives by local governments in various countries are acting as a growth promoter for the manufacturing of this cocoa fiber. As a result, the fat part of bakery products is expected to be replaced by the cocoa fiber content, increasing the market demand for cocoa fiber. The rise in obesity, cardiovascular disease, and other diet-related illnesses has led to increased awareness of low-calorie food ingredients. The production and consumption of low-calorie bakery products have increased over the years. The high fiber content of chocolate beverages and bakery products is creating a revenue stream for manufacturers in the cocoa fiber market. Therefore, producers are increasing the availability of low-fat cocoa fibers. Cocoa butter, milk chocolate, cocoa powder, cocoa fiber, and dark chocolate are currently in high demand due to their availability, especially in a variety of flavors such as mint, vanilla, and coffee. Additionally, major manufacturers are introducing new varieties of chocolate such as nuts, fruits and cereals, especially in developed countries where consumers are looking for healthier chocolate options. This strategy adopted by leading companies will be a good sign for the global market.
Manufacturers meet consumer demand for dietary fiber that provides their products with excellent moisture and fat retention. This trend eliminates the need for stabilizers and emulsifiers in recipes. The applicability of cocoa fibers is increasing in chocolate bases, cocoa toppings, extruded snacks, fitness bars and fiber-rich spreads. Also, low intake of fruits, legumes, and vegetables results in insufficient fiber intake. Manufacturers are developing and launching new and innovative varieties such as fruits, battered vegetables, nuts, cereals, etc., and the popularity of these varieties is gradually increasing, especially in developed countries. With the growing popularity of chocolate among the younger generation, the demand and consumption of cocoa powder is increasing. The price of cocoa fiber is growing rapidly around the world. Thus, companies in the global cocoa fiber market are taking advantage of this trend to promote cocoa fiber as an affordable and healthy option to enhance the flavor of baked goods. Because cocoa fibers are not chemically processed, consumers are increasing the demand for natural fibers. To achieve the right balance between health and pleasure, bakers are regaining confidence in cocoa fiber and are replacing up to 100% cocoa powder in their confectionery. Thus, the growing popularity of textiles is encouraging companies in the global cocoa fiber market to increase their production capacity. Therefore, the use of fiber requires additional water to maintain the consistency of the final product.
Restraints:
Cocoa fiber prices fluctuate strongly due to factors such as uncertain weather conditions, pests, and political instability. The factors mentioned above are expected to affect growers' cocoa production and eventually hamper the supply of cocoa fiber to manufacturers.
Impact of COVID 19 on the Cocoa Fiber Market:
The global crisis caused by COVID-19 has significantly changed the dynamics of the cocoa fiber market. As a result, governments around the world have put in place lockdowns to prevent the spread of the new coronavirus. This factor has had an important impact on the demand for cocoa fiber. The consumption of cocoa fiber-based products has decreased significantly due to quarantine notices in several countries, including France, Italy, Spain and the United Kingdom, and is expected to affect the demand for cocoa fiber in the processing industry. The closures imposed to reduce the spread of COVID-19 have also worsened the multiplayer network (supply chain). The uncertainty stemming from the COVID-19 outbreak has hampered the import and export of cocoa fiber due to international border closures.
Cocoa Fiber Market Segmentation Analysis:
By nature, the global cocoa fiber market is segmented as Organic and Traditional.
By type of product, the worldwide market is divided into Natural and Dutch.
By end-use, the global cocoa fiber market is segmented into food and beverage, retail, animal feed, pharmaceuticals, cosmetics and personal care, nutraceuticals, and food services industries. The food and beverage sector is mainly divided into beverage, dairy, bakery and confectionery and others.
By sales channel, the market is segmented into B2C/indirect sales and B2B/direct sales. The B2C indirect sales market is further subdivided into convenience stores, specialty stores, hypermarkets/supermarkets, discount stores, independent grocery stores, and online retailers.
Geographical Segmentation Analysis:
North America - the United States and Canada

Europe - United Kingdom, Spain, Germany, Italy, and France

The Asia Pacific - India, Japan, China, Australia, Singapore, Malaysia, South Korea, New Zealand, and Southeast Asia

Latin America - Brazil, Argentina, Mexico, and Rest of LATAM

The Middle East and Africa - Africa and Middle East (Saudi Arabia, UAE, Lebanon, Jordan, Cyprus)
Regional Analysis:
Europe is expected to be the most prominent region for the production and consumption of cocoa fiber in the outlook period. As awareness of the health benefits associated with cocoa fiber has increased and the consumption of dietary supplements has increased in the North American market, as a result, the demand for cocoa fiber has increased throughout years. Emerging economies in the Asia Pacific region are entering the cocoa fiber market to increase production capacity and supply due to the problems faced by major cocoa producing countries. The largest number of processed cocoa beans manufacturing is in Asia Pacific, followed by America and Africa, respectively. Increased cocoa bean production offers growth outlook for the global cocoa fiber market. The growing interest in a healthy lifestyle is increasing the demand for cocoa fiber in the developing world. Latin America and MEA are expected to show modest growth in the global cocoa fiber market during the conjecture period.
Key Players in the Market:
Major Key Players in the Global Cocoa Fiber Market are
Healy Group

Cargill

United Cocoa Processor

Archer Daniels Midland Company

Barry Callebaud

Euroduna Food Ingredients

GreenField Natural Ingredients

Interfiber

Jindal Cocoa

Carlyle Cocoa

Cemoi

Moner Cocoa
1. Introduction
1.1 Market Definition
1.2 Scope of the report
1.3 Study Assumptions
1.4 Base Currency, Base Year and Forecast Periods
2. Research Methodology
2.1 Analysis Design
2.2 Research Phases
2.2.1 Secondary Research
2.2.2 Primary Research
2.2.3 Data Modelling
2.2.4 Expert Validation
2.3 Study Timeline
3. Report Overview
3.1 Executive Summary
3.2 Key Inferencees
4. Market Dynamics
4.1 Impact Analysis
4.1.1 Drivers
4.1.2 Restaints
4.1.3 Opportunities
4.2 Regulatory Environment
4.3 Technology Timeline & Recent Trends
5. Competitor Benchmarking Analysis
5.1 Key Player Benchmarking
5.1.1 Market share analysis
5.1.2 Products/Service
5.1.3 Regional Presence
5.2 Mergers & Acquistion Landscape
5.3 Joint Ventures & Collaborations
6. Market Segmentation
6.1 Cocoa Fiber Market, By Nature
6.1.1 Organic
6.1.2 Conventional
6.1.3 Market Size Estimations & Forecasts (2021-2026)
6.1.4 Y-o-Y Growth Rate Analysis
6.1.5 Market Attractiveness Index
6.2 Cocoa Fiber Market, By Product Type
6.2.1 Natural
6.2.2 Dutch
6.2.3 Market Size Estimations & Forecasts (2021-2026)
6.2.4 Y-o-Y Growth Rate Analysis
6.2.5 Market Attractiveness Index
6.3 Cocoa Fiber Market, By End-Use
6.3.1 Pharmaceuticals
6.3.2 Food & Beverages Industry
6.3.3 Animal Feed
6.3.4 Nutraceuticals
6.3.5 Retail
6.3.6 Cosmetics & Personal Care
6.3.7 Foodservice
6.3.8 Market Size Estimations & Forecasts (2021-2026)
6.3.9 Y-o-Y Growth Rate Analysis
6.3.10 Market Attractiveness Index
6.4 Cocoa Fiber Market, By Sales Channel
6.4.1 Indirect Sales/B2C
6.4.2 Direct Sales/B2B
6.4.3 Market Size Estimations & Forecasts (2021-2026)
6.4.4 Y-o-Y Growth Rate Analysis
6.4.5 Market Attractiveness Index
7. Geographical Landscape
7.1 Global Identity Governance and Administration Market, by Region
7.2 North America - Market Analysis (2021-2026)
7.2.1 By Country
7.2.1.1 USA
7.2.1.2 Canada
7.2.2 By Nature
7.2.3 By Product Type
7.2.4 By End-Use
7.2.5 By Sales Channel
7.3 Europe
7.3.1 By Country
7.3.1.1 UK
7.3.1.2 France
7.3.1.3 Germany
7.3.1.4 Spain
7.3.1.5 Italy
7.3.1.6 Rest of Europe
7.3.2 By Nature
7.3.3 By Product Type
7.3.4 By End-Use
7.3.5 By Sales Channel
7.4 Asia Pacific
7.4.1 By Country
7.4.1.1 China
7.4.1.2 India
7.4.1.3 Japan
7.4.1.4 South Korea
7.4.1.5 South East Asia
7.4.1.6 Australia & NZ
7.4.1.7 Rest of Asia-Pacific
7.4.2 By Nature
7.4.3 By Product Type
7.4.4 By End-Use
7.4.5 By Sales Channel
7.5 Latin America
7.5.1 By Country
7.5.1.1 Brazil
7.5.1.2 Argentina
7.5.1.3 Mexico
7.5.1.4 Rest of Latin America
7.5.2 By Nature
7.5.3 By Product Type
7.5.4 By End-Use
7.5.5 By Sales Channel
7.6 Middle East and Africa
7.6.1 By Country
7.6.1.1 Middle East
7.6.1.2 Africa
7.6.2 By Nature
7.6.3 By Product Type
7.6.4 By End-Use
7.6.5 By Sales Channel
8. Key Player Analysis
8.1 Healy Group
8.1.1 Business Description
8.1.2 Products/Service
8.1.3 Financials
8.1.4 SWOT Analysis
8.1.5 Recent Developments
8.1.6 Analyst Overview
8.2 Cargill. Inc
8.3 United Cocoa Processor
8.4 Archer Daniels Midland Company
8.5 Barry Callebaud
8.6 Euroduna Food Ingredients
8.7 GreenField Natural Ingredients
8.8 Interfiber
8.9 Jindal Cocoa
8.10 Carlyle Cocoa
9. Market Outlook & Investment Opportunities
Appendix
List of Tables
List of Figures
Global, regional and country-level analysis and forecasts of the study market; providing Insights on the major countries/regions in which this industry is blooming and to also identify the regions that are still untapped

The Segment-level analysis in terms of By Nature, Product Type, End-Use, Sales Channel and along with market size forecasts and estimations to detect key areas of industry growth in detail

Identification of key drivers, restraints, opportunities, and challenges (DROC) in the market and their impact on shifting market dynamics

Study of the effect of exogenous and endogenous factors that affect the global market; which includes broadly demographic, economics, and political, among other macro-environmental factors presented in an extensive PESTLE Analysis

Study the micro environment factors that determine the overall profitability of an Industry, using Porter's five forces analysis for analysing the level of competition and business strategy development

A comprehensive list of key market players along with their product portfolio, current strategic interests, key financial information, legal issues, SWOT analysis and analyst overview to study and sustain the market environment

Competitive landscape analysis listing out the mergers, acquisitions, collaborations in the field along with new product launches, comparative financial studies and recent developments in the market by the major companies

An executive summary, abridging the entire report in such a way that decision-making personnel can rapidly become acquainted with background information, concise analysis and main conclusions

Expertly devised analyst overview along with Investment opportunities to provide both individuals and organizations a strong financial foothold in the market
Global Cocoa Fiber Market By Region, From 2021-2026 ( USD Billion )

Global Cocoa Fiber Market By Nature, From 2021-2026 ( USD Billion )

Global Organic Market By Region, From 2021-2026 ( USD Billion )

Global Conventional Market By Region, From 2021-2026 ( USD Billion )

Global Cocoa Fiber Market By Product Type, From 2021-2026 ( USD Billion )

Global Natural Market By Region, From 2021-2026 ( USD Billion )

Global Dutch Market By Region, From 2021-2026 ( USD Billion )

Global Cocoa Fiber Market By End-Use, From 2021-2026 ( USD Billion )

Global Pharmaceuticals Market By Region, From 2021-2026 ( USD Billion )

Global Food & Beverages Industry Market By Region, From 2021-2026 ( USD Billion )

Global Animal Feed Market By Region, From 2021-2026 ( USD Billion )

Global Nutraceuticals Market By Region, From 2021-2026 ( USD Billion )

Global Retail Market By Region, From 2021-2026 ( USD Billion )

Global Cosmetics & Personal Care Market By Region, From 2021-2026 ( USD Billion )

Global Foodservice Market By Region, From 2021-2026 ( USD Billion )

Global Cocoa Fiber Market By Sales Channel, From 2021-2026 ( USD Billion )

Global Indirect Sales/B2C Market By Region, From 2021-2026 ( USD Billion )

Global Direct Sales/B2B Market By Region, From 2021-2026 ( USD Billion )