Dietary Fibers Market Size, Growth, Forecast (2023-2028)
The global Dietary Fibers Market size was at US$ 5.3 billion in 2022 and is estimated that it will reach a valuation of US$ 9.6 billion by 2028 with an annual expansion of 12.5% between 2023 and 2028.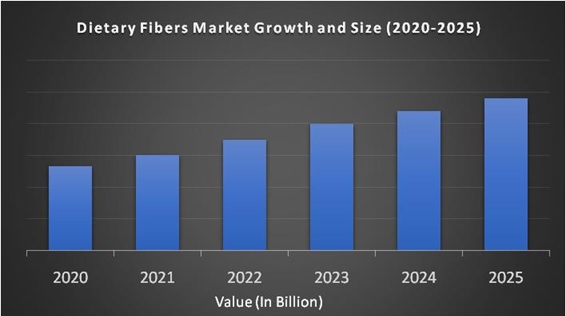 Product Description:
Fibers are inherently present or synthetically made that can be extracted from sources like plants, animals, etc. Recently, dietary fiber has found high demand because of high nutritional value. It is found in edible plant foods such as fruits, grains, vegetables, lentils, nuts, dried peas, and grains. Dietary fiber is a type of carbohydrate that body enzymes cannot digest. It is classified by physical properties and is called insoluble, soluble or resistant starch. The fibers are classified according to their physical properties and are called soluble, insoluble or resistant starch. Dietary fiber is a type of carbohydrate that cannot be digested by enzymes in our bodies. It is delivered to the large intestine, which is partially or fully fermented. Dietary fiber helps keep the intestines healthy. It also helps reduce the risk of diseases like coronary heart disease, diabetes, and rectal colon cancer. Dietary fiber has nutritional properties, ability to control effects on microorganisms, ability to regulate blood lipids, blood sugar levels, possible weight loss functions, antioxidant effects, and their application to products of flour like bread and china.
Recent Developments in Dietary Fibers Industry:
In June 2018, Tate & Lyle announced that the US FDA approved the "PROMITOR" and "STA-LITE" water-soluble fibers in accordance with the definition of dietary fiber ingredients. Tate & Lyle's complete fiber portfolio is considered acceptable under the FDA's new definition of dietary fiber designed to provide consumers and manufacturers of food products with a variety of health benefits and solutions.
In June 2018, the US FDA announced that it had approved the approval of "oat fiber" on its list of dietary fiber. This decision allows a variety of oat fiber manufacturers to sell their products as nutritional ingredients, thereby increasing product application.
Dietary Fibers Market Growth:
Increased consumer awareness of maintaining a healthy diet will be a key factor influencing the expansion of the global dietary fiber market.
REPORT COVERAGE:
| | |
| --- | --- |
| REPORT METRIC | DETAILS |
| Market Size Available | 2022 – 2028 |
| Base Year | 2022 |
| Forecast Period | 2023 - 2028 |
| CAGR | 12.5% |
| Segments Covered | By Type, Application, Source and Region |
| Various Analyses Covered | Global, Regional & Country Level Analysis, Segment-Level Analysis, DROC, PESTLE Analysis, Porter's Five Forces Analysis, Competitive Landscape, Analyst Overview on Investment Opportunities |
| Regions Covered | North America, Europe, APAC, Latin America, Middle East & Africa |
| Market Leaders Profiled | SAS Nexira, Lonza Group, Archer Daniels Midland Co, DuPont, Ingredion, Roquette Freres, KFSU Ltd, Cargill Inc, Tate & Lyle, Grain Processing Corporation, SunOpta, Grain Millers Inc and Others. |
Drivers:
As consumption of dietary fiber worldwide increases awareness of the health benefits, it is expected to remain the driving force behind market demand. In addition, the growth of the dietary fiber market was expected as consumer demand for fiber supplements increased due to health problems. The increase in public disposition towards a healthier lifestyle has played an important role in the growth of the market. The world market demand for dietary fiber is expanding with the development of the food and nutrition sector. Therefore, global demand within the dietary fiber market is expected to increase in the coming years. To raise awareness of the importance of eating a balanced diet, the efforts of nutritionists and doctors have been reflected in the growing demand for healthy foods. Pediatricians highly recommend foods rich in dietary fiber for children. Additionally, changes in an individual's lifestyle due to increased disposable income are expected to significantly affect the dietary fiber market. Due to hectic consumer lifestyles, obesity and diabetes have risen tremendously. This has raised awareness of healthy foods and supplements. This primarily leads the dietary fiber market. Also, the absence of quality fruits and vegetables, the introduction of functional foods in eating habits, has a positive impact on global demand.
The dietary fiber market has followed a growing growth chart, which is an important consideration for market expansion. Nutritious snacks are likely to develop in the coming years. Athletes and exercise enthusiasts have used many nutrient dense foods to create new opportunities for market growth. The demand for products based on dietary fiber has increased significantly as consumers realize the benefits of reducing diseases such as disability, hypertension, cardiovascular disease and obesity. Dietary nutrition is necessary due to increased gastrointestinal illness, lifestyle disorders, and personal care spending. In addition, consumer awareness that dietary products will better adapt to dietary requirements compared to dietary requirements, along with the benefits provided by these products, such as intestinal health and control of blood sugar and cholesterol levels, offers a favorable opportunity for the world market of dietary fiber something to do. As demand for weight control products increases worldwide, unexplored opportunities are expected to be created for market participants. However, the rising call for health supplements in emerging nations is promoting demand for dietary fibers in the outlook period.
Restraints:
On the contrary, high usage of dietary fiber can result in disorders like diarrhea, decreased mineral absorption and others, limiting the overall business expansion. Soon, growth will be further hampered by strict regulations imposed by the FDA, such as announcements about changes in the definition of dietary fiber, allowing products available on the market to be recalled for inspection and re-evaluation.
Impact of COVID 19 on the Dietary Fibers Market:
Demand for dietary fiber is expected to skyrocket as consumers choose immune-boosting supplements during the COVID-19 epidemic. In addition, reduced consumption of poultry, meat and seafood products worldwide is expected to increase demand for dietary fiber supplements in the near future.
Dietary Fibers Market Segmentation Analysis:
The dietary fiber market can be broken down by source, type, application and geography.
According to sources, dietary fiber can be obtained from fruits and vegetables, cereals and grains, and others. Cereals and grains are considered potential segments due to their high fiber content. Cereals and grains such as wheat, bran, oats, barley, rice, apples, pears, and beets are high fiber fruits and vegetables.
The dietary fiber type segments can be divided into soluble and insoluble dietary fibers. Soluble fibers such as pectin, inulin, beta-glucan, polydextrose are some of the widely used soluble fibers. Water soluble fiber is preferred for weight loss and cholesterol lowering, so it is recommended for obese, diabetic and hypertensive patients. This factor strengthens the market for water soluble dietary fiber. Lignin, cellulose, chitosan, hemicellulose, and chitin are particularly insoluble fibers.
Depending on the application, there are several supplements and functional food options available for dietary fiber. Dietary fiber is a carbohydrate polysaccharide that absorbs water and fermentation, as it is not fully digested by gastrointestinal enzymes when ingested, causing the growth of beneficial bacteria in the intestine. This is beneficial in increasing immunity and smoothing stools. Eating dietary fiber in the form of food or supplements had a positive effect on various gastrointestinal disorders, including appendicitis, constipation, duodenal ulcer, and colon cancer.
Geographical Segmentation Analysis:
North America - the United States and Canada

Europe - United Kingdom, Spain, Germany, Italy, and France

The Asia Pacific - India, Japan, China, Australia, Singapore, Malaysia, South Korea, New Zealand, and Southeast Asia

Latin America - Brazil, Argentina, Mexico, and Rest of LATAM

The Middle East and Africa - Africa and Middle East (Saudi Arabia, UAE, Lebanon, Jordan, Cyprus)
Regional Analysis:
Due to the high demand for dietary fiber for the end-user, such as dietary supplements, the food industry and pharmaceuticals, North America followed by Europe is leading the dietary fiber market. Also, the aging population in the United States is stimulating the North American market due to the high fiber consumption of the general population. The Asia-Pacific region is considered the most prominent market in the dietary fiber market and is likely to gain strength during the outlook period. In particular, the growing population of health-conscious populations in India and Japan is helping the Asia Pacific market to grow for dietary supplements. Latin America is expected to experience good growth in the coming years as the demand for dietary fiber increases due to the aging of the Brazilian population in the coming years. The Middle East and Africa area is expected to show sustainable growth due to better living standards and abundant resources.
Key Players in the Market:
Major Key Players in the Global Dietary Fibers Market are
SAS Nexira

Lonza Group

Archer Daniels Midland Co

DuPont

Ingredion

Roquette Freres

KFSU Ltd

Cargill Inc

Tate & Lyle

Grain Processing Corporation

SunOpta

Grain Millers Inc