Conductive Inks Market Size, Trends & Forecast (2021 - 2026)
The global Conductive Inks Market size is estimated to rise from USD 4.65 billion in 2021 to USD 5.86 billion by 2026, at a CAGR of 6.1% over the calculated period.
Conductive inks are considered as electrically conductive printable inks that can be used in printed electronics and show the features of furrowed resistance and flexibility. These majorly have metallic particle-like silver and copper to initiate the flow of electric current through the circuitry. Besides, nanoparticle-based conductive inks are the leading segment in the worldwide industry. These kinds of inks offer high conductive properties and nano dimension control of size, shape, and particle dispensation. Nanoparticle-based conductive inks can be personalized on the basis of the printing substrate and printing technology employed.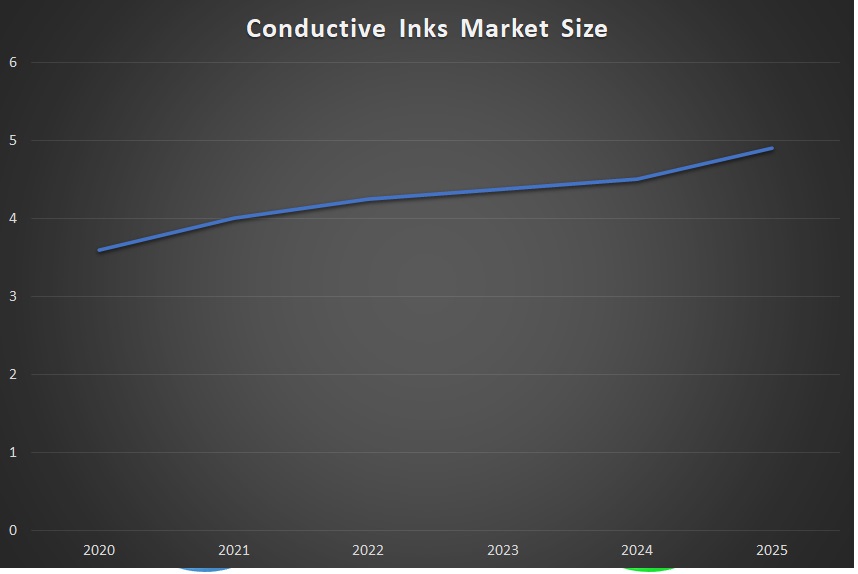 The conductive inks are cheaper than the conventional procedures but are still costly and less hard on unstable bases like printed paper and plastic sheets. It may pose a barrier to the expansion of the conductive inks industry size in the future. Technological developments in the healthcare and medical equipment making industry are leading to the enhancement of equipment functionality and accuracy of the devices. Customer goods is a major application industry of conductive inks, for instance, smart packaging that contributes highly to industry expansion.
Recent Developments
MagnaColors Introduced product range at impressions Expo 2020. Magna Colours declared it is introducing the latest product variety at Impressions Expo 2020 that takes place at the Long Beach Convention Center in Long Beach, CA.Sun Chemical launched a solder mask for direct imaging at productronica during 2017.

At Productronica 2017 in Munich, Germany, during the event from 14 November to 17 November, Sun Chemical Electronic Materials (Hall B3, Stand 481) showcased the new technical developments in its Imagecure solder mask range for Direct Imaging (DI) with the introduction of its IMC5000 Series.
Conductive Inks Market Drivers and Restraints
Several broad range electronic products like medical equipment, electronic appliances, solar designs, and others, are based on the printed circuit board technology that is estimated to drive the expansion of the global conductive inks market. The fast expansion in the consumption of flexible and touchscreen-based electronic equipment is estimated to fuel the expansion of the worldwide conductive inks industry. The escalating awareness relating to the employment of renewable resources in the residential and industrial segments and the fast expansion in consumption of solar-based panels and other equipment is estimated to be a major driver for the expansion of conductive inks business. Medical equipment accounts for a notable share in the consumption of conductive inks. There is an uprise of technological development in the healthcare industry and the medical equipment makers are continuously focusing on enhancing functionality and accuracy of the equipment.
Increasing the application of conductive inks in the healthcare sector, for example, medical sensors and others are deemed to accelerate the call for these conductive inks. Product innovation through research and development is one of the key approaches adopted by major players working in the conductive inks industry to boost their foothold worldwide. The introduction of novel products like gold, aluminum, and nickel-based conductive inks is estimated to boost the industry expansion further. The fast advancement in the use of versatile and contact screen-based electronic gadgets is estimated to assist the advancement of the global conductive inks industry. The growing mindfulness with respect to the employment of feasible resources and the brief advancement in the use of sun-based sheets and different devices is estimated to be a major driver for the developments in conductive inks business. Increasing worries relating to the high carbon dioxide releases have threatened the government agencies to shift towards low carbon substitutes. This, in turn, has led to escalated investment opportunities for solar photovoltaic systems, which is estimated to boost the overall product call over the foreseen period.
REPORT COVERAGE
| | |
| --- | --- |
| REPORT METRIC | DETAILS |
| Market Size Available | 2020 – 2025 |
| Base Year | 2020 |
| Forecast Period | 2021 - 2026 |
| CAGR | 6.1% |
| Segments Covered | By Application, Type, and Region |
| Various Analyses Covered | Global, Regional & Country Level Analysis, Segment-Level Analysis, DROC, PESTLE Analysis, Porter's Five Forces Analysis, Competitive Landscape, Analyst Overview on Investment Opportunities |
| Regions Covered | North America, Europe, APAC, Latin America, Middle East & Africa |
| Market Leaders Profiled | DowDuPont (US), Henkel AG & Co. KGaA (Germany), Heraeus Holding GmbH (Germany), Johnson Matthey (UK), Poly-Ink (France), Sun Chemical Corporation (US), NovaCentrix (US), Creative Materials Inc. (US), Applied Ink Solutions (US), and Vorbeck Materials (US) |

Conductive Inks Market Segmentation as per the latest survey with evaluated size and forecast until 2026.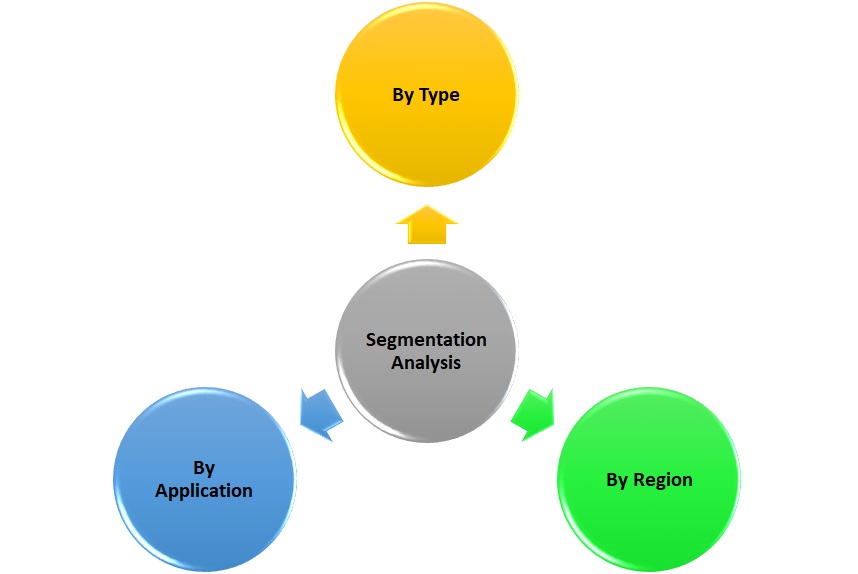 Conductive Inks Market - By Product
Carbon Conductive Inks

Silver Conductive Inks

Silver Chloride Inks

Silver Nano Inks

Others
Silver inks are employed in printing Radio-Frequency Identification (RFID) tags that are employed in modern transit tickets. These are also majorly being used in repairing printed circuit boards.
Conductive Inks Market - By Application
Sensors

Touch Screen

Rfid

PCBs (Printed Circuit Board)

Solar Panels

Others
RFID technology is highly employed in a broad range of equipment like passports, smart cards, credit cards, and others. It provides excellent adhesion, flexibility, and compatibility needs that make it suitable for a broad variety of applications.
Conductive Inks Market – By Region
Western Europe accounts for a major share in the conductive inks market that is credited to the increase in consumption of solar-based equipment and flexible electronic equipment. North America also has a key share in the worldwide industry as it leads the medical equipment industry on the basis of value. Asia Pacific is estimated to witness a high CAGR on the basis of value and volume over the foreseen period. The enhanced lifestyle of customers has led to increasing calls for customer electronic appliances and mobiles, mainly in China, the ASEAN region, and India. Japan has a high share in conductive inks business that is credited to the mature electronics industry in the country. China dominates the worldwide conductive inks market size owing to high expansion in the photovoltaic and customer electronics sector in the country. For example, China accounts around 30% of worldwide automotive production and hence holds a major call share in the overall conductive inks industry. In addition to that, fast industrialization in the Asia Pacific together with enhanced customer spending power has positively included electronic product sales in the nations of India, Indonesia, and other APAC countries, this trend shall fuel regional conductive inks industry size by 2025.
Some of the major players operating in the worldwide industry are
DowDuPont (US),

Henkel AG & Co. KGaA (Germany),

Heraeus Holding GmbH (Germany),

Johnson Matthey (UK),

Poly-Ink (France),

Sun Chemical Corporation (US),

NovaCentrix (US),

Creative Materials Inc. (US),

Applied Ink Solutions (US),

Vorbeck Materials (US)
1. Introduction
1.1 Market Definition
1.2 Study Deliverables
1.3 Base Currency, Base Year and Forecast Periods
1.4 General Study Assumptions
2. Research Methodology
2.1 Introduction
2.2 Research Phases
2.2.1 Secondary Research
2.2.2 Primary Research
2.2.3 Econometric Modelling
2.2.4 Expert Validation
2.3 Analysis Design
2.4 Study Timeline
3. Overview
3.1 Executive Summary
3.2 Key Inferences
3.3 Epidemology
4. Drivers, Restraints, Opportunities, and Challenges Analysis (DROC)
4.1 Market Drivers
4.2 Market Restraints
4.3 Key Challenges
4.4 Current Opportunities in the Market
5. Market Segmentation
5.1 Application
5.1.1 Introduction
5.1.2 Photovoltaic
5.1.3 Membrane Switches
5.1.4 Displays
5.1.5 Automotive
5.1.6 Y-o-Y Growth Analysis, By Application
5.1.7 Market Attractiveness Analysis, By Application
5.1.8 Market Share Analysis, By Application
5.2 Type
5.2.1 Introduction
5.2.2 Silver Flake
5.2.3 Dielectric
5.2.4 Silver Nanoparticle
5.2.5 Copper Flake
5.2.6 Carbon Nanoparticle
5.2.7 Carbon/Graphene
5.2.8 Y-o-Y Growth Analysis, By Type
5.2.9 Market Attractiveness Analysis, By Type
5.2.10 Market Share Analysis, By Type
6. Geographical Analysis
6.1 Introduction
6.1.1 Regional Trends
6.1.2 Impact Analysis
6.1.3 Y-o-Y Growth Analysis
6.1.3.1 By Geographical Area
6.1.3.2 By Application
6.1.3.3 By Type
6.1.4 Market Attractiveness Analysis
6.1.4.1 By Geographical Area
6.1.4.2 By Application
6.1.4.3 By Type
6.1.5 Market Share Analysis
6.1.5.1 By Geographical Area
6.1.5.2 By Application
6.1.5.3 By Type
6.2 North America
6.1.1 Introduction
6.1.2 United States
6.1.3 Canada
6.3 Europe
6.2.1 Introduction
6.2.2 U.K
6.2.3 Spain
6.2.4 Germany
6.2.5 Italy
6.2.6 France
6.4 Asia-Pacific
6.3.1 Introduction
6.3.2 China
6.3.3 India
6.3.4 Japan
6.3.5 Australia
6.3.6 South Korea
6.5 Latin America
6.4.1 Introduction
6.4.2 Brazil
6.4.3 Argentina
6.4.4 Mexico
6.4.5 Rest of Latin America
6.6 Middle East & Africa
6.5.1 Introduction
6.5.2 Middle-East
6.5.3 Africa
7. Strategic Analysis
7.1 PESTLE analysis
7.1.1 Political
7.1.2 Economic
7.1.3 Social
7.1.4 Technological
7.1.5 Legal
7.1.6 Environmental
7.2 Porter's Five analysis
7.2.1 Bargaining Power of Suppliers
7.2.2 Bargaining Power of Consumers
7.2.3 Threat of New Entrants
7.2.4 Threat of Substitute Products and Services
7.2.5 Competitive Rivalry within the Industry
8. Market Leaders' Analysis
8.1 Novacentrix
8.1.1 Overview
8.1.2 Product Analysis
8.1.3 Financial analysis
8.1.4 Recent Developments
8.1.5 SWOT analysis
8.1.6 Analyst View
8.2 AG & Co
8.3 Dupont
8.4 Matthey Johnson
8.5 Sun Chemical Corporation
8.6 Parker Chromerics
8.7 Poly-ink
8.8 Creative Material Inc
8.9 Chemchem Associates
8.10 Vorbeck Materials Corporation
9. Competitive Landscape
9.1 Market share analysis
9.2 Merger and Acquisition Analysis
9.3 Agreements, collaborations and Joint Ventures
9.4 New Product Launches
10. Market Outlook and Investment Opportunities
Appendix
a) List of Tables
b) List of Figures
Global, Regional and country-level analysis and forecasts of the study market; providing Insights on the major countries/regions in which this industry is blooming and to also identify the regions that are still untapped

The segment-level analysis in terms of my application, by type, along with market size forecasts and estimations to detect key areas of industry growth in detail

Identification of key drivers, restraints, opportunities, and challenges (DROC) in the market and their impact on shifting market dynamics

Study of the effect of exogenous and endogenous factors that affect the global market; which includes broadly demographic, economics, and political, among other macro-environmental factors presented in an extensive PESTLE Analysis

Study the micro environment factors that determine the overall profitability of an Industry, using Porter's five forces analysis for analysing the level of competition and business strategy development

A comprehensive list of key market players along with their product portfolio, current strategic interests, key financial information, legal issues, SWOT analysis and analyst overview to study and sustain the market environment

Competitive landscape analysis listing out the mergers, acquisitions, collaborations in the field along with new product launches, comparative financial studies and recent developments in the market by the major companies

An executive summary, abridging the entire report in such a way that decision-making personnel can rapidly become acquainted with background information, concise analysis and main conclusions

Expertly devised analyst overview along with Investment opportunities to provide both individuals and organizations a strong financial foothold in the market
Global Conductive Inks Market By Region, From 2021-2026( USD Million )

Global Conductive Inks Market By Application, From 2021-2026( USD Million )

Global Photovoltaic Market By Region, From 2021-2026( USD Million )

Global Membrane Switches Market By Region, From 2021-2026( USD Million )

Global Displays Market By Region, From 2021-2026( USD Million )

Global Automotive Market By Region, From 2021-2026( USD Million )

Global Conducive Inks Market By Type, From 2021-2026( USD Million )

Global Silver Flake Market By Region, From 2021-2026( USD Million )

Global Dielectric Market By Region, From 2021-2026( USD Million )

Global Silver Nanoparticle Market By Region, From 2021-2026( USD Million )

Global Copper Flake Market By Region, From 2021-2026( USD Million )

Global Carbon Nanoparticle Market By Region, From 2021-2026( USD Million )

Global Carbon/Graphene Market By Region, From 2021-2026( USD Million )