Cultured Meat Market Size, Growth, Forecast (2023-2028)
The global Cultured Meat Market size was estimated to be USD 206 million in 2022, and it is foreseen to reach a valuation of USD 572 million by 2028 at a CAGR of about 15% over the projection period. The growth of this market is driven by new companies that enter the market as the number of investors increases.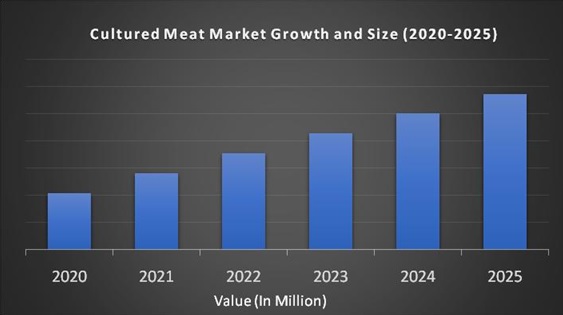 Market Overview:
The cultured meat is produced in animal cells with advanced technology, without sacrificing animals. Fermentation is a type of meat produced from natural cells in vitro. Fermentation occurs by taking some cells from an animal and growing them in a nutrient-rich medium. These cells have the ability to proliferate to the extent that each cell can be used to manufacture large quantities of meat for the world population in one year. As food manufacturers increasingly move closer to meat replacement products, cultured meat is a major trend in the food and beverage industry. To manufacture this meat in large quantities, several stages must be considered. Aquaculture meat is the preferred solution to increase the demand for meat worldwide. This meat product also provides a favorable level of saturated fat and reduces environmental impact.
Recent Developments in Cultured Meat Industry:
Cargill's food ingredients have invested in Aleph Farms of VisVires New Protein and have agreed with other investors to prototype and grow meat directly from meat cells using a 3D tissue engineering platform.

In 2018, Japanese meat producer Toriyama Chikusan Shokuhin and San Francisco-based Just teamed up with aquaculture meat. The goal is to develop laboratory-grown wagyu products that are Japanese beef cattle.

In September 2019, the Food Technology Research Institute, Ochakov Food Ingredients Plant, announced the production of cell-based meatloaf. This is the first farmed meat product made by a Russian company and is expected to hit the market in 2023.

In 2019, five aquaculture and cell culture companies such as BlueNalu, Finless Foods, Fork & Goode, JUST and Memphis Meats announced their alliance under the name Meat, Poultry and Seafood Innovation (AMPS Innovation).
REPORT COVERAGE:
| | |
| --- | --- |
| REPORT METRIC | DETAILS |
| Market Size Available | 2022 – 2028 |
| Base Year | 2022 |
| Forecast Period | 2023 - 2028 |
| CAGR | 15% |
| Segments Covered | By Source, End-Use and Region |
| Various Analyses Covered | Global, Regional & Country Level Analysis, Segment-Level Analysis, DROC, PESTLE Analysis, Porter's Five Forces Analysis, Competitive Landscape, Analyst Overview on Investment Opportunities |
| Regions Covered | North America, Europe, APAC, Latin America, Middle East & Africa |
| Market Leaders Profiled | Appleton Meats (Canada), Higher Steaks (UK), Biofood Systems LTD (Israel), Fork & Goode (US), Finless Foods Inc. (US), Avant Meats Company Limited (China), Balletic Foods (US), Future Meat Technologies Ltd (Israel), Meatable (Netherlands), Mission Barns (US), Bluenalu, Inc. (US), New Age Meats (US), Aleph Farms Ltd (Israel) and Others. |
Cultured Meat Market Growth:
The factors that are expected to lead the worldwide culture meat industry are a growing trend towards innovation in cell culture and animal welfare and environmental sustainability.
Drivers:
The global cultured meat market is determined by the consumer's greater preference for consuming alternatives for animal products. The growing concern about animal abuse for meat production has had a significant impact on the way consumers think about meat intake. As consumer awareness of environmental sustainability increases due to rise in demand for meat, it will become a key factor in stimulating the growth of the global cultured meat market in the future. The trend of investment in various industries due to the development of technological culture is expected to be another driving force to promote the growth of this market in the near future. The first lab-grown hamburgers are expensive, but soon the researchers developed cheap artificial meat and they tasted good. It is likely that they will generate growth in this market in the coming years. Cultured meat is considered a solution to the problem of industrial farming. This form of meat can eradicate many environmental problems and improve animal welfare. This is a key factor driving the market during the 2019-2024 forecast period as consumer preferences turn to environmentally friendly products that promise animal welfare. Increased meat consumption and demand for nutritional meat are assumed to support market growth over the outlook period. Synthetic poultry is a major driver of market growth and it has the most convenient in vitro production mechanism compared to other sources. This is credited to the simplified cell structure that is easier for replication in unnatural media. The original texture of cultured meat can be challenging for the market. This factor is important in determining consumer acceptance of aquaculture meat.
Political relations are also deemed to influence this level of acceptance. The social and environmental sentiment is touted to become a powerful factor in increasing consumer acceptance as synthetic meat products are introduced to the market. The growing trend in protein consumption is likely to offer multiple meat processors and food company's multiple opportunities to invest in alternative meat proteins such as farmed meat to meet consumer needs. However, meeting the daily protein needs and flavor of meat products is also an important factor in the use of substitutes for animal meat. This creates a favorable opportunity for the cultured meat market. To manage the development of cultured meat production technology and increase production, manufacturers are strategically working with other industries. This is deemed to offer lucrative opportunities for the following years. Advanced regions such as Europe and North America are experiencing increased consumption of meat analogues, which is also one of the driving forces in the region's cultured meat market.
Restraints:
The global cultured meat market is not yet produced on a large scale and is mainly available in specialty stores and restaurants. This will be one of the main challenges for manufacturers to focus in the growth of the global market in the near future. High investment costs are also termed as the most considerable challenge to limit the development of the cultured meat market size. There are many strict regulations on cultured production in all countries. Cultured meat is a very new concept and most people don't know it. Furthermore, consumers perceive that meat slaughtered is healthier than meat grown in the laboratory. This is also the main reason why consumers fear trying cultured meat instead of slaughter or traditional meat available on the market.
Cultured Meat Market Segmentation Analysis:
By Source:
Poultry

Beef

Seafood

Pork

Duck
By End-Use:
Nuggets

Burger

Meatballs

Sausages

Hot Dogs
Geographical Segmentation Analysis:
North America - the United States and Canada

Europe - United Kingdom, Spain, Germany, Italy, and France

The Asia Pacific - India, Japan, China, Australia, Singapore, Malaysia, South Korea, New Zealand, and Southeast Asia

Latin America - Brazil, Argentina, Mexico, and Rest of LATAM

The Middle East and Africa - Africa and Middle East (Saudi Arabia, UAE, Lebanon, Jordan, Cyprus)
Regional Analysis:
North America is expected to lead the industry in 2021, taking into account the largest market share for cultured meat. Innovation and development are supposed to increase and augmented spending on efficient R&D will be the most critical factor. Health concerns about consuming meat products increased investor interest in alternative proteins, and the potential to provide the nutrients necessary for custom proteins are key factors in moving consumers from traditional meat to cultured meat products. In the United States and Canada, the metropolitan area is expected to drive growth due to a large amount of flexibility, along with the openness and acceptance of meat substitutes and other alternative proteins. As the demand for alternative proteins in the region increases, it supports increased investment in aquaculture meat companies. Europe is foreseen to grow significantly at a compound annual rate of 4.6% during the prediction period. This is related to greater investment in the market. With increased animal welfare, antibiotic resistance, and environmental awareness, many new companies are entering the industry. Demand will increase as regulatory support in the region increases.
Key Players in the Market:
Major Key Players in the Global Cultured Meat market are
Appleton Meats (Canada)

Higher Steaks (UK)

Biofood Systems LTD (Israel)

Fork & Goode (US)

Finless Foods Inc. (US)

Avant Meats Company Limited (China)

Balletic Foods (US)

Future Meat Technologies Ltd (Israel)

Meatable (Netherlands)

Mission Barns (US)

Bluenalu, Inc. (US)

New Age Meats (US)

Aleph Farms Ltd (Israel)