Europe Snack Products Market Size, Share, and Trends:
Europe Snack Products Market Size was worth USD 180 billion in 2021 and estimated to be growing at a CAGR of 6%, to reach USD 220 billion by 2026. Snacks are foods that are smaller than regular meals and are generally eaten in between meals.
Snacks are prepared in a variety of forms including packaged snack products and other processed products as well as items made from fresh ingredients made at home. Traditionally, snacks are made from the ingredients available at home. With the spread of convenience stores, packaged snack foods became a significant business. Snack foods are typically designed to be portable, quick, and satisfying.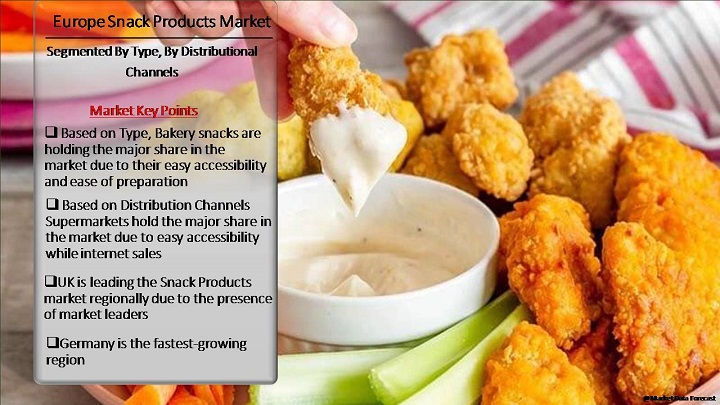 Europe Snack Products Market Growth:
Factors attributable to the growth of the Europe Snack Products are evolving lifestyles and changing dietary habits, increasing demand for convenient and portable food products, increasing urbanization spurring the market growth. However, factors like string regulations and increased risk of obesity due to snack consumption are hindering the growth of the European Snack Products market.
Europe Snack Products Market Segmentation Analysis:
Based on Type:
Salted Snacks

Bakery Snacks

Confectionary

Speciality

Frozen Snacks
Based on Type Bakery snacks are holding the major share in the market due to their easy accessibility and ease of preparation as well as lower prices while salted snacks are expected to grow the fastest.
Based on Distribution Channel:
Specialist Retailers

Internet Sales

Super Markets

Convenience Stores

Others
Based on Distribution Channels Supermarkets hold the major share in the market due to easy accessibility while internet sales are expected to grow the fastest due to increasing popularity for online purchases and bulk orders.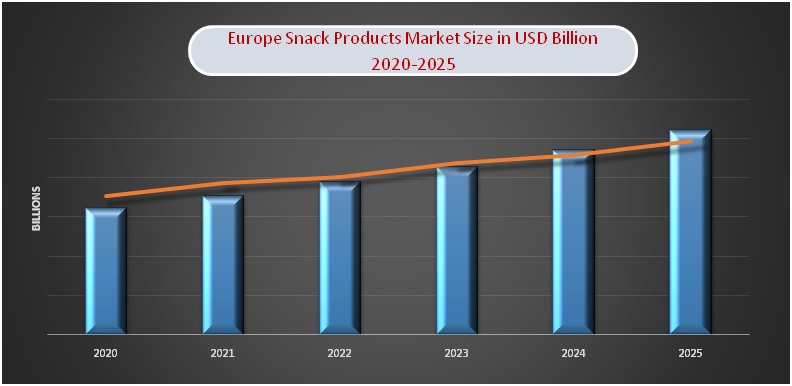 Geographical Segmentation of the Europe Snack Products Market:
Based on Geographical analysis the market is separated into regions of the United Kingdom, Germany, France, Italy, and Spain.
The United Kingdom is leading the Snack Products market regionally due to the presence of market leaders and the huge demographic base of snack consuming individuals as well as the developed food industry. Germany is the fastest-growing region owing to rising disposable income, modernizing lifestyle and rapid adoption rate.
Leading Major Companies Covered in this market report are:
Kellogg's Company

Nestle Inc

ConAgra Foods Inc

Calbee, Inc

Frito Lay's

Cadbury Schweppes PLC

Ferrero Group

Hershey Foods

Meridian Foods

Wolfgang

PepsiCo

SK Food International

Bare Snacks

Lindt and Sprüngli and Mars