Financial Analytics Market Size and Growth (2020 - 2025)
The global financial analytics market size is expected to grow from USD 6.96 billion in 2019 to USD 12.85 billion by 2025, growing at a Compound Annual Growth Rate (CAGR) of 11.4% during the forecast period of 2020-2025.
Financial Analytics Market Drivers & Restraints:
In an economic environment characterized by volatility, uncertainty, and high risk, financial planning, management, and forecasting solution provides the speed, agility, and foresight that clients need to be competitive. By using them, customers can synthesize information, discover trends, and provide information to improve decision-making across the enterprise. Besides, the increasing emphasis on end-user data-driven financial decisions and the emergence of big data requires solutions that can handle large amounts of data and provide valuable information that is driving the demand for these solutions.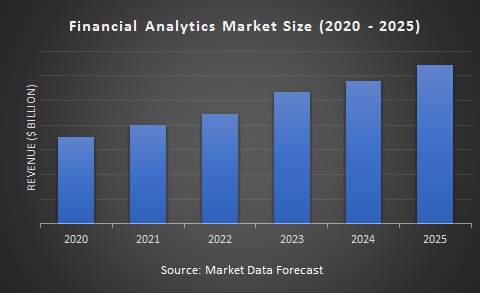 Market Trends
January 2018 - BT has announced a partnership with IBM Corporation. With Cloud Connect Direct for IBM, BT customers will receive an IBM cloud connection to access services such as computing, networking and storage infrastructures, artificial intelligence, blockchain, IoT, data capabilities, and analysis.
December 2017 - To boost cloud computing, Microsoft launched Azure Stack in India in December 2017. It offers all three forms of cloud (private, public, and hybrid) to its customers. Microsoft is focused on nurturing innovation and accelerating the country's digital transformation with Azure Stack, which makes cloud computing more agile to on-premise environments.
February 2019 - Oracle Financial Services Global Business Unit collaborated with Blue Prism, robotic process automation (RPA) software vendor, to integrate the Financial Crime Management and Compliance Suite Services to Digital Workforce from Blue Prism.
January 2019 - SAP announced the release of its new S / 4 Hana Large Ledger for Financial Products. The solution provides a central hub for managing data between operational and financial systems, streamlining accounting flows, and supporting increased transparency and control. It also helps organizations analyze data for financial steering.
REPORT COVERAGE:
| | |
| --- | --- |
| REPORT METRIC | DETAILS |
| Market Size Available | 2019 – 2025 |
| Base Year | 2019 |
| Forecast Period | 2020 - 2025 |
| Fastest Growing Market | Asia Pacific |
| Largest Market | North America |
| CAGR | 11.4% |
| Segments Covered | Solution, Application, Industry Vertical, and Region |
| Various Analyses Covered | Global, Regional & Country Level Analysis, Segment-Level Analysis, DROC, PESTLE Analysis, Porter's Five Forces Analysis, Competitive Landscape, Analyst Overview on Investment Opportunities |
| Regions Covered | North America, Europe, APAC, Latin America, Middle East & Africa |
| Market Leaders Profiled | Oracle (US), IBM (US), Teradata (US), TIBCO Software (US), SAP (Germany), SAS Institute (US), Alteryx (US), Qlik (US), FICO (US), GoodData (US), Birst (US), Google (US), Information Builders (US), Zoho Corporation (US), Domo (US) |
The global financial analytics market is segmented and sub-segmented as follows:
Financial Analytics Market - By Solution
Financial Functions Analytics

Financial Market Analytics
Financial Analytics Market - By Application
Wealth Management

Transaction Monitoring

Customer Management
Financial Analytics Market - By Deployment
Financial Analytics Market - By Organisation
Financial Analytics Market - By Vertical
Education

Healthcare

Media

Government etc.
Financial Analytics Market - By Region
North America

Europe

Asia Pacific

Latin America

Middle East & Africa
North America is said to be the dominant region of the overall market, whereas Asia Pacific is recorded as the fastest-growing region during the forecast period.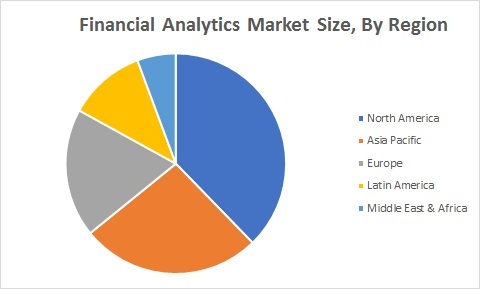 Key Market Players:
Some of the key market players actively working in this domain are:
Oracle (US)

IBM (US)

Teradata (US)

TIBCO Software (US)

SAP (Germany)

SAS Institute (US)

Alteryx (US)

Qlik (US)

FICO (US)

GoodData (US)

Birst (US)

Google (US)

Information Builders (US)

Zoho Corporation (US)

Domo (US)
1. Introduction
1.1 Market Definition
1.2 Scope of the report
1.3 Study Assumptions
1.4 Base Currency, Base Year and Forecast Periods
2. Research Methodology
2.1 Analysis Design
2.2 Research Phases
2.2.1 Secondary Research
2.2.2 Primary Research
2.2.3 Data Modelling
2.2.4 Expert Validation
2.3 Study Timeline
3. Report Overview
3.1 Executive Summary
3.2 Key Inferencees
4. Market Dynamics
4.1 Impact Analysis
4.1.1 Drivers
4.1.2 Restaints
4.1.3 Opportunities
4.2 Regulatory Environment
4.3 Technology Timeline & Recent Trends
5. Competitor Benchmarking Analysis
5.1 Key Player Benchmarking
5.1.1 Market share analysis
5.1.2 Products/Service
5.1.3 Regional Presence
5.2 Mergers & Acquistion Landscape
5.3 Joint Ventures & Collaborations
6. Market Segmentation
6.1 Financial Analytics Market, By Solution
6.1.1 Financial Functions Analytics
6.1.2 Financial Market Analytics
6.1.3 Market Size Estimations & Forecasts (2019-2025)
6.1.4 Y-o-Y Growth Rate Analysis
6.1.5 Market Attractiveness Index
6.2 Financial Analytics Market, By Application
6.2.1 Wealth Management
6.2.2 Transaction Monitoring
6.2.3 Customer Management
6.2.4 Market Size Estimations & Forecasts (2019-2025)
6.2.5 Y-o-Y Growth Rate Analysis
6.2.6 Market Attractiveness Index
6.3 Financial Analytics Market, By Deployment
6.3.1 Cloud-based
6.3.2 On-Premises
6.3.3 Market Size Estimations & Forecasts (2019-2025)
6.3.4 Y-o-Y Growth Rate Analysis
6.3.5 Market Attractiveness Index
6.4 Financial Analytics Market, By Organization
6.4.1 SMEs
6.4.2 Large Enterprises
6.4.3 Market Size Estimations & Forecasts (2019-2025)
6.4.4 Y-o-Y Growth Rate Analysis
6.4.5 Market Attractiveness Index
6.5 Financial Analytics Market, By Vertical
6.5.1 Education
6.5.2 Healthcare
6.5.3 Media
6.5.4 Government
6.5.5 Market Size Estimations & Forecasts (2019-2025)
6.5.6 Y-o-Y Growth Rate Analysis
6.5.7 Market Attractiveness Index
7. Geographical Landscape
7.1 Global Identity Governance and Administration Market, by Region
7.2 North America - Market Analysis (2019 - 2025)
7.2.1 By Country
7.2.1.1 USA
7.2.1.2 Canada
7.2.2 By Solution
7.2.3 By Application
7.2.4 By Deployment
7.2.5 By Organization
7.2.6 By Vertical
7.3 Europe
7.3.1 By Country
7.3.1.1 UK
7.3.1.2 France
7.3.1.3 Germany
7.3.1.4 Spain
7.3.1.5 Italy
7.3.1.6 Rest of Europe
7.3.2 By Solution
7.3.3 By Application
7.3.4 By Deployment
7.3.5 By Organization
7.3.6 By Vertical
7.4 Asia Pacific
7.4.1 By Country
7.4.1.1 China
7.4.1.2 India
7.4.1.3 Japan
7.4.1.4 South Korea
7.4.1.5 South East Asia
7.4.1.6 Australia & NZ
7.4.1.7 Rest of Asia-Pacific
7.4.2 By Solution
7.4.3 By Application
7.4.4 By Deployment
7.4.5 By Organization
7.4.6 By Vertical
7.5 Latin America
7.5.1 By Country
7.5.1.1 Brazil
7.5.1.2 Argentina
7.5.1.3 Mexico
7.5.1.4 Rest of Latin America
7.5.2 By Solution
7.5.3 By Application
7.5.4 By Deployment
7.5.5 By Organization
7.5.6 By Vertical
7.6 Middle East and Africa
7.6.1 By Country
7.6.1.1 Middle East
7.6.1.2 Africa
7.6.2 By Solution
7.6.3 By Application
7.6.4 By Deployment
7.6.5 By Organization
7.6.6 By Vertical
8. Key Player Analysis
8.1 Oracle
8.1.1 Business Description
8.1.2 Products/Service
8.1.3 Financials
8.1.4 SWOT Analysis
8.1.5 Recent Developments
8.1.6 Analyst Overview
8.2 IBM
8.3 Teradata
8.4 TIBCO Software
8.5 SAP
8.6 SAS Institute
8.7 Alteryx
8.8 Qlik
8.9 FICO
8.10 GoodData
9. Market Outlook & Investment Opportunities
Appendix
List of Tables
List of Figures