Fish Processing Market Size, Growth, Forecast (2023-2028)
The global Fish Processing Market size was calculated to be USD 195.35 billion in 2022, and it is estimated to progress and get a valuation of USD 244.69 billion by 2028 at a CAGR of 3.8% during the evaluation timeframe.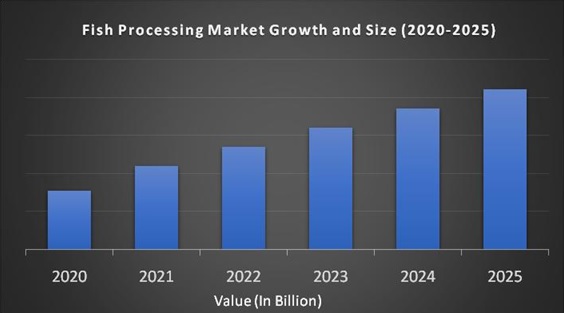 Market Overview:
Fish processing is widely used for conservation and helps keep fish fresh for a long time with minimal loss of taste, flavor, aroma and nutritional value. Practices related to fish and fishery products are called fish processing. The process begins with the capture of fish and continues until the final product reaches the consumer. It includes all the aquatic organisms that are processed. Fish is a highly perishable food, so proper preservation is needed to extend shelf life and maintain nutritional quality. Some dried fish, such as shrimp, dried fish, octopus, dried oysters, etc., are becoming popular with many people. In addition, the well-known fish processing used to preserve fish includes hardening, salting, drying, and smoking.
Recent Developments in Fish Processing Industry:
CEER Processing Ltd. initially expanded its operations in the UAE and Hong Kong due to limited operations within Europe. The company handles a variety of fish called Nile Perch, locally known as Mbuta.
Fish Processing Market Growth:
The increase in disposable income increases the purchasing power of the consumer. In addition, increasing urbanization, population awareness and health improve the growth of the fish processing equipment market.
REPORT COVERAGE:
| | |
| --- | --- |
| REPORT METRIC | DETAILS |
| Market Size Available | 2022 – 2028 |
| Base Year | 2022 |
| Forecast Period | 2023 - 2028 |
| CAGR | 3.8% |
| Segments Covered | By Fish Processing category, Application, Source, Species, Equipment and Region |
| Various Analyses Covered | Global, Regional & Country Level Analysis, Segment-Level Analysis, DROC, PESTLE Analysis, Porter's Five Forces Analysis, Competitive Landscape, Analyst Overview on Investment Opportunities |
| Regions Covered | North America, Europe, APAC, Latin America, Middle East & Africa |
| Market Leaders Profiled | Charoen Pokphand Foods PCL, Maruha Nichiro Corporation, Pescanova S.A., Royal Greenland A/S, Norway Pelagic ASA and Others. |
Drivers:
The main market drivers for this industry are the high nutritional value of fish, the growth of the aquaculture industry, and increased public health awareness. This market is primarily driven by the health benefits and high nutritional value of fish and fishery products. Growing health problems and the aquaculture industry are contributing to the growth of the non-food processing application market worldwide. The introduction of modern technology and the dynamics of fishing vessels are expected to strengthen the global market in the near future. Likewise, government initiative for supporting fishing exercises and innovative advances additionally energizes the worldwide fish handling market. Increasing awareness of seafood-related health benefits and nutritional value has led to an increase in seafood consumption worldwide, which is an important factor expected to drive market growth over the prognosis period. Various government initiatives to support the aquaculture industry are another factor driving the market growth. Also, the growing demand for fish oil in various industries and industries is another factor that is expected to drive the growth of the worldwide fish processing market during the forecast period. The global demand for seafood is experiencing tremendous growth. This allows producers to expand the scale of production through efficient equipment. The rise of health-conscious consumers, primarily in North America and Europe, is expected to increase demand for fish processing equipment.
In addition, the preference for safe, fresh, and nutritious foods manufactured without the use of chemical preservatives is expected to affect the entire market. Market growth is expected to accelerate in the near future as demand for fish and other fishery products increases as an investment in automation technology increases in the food processing sector. Also, increased automation coupled with the easy availability of processing equipment is an important factor responsible for the expansion of the fish processing equipment market. Emerging markets in India, China and Brazil offer numerous growth opportunities to expand the global fish processing market. Growing markets in some emerging countries are expected to be an element of support for seafood producers in the coming years. Due to the increased demand for shellfish, producers can increase production with efficient manufacturing processes to maintain production costs. This is also expected to lead to technological advances in fish processing equipment, which is supposed to create lucrative opportunities in the coming years. Aquatic product processing companies also have access to the aquatic product processing industry, allowing them to manage end product, quality and hygiene. The increased fish feed has become a major growth driver for the global fish processing market.
Restraints:
Rising raw material prices and stringent environmental regulations protecting fish species are expected to impede the market growth. Several countries still have very little knowledge about technological development and progress in the food processing industry due to the unavailability of information. Also, most fish processing equipment requires a large capital investment, which is very expensive for small and medium consumers. Increased consumption of processed fish of a particular species is decreasing its existence, increasing its market price, resulting in decreased market growth.
Fish Processing Market Segmentation Analysis:
By Fish Processing Category:
By Application:
By Source:
By Species:
Fish

Crustaceans

Mollusks

Others
By Equipment:
Slaughtering

Gutting

Scaling

Filleting

Deboning

Skinning

Smoking

Others
Geographical Segmentation Analysis:
North America - the United States and Canada

Europe - United Kingdom, Spain, Germany, Italy, and France

The Asia Pacific - India, Japan, China, Australia, Singapore, Malaysia, South Korea, New Zealand, and Southeast Asia

Latin America - Brazil, Argentina, Mexico, and Rest of LATAM

The Middle East and Africa - Africa and Middle East (Saudi Arabia, UAE, Lebanon, Jordan, Cyprus)
Regional Analysis:
Geologically, the worldwide fish processing business sector can be segmented into North America, Europe, Asia Pacific, Latin America and the Middle East and Africa. North America, trailed by Asia Pacific and Europe has the highest consumption of processed fish. The United States is the leading nation in the intake of tuna and salmon. Asia Pacific has huge fish processing facilities, with China being the market leader. Other Asian countries such as Japan, Malaysia, and South Korea rely mainly on fish processing. The Asia Pacific market commands the worldwide fish processing market as far as income commitment contrasted with that of different districts. The Asia Pacific market is projected to post comparatively faster growth in terms of revenue over the next 10 years. Changes in people's living standards, along with increased demand for seafood in the countries of the region, are primary factors projected to drive market growth in the region during the forecast period. Europe is also a prominent region in the worldwide fish processing market. It is accompanied by abundant facilities such as boats, advanced machinery and others that are expected to drive the global fish processing market in the future. In European countries, methods of preserving hot and cold smoked fish are widely used. Importing fish and shrimp varieties from Asian economies will contribute to the growth of the world fish processing market. Portugal is the fastest-growing region in the European country with an increasing demand for sardines, turbot, hake, oysters, clams and cod. Some European countries such as Spain, Portugal, Poland and Denmark have fishing as their main occupation and, therefore, contribute greatly to GDP growth. They are the main exporters to the countries of North America and Europe.
Impact of Covid-19 on the Global Fish Processing Market:
The pandemic of Covid-19 has resulted in a huge impact on all sectors across the globe. Fish processing is also hindered with the shutdown of factories in the world. The market is predicted to witness slow growth in the coming years as consumers prefer fresh foods to boost their immunity.
Key Players in the Market:
Major Key Players in the Global Fish Processing Market are
Charoen Pokphand Foods PCL

Maruha Nichiro Corporation

Pescanova S.A.

Royal Greenland A/S

Norway Pelagic ASA