Crude Sulfate Turpentine Market Size, Growth (2023-2028)
The global Crude Sulfate Turpentine Market size was worth USD 633.0 million in 2022, and it is estimated to reach a valuation of USD 806 million by the end of 2028, rising at a CAGR of 3.5% during the forecast period. Increased penetration of aromatic chemicals is expected to help grow your business.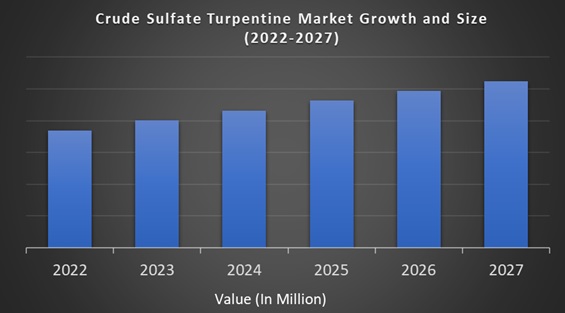 Market Overview:
Crude sulfate turpentine is a derivative of oil obtained by the distillation of resins that are produced in living trees, especially pine trees. It is a flammable fluid that is insoluble in water but soluble in certain solvents. Turpentine is also known as Wood Turpentine, Turpentine Oil, Turpentine Spirit. Crude turpentine sulfate is obtained as a by-product of the crafting process with the help of substrates and catalysts. Crude sulfate terpene contains terpene hydrocarbons and other sulfur compounds. Terpenes are a broad and diverse class of organic compounds obtained from a wide range of plants, especially those that belong to the Pinopsida group.
Crude turpentine oil is mainly used for the production of fragrances and flavors. The primary end-use industries of crude turpentine oil include cosmetics and food and beverages. It is also used as a solvent to dilute oil paints and produce varnish. It is used as a raw material in the organic synthesis process in the chemical industry, especially in aromatic (aromatic) compounds. Crude turpentine sulfate acts as a raw material for the manufacture of products that participate in the production of polymeric additives, turpentine oils, pines, spices, fragrances and pine oils. Turpentine oil is extracted from oleoresin and collected from trees.
Recent Developments in Crude Sulfate Turpentine Industry:
In 2019, DRT, a French manufacturer of turpentine derivatives, signed an agreement to expand the marketing and distribution of four alpha-fine chemicals in Europe and Africa with Quimidroga.

ORGKHIM Biochemical Holding and Ilim Group collaborate to develop a novel biochemical production project with an equal partnership.

The University of Florida has developed new methods to increase the flow of pine oleoresin within trees through advanced genetics associated with high resin production.
REPORT COVERAGE:
| | |
| --- | --- |
| REPORT METRIC | DETAILS |
| Market Size Available | 2022 – 2028 |
| Base Year | 2022 |
| Forecast Period | 2023 - 2028 |
| CAGR | 3.5% |
| Segments Covered | By Type, Application and Region |
| Various Analyses Covered | Global, Regional & Country Level Analysis, Segment-Level Analysis, DROC, PESTLE Analysis, Porter's Five Forces Analysis, Competitive Landscape, Analyst Overview on Investment Opportunities |
| Regions Covered | North America, Europe, APAC, Latin America, Middle East & Africa |
| Market Leaders Profiled | Renessenz LLC, Dujodwala Paper Chemicals Ltd, Arizona Chemical Company LLC, International Flavors & Fragrances Inc, Pine Chemical Group, Lawter Inc, Privi Organics Limited, HARTING Technology Group, Derives Resiniques et Terpeniqes, Privi Organics Limited and Others. |
Crude Sulfate Turpentine Market Growth:
Demand for products in a variety of applications, including aroma chemistry, personal care, and home care products, is anticipated to drive the market boom.
Drivers:
The crude sulfate turpentine market is witnessing a maximum boom due to the surge in demand for natural products and high consumption rates in various personal and household care products. In addition, increased chemical production from turpentine used as a solvent, fragrance and fragrance are other factors that are supposed to stimulate the growth of the global market for crude turpentine and sulfate oil. Due to its superior advantages over synthetically derived products, the higher the preference for products of biological origin, the more demand will increase during the foreseen period. Key industry participants focus on sustainable food and effective production processes. They are turning to high bio-reproducible content products to ensure superior performance in end-use applications. Solvent manufacturers implementing Carene with ingredients are capturing more opportunities by replacing chemicals such as hydrocarbons, cement, and mineral spirits for the chemical process, paint, and adhesive industries. This growth is due to the wide range of applications for aroma chemistry and personal and home care products.
Furthermore, an increase in demand for products in the Asia-Pacific region is assumed to stimulate market development. The industry is expected to further develop as the preference for green CST derivatives instead of petrochemical derivatives changes. Due to the high consumption of household and personal care products, the world market for crude turpentine sulfate is presumed to increase in the future. Growth of crude turpentine oil occurs in many industries as demand for green products increases. The list of chemicals made from euro oil is extended. However, it is widely used as a solvent and fragrance; These are some essential factors that are suspected to accelerate the growth of the global market.
Furthermore, the development of strong ties with various flavors and consumer goods companies to ensure the flow of capital has been an essential factor in the growth of the turpentine market. The market is now witnessing a severe shortage of chemicals derived from pine. These vital supply and demand gaps are affecting the end-use industry's choice of synthetic alternatives to meet its needs and disrupt market growth.
Restraints:
The reduced consumption of crude sulfate turpentine products, the availability of low-cost petroleum-based products, the reduced recovery of black liquor in the craft wood pulp process and the reduced production of paper mills are some of the limiting factors that to a certain extent hinder the global market for crude sulfate turpentine. The primary inhibitor on the market of crude turpentine sulfate is that it requires a high investment in distillation, which limits manufacturers to use raw materials efficiently. Also, the low recovery rate of black liquor through the crafting process is expected to hamper the growth of the turpentine crude oil market worldwide during the outlook period.
Crude Sulfate Turpentine Market Segmentation Analysis:
By Type:
Alpha-pinene

Beta-pinene

Delta-3-Carene

Camphene

Limonene

Others
By Application:
Aromatic Chemicals

Adhesives

Paints and printing inks

Camphor

Others
Geographical Segmentation Analysis:
North America - the United States and Canada

Europe - United Kingdom, Spain, Germany, Italy, and France

The Asia Pacific - India, Japan, China, Australia, Singapore, Malaysia, South Korea, New Zealand, and Southeast Asia

Latin America - Brazil, Argentina, Mexico, and Rest of LATAM

The Middle East and Africa - Africa and Middle East (Saudi Arabia, UAE, Lebanon, Jordan, Cyprus)
Regional Analysis:
North America has become the most significant local market in the past due to the presence of major exporters. The region is anticipated to continue its dominion during the forecast period.o North America dominates the entire crude sulfate turpentine market because its fields, including paints and aromatic chemicals, are widespread in the region, which is the leading consumer of crude sulfate turpentine. The United States and Canada are known manufacturers and consumers of raw turpentine. Europe also has a large share of the industry and will expand in the future due to the high demand for natural ingredients in cosmetics and personal care products. The presence of strong personal care manufacturing bases in countries such as the UK, France and Germany are also expected to benefit the market.
The Asia Pacific is envisioned to be the fastest-growing regional market for years as demand for products in the cosmetics and personal care industries increases in developing countries such as China and Japan. China is the world's largest producer of turpentine, so local production units mostly meet the United States' requirements for oil. Japan has become another area that expands growth due to the presence of large manufacturers of aromatic chemicals and the availability of paint products that consume sulfate-terpene materials. The Asia Pacific shows a significant increase in the near future.
Key Players in the Market:
Major Key Players in the Global Crude Sulfate Turpentine Market are
Renessenz LLC

Dujodwala Paper Chemicals Ltd.

Arizona Chemical Company LLC

International Flavors & Fragrances Inc.

Pine Chemical Group

Lawter Inc.

Privi Organics Limited

HARTING Technology Group

Derives Resiniques et Terpeniqes

Privi Organics Limited