Food Preservatives Market Size, Growth, Forecast (2023-2028)
The Global Food Preservatives Market Size was worth US$ 2.6 billion in 2022, and it is estimated to reach a valuation of US$ 3.2 billion by the end of 2028, expanding at an annual growth rate of 3.7% between 2023 and 2028.
Market Overview:
Food preservatives are chemical compounds that are added to various types of food in small amounts to inhibit or delay shelf life. Salt, sugar and spices have traditionally been used to preserve meat and other kinds of food. Food preservatives are commonly used to extend the shelf life of perishable foods and reduce food spoilage to maintain the nutritional quality of the product. Antibacterial chemicals inhibit microbial growth, while antioxidant preservatives reduce the oxidation rate of the lipid and vitamin content in food. Antienzyme preservatives control enzyme processes and prevent the harmful effects of chemical enzymes. For example, anti-enzyme preservatives prevent fruit from ripening before harvest. Chelating agents combine with trace metal ions to increase the effectiveness of antioxidant preservatives.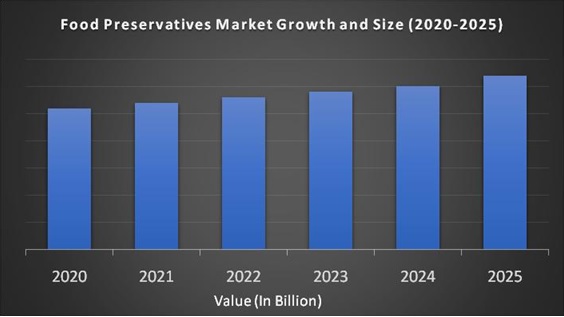 Recent Developments in Food Preservatives Industry:
BASF SE cooperated with China's state-owned SINOPEC to expand its production capacity and meet China's strict safety standards.

On January 29, the Kerry Group launched GMO-free yeast as a natural solution for acrylamide reduction. Kerry Group's latest solution, Acryleast™, was launched in partnership with Renaissance BioScience.

Arjuna Natural Extracts recently launched specific organic formulated preservatives to increase the shelf life of refrigerated meat.

Scientists at the Nanyang University of Technology have identified plant food preservatives that are more effective than artificial preservatives. Newly discovered organic chemicals consist of a natural substance called 'flavonoid', a group of various plant nutrients that can be used in almost all vegetables and fruits.

In May 2016, Kemin opened a new quality control laboratory, warehouse and logistics office in Belgium. This enabled the company to better serve its customers by adding value to its products.
REPORT COVERAGE:
| | |
| --- | --- |
| REPORT METRIC | DETAILS |
| Market Size Available | 2022 – 2028 |
| Base Year | 2022 |
| Forecast Period | 2023 - 2028 |
| CAGR | 3.7% |
| Segments Covered | By Type, Function, Application and Region |
| Various Analyses Covered | Global, Regional & Country Level Analysis, Segment-Level Analysis, DROC, PESTLE Analysis, Porter's Five Forces Analysis, Competitive Landscape, Analyst Overview on Investment Opportunities |
| Regions Covered | North America, Europe, APAC, Latin America, Middle East & Africa |
| Market Leaders Profiled | BASF SE, Cargill Incorporated, Celanese Corporation, Chr. Hansen A/S, Kerry Group, Koninklijke DSM N.V, The Archer Daniels Midland Company, Corbion N.V, DuPont, JEY'S F.I. Inc and Others. |
Food Preservatives Market Growth:
The need for preservatives is driving the need for food additives and ingredients that limit the growth of mold, bacteria, and other microorganisms. This is the primary growth engine for the global food preservatives market.
Drivers:
Food preservatives are integrated products to increase product stability and prevent spoilage during food processing. They are added in small amounts to various types of food as needed. Traditionally, salt, sugar, and spices have been used to preserve meat and other kinds of food. Food preservatives prevent or delay food spoilage by stopping the growth of microorganisms. Non-toxic chemicals can be used for processing, and moderate toxicity is regulated by relevant regulatory agencies such as the United States Food and Drug Administration (FDA) and the European Food Safety Authority (EFSA). It is identified by an appropriate index number (INS or E). The food and beverage industry consists of two key sectors that are supposed to create an invaluable growth atmosphere in the global food preservative market as demand increases. The demand for organic food is actively increasing in recent years. They have been studied to require different preservative groups.
Meanwhile, the change in lifestyle is said to be an increase in demand for prepared food, the other vital sector of the food and beverage industry. The desperate need to stop the development of the disease may be another essential factor defending the use of food preservatives. Foods that are prone to spoiling with a long shelf life can be included on a large scale in food preservatives. The food preservative market has grown significantly in recent years. The growth of the world market for food preservatives is mostly due to increased demand for food with a long shelf life.
Furthermore, the expansion of distribution channels and the increased demand for natural and organic foods are some of the other factors that contribute to the growth of the market. The global market for food preservatives is currently growing as a result of increased demand for processed foods and increased awareness of food security. Synthetic foods are the fastest-growing segment of the global food preservative market. Current healthy eating trends and preferences for quality foods are driving demand for food preservatives worldwide.
Restraints:
The growing demand for organic foods, consumer preferences for natural foods is limited worldwide, and the use of preservation technologies is restraining the growth of the global market for food preservatives. The main challenge in slowing the growth of the worldwide food preservative market is strict government regulations on the use of some dangerous chemicals as food preservatives. Furthermore, the cost of natural preservatives and the health problems associated with the use of synthetic food preservatives are other factors that hinder the growth of the target market.
Food Preservatives Market Segmentation Analysis:
Type:
Function:
Antimicrobials

Antioxidants

Chelating

enzyme inhibitors
Application:
Beverages

Oils & fats

Bakery

Dairy & frozen products

Snacks

Meat

poultry & seafood products

Confectionery

Other applications
Food Preservatives Market Geographical Segmentation Analysis:
North America - the United States and Canada

Europe - United Kingdom, Spain, Germany, Italy, and France

The Asia Pacific - India, Japan, China, Australia, Singapore, Malaysia, South Korea, New Zealand, and Southeast Asia

Latin America - Brazil, Argentina, Mexico, and Rest of LATAM

The Middle East and Africa - Africa and Middle East (Saudi Arabia, UAE, Lebanon, Jordan, Cyprus)
Regional Analysis:
North America dominates the world market for food preservatives and is supposed to maintain market dominance during the forecast period. This advantage is due to the presence of the leading manufacturers of food preservatives and the increased demand for processed foods in the region. North America is also a major exporter of fruit, and the need for preservatives is expanding. Some risk-related insights associated with chemical preservatives have fueled the market for natural preservatives. North America strictly regulates policies regarding the marketing of food and ingredients. These regulations provided a profitable growth opportunity for manufacturers to introduce new preservatives that minimize or have no side effects on human health. As the demand for convenience and processed foods increases, manufacturers are using food preservatives to improve the shelf life of food. As part of the strategy, the companies are spending a significant amount of money developing technology to produce chemicals using more natural ingredients than synthetic inputs.
The European market occupies a significant share of revenue in the target market and is presumed to witness substantial growth during the outlook period. The Asia Pacific market is assumed to show the most robust growth in terms of revenue and expand to TCAC during the forecast period. This may be due to the rapid growth of the food and beverage sector in the region, along with an increase in disposable income and an increased demand for ready-to-eat food in developing countries such as India, China, etc.
Leading Company:
Kemin Industries, Inc and new entrants like Galactic S.A. are competing by introducing new products made from various natural sources like vinegar and rosemary extract.
Key Players in the Market:
Major Key Players in the Global Food Preservatives Market are
BASF SE

Cargill Incorporated

Celanese Corporation

Chr. Hansen A/S

Kerry Group

Koninklijke DSM N.V

The Archer Daniels Midland Company

Corbion N.V

DuPont

JEY'S F.I. Inc