Industrial PC Market Size, Growth and Forecast (2022 - 2027)
The Global Industrial PC Market size was size at US$ 5.1 billion in 2021 and is anticipated to succeed in the valuation of US$ 6.8 billion by 2027 and is predicted to register a CAGR of 5.8% during 2022-2027.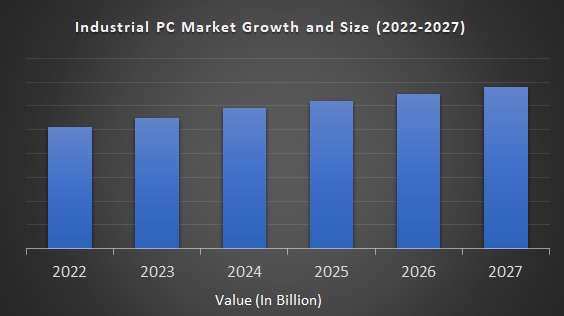 Industrial PC Market Scenario:
Industrial PCs are computer platforms that are utilized in a variety of industrial applications. These industrial PCs can endure difficult external environment conditions such as temperature extremes, dust, vibration, power surges, and noises better than typical PCs. Heavy-duty cooling fans and dust filters are generally included. The rise in the need for resource optimization in manufacturing industries, followed by an increase in industrial IoT adoption, is expected to drive the global industrial PC market Industrial PCs are computer platforms used in a wide range of industrial applications. These industrial PCs are more resistant to harsh exterior circumstances such as temperature extremes, dust, vibration, power surges, and sounds than standard PCs. In most cases, heavy-duty cooling fans and dust filters are provided. Integration with IoT technology simplifies and automates the process, reduces the risk of errors, and aids data collection and process control. As a result, the growth of the industrial PC market is driven by an increase in demand for energy-efficient production techniques from various industries.
The demand for powerful PCs that can work in severe environments, high dependability and long-term performance of industrial PCs, and the growing use of IoT in manufacturing industries have been driving the worldwide industrial PC market. However, hefty initial installation costs and rising security vulnerabilities may stymie global expansion. The Global Industrial PC Market research offers a comprehensive analysis of the industry.
Industrial PC Market Trends consists of multiple technological advancements, such as the integration of the Internet of Things and artificial intelligence with these PCs that aid the detection of defects are working as other growth-inducing variables in the product manufacturing system. Market development is further aided by the growing use of solid-state drives in industrial PCs. While operating and optimizing digitalized production, silicon microchip-based SDDs enable high-speed data transfer while generating minimal heat.
Recent Developments within the Industrial PC Industry:
Advantech released a palm-sized embedded industrial PC in 2019. Intelligent software incorporated for remote system monitoring and management is one of the product's benefits.

Mitsubishi Electric Corporation introduced the MI3000 industrial computer model in 2019 and expanded its MELIPC industrial PC series for edge computing and control applications in factory automation.
REPORT COVERAGE:
| | |
| --- | --- |
| REPORT METRIC | DETAILS |
| Market Size Available | 2021 – 2027 |
| Base Year | 2021 |
| Forecast Period | 2022 - 2027 |
| CAGR | 5.8% |
| Segments Covered | By Product Type, Sales Channel, End use industries and Region |
| Various Analyses Covered | Global, Regional & Country Level Analysis, Segment-Level Analysis, DROC, PESTLE Analysis, Porter's Five Forces Analysis, Competitive Landscape, Analyst Overview on Investment Opportunities |
| Regions Covered | North America, Europe, APAC, Latin America, Middle East & Africa |
| Market Leaders Profiled | Advantech, Beckhoff International, IEI Integration Corporation, Kontron S&T, Nexcom International, ABB, Avalue Technology, DFI, American Portwell Technology and Others. |
Industrial PC Market Drivers:
Due to the rising in adoption of automation and Internet of Things (IoT) technologies in sectors, the industrial PC industry has seen tremendous development. Industrial PCs assist in providing a platform for running automation software for real-time monitoring and control of processes. Many businesses and startups are working on IoT technology adoption. For instance, in June 2019, Indian IoT startup Switch On had raised $1 million seed funding from Pi Ventures. In April 2019, Altizon Systems Pvt. Ltd had raised $7 million in a succession of funding rounds.
TVS Motor Company Ltd. provided finance. Manufacturing firms are concentrating their efforts on boosting their production capacity in order to lower costs and increase their competitive position by improving production efficiency through the use of industrial automation.
PC, thereby driving the market. It is vital to maximize resources and decrease waste in businesses such as metals and mining, oil and gas, and others whose profit margins are comparatively smaller than in industries such as automotive and food and drinks, among others. This is a problem in the manufacturing process that results in significant losses, forcing producers to replace the defective product with a new one. As a result, manufacturing businesses are increasingly focusing on the use of industrial PCs to automate their manufacturing processes and boost efficiency. These PCs also help businesses improve accuracy and reduce operating expenses, resulting in higher quality, uniformity, and safety. As a result, the market for industrial PCs is expected to grow in response to rising demand for energy-efficient manufacturing operations.
Industrial PC Market Restraints:
Industrial PCs are used in factories as part of the automation process. Adoption of automation machines can be one of the most cost intensive processes for an industry. It involves millions of dollars. In addition to the upfront expenditures, there are a number of unforeseeable charges that may outweigh the actual cost savings from implementing automation in the organization. Some of these expenses include research and development costs for automating a process, as well as preventative maintenance and repairs. Furthermore, the cost of training associated with the use of industrial PCs limits market growth. The majority of industrial PCs also take up more space, which is a huge issue for small businesses.
Industrial PC Market Segmentation Analysis:
By Product Type:
Panel

Rack Mount

Box

Embedded

DIN Rail
Din rail PCs are widely used in connected factories for efficient manufacturing processes, contributing to the industry's rapid expansion. Furthermore, due to their high temperature threshold, these PCs are highly durable and can be used in severe situations, resulting in decreased downtime and higher productivity. Industrial PCs are simple to set up and have a small footprint. They can tolerate extreme temperatures and absorb stationary shocks or falls. As a result of these advantages, the adoption of industrial PCs has increased, resulting in market growth.
By Sales Channel:
Direct Sales

Indirect Sales
Industrial PC makers benefit from direct sales channels in a variety of ways. Manufacturers may satisfy their application-specific requirements, eliminate the retail markup, and reduce inventory carrying costs and hazards by selling industrial PCs directly to end-user businesses. As a result, the direct sales channel market is expected to increase at a faster rate over the forecast period.
By End use industries:
Chemical

Energy and power

Oil & gas

Food and beverage

Pharmaceutical

Automotive

aerospace and defense

semiconductor and electronics
Automotive manufacturing, aerospace and defense, semiconductor and electronics are expected to develop faster than the rest of the economy throughout the projection period. The introduction of automation in these areas is largely responsible for this. Growing funding initiatives for IoT technology are expected to boost industrial PC use, resulting in market development. Because of the widespread use of industrial-grade computing systems in the manufacturing process, automotive has a much higher global industrial PC market share. Furthermore, increasing innovations in the expansion of these facilities are contributing to the market's growth pace. Morris Garages, a British vehicle manufacturer, announced plans to invest $ 429.25 million in December 2019.
Automotive industry has largest market share following with Aerospace and defense under end user industries.
Geographical Segmentation Analysis:
North America - the United States and Canada

Europe - United Kingdom, Spain, Germany, Italy, and France

The Asia Pacific - India, Japan, China, Australia, Singapore, Malaysia, South Korea, New Zealand, and Southeast Asia

Latin America - Brazil, Argentina, Mexico, and Rest of LATAM

The Middle East and Africa - Africa and Middle East (Saudi Arabia, UAE, Lebanon, Jordan, Cyprus)
Industrial PC Market Regional Analysis:
APAC is the dominant region in 2020 with a market owing to the high production base in the region, followed by North America and Europe. The presence of huge production bases in China and India is largely responsible for the large market share. The China Association of Automobile Manufacturers said in March 2020 that vehicle production and sales were 3.47 million and 3.67 million units, respectively. During the foreseeable period, the adoption of robots aids companies in decreasing labor costs by giving opportunities for industrial PCs. Furthermore, many manufacturing organizations in the United States have begun to use robots to increase productivity and efficiency. Robotics monitoring necessitates high-quality industrial PCs, which are expected to fuel market expansion.
North America is expected to lead the global industrial PC market from 2022 to 2027. North American industrial enterprises are focusing on implementing sophisticated technology to improve their manufacturing processes and increase productivity. Moreover, discrete industries such as aerospace and military, as well as automotive, are among the fastest-growing end-use industries for industrial PCs. Furthermore, several key firms are boosting their investments in the North American industrial PC market, accelerating the sector's growth.
Key Players in the Market:
Major Key Players in the Global Industrial PC Market are
ABB

Avalue Technology

DFI

American Portwell Technology