Industry 4.0 Market Size, Growth and Forecast (2022 - 2027)
The Global Industry 4.0 Market size was worth USD 72 billion in 2021, so it is estimated to reach USD 157 billion by 2027, growing at a CAGR of 17 %. The worldwide industry 4.0 market is expanding rapidly due to increased smartphone use and increased connectivity to the digital world.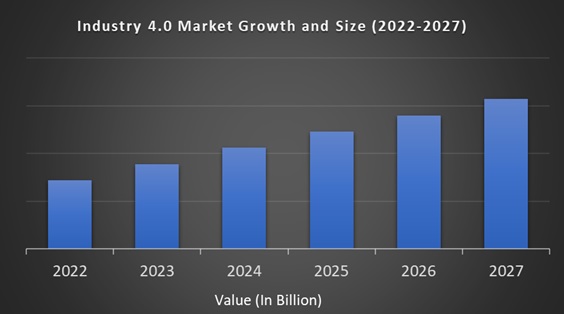 Market Overview:
In addition, the increasing adoption of the industrial internet in manufacturing units around the world and a growing emphasis on improved efficiency of machinery and systems, and lower production costs all contribute to the market's global expansion. Furthermore, the increasing need for industrial robotics is likely to fuel the development of the Industry 4.0 market. With the growing number of linked devices, the massive growth in data in field equipment, and the changing technological environment, it is critical for businesses to adapt their products and services to the digital world quickly.
Recent Developments in Industry 4.0 Industry:
JTC Corporation, based in Singapore, is collaborating with Taiwan-based power-component manufacturer Delta Electronics to expand its footprints in industry 4.0 adoption.

KEF Infrastructure Private Limited, an Indian company, has completed its first-ever modular construction project in Kerala, India, using industry 4.0 technologies.

Digital Horizon, an Israeli company, has invested nearly $1 million in Visual Factories. As a result, this industry 4.0 start-up has developed an enhanced solution for evaluating existing production processes and optimizing the use of available equipment.
Drivers:
Over the previous few decades, robots have evolved from prohibitively expensive machines with limited capabilities to low-cost devices capable of performing a wide range of jobs. People throughout the world rely on industrial robots in particular. Because industrial robots are increasingly being used in production hubs, they are advancing, developing, and evolving quickly. As a result of significant technological breakthroughs in robotics, the industrial sector has seen an increasing embrace of robotics engineering and technology in its production processes. Industrial robots are versatile manipulator devices that can be operated and programmed autonomously. Soldering, heavy-lifting, ironing, manufacturing, pick and position, palletizing, quality control, and screening are just a few of the typical automated robotic functions, which together require a high degree of human understanding, pace, and accuracy. Automated machines conduct repetitive activities and nullify the need for human labor.
Additionally, they can function in dangerous situations that people cannot. As a result, robotics technology will be a crucial trend as the sector grows. With Industry 4.0 in the production industry, numerous industrial plants are integrating digital automation, upgrading, and modernizing the workflow, increasing facility key metrics. Robotics in manufacturing sectors simplify routine tasks, minimize error bars to standard levels, and free employees to concentrate on more profitable activities and functions. Improving technology enables organizations to stay competitive internationally by providing a compelling, practical option to fill the competency gaps. The increased public knowledge of the benefits of embracing Industry 4.0 will propel worldwide market expansion even further.
Restraints:
Existing workforces must be trained to operate cutting-edge equipment and software systems outfitted with IoT and AI-related technologies. Though industries are quick to adopt new technologies, there is a scarcity of highly skilled engineers and a workforce that is up to date on the latest breakthroughs in AI and IoT technology. Moreover, due to a lack of educated workers, emerging economies also struggle to apply industrial automation and carry out next-level industrialization. As a result, the shortage of competent labor limits the expansion of the Industry 4.0 sector.
INDUSTRY 4.0 MARKET REPORT COVERAGE:
REPORT METRIC

DETAILS

Market Size Available

2021–2027

Base Year

2021

Forecast Period

2022 - 2027

CAGR

17 %

Segments Covered

By Technology, By Connectivity,

By End-User

Various Analyses Covered

Global, Regional & Country Level Analysis, Segment-Level Analysis, DROC, PESTLE Analysis, Porter's Five Forces Analysis, Competitive Landscape, Analyst Overview on Investment Opportunities

Regions Covered

North America, Europe, APAC, Latin America, Middle East & Africa

Market Leaders Profiled

Mitsubishi, General Electric, Microsoft, Google, Intel, HP, Siemens, ABB Ltd, Schneider Electric SE, Qualcomm Inc.
Industry 4.0 Market Segmentation Analysis:
By Technology:
Internet of Things

Cloud Computing

Artificial Intelligence

Robotics

Augmented and Virtual Reality

Big Data and Analytics

Cyber Security

Machine Learning

Others
The market is augmented into the Internet of Things, Cloud Computing, Artificial Intelligence, Robotics, Augmented and Virtual Reality, Big Data, Analytics, Cyber Security, Machine Learning, and others.
Based on technology, the Internet of Things (IoT) category is expected to be the most significant contributor to the Industry 4.0 Market over the anticipated period. The potential benefits of IoT have encouraged several industrial equipment makers to embrace IoT. Manufacturers can precisely evaluate the current state of machines, optimize their performance, predict future faults, and plan maintenance schedules by connecting industrial equipment via wireless communication and collecting sensor data from the kit. Its capacity to remotely monitor enterprise assets and undertake predictive maintenance is the primary reason for its growing popularity. However, remote monitoring is limited in industries, particularly for equipment placed in harsh environments such as subsea oil wells or mines.
By Connectivity:
Wired

Wireless

Mobile

Others
The market is segmented into Wired, Wireless, Mobile, and Others.
The wireless and mobile categories combined accounted for the lion's share of total revenue. They are also likely to increase in the following years, thanks to rising smartphone penetration and the availability of 5G technology for fast data access and transfer. 5G's speed and dependability are likely to have a significant impact on M2M and IoT. The main reasons for the rising use of new M2M technologies are improved connectivity for smooth communication and low power consumption. To enable effective machine-to-machine communication, mobile networks' current capacity must accommodate billions of nodes that are predicted to rise in the coming years. The network capacity is currently insufficient to accommodate M2M and human-based communications and their various communication patterns such as lag time.
By End-User:
Manufacturing

Automotive

Healthcare

Aerospace

Transportation

Energy and Power

Others
The market can be categorized into Manufacturing, Automotive, Healthcare, Aerospace, Transportation, Energy and Power, and others.
The manufacturing end-user industry is predicted to have the most significant market share in 2020 and increase compared to other sectors during the forecast period. However, manufacturing is the second-most targeted industry for cyber-attacks. Due to a lack of security, industry 4.0 technologies enable hackers to attack the manufacturer's data and infect new systems to detain and trade secret information. As a result, in the industry 4.0 market, the marketing industry is rapidly adopting AI.
Geographical Segmentation Analysis:
North America - the United States and Canada

Europe - United Kingdom, Spain, Germany, Italy, and France

The Asia Pacific - India, Japan, China, Australia, Singapore, Malaysia, South Korea, New Zealand, and Southeast Asia

Latin America - Brazil, Argentina, Mexico, and Rest of LATAM

The Middle East and Africa - Africa and Middle East (Saudi Arabia, UAE, Lebanon, Jordan, Cyprus)
Regional Analysis:
Regionally, the industry is fragmented into Europe, North America, Asia Pacific, and the rest of the globe. Expansion of automation implementation in countries such as Japan, China, and South Korea is a critical component in the growth of the Industry 4.0 Market. The low cost, which allows various firms to establish factories, is the primary driver of the Asia Pacific robotics industry. The industry in the Asia Pacific region is also expected to grow at the quickest rate, owing to ongoing technical improvements and administration monetary incentives. The primary drivers that make APAC a dynamic area for Industry 4.0 include government activities, R&D funding, and an enormous industrial base, with Japan and China being the major contributors.
Impact of COVID-19 on Global Industry 4.0 Market:
The influence of COVID-19 has had a significant impact on the industry 4.0 market. The emergence of the covid-19 pandemic has resulted in a period of testing for the manufacturing industry. Forced lockdowns, time constraints, and personnel unavailability in the manufacturing sector have resulted in the development of production processes through the extensive application of artificial intelligence and the internet of things. In the lack of a regular crew, several operations, such as equipment maintenance and equipment condition monitoring, were done using AI and ML. These developments were less time-consuming, more efficient, and resulted in cost-cutting for manufacturing companies. As a result of increased adoption in the manufacturing business during the covid-19 pandemic, the industry 4.0 market is experiencing tremendous development.
Key Players in the Market:
Major Players in the Global Industry 4.0 Market are
Mitsubishi

General Electric

Microsoft

Google

Intel

HP

Siemens

ABB Ltd

Schneider Electric SE

Qualcomm Inc