Margarine Market Growth and Forecast (2021-2026):
The Global Margarine Market size was at US$ 3.64 billion in 2021, and it is determined to reach a valuation of US$ 4.32 billion by the end of 2026 with an annual expansion rate (CAGR) of 2.2% between 2021 and 2026.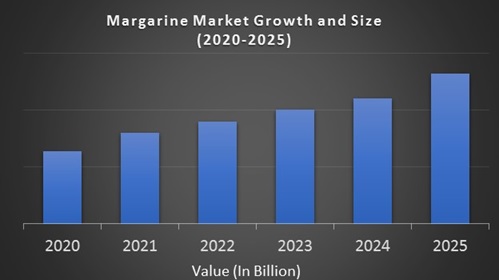 Market Overview:
Margarine is used as a functional and inexpensive butter substitute that provides richness and stability to finished baked goods without compromising taste. Margarine has come a long way since it was first made as a substitute for butter. This is now a high-tech product with various variations and combinations. Currently 10 types of margarine are produced. Standard, whipped, and polyunsaturated margarine is available in both hard and soft forms. There is edible margarine, vegan margarine, and a 60% vegetable oil spread. This margarine is produced from a variety of oils including cottonseed, safflower, soybeans, corn, palm oil, and sunflower oil. These customized products respond to the needs of specific population groups. Generally mixed with coloring substances, vitamins, breakage inhibitors, preservatives, additives, flavor inhibitors and other components, they have a dietary importance and a taste and texture comparable to butter. Existing margarine products in the United States contain at least 80% organic vegetable or animal fat.
Recent Developments in Margarine Industry:
In March 2020, Wilmar International announced that it would open a new crude vegetable oil refining plant in South Africa. This facility will be used to produce cooking oil, mayonnaise and margarine.
In December 2019, Bunge Loders Croklaan (BLC) introduced their shea margarine, which is 100% sustainable and non-hydrogenated.
In December 2019, Upfield Ghana launched a new 10kg catering margarine to its Blue Band portfolio. This margarine is specially formulated with a rich buttery aroma and great taste that provides the texture and flavor needed for baked goods.
Margarine Market Growth:
The increasing adoption of bakery and confectionery products as desserts in all age groups is expected to have a positive impact on the future growth of the global margarine market.
REPORT COVERAGE:
| | |
| --- | --- |
| REPORT METRIC | DETAILS |
| Market Size Available | 2020 – 2026 |
| Base Year | 2020 |
| Forecast Period | 2021 - 2026 |
| CAGR | 2.2% |
| Segments Covered | By Application, Product and Region |
| Various Analyses Covered | Global, Regional & Country Level Analysis, Segment-Level Analysis, DROC, PESTLE Analysis, Porter's Five Forces Analysis, Competitive Landscape, Analyst Overview on Investment Opportunities |
| Regions Covered | North America, Europe, APAC, Latin America, Middle East & Africa |
| Market Leaders Profiled | Vandemoortele, Adeka Foods, Wilmar International Limited, Currimjee Group, Fuji Oil Co. Ltd, Aigremont NV, Kaneka Corporation, Bunge Limited, Marinfood, EFKO Group, NMGK Group, Gagar Foods, Sime Darby Oils SA and Others. |
Drivers:
Growing demand for low-fat foods and beverages due to lifestyle changes and increased health awareness will drive growth in the global margarine market. Rising stocks of low-calorie foods in supermarkets and significant R&D initiatives by manufacturers to expand their product portfolio and offer improved products at lower prices will further drive market growth. Young consumers increasingly recognize the health benefits of adopting a healthy diet, such as preventing obesity and diabetes. Changes in food preferences, increased disposable income and increased consumption of packaged foods should drive growth in the bakery sector and drive demand for products. Manufacturers focus on innovation to improve product attributes and ensure regulatory compliance that will drive market growth. This product is widely used in croissants, puff pastries, breads, cakes, sweet rolls and cookies. Along with the thriving baked goods sector, increased end-user awareness related to chronic diseases will accelerate market growth during the foreseen period. Obviously, increased health awareness and improved demand for low-calorie foods could create a profitable roadmap for the margarine market for years to come. Also, the huge demand for a low-fat diet driven by changes in consumer preferences and lifestyles will drive the expansion of the margarine business during the forecast period. As a dairy-free vegetable option, the suitability of margarine for lactose intolerant populations is likely to drive future business growth. Bakery products are a mass consumer item given their low price and high nutritional value. This has resulted in numerous small and artisan bakeries around the world.
The industry also believes that margarine provides ideal properties for products, as it helps add texture, volume, and grain to bakery products. Therefore, many bakers choose margarine brands that do not contain trans-fat and are expected to opt for products made with healthy oils such as olive oil to achieve the best baking results and drive market growth in the near future. Consumers' lifestyles and eating habits are changing as they are becoming more aware of fat and calorie intake. The transition from the consumer's diet to natural dairy-free products is clearly observed. In addition, manufacturers are looking to expand their product portfolio through large investments in research and development to offer new functional products at low cost. The hectic lifestyle and growing workforce created a huge demand for packaged foods, which drove the market expansion in the previous years. In hypermarkets and supermarkets that offer freshly baked and pre-cooked products, increased availability of in-store bakeries will drive business growth. The growing demand for margarine and the rise of the confectionery and bakery industry are anticipated to drive the developments in the global margarine market.
Restraints:
The market is challenged by strict regulations and the growing need to meet international quality standards. Additionally, a surge in the number of obesity-related health problems and disabilities are encouraging consumers to avoid eating fat. This trend is predicted to hamper the growth of the industry in the coming years. The price of dairy products, especially butter, is expensive and is supposed to rise further. The high price of butter will strengthen the market for margarine, a cheaper alternative to butter. The low price of margarine has increased its application in the butter-only food processing industry. The use of margarine has significantly reduced production costs in these industries, reducing the overall cost of the final product. The availability of margarine and other alternatives to health-related concerns about fat consumption could slow the growth of the industry.
Margarine Market Segmentation Analysis:
According to the type of product, margarine can be classified into liquid, hard and soft. Hard margarine dominated the market with more than 50% of total sales in 2019. Increasing consumption of packaged biscuits and biscuits has led to increased demand for hard margarine among bakers. The liquid segment is estimated to show the fastest growth during the conjecture period. In recent years, liquid margarine has gained considerable popularity among consumers for cooking and baking.
By application, the commercial applications dominated the margarine market size with more than 80% of total revenue in 2019. Bakery products are gaining considerable popularity as processed or ready-to-eat foods due to their increased acceptability and economy. The home applications segment is expected to show the fastest growth during the forecast period. There have been changes in consumer preference for low-fat spreads in recent years.
Geographical Segmentation Analysis:
North America - the United States and Canada

Europe - United Kingdom, Spain, Germany, Italy, and France

The Asia Pacific - India, Japan, China, Australia, Singapore, Malaysia, South Korea, New Zealand, and Southeast Asia

Latin America - Brazil, Argentina, Mexico, and Rest of LATAM

The Middle East and Africa - Africa and Middle East (Saudi Arabia, UAE, Lebanon, Jordan, Cyprus)
Regional Analysis:
North America is supposed to dominate the global margarine market demand as adoption of related products increases. Also, changing people's lifestyle can lead to increased problems of high blood pressure, constipation and diabetes. Therefore, manufacturers in the margarine market in the United States are primarily focused on making products that do not contain trans-fat. These are some of the positive factors driving the growth of the North American margarine market.
The European margarine market, led by France, the UK and Germany, is estimated to exceed $ 1.15 billion by the end of the projected period due to the presence of many restaurants serving international cuisine. The growing demand for refrigerated sauces, salad dressings and dressings, as well as significant efforts by manufacturers to develop innovative products such as preservative-free, organic, and low-calorie items will further drive market growth.
Margarine market demand from the Asia-Pacific industry, led by India, Japan and China, will increase by more than 4% by 2025 due to the presence of a significant segment of the young population and the improvement of distribution networks. Several manufacturers in the region offer their products in small packages to attract price-conscious consumers and promote market growth.
Key Players in the Market:
Major Key Players in the Global Margarine Market are
Vandemoortele

Adeka Foods

Wilmar International Limited

Currimjee Group

Fuji Oil Co. Ltd

Aigremont NV

Kaneka Corporation

Bunge Limited

Marinfood

EFKO Group

NMGK Group

Gagar Foods

Sime Darby Oils SA

Royal Lacroix

Puratos

Conagra Brands, Inc

Richardson International Limited
1. Introduction
1.1 Market Definition
1.2 Scope of the report
1.3 Study Assumptions
1.4 Base Currency, Base Year and Forecast Periods
2. Research Methodology
2.1 Analysis Design
2.2 Research Phases
2.2.1 Secondary Research
2.2.2 Primary Research
2.2.3 Data Modelling
2.2.4 Expert Validation
2.3 Study Timeline
3. Report Overview
3.1 Executive Summary
3.2 Key Inferencees
4. Market Dynamics
4.1 Impact Analysis
4.1.1 Drivers
4.1.2 Restaints
4.1.3 Opportunities
4.2 Regulatory Environment
4.3 Technology Timeline & Recent Trends
5. Competitor Benchmarking Analysis
5.1 Key Player Benchmarking
5.1.1 Market share analysis
5.1.2 Products/Service
5.1.3 Regional Presence
5.2 Mergers & Acquistion Landscape
5.3 Joint Ventures & Collaborations
6. Market Segmentation
6.1 Margarine Market, By Product
6.1.1 Hard
6.1.2 Soft
6.1.3 Liquid
6.1.4 Market Size Estimations & Forecasts (2021-2026)
6.1.5 Y-o-Y Growth Rate Analysis
6.1.6 Market Attractiveness Index
6.2 Margarine Market, By Application
6.2.1 Commercial
6.2.2 Households
6.2.3 Market Size Estimations & Forecasts (2021-2026)
6.2.4 Y-o-Y Growth Rate Analysis
6.2.5 Market Attractiveness Index
7. Geographical Landscape
7.1 Global Identity Governance and Administration Market, by Region
7.2 North America - Market Analysis (2021-2026)
7.2.1 By Country
7.2.1.1 USA
7.2.1.2 Canada
7.2.2 By Product
7.2.3 By Application
7.3 Europe
7.3.1 By Country
7.3.1.1 UK
7.3.1.2 France
7.3.1.3 Germany
7.3.1.4 Spain
7.3.1.5 Italy
7.3.1.6 Rest of Europe
7.3.2 By Product
7.3.3 By Application
7.4 Asia Pacific
7.4.1 By Country
7.4.1.1 China
7.4.1.2 India
7.4.1.3 Japan
7.4.1.4 South Korea
7.4.1.5 South East Asia
7.4.1.6 Australia & NZ
7.4.1.7 Rest of Asia-Pacific
7.4.2 By Product
7.4.3 By Application
7.5 Latin America
7.5.1 By Country
7.5.1.1 Brazil
7.5.1.2 Argentina
7.5.1.3 Mexico
7.5.1.4 Rest of Latin America
7.5.2 By Product
7.5.3 By Application
7.6 Middle East and Africa
7.6.1 By Country
7.6.1.1 Middle East
7.6.1.2 Africa
7.6.2 By Product
7.6.3 By Application
8. Key Player Analysis
8.1 Vandemoortele
8.1.1 Business Description
8.1.2 Products/Service
8.1.3 Financials
8.1.4 SWOT Analysis
8.1.5 Recent Developments
8.1.6 Analyst Overview
8.2 Adeka Foods
8.3 Wilmar International Limited
8.4 Currimjee Group
8.5 Fuji Oil Co. Ltd
8.6 Aigremont NV
8.7 Kaneka Corporation
8.8 EFKO Group
8.9 Bunge Limited
8.10 Conagra Brands, Inc
9. Market Outlook & Investment Opportunities
Appendix
List of Tables
List of Figures
Global, regional and country-level analysis and forecasts of the study market; providing Insights on the major countries/regions in which this industry is blooming and to also identify the regions that are still untapped

The Segment-level analysis in terms of By Product, Application and along with market size forecasts and estimations to detect key areas of industry growth in detail

Identification of key drivers, restraints, opportunities, and challenges (DROC) in the market and their impact on shifting market dynamics

Study of the effect of exogenous and endogenous factors that affect the global market; which includes broadly demographic, economics, and political, among other macro-environmental factors presented in an extensive PESTLE Analysis

Study the micro environment factors that determine the overall profitability of an Industry, using Porter's five forces analysis for analysing the level of competition and business strategy development

A comprehensive list of key market players along with their product portfolio, current strategic interests, key financial information, legal issues, SWOT analysis and analyst overview to study and sustain the market environment

Competitive landscape analysis listing out the mergers, acquisitions, collaborations in the field along with new product launches, comparative financial studies and recent developments in the market by the major companies

An executive summary, abridging the entire report in such a way that decision-making personnel can rapidly become acquainted with background information, concise analysis and main conclusions

Expertly devised analyst overview along with Investment opportunities to provide both individuals and organizations a strong financial foothold in the market
Global Margarine Market By Region, From 2021-2026 ( USD Billion )

Global Margarine Market By Product, From 2021-2026 ( USD Billion )

Global Hard Market By Region, From 2021-2026 ( USD Billion )

Global Soft Market By Region, From 2021-2026 ( USD Billion )

Global Liquid Market By Region, From 2021-2026 ( USD Billion )

Global Margarine Market By Application, From 2021-2026 ( USD Billion )

Global Commercial Market By Region, From 2021-2026 ( USD Billion )

Global Households Market By Region, From 2021-2026 ( USD Billion )