Membrane Filtration Market Growth and Forecast (2021-2026):
The Global Membrane Filtration Market size was worth US$ 13.5 billion in 2021, and it is estimated that it will reach a valuation of US$ 19.6 billion by 2026 with an annual expansion rate of 6.4% between 2021 and 2026.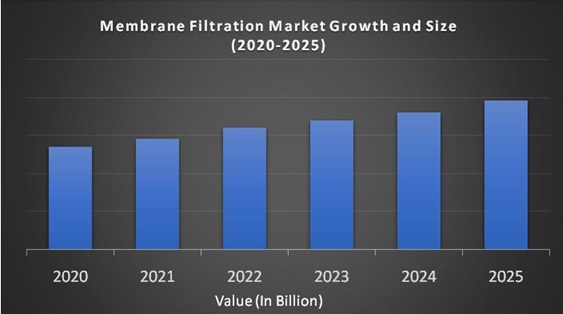 Product Description:
The membrane separates contaminants from water when a driving force is provided through it. Membrane filtration is widely used to remove microorganisms, bacteria, and organic substances from water. Membrane filtration is one of the most important techniques to help maintain the original properties of food with little or no change in the product profile. This filtration can be applied to infinite industries such as chemical processing, food and dairy products. Membrane processes are increasingly used to remove microorganisms, bacteria, natural organic substances, and particles from drinking water and wastewater treatment, which can impart taste, odor, and color to water and react with disinfectants to form disinfection by-products. Membrane filtration is majorly used for semiconductor and electronics manufacturing, pharmaceutical and biopharmaceutical manufacturing, wastewater treatment, water treatment, food and beverage processing, and process water treatment and separation in the petrochemical, chemical and other manufacturing industries.
Recent Developments in Membrane Filtration Industry:
In July 2018, Koch Separation Solutions launched a new line of Ultra-thin Electrocoat Paint Spiral Filtration Membranes (E-coat) to increase the recovery of paint resins and pigments for manufacturers.
In September 2019, DuPont Safety Construction agreed to take over BASF SE's ultrafiltration membranes business, including GmbH.

In April 2020, Koch Separation Solutions expanded the manufacturing capacity of the innovative PURON-enhanced hollow fiber desert technology by 50%.
Membrane Filtration Market Growth:
Innovation in ceramic membranes to optimize production efficiency in food processing is also expected to have a strong impact on the global membrane filtration market.
REPORT COVERAGE:
| | |
| --- | --- |
| REPORT METRIC | DETAILS |
| Market Size Available | 2020 – 2026 |
| Base Year | 2020 |
| Forecast Period | 2021 - 2026 |
| CAGR | 6.4% |
| Segments Covered | By Type, Application, Membrane Material, Module Design and Region |
| Various Analyses Covered | Global, Regional & Country Level Analysis, Segment-Level Analysis, DROC, PESTLE Analysis, Porter's Five Forces Analysis, Competitive Landscape, Analyst Overview on Investment Opportunities |
| Regions Covered | North America, Europe, APAC, Latin America, Middle East & Africa |
| Market Leaders Profiled | Alfa Laval, SUEZ Water Technologies and Solutions, Merck KGAA, 3M Company, Pall Corporation, Synder Filtration, Inc, Nitto Denko Corporation, Porvair Filtration Group, Koch Membrane Systems Inc, GEA group and Others. |
Drivers:
The rapid development of generic production is expected to stimulate the market. The rapidly growing dairy industry worldwide is driving market demand for membrane filtration. The growth of the bio-based pharmaceutical industry is also driving the global membrane filtration market. Besides, the growing demand for premium products among consumers around the world is also expected to have a significant impact on the membrane filtration business. The rapid growth of the dairy industry and water safety and filtration regulations have significantly increased the membrane filtration market revenue. Increasing awareness among consumers who drink clean water is expected to be a driving force for the growth of the global membrane filtration market size. Also, as the demand for premium products increases and the efficiencies provided by membrane filtration technology, the demand for membrane filtration for various end uses increases. Alongside the development of new technology in the membrane filtration markets, increasing the growth of the dairy industry, development in the bio-based pharmaceutical industry and rapid development of generic production are factors that promote the growth of the market for membrane filtration. This includes an increase in government security and filtering regulations that drive this market.
With increasing consumer awareness, water treatment plants and government agencies have focused more on limiting the concentration and number of chemicals used during water treatment. Therefore, taking into account the emphasis on reducing the use of chemicals in water treatment and the advantages such as effective purification and reduced operating costs provided by membrane filtration technology, government agencies around the world are also adopting this technology to provide safe and clean consumption. The market for membrane filtration is increasing as consumer awareness of security and filtration processes increases. The high growth of the dairy industry is also an important factor that is expected to drive the growth of the global membrane filtration market. In addition, advanced technologies in the field of membrane filtration are other key factors that are expected to accelerate the growth of the global market during the outlook period. In addition, updated regulations, strict industry standards, and growing consumer demand will lead the market in the near future. The rise in waterborne diseases is also expected to provide unexplored opportunities for market participants. Increasing stringent government regulations for water quality safety and filtration are key factors that are expected to fuel the growth of the global membrane filtration market. Recycling the water used in pharmaceutical synthesis, wastewater purification, and separation of initial components is expected to be the next opportunity for the membrane filtration market boom.
Restraints:
Initial system costs and explosion risk are expected to be a deterrent to market growth. Additionally, high equipment costs can hinder the membrane filtration market growth to some degree.
Impact of COVID 19 on the Membrane Filtration Market:
The coronavirus pandemic (COVID-19) has its impact on all walks of life worldwide. The emergence of the COVID-19 pandemic is currently slowing progress and affecting the global membrane filtration market. Governments around the world are taking steps to close countries, especially affected cities, to prevent the spread of the virus. The government is also taking steps to prevent the slowdown.
Membrane Filtration Market Segmentation Analysis:
The Global Membrane Filtration Market is segmented by Application, by Type, by Membrane Material, by Module Design.
By application, the water and wastewater sector is expected to account for the majority of the membrane filtration market. Membrane filtration technology is increasingly used to remove bacteria, microorganisms, particles, and natural organic substances from water, which can change the color, taste, and smell of water.
Based on type, the reverse osmosis segment is expected to grow large in size in the membrane filtration market. Reverse Osmosis involves removal of minerals such as fluoride, salt, lead, calcium, iron and manganese. Reverse osmosis provides high efficiency in terms of water purification.
In terms of membrane materials, the membrane filtration market can be segmented as cellulose acetate, polysulfone and ceramic. Ceramic membranes are microporous, chemically resistant, thermally stable, and are often used for microfiltration. The ceramic segments are expected to expand at a fairly high rate during the forecast period. Membranes of this type are mainly used in the water treatment industry due to their properties, such as high chemical and physical stability, long service life and effective separation. Furthermore, this membrane is likely to have multiple uses in the food and beverage industry.
Based on modular design, theglobal membrane filtration market is segmented as beverages and food which is expected to improve faster during the forecast period. This module is commonly used for the treatment of highly dissolved solids, high suspended solids, and/or feed streams consisting of oil, grease, or grease. This module is also widely used in water treatment because it is very efficient at removing contaminants and producing high quality processed water.
Geographical Segmentation Analysis:
North America - the United States and Canada

Europe - United Kingdom, Spain, Germany, Italy, and France

The Asia Pacific - India, Japan, China, Australia, Singapore, Malaysia, South Korea, New Zealand, and Southeast Asia

Latin America - Brazil, Argentina, Mexico, and Rest of LATAM

The Middle East and Africa - Africa and Middle East (Saudi Arabia, UAE, Lebanon, Jordan, Cyprus)
Regional Analysis:
Asia Pacific is the main region of the global membrane filtration market. The market in this region is mainly driven by the increased use of membrane filtration in water treatment plants. China has a market share in the Asia Pacific region. The country's population growth has increased the need for purification technology to guarantee the supply of drinking water and sanitary and dairy products. The North American market is the second-largest share of revenue in the global membrane filtration market as government support for membrane filtration technology increases in the countries of this region. We are supporting the use of membrane filtration technology in the market by reusing water to meet growing demands to alleviate water scarcity and reduce shooting conditions. Furthermore, the constant increase in pollution along with water pollution are key factors in reducing the availability of water in the region. The European market is expected to register the fastest growth in terms of income as the demand for various processed foods increases in many population groups in the region. In addition, Latin American and Middle East and African markets are expected to post moderate growth rates during the forecast period.
Key Players in the Market:
Major Key Players in the Global Membrane Filtration Market are
Alfa Laval

SUEZ Water Technologies and Solutions

Merck KGAA

3M Company

Pall Corporation

Synder Filtration, Inc

Nitto Denko Corporation

Porvair Filtration Group

Koch Membrane Systems Inc

GEA group
1. Introduction
1.1 Market Definition
1.2 Scope of the report
1.3 Study Assumptions
1.4 Base Currency, Base Year and Forecast Periods
2. Research Methodology
2.1 Analysis Design
2.2 Research Phases
2.2.1 Secondary Research
2.2.2 Primary Research
2.2.3 Data Modelling
2.2.4 Expert Validation
2.3 Study Timeline
3. Report Overview
3.1 Executive Summary
3.2 Key Inferencees
4. Market Dynamics
4.1 Impact Analysis
4.1.1 Drivers
4.1.2 Restaints
4.1.3 Opportunities
4.2 Regulatory Environment
4.3 Technology Timeline & Recent Trends
5. Competitor Benchmarking Analysis
5.1 Key Player Benchmarking
5.1.1 Market share analysis
5.1.2 Products/Service
5.1.3 Regional Presence
5.2 Mergers & Acquistion Landscape
5.3 Joint Ventures & Collaborations
6. Market Segmentation
6.1 Membrane Filtration Market, By Type
6.1.1 UF
6.1.2 MF
6.1.3 RO
6.1.4 NF
6.1.5 Market Size Estimations & Forecasts (2021-2026)
6.1.6 Y-o-Y Growth Rate Analysis
6.1.7 Market Attractiveness Index
6.2 Membrane Filtration Market, By Application
6.2.1 Dairy
6.2.2 Water
6.2.3 Wine & Beer
6.2.4 Drinks & Concentrates
6.2.5 Market Size Estimations & Forecasts (2021-2026)
6.2.6 Y-o-Y Growth Rate Analysis
6.2.7 Market Attractiveness Index
6.3 Membrane Filtration Market, By Membrane Material
6.3.1 Cellulose Aetate
6.3.2 Polysulfone
6.3.3 Ceramic
6.3.4 Market Size Estimations & Forecasts (2021-2026)
6.3.5 Y-o-Y Growth Rate Analysis
6.3.6 Market Attractiveness Index
6.4 Membrane Filtration Market, By Module Design
6.4.1 Tubula
6.4.2 Plate
6.4.3 Spiral
6.4.4 Frame
6.4.5 Market Size Estimations & Forecasts (2021-2026)
6.4.6 Y-o-Y Growth Rate Analysis
6.4.7 Market Attractiveness Index
7. Geographical Landscape
7.1 Global Identity Governance and Administration Market, by Region
7.2 North America - Market Analysis (2021-2026)
7.2.1 By Country
7.2.1.1 USA
7.2.1.2 Canada
7.2.2 By Type
7.2.3 By Application
7.2.4 By Membrane Material
7.2.5 By Module Design
7.3 Europe
7.3.1 By Country
7.3.1.1 UK
7.3.1.2 France
7.3.1.3 Germany
7.3.1.4 Spain
7.3.1.5 Italy
7.3.1.6 Rest of Europe
7.3.2 By Type
7.3.3 By Application
7.3.4 By Membrane Material
7.3.5 By Module Design
7.4 Asia Pacific
7.4.1 By Country
7.4.1.1 China
7.4.1.2 India
7.4.1.3 Japan
7.4.1.4 South Korea
7.4.1.5 South East Asia
7.4.1.6 Australia & NZ
7.4.1.7 Rest of Asia-Pacific
7.4.2 By Type
7.4.3 By Application
7.4.4 By Membrane Material
7.4.5 By Module Design
7.5 Latin America
7.5.1 By Country
7.5.1.1 Brazil
7.5.1.2 Argentina
7.5.1.3 Mexico
7.5.1.4 Rest of Latin America
7.5.2 By Type
7.5.3 By Application
7.5.4 By Membrane Material
7.5.5 By Module Design
7.6 Middle East and Africa
7.6.1 By Country
7.6.1.1 Middle East
7.6.1.2 Africa
7.6.2 By Type
7.6.3 By Application
7.6.4 By Membrane Material
7.6.5 By Module Design
8. Key Player Analysis
8.1 Alfa Laval
8.1.1 Business Description
8.1.2 Products/Service
8.1.3 Financials
8.1.4 SWOT Analysis
8.1.5 Recent Developments
8.1.6 Analyst Overview
8.2 SUEZ Water Technologies and Solutions
8.3 Merck KGAA
8.4 Pall Corporation
8.5 3M Company
8.6 Synder Filtration, Inc
8.7 Nitto Denko Corporation
8.8 Porvair Filtration Group
8.9 Koch Membrane Systems Inc
8.10 GEA Group
9. Market Outlook & Investment Opportunities
Appendix
List of Tables
List of Figures
Global, regional and country-level analysis and forecasts of the study market; providing Insights on the major countries/regions in which this industry is blooming and to also identify the regions that are still untapped

The Segment-level analysis in terms of By Type, Application, Membrane Material, Module Design and along with market size forecasts and estimations to detect key areas of industry growth in detail

Identification of key drivers, restraints, opportunities, and challenges (DROC) in the market and their impact on shifting market dynamics

Study of the effect of exogenous and endogenous factors that affect the global market; which includes broadly demographic, economics, and political, among other macro-environmental factors presented in an extensive PESTLE Analysis

Study the micro environment factors that determine the overall profitability of an Industry, using Porter's five forces analysis for analysing the level of competition and business strategy development

A comprehensive list of key market players along with their product portfolio, current strategic interests, key financial information, legal issues, SWOT analysis and analyst overview to study and sustain the market environment

Competitive landscape analysis listing out the mergers, acquisitions, collaborations in the field along with new product launches, comparative financial studies and recent developments in the market by the major companies

An executive summary, abridging the entire report in such a way that decision-making personnel can rapidly become acquainted with background information, concise analysis and main conclusions

Expertly devised analyst overview along with Investment opportunities to provide both individuals and organizations a strong financial foothold in the market
Global Membrane Filtration Market By Region, From 2021-2026 ( USD Billion )

Global Membrane Filtration Market By Type, From 2021-2026 ( USD Billion )

Global UF Market By Region, From 2021-2026 ( USD Billion )

Global MF Market By Region, From 2021-2026 ( USD Billion )

Global RO Market By Region, From 2021-2026 ( USD Billion )

Global NF Market By Region, From 2021-2026 ( USD Billion )

Global Membrane Filtration Market By Application, From 2021-2026 ( USD Billion )

Global Dairy Market By Region, From 2021-2026 ( USD Billion )

Global Water Market By Region, From 2021-2026 ( USD Billion )

Global Wine & Beer Market By Region, From 2021-2026 ( USD Billion )

Global Drinks & Concentrates Market By Region, From 2021-2026 ( USD Billion )

Global Membrane Filtration Market By Membrane Material, From 2021-2026 ( USD Billion )

Global Cellulose Aetate Market By Region, From 2021-2026 ( USD Billion )

Global Polysulfone Market By Region, From 2021-2026 ( USD Billion )

Global Ceramic Market By Region, From 2021-2026 ( USD Billion )

Global Membrane Filtration Market By Module Design, From 2021-2026 ( USD Billion )

Global Tubula Market By Region, From 2021-2026 ( USD Billion )

Global Plate Market By Region, From 2021-2026 ( USD Billion )

Global Spiral Market By Region, From 2021-2026 ( USD Billion )

Global Frame Market By Region, From 2021-2026 ( USD Billion )