Methanol Market Size (2023-2028):
The Global Methanol Market was worth US$ 28.2 million in 2022 and is anticipated to reach a valuation of US$ 35.8 million by 2028 and is predicted to register a CAGR of 3.8% during 2023-2028.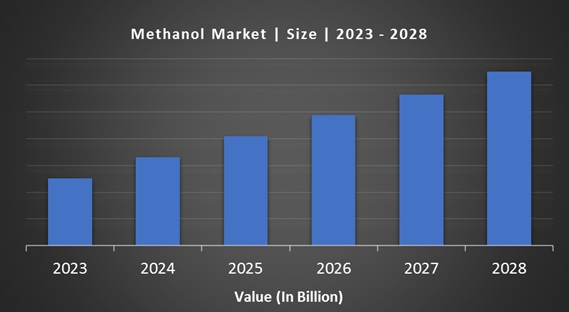 Market Drivers:
The methanol market is rising due to its clean and renewable energy source. It can be transformed into bio-methanol, an eco-friendly fuel that reduces greenhouse gas emissions compared to traditional fossil fuels. With the world's focus on cleaner, sustainable energy solutions, the market growth for Methanol as a green energy option is on the rise. Therefore, the surge in interest in Methanol's environmental potential is a major driver of the market. It aligns with the ongoing shift toward greener and more responsible energy sources, making Methanol a crucial player in the clean energy sector.
The methanol market is driven due to its pivotal role in the chemical industry. It's an important ingredient in producing various chemicals and materials, such as plastics and adhesives. Methanol is the foundation for creating essential chemicals like formaldehyde, acetic acid, and olefins. The consistent demand for these products keeps Methanol in high regard, driving the market's growth. Its versatility and importance in chemical processes make it indispensable for diverse industrial applications, solidifying its position as a reliable cornerstone in the chemical manufacturing landscape. As a result, Methanol's versatility as a cleaner fuel contributes to its market expansion.
The methanol market is experiencing growth driven by its role as an alternative transportation fuel. It is used both in methanol-powered vehicles and as an additive in conventional fuels to reduce harmful emissions. As the market demand for cleaner and more environmentally friendly transportation fuels continues to surge, Methanol's prominence in this sector is steadily rising. The increasing emphasis on eco-friendly mobility solutions aligns with the global shift towards reducing pollution and promoting sustainable transportation. Methanol's versatility as a cleaner fuel not only contributes to reduced emissions but also supports its expansion in the market, marking a significant step towards greener and more sustainable transportation solutions.
Market Restraints:
The methanol market faces significant restraints due to price volatility, which is influenced by factors such as feedstock costs, supply and demand dynamics, and global economic conditions. These fluctuations can directly affect the profits of methanol producers and can also influence the decisions of end-users. The uncertainty in pricing can limit potential investors or users from committing to methanol-based products or projects. These price variations add an element of risk and unpredictability to the methanol market, potentially restricting the methanol market growth rate.
Market Recent Developments:
In 2023, Methanex, one of the largest methanol producers, focused on expanding its production capacity with new facilities in the United States and Chile.

In 2023, SABIC invested in research and development of green and sustainable methanol production methods, aligning with growing environmental regulations and demand for clean energy.

In 2023, OCI N.V. expanded its global presence by investing in new methanol production facilities in Asia and the Middle East to meet the increasing demand.

In 2022, LyondellBasell invested in improving the energy efficiency of its methanol production processes, contributing to sustainability and reducing greenhouse gas emissions.
METHANOL MARKET REPORT COVERAGE:
| | |
| --- | --- |
| REPORT METRIC | DETAILS |
| Market Size Available | 2022-2028 |
| Base Year | 2022 |
| Forecast Period | 2023-2028 |
| CAGR | 3.8% |
| Segments Covered | By Feedstock, Application, End-user Type, Region. |
| Various Analyses Covered | Global, Regional and Country Level Analysis, Segment-Level Analysis, DROC, PESTLE Analysis, Porter's Five Forces Analysis, Competitive Landscape, Analyst Overview of Investment Opportunities |
| Regions Covered | North America, Europe, Asia Pacific, Latin America, Middle East & Africa |
| Market Leaders Profiled | Methanex Corporation, SABIC (Saudi Basic Industries Corporation), Celanese Corporation, Mitsubishi Gas Chemical Company, Inc., INEOS Group, YCI Methanol One, LLC, Atlantic Methanol Production Company LLC (AMPCO), Mitsui & Co., Ltd., Zagros Petrochemical Company (ZPC), LyondellBasell, and Others. |
Market Segmentation:
Methanol Market - By Feedstock:
Based on Feedstock, the Natural gas-based methanol segment is dominating the market and is expected to generate a revenue of 23.5 billion by the end of this forecast period due to its abundance, cost-effectiveness, and environmental benefits. This process typically involves steam methane reforming (SMR), where methane from natural gas reacts with steam to yield hydrogen and carbon monoxide, subsequently transformed into Methanol via catalytic conversion. The dominance of this feedstock type is attributed to the widespread presence of natural gas reserves in numerous regions, ensuring a dependable and economical source for methanol production.
The coal-based methanol segment holds the largest market share, at 45%, and is expected to generate revenue of 13.5 billion during the forecast period. This process involves coal gasification to create synthetic gas (syngas), which is rich in carbon monoxide and hydrogen. Syngas serves as the primary Feedstock for methanol synthesis. While competitive in regions abundant with coal resources, coal-based Methanol poses environmental concerns due to greenhouse gas emissions and pollutant release during gasification. Nevertheless, it remains a substantial feedstock source for Methanol, particularly in areas where coal is both accessible and cost-effective.
Methanol Market - By Application:
Formaldehyde

MTO/MTP

MTBE

Solvent

Biodiesel

Acetic acid

MMA

DME

Others
Based on application, the Formaldehyde segment holds the largest market share, at 30%, during the forecast period due to its use in the production of diverse products, including adhesives, resins, and textiles. It serves as a critical precursor for manufacturing a wide array of goods, establishing itself as one of the prominent segments in the methanol market. The demand for formaldehyde remains steadfast, particularly in the construction and automotive industries, where it finds extensive use in various applications.
MTO (Methanol-to-Olefins) and MTP (Methanol-to-Propylene) segments hold the second biggest market share of 22% during the forecast period due to their innovative applications of Methanol, serving as efficient and cost-effective methods for producing essential chemicals in the petrochemical industry. These processes have garnered increasing attention in recent years, aligning with the industry's transition to Methanol as a valuable feedstock. The MTO/MTP segment demonstrates steady growth, highlighting the significance of Methanol in supplying key building blocks for the petrochemical sector.
Methanol Market - By End-User Type:
Automotive

Insulation

Construction

Electronics

Paints & Coatings

Appliances

Packaging

Pharmaceutical

Others
Based on End-User, The Automotive industry segment holds the largest market share and is expected to generate a revenue of 10.2 billion during the forecast period. It is used to enhance fuel combustion efficiency and reduce emissions, contributing to improved environmental performance. Although the extent of its application may differ across regions, the automotive sector maintains a consistent demand for Methanol to optimize fuel efficiency and align with stringent environmental regulations.
The construction industry segment holds the second largest share, at 20%, during the forecast period. It is employed in adhesives, sealants, and concrete additives, enhancing the strength and durability of construction projects. Methanol's contributions to these construction components and processes help ensure the longevity and structural integrity of buildings and infrastructure, making it a valuable ingredient in the construction sector.
Market Regional Analysis:
North America

Europe

Asia-pacific

Middle-east and Africa

Latin America
The Asia-Pacific region is dominating the market growth with a CAGR of 4.8% and is expected to generate a revenue of 20 billion in 2021 due to its thriving automotive and construction sectors. The region's insatiable appetite for Methanol stems from the swift industrialization and urban expansion experienced across various nations, such as China and India. As these countries continue to experience rapid economic growth, the demand for Methanol remains robust, making Asia-Pacific the largest and most significant market for this versatile chemical compound.
North America Methanol Market holds the second largest market share, 21%, during the forecast period, primarily propelled by the automotive industry. Methanol's utilization as a fuel additive to improve combustion efficiency and lower emissions has gained significant attention. Stringent environmental regulations have accelerated the demand for cleaner-burning fuels, making Methanol a key player in this region. As the pursuit of greener alternatives continues, the North American methanol market remains strong, aligning with eco-friendly automotive trends.
Europe Methanol Market holds a significant market share of 12% during the forecast period due to its established construction and automotive sectors. Methanol plays a vital role in construction materials and automotive applications, aligning with the region's emphasis on energy efficiency and sustainability. Furthermore, the pharmaceutical and electronics industries contribute to the consistent demand for Methanol in Europe. This well-rounded market highlights the versatility and significance of Methanol across various sectors, making it a cornerstone of the regional chemical industry.
The Middle East and Africa Methanol Market is predicted to witness notable growth during the forecast period. It is a major producer of Methanol, and its consumption is driven by both domestic and export markets. Methanol serves as a feedstock for the region's expanding chemical industry.
Latin America has a growing demand for Methanol, particularly in the energy sector and for MTBE production. The market is influenced by economic growth and regional fuel standards.
Impact of COVID-19 on the Methanol Market:
The COVID-19 had a significant impact on the Methanol Market. Initially, lockdowns, supply chain disruptions, and reduced economic activity led to a decline in methanol demand, particularly in sectors like automotive and construction. The energy industry was also affected as Methanol is used as a fuel and in chemical processes. However, the pandemic prompted a shift in methanol applications. Methanol-based sanitisers and disinfectants saw a surge in demand due to their effectiveness in killing viruses and pathogens. The medical industry also relied on Methanol to produce essential supplies, including ventilator components and PPE. Overall, the Methanol Market is expected to recover, driven by the revival of industrial and transportation sectors. Also, the market is experiencing a transition towards bio-methanol and green Methanol, aligning with sustainability goals and environmental regulations. These developments are expected to support the industry's growth and adaptability in the post-pandemic era.
Market Key Players:
Methanex Corporation

SABIC (Saudi Basic Industries Corporation)

Celanese Corporation

Mitsubishi Gas Chemical Company, Inc.

INEOS Group

YCI Methanol One, LLC

Atlantic Methanol Production Company LLC (AMPCO)

Mitsui & Co., Ltd.

Zagros Petrochemical Company (ZPC)

LyondellBasell