Microgrid Controller Market Size, Growth, Forecast (2022-2027)
The microgrid controller enables the installation of a microgrid by controlling the dispersed energy resources as well as the loads in a predetermined electrical system to maintain an acceptable frequency and voltage. The key functions of a microgrid controller include coordinating the integration and distribution of loads and local distributed energy resources, providing ancillary services to the grid, and smooth disconnection and reconnection of the grid.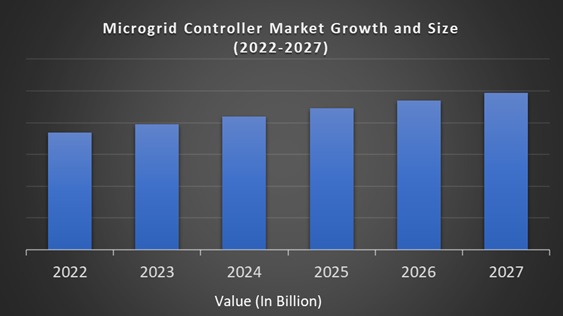 Continued improvements in energy control and management are expected to have a positive impact on market growth. The depreciating prices of distributed renewable energy and battery technologies, along with technological advances in energy management systems, have created more efficient renewable grids, as well as advanced smart grid technologies. With microgrids deployed in many fields and integrated with new technologies, such as fuel cells, there is a need for efficient and reliable control systems capable of handling the complexity of these new systems. Therefore, the need for efficient and centralized microgrid controllers is increasing. Due to their long distance lines, traditional networks are considered very inefficient. Also, microarrays are very efficient. As fuel and energy costs increase, the need for efficient systems increases, which in turn promotes the adoption rate of microgrid systems.
Recent Developments in Microgrid Controller Industry:
Emerson (NYSE: EMR), a worldwide innovation and designing organization, today dispatched computerization innovation for utilities and autonomous force makers that inexorably rely upon an assortment of fuel sources, environmentally friendly power and administration to the market of quickly developing microgrids. Its new Ovation OCC100 secluded regulator cost-successfully expands Emerson's demonstrated Ovation ™ control innovation by overseeing power stream from an assortment of sources to guarantee nonstop, solid creation for these arising ventures. This versatile and little impression innovation is additionally appropriate for basic water and wastewater applications.

Enel X, the Enel Group's high level energy administrations business line, and the energy management organization Eaton, reported today intends to create microgrids in Puerto Rico. The underlying venture will remember for site sunlight based power creation and battery stockpiling at Eaton's Arecibo plant, which produces circuit breakers utilized in homes, structures and an assortment of modern applications.

ABB today declared a secluded and versatile attachment and play microgrid solution to satisfy the developing worldwide need for adaptable innovation in the developing appropriated power generation market.

ABB and Rolls-Royce declared a worldwide association in microgrid innovation and progressed automation. Together, the two organizations will offer an inventive and energy proficient microgrid solution for utility, business and modern organizations.
MICROGRID CONTROLLER MARKET REPORT COVERAGE:
| | |
| --- | --- |
| REPORT METRIC | DETAILS |
| Market Size Available | 2021 – 2027 |
| Base Year | 2021 |
| Forecast Period | 2022 - 2027 |
| CAGR | xx% |
| Segments Covered | By Connectivity, Offering, Vertical, and Region. |
| Various Analyses Covered | Global, Regional & Country Level Analysis, Segment-Level Analysis, DROC, PESTLE Analysis, Porter's Five Forces Analysis, Competitive Landscape, Analyst Overview on Investment Opportunities |
| Regions Covered | North America, Europe, APAC, Latin America, Middle East & Africa |
| Market Leaders Profiled | ABB Ltd, Eaton Corporation, Emerson Electric Co., General Electric Power, HOMER Energy LLC, Honeywell International Inc., Lockheed Martin Corporation, Pareto Energy Ltd, Power Analytics Corporation, Princeton Power Systems, S&C Electric Company, Schneider Electric SE, Schweitzer Engineering Laboratories, Inc., Siemens AG, and Spirae LLC and Others. |
Drivers and Restraints of Microgrid Controller Market:
Drivers:
The rise of distributed installations of renewable and non-renewable energy resources, energy storage at the scale of emerging utilities, response to demand and the use of plug-in hybrid electric vehicles have created unprecedented opportunities for the market. Technological leaps are also striving to transform the operating model of utilities, which will continue to be an influential driver for the microarray controller market. The demand for microarray controllers has increased in industries to maintain power stability at critical loads, detect electrical disturbances and respond to such disturbances in the shortest possible time. The focus on corporate sustainability has guided power plant owners towards the adoption of a microgrid controller, with environmental conservation becoming a priority.
Restraints:
Installing a microarray controller means rearranging components and devices, which is a huge cost. There is reluctance among power plant owners to employ a microgrid controller, as long-standing operational, technological and safety risks prevail. Furthermore, the imposition of aggressive policies legislated by the government is likely to hamper the expansion of the microgrid.
Microgrid Controller Market Segmentation Analysis:
By Connectivity:
Grid Connected

Off Grid/Remote/Islanded
By connectivity, the market has been segmented into on-grid and off-grid / island, the two modes in which a microcontroller operates. The off-grid segment is expected to grow at the highest CAGR during the forecast period as these drivers are more reliable. Isolated microgrids are designed to operate independently, without connection to the main network. Microgrids connected to the grid have higher reliability than isolated microgrids because they are connected to the main electrical grids. Therefore, the microgrids connected to the grid are expected to grow at a higher CAGR during the forecast period.
By Offering:
Hardware

Software

Services
The software segment is expected to grow at the highest CAGR during the forecast period due to its increasing use to monitor, forecast, manage and optimize energy supply and demand for micro-grid arrangements.
By Vertical:
Government

Utilities

Commercial

Industrial

Educational Institutes

Military & Defense

Healthcare

Others (Small residential communities, townships, and villages)
On the basis of the vertical, the market has been segmented into government, oil and gas, energy and power, industrial, automotive, military and defense, commercial, and others. Growing microgrid deployments in various end-use industries, such as the military, government, utilities, and healthcare, are driving the growth of the microgrid controller market. The defense industry has been the main one to adopt micro-grid technology that allows buildings or bases to continue to operate on their own power when the grid goes down.
Geographical Segmentation Analysis:
North America - the United States and Canada

Europe - United Kingdom, Spain, Germany, Italy, and France

The Asia Pacific - India, Japan, China, Australia, Singapore, Malaysia, South Korea, New Zealand, and Southeast Asia

Latin America - Brazil, Argentina, Mexico, and Rest of LATAM

The Middle East and Africa - Africa and Middle East (Saudi Arabia, UAE, Lebanon, Jordan, Cyprus)
Microgrid Controller Market Region Analysis:
North America, followed by Europe, is expected to dominate the microgrid controller market from 2018 to 2023 due to government initiatives that have encouraged microgrid installations in the region. Furthermore, the high concentration of market players in the region and the availability of competent technical knowledge are driving the demand for microgrid controllers in the region.
Asia-Pacific is expected to see the fastest growth due to the increase in the number of rural electrification projects in developing countries such as India and Bangladesh. The main countries identified with strong growth in Asia-Pacific are China, Japan, Australia and India.
IMPACT OF COVID-19 ON MICROGRID CONTROLLER MARKET:
COVID-19 is an unrivaled global public health emergency that has affected nearly every industry, hence the long-term effects that are expected to impact industry growth during the forecast period.
Key Players in the Market:
Major Key Players in the Global Microgrid Controller Market are
ABB Ltd

Eaton Corporation

Emerson Electric Co

General Electric Power

HOMER Energy LLC

Honeywell International Inc

Lockheed Martin Corporation

Pareto Energy Ltd

Power Analytics Corporation

Princeton Power Systems

S&C Electric Company

Schneider Electric SE

Schweitzer Engineering Laboratories, Inc

Siemens AG

Spirae LLC